To hear bassist-frontman Matt Flegel tell it, Viet Cong have had a weird couple of days. After a few missed calls and a whole lot of radio silence on his end, Flegel sends an email: Things have been "hectic as of late." He's referring, somewhat understatedly, to two days' worth of — you might want to take a breath here — van repairs, marathon drives down icy Western Canadian highways, sleep-deprived radio sessions, birthday celebrations for guitarist Daniel Christiansen, and mild controversies about the band's name that resulted in the cancellation of a show at Oberlin College.
"This is [just] the last 48 hours," Flegel deadpans, but the "hectic" time he's describing could just as easily be referring to any period since the release of the Calgary quartet's self-titled debut album back in January. With drummer Mike Wallace, who also played with the bassist in the similarly downcast act Women, and guitarists Christiansen and Scott Munro, Flegel put together a stunningly knotty and quietly ambitious collection of gloomy guitar rock that's won them enough critical acclaim to launch a couple of long tours in its wake. The latest of those stretches lands the band at this year's South By Southwest, where they'll play at SPIN's annual day party. Before they make it down there, SPIN caught up with them via email to talk about what they've been up to since their record's release and what's next.
SPIN: In the past you've said that touring has been a pretty tense thing for you guys, and that the first string of dates you guys played together was pretty bleak. Aside from the last couple of days, have things been more sane since the album release?
Matt Flegel: Definitely less sane. I've recently realized that it's kind of easier to be a hobo than a high functioning rock band, but we also have a lot more people watching out for us, and our bellies are full, and people are at our shows now.
When you started this project you were just messing around in a basement, did you envision it being the sort of thing that you'd take to Europe? Or were there more modest ambitions?
More modest ambitions for sure. All we really wanted to do when we started off was record some songs as a winter project. It's always kind of funny to pick up all of our gear from our compact-car-garage-turned-studio, and drive to the airport to fly across the ocean and play in these ancient beautiful cities. The contrast is pretty ridiculous.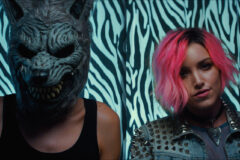 On a related note, you guys are headed to SXSW again this year. What do you have planned? Are you guys totally engaging with the craziness again?
Yeah, more or less. I think we're doing six shows in three days, which isn't too bad, I guess? There's always more to it than that though, and hopefully we get a minute or two to go check out some music.
Do you find it stressful or is it a fun kind of madness?
We take it in stride, and usually just try to have fun. Last SXSW, I actually had the most fun just hanging out in the yard at our rental house on the outskirts of Austin.
Are there any other bands you're trying to see or things you're trying to do while you're down there?
I actually have no idea who's playing this year. I haven't looked at the lineup. Lots of good friends will be down there and the beer is usually flowing very steadily, so that's mainly what I'll be doing. I kind of like going into these kinds of festivals fully blind, and just seeing what we stumble upon.
People have been talking about Viet Cong's debut album as a post-punk or a goth record, which feels not quite right. How do you think about it?
We all love all of those post-punk bands from the late '70s early '80s. It's probably rubbed off on us, but I'm not sure if it's entirely intentional. Our musical tastes aren't exclusively tied to that genre, and what we're listening to in the van any given day is all over the map genre-wise.
What's some of the more out there stuff that you're into? You can hear on the record that you're not just playing with stereotypical guitar-pop sounds.
German music from the '70s, Neu!, all the Michael Rother solo stuff, Can, Kraftwerk, Roedelius, Cluster, Harmonia, Tangerine Dream, Faust. My brother bought me this recording of a Bulgarian folk choir that been blowing my mind. It's called Les Mystere des Voix Bulgares. I listen to a lot of classical music, especially when I get home from tour and my ears are bleeding pieces of shit.
What drove you in this heavier direction than what you were playing before with Women? Obviously you weren't going to just retread what you were doing before, but this has such a different disposition.
It had been a while since I played in a loud band at the point that we started Viet Cong. It felt, and still feels, really good to be playing loud, intense music. It kind of feels like we have a lot to get out of our system. I also wasn't the main songwriter in Women.
All that said, you guys seem like you don't take yourselves too seriously. Is it by design that you guys are doing this heavy, bleak music and taking it more lightly in interviews and stuff?
I'd like to think that we're easily approachable people. I don't think you necessarily have to be a black hoodie wearing pale sun-starved mute to write dark music, but give me a couple years and I very well might turn into that person.
And so what's up next, after this round of touring? Do you have more writing and recording ahead of you?
Yeah, we have about a record's worth of freshies that we've been trying to finish writing, so I think the plan is to take most of April off to do that and hopefully find some spaces in between shows in the summer to go into the studio proper.