Those South by Southwesters who braved the elements at Stubb's yesterday were treated to gigs by nine of our favorite artists working right now, ranging from New Jersey punk to Swedish-Australian dance-pop purveyors to the most important duo in American hip-hop right now. Rather than try to play favorites, we've recapped the sets by each act, so that those of you who were there can relive the highlights, and those who missed out will hopefully learn not to make the same mistake next year. (And, of course, a very special thank you to our party sponsors: Esurance, MixRadio, Tito's Handmade Vodka, Steel Reserve, Jack Daniels, Dutch Masters, and Hamm's.)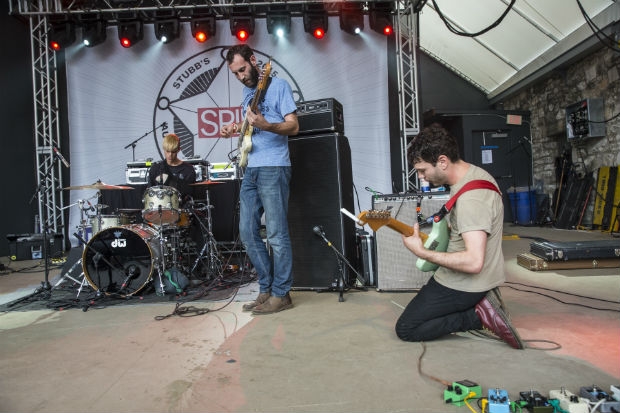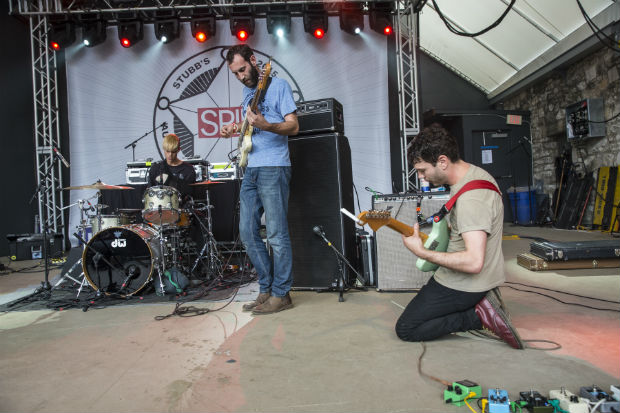 Viet Cong
Though everyone this week's been buzzing about the Canadian band's controversial name, the post-punk outfit shook all that off with a hazy but fierce set — done with a drummer nursing a broken arm, no less. (The band took care of any Def Leppard jokes themselves.) Don't doubt it for a moment: Viet Cong is much more than their drama. — BRENNAN CARLEY
METZ
Despite the ribbing from opening buddies Viet Cong about their playing the "small stage," METZ more than made their presence felt with a blistering set of three-chord-or-fewer punk scorchers. Frontman Alex Edkins quickly sweated through his shirt kicking out jams old and new, building anticipation for the upcoming METZ II with every throat-corroding wail and accompanying high-kick. — ANDREW UNTERBERGER
Kate Boy
The Swede-stralian three-piece brought their cerebral electro-thump to the SPIN masses with hits ("Northern Lights" and the purposefully poignant "The Way We Are") and new tracks from their recent self-titled EP alike. Though they've been promising that debut album for more than a year now, everything Kate Boy's touched is certifiable fire. As long as every one of their sets burns as fiercely as this, we'll happily keep waiting. — B.C.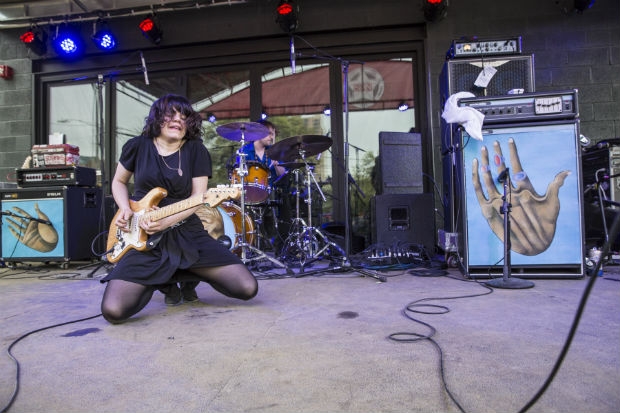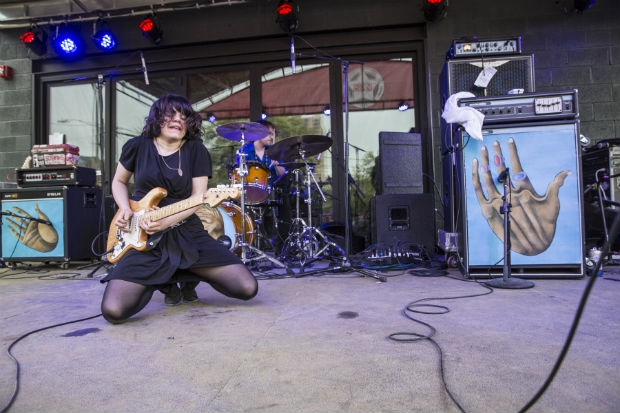 Screaming Females
The smallest performer on the day wielded the mightiest axe, as frontwoman Marissa Pasternoster shredded her way through Screaming Females' back catalog. Some of the band's newer hits were eschewed — though the band would undoubtedly cackle at the notion of having "hits" in the first place — but their presence was hardly missed as the power trio soared loudly and majestically enough to be heard in the back rows of the Meadowlands. — A.U.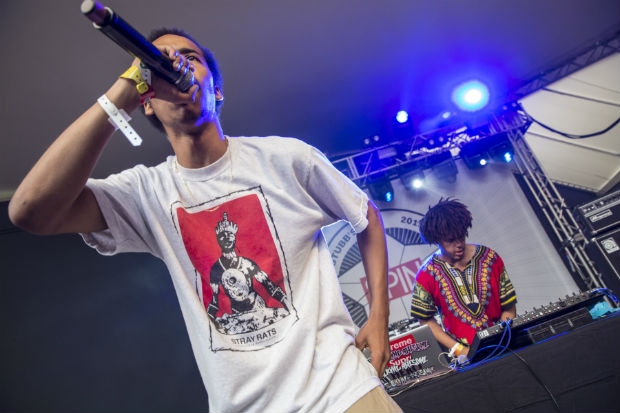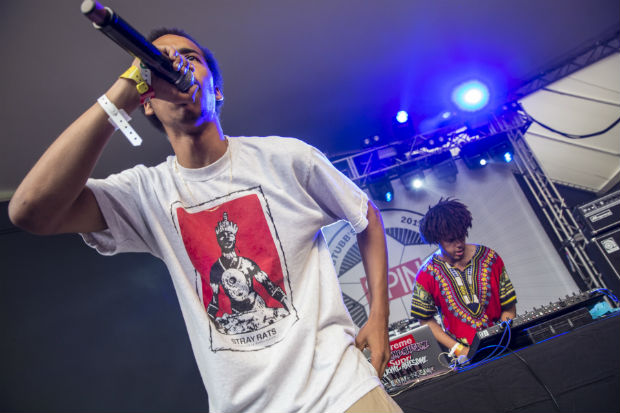 Earl Sweatshirt
Rolling through new favorites like "Grief" from his very-quickly approaching I Don't Like Shit, I Don't Go Outside: An Album by Earl Sweatshirt, the Odd Future phenom worked the crowd into a frenzy, with a couple of high-energy oldies for good measure. Though his set was short, Earl made the most of his 20 minutes, pacing the stage with crazed eyes, in search of his next target. — B.C.
Will Butler
Casually rolling up to the Stubb's entrance and politely asking where he should go, Will Butler quickly shed his unassuming, lost-in-the-clouds demeanor once he got onstage. Playing tracks from the just-released Policy, the Arcade Fire member wailed on guitar, scaled the wall, sang to the outlying city streets from his adopted perch, and leapt down to continue his set. Best part: His voice didn't break once. Keep the acrobatics coming, Butler. — RACHEL BRODSKY

Twin Shadow
Wearing an unmissable wide-brim hat, the always sartorially on-point George Lewis Jr. opened his svelte set with new-wave throwback banger "Five Seconds," followed by a handful of impressively arranged tracks from his latest, Eclipse. Pharrell-looking headgear aside, Shadow's shimmering set got us to forget about the threatening Austin rain clouds for a little while. — R.B.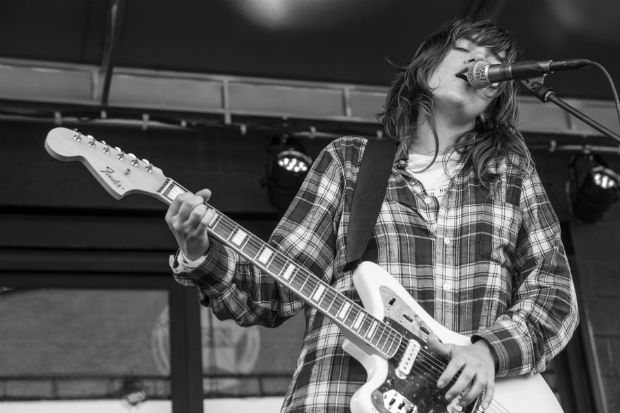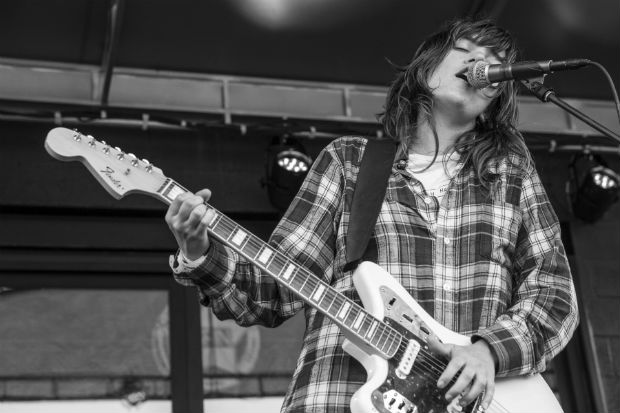 Courtney Barnett
Just before the release of her official debut LP Sometimes I Sit and Think, and Sometimes I Just Sit next week, Australian singer-songwriter Courtney Barnett took the stage to plow through some of her new album's highlights, including the too-true social-anxiety anthem "Nobody Cares If You Don't Go to the Party" and the hilarious, produce-debating cut "Dead Fox," with typical vocal deadpan aplomb and garage-rock hustle. "Thank you for standing out in the rain!" Courtney offered to the slickered masses. "I wouldn't do that for anybody!" Sounds like a lyric for her next album. — A.U.
Run the Jewels
There's a lot to adore about hip-hop duo Killer Mike and El-P, but perhaps the most valuable takeaway from their Stubb's show was just how genuinely happy they looked to be there. The feeling was entirely mutual from their audience, who, despite the pouring rain, waved their hands every which way to tracks from their self-titled disc and last year's smash sequel, Run the Jewels 2. The two rappers, meanwhile, grinned widely, did little jigs (OK, that was mainly Mike), and hugged the crowd — and one other, natch. This love is real, folks. — R.B.