Now that Austin's South By Southwest is wrapped up and (nearly) out of our systems, we should take a moment to reflect on the massive roster of musicians we saw over the course of the week. Thus, SPIN presents the 21 Best Things We Saw at SXSW 2015, conveniently arranged in a series of yearbook-ready superlatives. Check it out below.
Most Popular: Mike WiLL-Made It
When Mike Will-MADE It's billing said "Mike Will MADE-It & Friends," we had no idea just how many of his close buddies would be dropping by. Future, Rae Sremmurd, RiFF RAFF, Miley Cyrus (who sang "23" with Will and "Throw Sum Mo" with Sremmurd and Future), Two-Nine, and more all made cameos; at one point the stage was nearly overflowing with bodies — and, in some corners, giant cardboard face cut-outs. The entire thing was like a who's-who (or "Where's Waldo") of hip-hop. The main difference between Mike and the popular kids at school is that you can actually sit with him. — RACHEL BRODSKY
Best Backup Singers: HOLYCHILD
Officially, brat-pop enthusiasts HOLYCHILD consist of only singer Liz Nistico and multi-instrumentalist Louie Diller, but live, the duo rolls six deep with an all-hands-on-deck energy that recalls early Arcade Fire performances. Most impressive were their two backup singers, who thickened their leading lady's vocal attack (providing able support when she went out on the floor for some up-close fan canoodling), as well as providing extra percussion when needed and joining Nistico out front for a rehearsed dance routine on one song. As Mr. Garrison would say, you can't compete with choreography. — ANDREW UNTERBERGER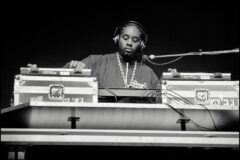 .@HOLYCHILD is on at the #IFCFairgrounds! #sxsw pic.twitter.com/FaDlEG25Ap

— IFC at SXSW (@IFCsxsw) March 21, 2015
Sexiest Dancer: LuLu James from Gorgon City
Wearing a shimmery gold crop top and super-high heels (a brave move at South By) and slinking her bodacious body around the stage through hits like "Here for You," "6AM," and "Unmissable," the Gorgon City touring vocalist definitely looked like she'd inherited the Beyoncé gene. — R.B.
https://youtube.com/watch?v=dG5z66cu5pc
Best Dressed: Laura Patiño from Holiday Mountain
Clad in a stringy black belly-baring top, iridescent silver mini-skirt, and Spice Girls-approved turquoise platform sandals, the pink-haired psych-dub lead singer gave off No Doubt-era Gwen Stefani vibes throughout Holiday Mountain's entire performance. (Even better was when she kicked off her shoes mid-set and flounced around in scrunched-down cerulean socks.) — R.B.
Greetings from Day Two of @sxsw! Here's @HolidayMtnMusic playing their atomic new music in a 42nd floor penthouse. pic.twitter.com/tz9nY3koSJ

— SPIN (@SPINmagazine) March 18, 2015
Best Use of Live Instrumentation By an Electronic Producer: Shlohmo
Los Angeles producer Shlohmo could've very easily pressed play and pretended to twiddle knobs for 20 minutes while letting the harrowing and cavernous songs off of his stunning upcoming album, Dark Red, do the heavy lifting for him. But he showed up with full band in tow, and insisted on breaking out the guitar himself for the blood-curdling six-string wailing of advance single "Buried." Nobody would confuse it for a Stevie Ray Vaughn performance, exactly, but it certainly helped Shlohmo make one of the more indelible impressions among all electronic performers last week. — A.U.
Band Most Likely to Make You Enter the Pit: Downtown Boys
Spewing politically charged lyrics ("She's BROWN! She's SMART!") at the Don Giovanni Records showcase, the blistering Providence-based free-jazz-punk project got the crowd appropriately riled up. Pushing, shoving, and sweating, the audience at one point managed to carry the drummer all the way across the room before SPIN's Andrew Unterberger caught him. — R.B.
Best Hair: Jacco Gardner and Taraka Larson from Prince Rama (TIE)
Gardner's lustrous mane may have been a little matted from a long week of all shows and no sleep, but gosh if his shoulder-length locks didn't still look fantastic as he played the Burger Records showcase on Saturday. Meanwhile, we badly covet Taraka Larson from Prince Rama's shockingly wild, hair metal-looking curls. — R.B.
Outstanding art rock performance from NY's Prince Rama. Need to research more about them. pic.twitter.com/bPLZBGmiKQ

— Dave LaMacchia (@_dml) March 21, 2015
Across town, @JaccoGardner is bringing guitar-heavy melodies to the @BURGERRECORDS crowd at #SXSW pic.twitter.com/9TPHyK9mAK

— SPIN (@SPINmagazine) March 21, 2015
Best SXSW-Related Stage Banter: Alex G
"I started this festival a couple years ago to showcase some of my friend's bands," the preternaturally cool Philadelphia singer/songwriter Alex G straight-facedly informed the crowd at the Mohawk. "It's really taken off since then." — A.U.
Most Sexually Explicit: The Memories and YG (TIE)
OK, so Portland stoner-pop group the Memories have a song called "Go Down on You," in which lead singer Eric "Rikky" Gage declares, "I'd like a taste / Between your waist / A sweet surprise / Between your thighs / You wonder why / It gets you high / It gets you high because I'm doing this thing right." We like to think of ourselves as fairly open-minded, but even we were blushing a little bit. Rapper YG gave Gage a freaky-deaky run for his money; across town, YG flashed grins at the audience like the showman he is, bringing one lucky fan onstage to shake her ass for the audience and pointing at another girl — perched atop someone's shoulders — with the following remark: "Girl, I don't know why you up on those shoulders if you ain't showing those titties." — R.B. & BRENNAN CARLEY

Biggest Will He or Won't He: Kanye West
For weeks before the festival even started — and especially in the three hours before Fader Fort's Saturday "Special Guest" headlining spot — fans were screaming 'Ye's name to the skies in the hopes of Secret-ing his appearance, which was never to be, but why are you complaining? We got one of the most incredible and diverse lineups SXSW's ever seen. Go put Yeezus on repeat in your room and sulk alone. — B.C.
Kanye West will not appear on 'Jimmy Kimmel Live' at SXSW: http://t.co/nMkhLMhPr4 pic.twitter.com/IHvQMf2zSb

— Complex Music (@ComplexMusic) March 20, 2015
Kanye West performing under the Congress Avenue bridge at 1:48am atop a bosu ball with all resident bats providing backing music. #sxsw

— Jordan (@Jordan_Stewart) March 22, 2015
Biggest Star in the Making: Alex Winston
At the last of her SXSW shows on Saturday night, this Michigan native kept apologizing for an illness that nobody watching her radiant, magnetic set could detect. Winston's set to return with her sophomore album later this spring, and by all accounts, her unmistakably well-crafted brand of power-pop is exactly what the industry is sorely needs. — B.C.
Most Likely to Succeed: Shamir
SPIN ran into the Las Vegas rapper and singer all over Austin, taking special note of his balls-to-the-wall energetic stage presence, warm demeanor — he handed out hugs like candy — and tracks that sound quite literally like nothing else before. His debut LP, Ratchet, comes later this spring. None of you are ready for its brilliance. — B.C.
Craziest Mindfuck: PC Music / QT / GFOTY
"I am GFOTY, and I am here to dance and sing and stuff," the British singer chanted dead-eyed at the starstruck Empire Garage audience. Throughout SXSW, the PC Music gang popped their heads — and in some cases, those of their doppelgängers — into showcases around town, but nothing electrified the city streets quite as much as their official late-night headlining slot on Thursday. Think "Barbie Girl" were it to be made a hundred years in the future, but sharper, cleaner, and weirder. PC Music, we're glad we can't quit you. — B.C.
Best Use of Props: Kero Kero Bonito
London trio Kero Kero Bonito seem as much influenced by Blue's Clues as they are by Sleigh Bells and Cibo Matto, so it's no surprise that they were more illustrative with their costumes and sets than any other artist we saw this week. Songs about graduation came with cap and gown, songs about birthdays came with wraparound cone hats, and songs with mid-song telephone conversations came with an actual rotary phone to ring and be answered. If single "Picture This" gets as big as it deserves to be, the group could do more to revitalize the Polaroid than anyone since André 3000. — A.U.
Photo: Went out my comfort zone and checking out Kero Kero Bonito (on of the partygoers Googled them for me… http://t.co/uqdPAZOqtq

— Datwon Thomas (@Daydog) March 20, 2015
Best Karaoke Cover: Heems
With his low-energy stage presence and occasionally abrasive crowdwork ("Do you want to hear three more songs or five? No, not ten, that wasn't one of the options! Three or five!"), former Das Racist rapper/satirist Heems had one of the week's more divisive sets. And whatever you thought of his performance, your opinion was undoubtedly doubled by his set-closing off-key sinaglong to Donell Jones 2000 R&B smash "Where I Wanna Be," not one of the first ten thousand or so songs you would have predicted the Queens native to break out in that spot. The rendition (and overall gig) was met with a mixture of cheers and boos, and Heems probably wouldn't have had it any other way. — A.U.
If you were at #Heems' 1am set, you know how it went down. #SXSW2015 #sxsw #susansarandon #igottafeelitinmyloins pic.twitter.com/3Ueuq7zlvK

— Dan Watkins (@DanTheManPhoto) March 21, 2015
Best Decidedly Non-Karaoke Cover: Girl Band
As much fun as Girl Band's psychotic inversion of Blawan's already-pretty-nuts post-dubstep transmission "Why They Hide Their Bodies Under My Garage" is on record, it's no preparation for hearing the song live. With its air-raid guitar squalls, EMP bass and doomsday drum stomp. the groove is both ear-splitting and fist-pumping, and once singer Dara Kiely gets to wailing "WHYYYY THEYHITHEYBODIESUNDUHMYGARAHHHHHH!!!" it becomes anthemic enough to be the band's own absurdist, post-everything "Sunday Bloody Sunday." More fun, too. — A.U.
The "Why Aren't They Global Superstars Yet?" Medal of Honor: Kate Boy
We don't get it: Kate Boy give music fans everything they've ever wanted. Stellar dance moves and the glowering synth-drum songs to groove to? Check. Swedish pop music with an Australian singer who can belt with the best of them? Check. Introspective lyrics that demonstrate the worldly understanding of three of the industry's smartest, coolest musicians? Triple check. America, what more do you need? — B.C.
Best Embracing of the Crowd As an Integral Part of the Live Experience: Yonatan Gat
For such obviously otherworldly musicians, the trio in Yonatan Gat's live performances were still nothing if not a band of the people. The three instrumental virtuosos set up in the middle of the crowd at the 405 Club, insisting that the audience circle around them, continually beckoning them to get even closer than felt comfortable. By performance's end, Yonatan and friends were openly embracing the fans that were still slack-jawed attempting to process the inhuman feats they were witnessing. Cults have been formed over less. — A.U.
Grammy Winner With the Best Voice: Jess Glynne
Late in the night at Stubb's, Clean Bandit ushered their much-lauded "Rather Be" vocalist onto the stage. In an instant, it became clear why Glynne's been so showered with love in the past year. Her voice is at once instantly recognizable and totally, uniquely new. It's got husk and rasp, carried by cavernous depth and range. With a debut album on the way in May, she's a contender as the often-discussed, never quite fulfilled heir to Adele's throne. — B.C.
Best Use of a Local Legend: DeJ Loaf and Trae the Truth
If you were unaware of the sway that Houston rapper Trae the Truth had over his home state — guilty — you had a pretty good idea by the end of his brief cameo during DeJ Loaf's set at the Fader Fort. Trae came out to perform breakout single "Swang," a song that didn't even chart nationally, and we were among the only people in the crowd that didn't rap along to the entire thing. It was a brilliant way to keep a crowd who seemed to spend the entire time waiting for DeJ to do "Try Me" at least partly engaged. — A.U.
https://youtube.com/watch?v=IFCY1RIZ-WA
Showman of the Year: Stromae
It's considered a faux pas to double-dip at South By Southwest, but it was impossible to pass up the chance to see this Belgian superstar twice in the same day. Like a vaudevillian mannequin come to life, experiencing all of the world's joys and pains encapsulated into one moment, Stromae is well on his way to conquering the whole damn world, and we couldn't be happier to dance along on the ride. — B.C.