Welcome to SPIN's Singles Mix! The SPIN staff has rounded up their favorite, must-hear tracks for your personal playlists. Collecting the finest from swaggering Brooklyn hip-hop collectives, bellowing pop powerhouses, '90s pop-punk revivalists, and more, these are the songs you need to know right now.


Blur, "Lonesome Street" (Parlophone Records)
Blur's new song seems like it's been around for a while — in the best way. "Lonesome Street" moves along with a retro haziness, propelled by a simple, energetic guitar riff and a bit of whimsy. While there's just a hint of melancholy ("lonesome" is right there in the title), the foursome makes it fun by calling upon just the right amount of old-school Britpop tropes. — JAMES GREBEY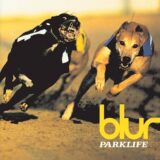 Flatbush Zombies feat. Joey Bada$$ and Issa Gold, "Did U Ever Think" (Self-Released)
Brooklyn's Flatbush Zombies have been releasing a new track every week for the past month ("RedEye to Paris," "Plz Don't Make Me Do It"), and "Did U Ever Think" is the latest and best. Rapping over an eerily warped Bibio sample, the Beast Coast originators dazzle with their usual swagger, but Joey's transcendent confidence and work ethic steals the show in the second verse: "Been up all year, my third eye ain't even blinkin' / With this flow it's guaranteed to leave you sinkin'." Erick the Architect provides the killer boom-bap production, endearingly reminiscent of Black on Both Sides-era Mos Def. — CONNOR O'BRIEN


Florence + the Machine, "St. Jude" (Island Records)
The second cut from Florence + the Machine's forthcoming How Big How Blue How Beautiful is a lurching number that never peaks quite like the album's previous chapter, "What Kind of Man." Instead, it simmers solemnly for a suspenseful five minutes with the narrative revolving around a helpless couple in need of aid from "the patron saint of the lost causes." "St. Jude" might build slowly — maybe even to an underwhelming extent on the first listen — but Florence's latest radiates a captivating mysticism through angelic background harmonies and simple percussive embellishments. — MARGARET FARRELL


Girls Names, "Zero Triptych" (Tough Love Records)
Like arena-era Simple Minds covering classic Neu!, the new single from Northern Ireland quartet Girls Names is a guitar-lifted, synth-showered motorik mega-jam, simultaneously flag-wavingly anthemic and droningly hypnotic. An arrangement of this length (11 minutes) seems like a lot for a song that doesn't change direction all that much, but it turns out to be just long enough for the group to stride through the many peaks and valleys of "Triptych" on the way to its satisfyingly panoramic instrumental conclusion. The kick inside of them is real. — ANDREW UNTERBERGER


Maribou State, "Raincoats" (Counter Records)
This pulsing, slippery electronic soundscape will be released as a vinyl-only bonus track to British producer duo Maribou State's forthcoming full-length Portraits (out June 2 via Counter Records). Creeping along slowly, "Raincoats" is a downtempo groove that works to incorporate a surprising array of genres (house, R&B, ambient), all while working in a gorgeous wave of soulful samples. — RACHEL BRODSKY


Shamir, "Call It Off" (XL)
The joyous production and offhanded vocal delivery make "Call It Off," Shamir's latest single off of his upcoming debut album, Ratchet, into an anthem about looking out for number one. Between verses of reading "basic ratchet guys," the SXSW-conqueror's signature Sylvester-esque tenor hits the chorus: "It's time to call it off / And this time, it's not my fault." A breakup has never sounded so ecstatic. — C.O.


Timeshares, "Spend the Night" (SideOneDummy Records)
Building on the Jerseypunk of the Gaslight Anthem and Ted Leo, Timeshares' new "Spend the Night" nonetheless opens with a bludgeoning riff from something even more shameless: Blink-182's "All the Small Things," recontextualized here for a Replacements-style bar groove (and a matching video). Just don't put too much truck in their promises to clean it up. — DAN WEISS


Torres, "Sprinter" (Partisan Records)
Mackenzie Scott (a.k.a. Torres) commands the metaphorical room in this guitar-led, broken down yowl. Layering her own vocals to form piercing harmonies, the Georgia-born, Brooklyn-based singer-songwriter channels confessional greats both seasoned (Fiona Apple and PJ Harvey) and recent (Laura Marling). — R.B.