Matt and Kim — the simply named collaborative project between Matt Johnson and Kim Schifino — have been making unpredictable, eccentric, and undeniably fun dance-pop for a little more than a decade. The duo's forthcoming fifth album, New Glow — which drops via Harvest Records on April 7 — contains a little bit of everything they're known for, mixing crisp, piano-heavy tunes in in the style of "Daylight" (the standout song from their DIY sophomore album, 2009's Grand), with wonky, hip-hop-inspired beats more akin to "Cameras," from their third album, 2010's Sidewalks. We asked M&K vocalist/keyboardist Matt Johnson to choose his favorite song from every Matt and Kim album; naturally, the conversation touched on a handful of other topics, including the band's evolution, dealing with fan expectations, and how to avoid being shoehorned into an "indie box."
Matt & Kim, 2006
On the first album, the self-titled album — which is now difficult to get because it's not on iTunes or Spotify — the last song is called "Lightspeed." It's a slower song and it's just me singing with an organ. It was funny, it was pre the era of Auto-Tune, before Auto-Tune got all over pop, and we kind of did that a little bit but we kept saying, "Oh, it's just like doing a little bit of sparkle."
Those chords are the same things that became "Daylight" afterwards, when we were writing that back then, we literally wrote "Daylight" at the same time. There is a lot on that first album that now I look back on, I wasn't too psyched about, but that song I think was really good so people should re-check it out.
Grand, 2009
"It would be easy for me to say my favorite on there was "Daylight," and it opened so many opportunities for us. Really that song changed our lives as far as the type of shows we got to play, and it just reached so many more people and introduced us as a band, so it'd be easy to say that. But I did want to mention one other song on that album. It's the tenth song on the album, called "I'll Take Us Home," and I really feel like that song never got a look. I'm on Spotify now and it has less than half a million plays, but there was something about it, the chord progression and just what we were talking about [in the lyrics]. I think it pertained in a personal way to our lives but it was never heard that much, I think we tried to play it on tour a little bit and then decided it wasn't a great live song which is sometimes the case. Sometimes a song can sound really good as a recording, but not as good live.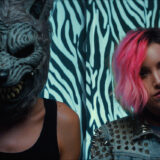 https://youtube.com/watch?v=gBPzzM3GFbE
Sidewalks, 2010
On Sidewalks there's a song called "Good for Great," which never was a single. It never had a music video or anything like that, but it's pressed its way up. It was in our top ten on Spotify. We're such fans of pop music and pop hip-hop and things like that. With Matt and Kim, we're always just making things that is the music we want to hear. I think we were able to get more near that with a song like 'Good for Great.' People connected to it.
When we came out with 'Cameras', the first single off of Sidewalks, it freaked people out — people who only knew "Daylight" and "Good Ol' Fashion Nightmare" and stuff like that. Even though to me, those two songs are very rooted in hip-hop. [Compare] "Good Ol' Fashioned Nightmare" with a song like Biz Markie's "Just a Friend." When Sidewalks came around and we had things like "Cameras" that sounded more hip-hop, it initially freaked people out. But then people came around and it became one of our most beloved at the shows.
Lightning, 2012
We felt like there was something with Grand that we hadn't completed. We self-produced Grand, and then we'd gone in with a producer on Sidewalks. And then when we came to Lightning, we were like, "Alright, let's self-produce again. Let's just finish some of these thoughts we had with Grand." In a way, Lightning is Grand part two. It was very comfortable for fans who knew us, but some of the reviews were saying it just sounded like other stuff we did, and in my mind I was like, "Yes, that is what we are trying to do. We're passionate that we needed to continue the Grand album."
The song I wanted to point out is a song called "I Wonder." Again, it was never in any advertising or music videos, but in my mind it was very similar to "Good Ol' Fashioned Nightmare." It does have a hip-hop-influenced beat, but it still has a fluffy piano line. It's very Matt and Kim.
New Glow, 2015
We went into this album not even thinking we were going to make an album. We went in just thinking, "Hey, let's make songs."
Our live shows incorporate love for indie music, as well as hip-hop, dance music, and pop-punk vibes. The only thing we hadn't done was capture that in a recording. I feel with the different styles we were able to put on New Glow, it's kind of the first time we've been able capture the mix of music, influences, and whatever that we put on stage. That was just something that was important to us, to finally get a combination.
I'd put "Hoodie On" way up there. It has been so polarizing with Matt and Kim fans; while there are a lot that are showing so much love, there are also a lot who are really freaked out because they feel it sounds so different, but in my mind it never even occurred to me. I never even thought it sounded different because it sounded so similar to everything we have been — the stuff we incorporate on stage and all of that. While in the end I want to make music that I love, we're really lucky to have people who come back again and again to our shows. I want to make sure this bands not just about me and Kim — it's about me and Kim, and everyone who listens to us. I want to make sure everyone feels included so it's interesting that that song has been so polarizing, but we have another song called "Can You Blame Me" that I love.