Kurt Vile keeps late hours. "Somewhere between midnight and three," the singer-songwriter says, "maybe the best stuff happens." It's late February and the 35-year-old has taken a chunk of time out of his busy schedule — family life as a husband and father of two daughters, professional life as one of indie rock's most gifted guitarists — to discuss his work habits as of late. At the moment, he's in his native city of Philadelphia, but recently he's been traveling around the country, assembling his sixth full-length, the follow-up to 2013's radiant Wakin on a Pretty Daze.
So far, recording of the new LP has been split between the East Coast and the West: Vile says he's logged time in studios in Brooklyn, Athens, and Los Angeles. Most promising, though, is his eight-day stint at Joshua Tree's Rancho de la Luna, the desert outpost that has facilitated the making of albums by Queens of the Stone Age, Arctic Monkeys, and many more, and was recently featured in Dave Grohl's Sonic Highways documentary series.
"It's a really vibey house. You can't really call it a studio, it's more of a house," Vile says, before adding an important distinction: "A house with ProTools."
When asked to describe some of the material he's been tinkering with "for the better part of a year," Vile tosses off descriptions like "sort of dark" and "late-night," and offers the sincere but non-commital answer of, "There's a little sad, and a little love." But when he discusses the intimate atmosphere at Rancho de la Luna, he opens up a bit more.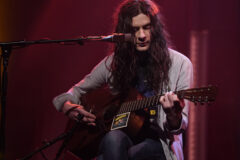 "At first there were definitely challenges because you want to play live but there's only this one backroom and everything bleeds into everything else, so essentially I was just playing in this little closet room, but I recorded one of my favorite songs ever," he says. "Everybody went to bed and I couldn't sleep. I kept listening and then the sun came up and all of a sudden I just looked around me and I could see everything for miles and I was like, 'Man, I just recorded my best song ever and I'm here in the middle of nowhere in the most beautiful, mystical, magical desert.'"
That sort of intimate atmosphere suits the as-yet-untitled album, the production of which is being handled in-house by Vile and Rob Laakso, multi-instrumentalist for Vile's backing band, the Violators. John Agnello — co-producer on Vile's two previous efforts, Wakin on a Pretty Daze and its 2011 predecessor, Smoke Ring for My Halo — is not involved with this upcoming record, but Vile does say he and Laakso will be "getting some outside help soon."
Other details, such as release date and track list, have yet to be finalized. The album is expected to arrive sometime this year, but Vile still has plenty of work to do. As of now, he's planning to mix a handful of songs that will likely serve as half of the finished project; he also expects to record more with the Violators, to add a bit of heft and round out a set that is already starting to show range.
"It's got the pretty finger-pickers, it's got the electric song, it's got piano songs, which I haven't really had, there are banjo songs," Vile says of the album. "It's all over the place. Everything you can imagine I've done… That's where I'm at now, that I can sort of tap into every world and make it cohesive."