California pop-punk forerunners the Lookouts might not be the first group people look to when exploring the sub-genre's history, but the short-lived project still deserves some reverence: Not only did the trio release two highly influential LPs (1987's One Planet One People and 1989's Spy Rock Road) and two EPs (1990's Mendocino Homeland and 1991's IV) before the East Bay went gaga for hook-slinging acts like the Mr. T Experience, Isocracy, and Screeching Weasel, but one of the Lookouts' members was a pre-Green Day Tré Cool, who, at 12 years old, didn't yet know how to play the drums. Together with Tré and bassist Kain Kong, founding Lookouts member and guitarist-vocalist Larry Livermore (who later went on to start indie punk label Lookout Records) spent ample time collaborating with Operation Ivy's Tim Armstrong (known then as simply "Lint"), and future Green Day frontman Billie Joe Armstrong.
Now, nearly 25 years after the Lookouts parted ways, the band is retroactively releasing Spy Rock Road (And Other Stories), a compilation disc that features songs from every Lookouts release, several compilation tracks, and one track from their first demo, which dates back to 1985 ("You can hear 12-year-old Tré's soprano vocals on that one!" Livermore jokes over email). On top of chatting with Livermore about pop-punk's earliest age, SPIN is also premiering the remastered "Mendocino Homeland," a tongue-in-cheek ode to the trio's hometown that'll be included on the album. Hear "Mendocino Homeland" below, and get a behind-the-scenes look at what it was like for Livermore to record with both Armstrongs and watch Tré, morph from a "decent punk-rock drummer" to a "jaw-droppingly astounding drummer."
What's your fondest memory of recording with the Lookouts?
One of my fondest memories was when Tim Armstrong (then still known as "Lint," and still a member of Operation Ivy) came in to play the lead on the Spy Rock Road LP track "Living Behind Bars," which was a kind of Op Ivy-influenced song I'd written about going to visit Jesse Michaels and Jake Filth at their punkhouse known as the Ashtray. When we wrapped up a rough mix at around one in the morning, we drove over to the 7-11 in Albany (just north of Berkeley), where Lint's brother worked the graveyard shift, and Lint was like, "Listen to this record we just made." He put it on the boombox and danced around the store in the middle of the night. It was so spontaneous and exuberant, but also I remember being thrilled that Lint — who I really looked up to as a musician and a member of Op Ivy — seemed so excited about playing with my band on a song that I'd written.
What was the inspiration behind "Mendocino Homeland " in particular?
The song "Mendocino Homeland" (which was also the title of the EP it appeared on) was actually written and sung by our bassist Kain Kong, but I think it's safe to say it expressed feelings shared by all three of us about what it was like to live in that amazing (but also very challenging) part of the world. A lot of what the Lookouts were about was trying to capture the feel of the mountain wilderness where we came from, and I think that song might have come closest to it. I'm not an especially gifted guitarist (which is why I wound up bringing in people like Billie Joe or Lint to play guest leads), but once in a while I'd come up with a lead that I was proud of, and the instrumental break on "Mendocino Homeland" was one of those: To this day I can't listen to it without seeing the deer loping across the mountainsides and the forests and fields in endless shades of green.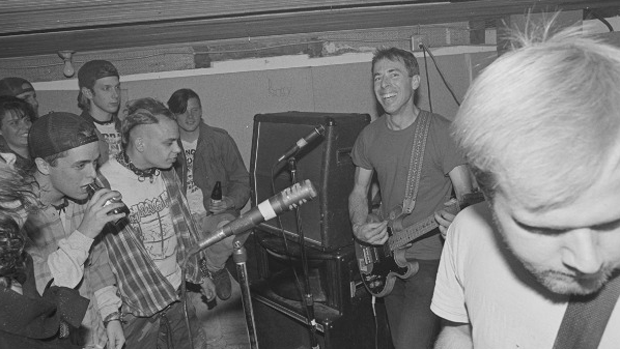 Got any crazy stories of recording with Tré Cool and Billie Joe Armstrong?
It was quite an amazing experience to watch — over the five-and-a-half years that we played together — Tré evolve from being an irrepressible 12-year-old who'd never touched a drum in his life (but liked making a lot of noise) to being one of the best drummers in the world. I can't help laughing, though, about the time a producer we were working with tried to force Tré to play along with a click track while we were recording because, according to him, Tré's playing just "wasn't consistent enough." Tré tried it, but didn't like it all, and eventually refused to go along with it, claiming that if anything was inconsistent, it was probably the click track. He was about 15 or 16 at the time, which was right about when he started morphing from a decent punk-rock drummer into a jaw-droppingly astounding drummer. I remember listening to rough mixes of that session and thinking, "Whoa, I can't believe I'm actually playing music with this guy." Especially considering that it wasn't much more than three years since I'd been showing him how to hold the drumsticks.
What led the Lookouts to become Lookout Records, assuming the two names are related, of course?
I actually talk about this in my book, Spy Rock Memories. Before the Lookouts or Lookout Records, there was Lookout magazine, and all three of them took their name from the fire lookout tower on Iron Peak, which was the highest mountain for 50 or 100 miles around. In those days, before satellites and cell phones, they had towers on top of mountains where someone would live all summer and just keep a watch for forest fires. But where we lived, in the Spy Rock wilderness, the Iron Peak Lookout stood out not only because it towered over everything else, but because it was literally the only visible human-built structure. It was kind of like the Empire State Building is to New York City: No matter where you go, eventually you'll come around a corner and see it. So when I started my magazine in 1984, I called it the Iron Peak Lookout, but after the local pot growers threatened to burn me out (as in burn my house down) if I didn't stop calling attention to our area, I shortened the name to just plain "Lookout," and in 1985, when we started the band, we were the Lookouts. After that, what else was I going to call the record company?
What made you decide to take a managerial role in co-founding Lookout Records as opposed to full-time performing?
I didn't really "decide." It was more like the role was thrust upon me. Obviously (or at least it seems obvious to me), I never expected that putting out a few 7″s for some of my friends' bands would turn into anything more than an occasional hobby, but when one of those 7″s happened to be by Operation Ivy, well, things took a slightly different course than I'd envisioned. As it turned out, for the next ten years I felt constantly pushed and pulled between trying to pursue my own music and writing and doing a good job of producing and promoting the many, many bands that wound up being on Lookout. It was, in fact, one of the factors that led to my becoming dissatisfied with my role in the record business and prompted me to leave when I did.
There was a kind of bitter irony to the reality that the more successful Lookout got, the less time and energy I had left over to pursue my own art. To be fair, I'm sure you could find some critics who would claim that was no great loss, but looking back now on what we did with the Lookouts, I have to admit I sometimes wonder how much more we could have accomplished if we'd stuck together a little longer. But hey, for what it was, and for as long as it lasted, it was wonderful.