This February marks the 30th anniversary of The Breakfast Club, director John Hughes' classic teen-angst flick about five archetypal high school students (a brain, an athlete, a basket case, a princess, and a criminal) and a principal finding out more about each other and themselves than they ever anticipated over the course of a Saturday detention. While definitively of its time in its fashion, pop culture references, and Brat Pack cast, the movie still seems unnaturally immune to aging, and gains new generations of fans (who might be introduced to the movie via extended references in modern shows like Glee and Victorious) every year. February also marks the 30th birthday for the movie's seventh main character: "Don't You (Forget About Me)," the rousing, instantly anthemic pop/rock blast that both kicks off the movie's opening credits and closes out its iconic final scene, and has remained inextricable with the movie three decades later.

Composed by Steve Schiff and Keith Forsey and performed — eventually — by Scottish new-wave favorites Simple Minds, "Don't You" went on to have an incredible legacy even beyond any associations with Judd Nelson and Molly Ringwald. The song went to No. 1 in the United States, the first Stateside crossover success enjoyed by the British new wavers, and is a necessary fixture today on any retro compilation or playlist looking to evoke the 1980s. It's also been covered by countless artists, including Billy Idol, David Cook (for the American Idol Season 10 send-off theme) and even Ringwald herself.

For such a beloved pop smash, however, the story behind its genesis is surprisingly tumultuous. Simple Minds turned the song down initially, leading the song's writers and the movie's producers to search in vain for a fill-in — offering it to a number of other high-profile artists in the process, though accounts differ on the who and when for several — while frontman Jim Kerr and Co. slowly warmed to the idea of recording a single they didn't write. And after ultimately recording and enjoying their greatest chart success with "Don't You," the Minds soured on the song (and possibly its composers), a relationship that remains complex 30 years later. (Check out our Spotify playlist of the best non-"Don't You" songs from the band's considerable decade-spanning discography here.)

Read on to the captivating story of the still-great Brat Pack-era standard, as told by those who were responsible (or merely around) for its conception, and by those who have carried on its legacy through the years — giving you everything, inside and out.

Steve Schiff, writer: I was Nina Hagen's guitar player, and Giorgio Moroder produced an album for her. Keith Forsey was working with him, he was sort of in Giorgio's stable of guys, and he had written some big hits, actually, with Giorgio. He had just started working with Billy Idol, maybe a couple of years before. So we just met in recording the album and became friends.

Keith Forsey, writer/producer: Steve was one of the band members, and when you mentioned Nina's album, he was a strong part of that record. Our first collaborations were fantastic. We were both kind of listening to the same kind of records at the time, and we were both in the right place to make that record and the collaboration.

Michelle Manning, The Breakfast Club co-producer: I was working for [Channel Productions producer] Ned Tanen, and we had done Sixteen Candles, our first movie. I was on set, and John said to me, "You know this is really odd," because he had written a movie specifically to be the movie that he directs first, because it was five kids in one room. And I go, "Oh! Well, what's happening with that?" And he said it was at A&M Records, and they were supposed to do it for a million dollars, but he had no idea what was going to happen to it now, because he was making Sixteen Candles for more than a million. So I called Ned Tanen, and he knew [executive producer] Gil Friesen very well, and he called Gil… and the next thing we knew we were partners on it. And that's how I came to be involved in The Breakfast Club.

Steve Schiff: I think it was maybe a year-and-a-half after we met, Keith got hired by Universal to do The Breakfast Club. I'm pretty sure that's a result of he and Giorgio having won an Oscar for Flashdance. So, basically, he was stamped on the head as the guy you go to.

https://youtube.com/watch?v=ILWSp0m9G2U%26%2313%3B

Keith Forsey: That's what got us to The Breakfast Club. I had just come off of that Oscar win with Moroder and I guess that people that I had the credibility to compose a score; whether I did or not was something else.

Steve Schiff: I was on tour with Nina over in Europe, and Keith called me in Spain and just said, "I've got this movie to do, I've got to write all these songs. When are you going to be back?" And then I came back and he sent me a script, and we started writing a bunch of songs for the movie.

Keith Forsey: [The Breakfast Club director/producer] John Hughes approached me really early in the project, and I said, yeah, sure, I was interested. I read the script and it was kind of cool. I went out to Chicago and I watched some of the first filming in the school, just by the airport out there. And that's where I met John, kind of watched him working with the actors, and that's how I kind of got to know what he was all about.

Michelle Manning: John was a total music connoisseur. He knew exactly what he wanted. And that's how we came to get Keith Forsey.

Kathy Nelson, Music Supervisor: I worked with John on a lot. I did Sixteen Candles. I did Some Kind of Wonderful. I did a lot of his stuff and we became very good friends. He was very much like a kid when it came to music. He loved music. And he had great taste because he didn't have, if you will, grown-up taste in music. He liked alternative music. He liked stuff that was a little left of the center.

Michelle Manning: John wanted a lot of the English Beat stuff that he had brought over, which none of us had even heard about. He put a lot of that music in Sixteen Candles. Of course, now everybody goes, "Oh yeah, of course [that music] was everywhere." But it really wasn't when he did that.

Keith Forsey: I was working, obviously, with Billy Idol and Moroder. So Moroder, we had some of the techno stuff. Idol we had the punk, techno combined. So I think John was kind of looking for a little bit of that vibe, and a little bit of the indie vibe.

Steve Schiff: They sent me the script when I came off from the tour. I came back to America around Christmas time [in 1984]. So I read the script, and we started writing, at first, up at Giorgio's house in his spare bedroom, and then we went to Giorgio's full-on studio down in the valley, and we started putting tracks together. "Don't You" wasn't the first one — it might have even been the last, I'm not sure.

Keith Forsey: We were in Studio B in Oasis Studios in Los Angeles. Which was kind of the smaller back room that we used to use, more for writing.

Steve Schiff: The way we write together is we'll put a drum groove down, and then a guitar to just sort of start building the track, and look for lyric ideas. So, with "Don't You," it's pretty much the same story. We put that drum beat down, you know that boom, ta-chk, boom boom and the guitar up loud. Keith is great because he's very organized, he's a good producer. And I'm the guitar player.

Keith Forsey: Steve's always ahead of you. He's always going, going, going, and I'm the kind of guy that's trying to pull him back and say, "Here's A, let's try and finish A. Here's B. Let's get B stuck together with A…" Steve's a crazy guy. We're just different personalities.

Doreen Ringer-Ross, VP of Film and TV, BMI: Steve was sorta dark, mysterious… Always brilliant. Always really talented. To this day, if he were to say anything to you or write you anything, he just speaks in poetry. He's such an incredible, real-deal artist. Always was.

Steve Schiff: Basically, he gave me some rope, he said, "Play something," and we came up with the beginning chords of the song and the groove of the song. We laid that whole track together with a couple of keyboards and bass, but we didn't have a lyric yet.

Keith Forsey: I would get rough cuts of the movie and sit in the back room and kind of watch and just make notes, make notes, make notes. There was a specific scene where Judd Nelson and Anthony Michael Hall, in the middle of movie, they're confronting each other, and I think it's Anthony Michael Hall who says to Judd Nelson something along the lines of, "Are you gonna remember me after this?" Cause they kind of come together in that section. And it took me back to my school days when I was kind of on the bad side of the rails, and I remember standing at a bus stop with one of the kids from the other side of the rails and we started to talk. I offered him a cigarette and we became kind of… that never would have happened if we'd been both on our regular teams. And I just thought about, "Well, are you gonna forget about me?" And I thought that it was this great theme for the song.

https://youtube.com/watch?v=ZsKjG1i5l6U%26%2313%3B

Steve Schiff: It ended up being a kind of soliloquy in the lyric, the story as it happens throughout your youth, where you go out somewhere, and you see a beautiful girl — maybe the love of your life, or just someone you're really hot for — across the dance floor. And you never go talk to her. So it's that thing of "Ah! Damn it." So the song is basically what you wished you'd said, what you wished you could have said. That was kind of the vibe.

Keith Forsey: It kind of rung true… Because underneath all of that bravado from the bully and them [in the movie], there's this one underlying theme: We're all kids, and all trying to find our space in the world and trying to work out our strengths and our weaknesses. It's a weird period of life, isn't it?

Kathy Nelson: I had just started at MCA records. When [A&M] were doing The Breakfast Club, in the same studio, I was working on Beverly Hills Cop. I needed a title track for Beverly Hills Cop, and I needed Keith to write it, and Keith needed a band. He had written "Don't You Forget About Me", so I helped him… cause he didn't know how to find anybody to sing it.

Steve Schiff: We had the lyric finished and then Keith got on the phone… actually I'm pretty sure we sent it to Bryan Ferry. I'm pretty sure, although I never heard this directly, that he said no. Then we sent it to Simple Minds because we thought they would be great for it. And I was a huge fan. I listened to [1984's] Sparkle in the Rain practically every day in those days.

https://youtube.com/watch?v=T7b27t7lxCw%26%2313%3B

Keith Forsey: When we wrote the song, our first thought was Simple Minds. Simple Minds was the first, but they turned it down.

Michelle Manning: There was one point when we couldn't get anybody. [The Breakfast Club music supervisor] David Anderle and I literally wandered the streets of London for two-and-a-half, almost three weeks, going to every major English group, with a three-quarter inch tape of The Breakfast Club. We showed them the movie and they'd look at us like we were aliens. They were like, "Well we don't understand. Who's the headmaster?'" To them, Paul Gleason's character…they could not wrap their head around, like, who is this dude? Because he's certainly not behaving like a headmaster. They also didn't understand what these kids would being doing at school on a Saturday, not in uniform.

Steve Schiff: I don't know whether Keith sent it to Billy Idol or not, but he may or may not have, I'm not sure.

Keith Forsey: No, that's not true. A lot of people think that. I don't know, especially with the movie… I was just nervous that the personalities wouldn't fit, so I kind of left it out of Billy's realm. It might have done well if we'd done it.

Michelle Manning: Oh yeah, I remember offering the song to Billy Idol. He didn't understand. I think a lot of people that passed will never say they passed. Cause we had the movie, and that demo which was literally just like the final song with Keith. And people were just shutting us down.

Keith Forsey: Then A&M came to me and they said they want Corey Hart to do it. So I after I cleaned my face and stopped vomiting. [Laughs.] I said no way! Why, you can't do that! You can't do that, you just can't do that. You got to get Simple Minds. Hit them up again.

Michelle Manning: Well, Chrissie Hynde [of the Pretenders] said yes, but she was pregnant at the time. And we said part of the deal is we have to do a video, and she would not do a video pregnant, which I would not blame her for. She got the movie. She got the song. She was down with the whole thing. But she was pregnant, so she said to her husband Jim [Kerr of Simple Minds] "You should do this song. The song is a hit…" You know, she was agenting for us on our behalf. And Simple Minds were signed to A&M, so it was a no brainer. And then they said no.

Kathy Nelson: I wasn't that familiar with Simple Minds, but apparently, for the singer it was a huge departure in terms of the kind of song he was gonna do, and he really could only sing that song one way.

Jim Kerr, Simple Minds singer: It was actually more that we did not write the song and were averse to doing material written outside of our group. That said, the demo of the song presented to us blew no one away, to put it mildly. Not bad, but nothing great, sounded much more suited to Psychedelic Furs than Minds. It took us a while to bond with the idea of doing the song and making it our own.

Keith Forsey: And David Anderle, god bless him, went back and tried and tried and tried and got them on board.

Michelle Manning: Something happened within the higher echelon of A&M, which was Gil Friesen and David Anderle, and the next thing I knew, Simple Minds was recording the song.

Keith Forsey: David said we're going to London. So Brian Reeves, the engineer who works on the whole album, and I, we took off to London. We met the band outside a big-ass studio. Whether they were under the impression that we were going to collaborate or not I wasn't sure, but I showed up with Brian and we said let's go, and we just started recording.

Jim Kerr: Keith was a bundle of energy, an enthusiast, he understood our thing. He made it fun, we liked him and wanted to do a good job for him as much as anything else.

Keith Forsey: We just started recording. Jim sang the lyrics and that was it. The sound was refined. The demo… it was right there, you know?

Steve Schiff: It's the same track that's on the record. He replaced the drum machine with the band and they played to it, but it was basically… they played with the headphones, with the track. I think that Keith was the one that sang it for Jim to hear.

Kathy Nelson: The joke always was that Keith's demos were so good because Keith Forsey had a great voice and he looked like James Dean. I used to be in awe of him because he always had the supermodel girlfriend. He was the star, Keith was in those days. I actually said to him, "You have to put somebody else on these demos because your voice… You sing these songs better than anybody else could. You're intimidating to vocalists."

Michelle Manning: Oh my god. Yeah. His demo of "Don't You (Forget About Me)" was so incredible. It was exactly what the final product was, after he sent Simple Minds back, when they decided they wanted to make it their own. And we were like, "No: All we want you guys to do is to copy the demo exactly." Because it was perfect.

Kathy Nelson: I mean to me Keith Forsey was one of the greatest, greatest pop songwriters. He writes very sort of timeless songs. He's a phenomenal producer, and a phenomenal drummer. I can't say enough about how talented he is.

Steve Schiff: So Keith went in there with the 24-track tape and spent a couple of days trying out Simple Minds. And it's great because they rolled the tape, and the guitars went BAWWWW BAWWWW and Jim Kerr went, "Hey hey!" That's the reason I like him so much, because he's very creative. You give him an inch and he'll make into a mile.

Jim Kerr: Once we came up with the intro and especially when our drummer Mel Gaynor started to showboat with his groove, it all started to feel like we were in control.

Keith Forsey: Kerr came up with the "La la la" at the very end. And the breakdown at the end, that's classic Simple Minds, they put that in there, which was genius. That whole record just smelled so much of Simple Minds.

Steve Schiff: When I heard the finished version, I though it was brilliant, you know, Mel Gaynor's drum fills and everything are unbelievable, everything was great. But, at the end, when the song goes "La la la la" I thought, "What?" I'm just not a "la la" person. And now, every pop song has a kind of sing-along part like that. It's so common now, it's unbelievable.

Jim Kerr: You don't plan "La la la"s. They just pop out. Bowie and Marc Bolan littered many of their songs with "La la"s. They led the way for us.

Keith Forsey: Steve and I were big fans of them so when we wrote the song we were kind of pretending we were Simple Minds people. That's why the suit fit pretty good.

Michelle Manning: Everybody was so happy with the final version. We didn't know it was going to be a smash. We just all thought… We never if know if something is going to be a hit. We just thought it was really good.

Molly Ringwald, The Breakfast Club actress: The first time I heard the song, I believe, was when we were still in Chicago when we were filming The Breakfast Club. I'm pretty sure they had like a demo of that song or something. I liked it immediately. And I really liked Simple Minds a lot so I was pretty psyched about that. "Up on the Catwalk," I love that.

Steve Schiff: I think that John Hughes got a hold of the instrumental demo without lead vocals, and he started dubbing it into a temp track. In the beginning of the movie, it's still there. That's our original demo. I'm playing harder on that, and it's Keith's drumming… It's just Keith and I, as a matter of fact.

https://youtube.com/watch?v=ZF–IfvbioQ%26%2313%3B

Keith Forsey: The first time I saw the opening with the [sings opening guitar chords] kind of explosion on the screen, I was blown away. I was like, "WOOOWWW." This kicks. The song just sat so cool, it was just, "Yes."

Steve Schiff: I thought it was great for the movie. And I liked the movie, but… you know, it's a classic movie, but it's just not my kind of movie. I guess it's a good, like, date movie or whatever. I'd rather watch stuff like Blade Runner.

Ryan Key, Yellowcard singer/guitarist: I was born in 1979 so I was just a few years behind the generation that really connected with the Brat Pack. I think kids in high school in the late '80s really related to all of those films. But I can honestly say The Breakfast Club was a film I absolutely loved when I saw it.

Jim Kerr: Not as good as Citizen Kane, not as bad as everything by Quentin Tarantino.

Daniel Kleinman, "Don't You (Forget About Me)" video director: In the '80s I was doing a lot of music videos, and I'd also done a couple of music videos that incorporated movies. So I didn't actively pursue "Don't You (Forget About Me)." I got sent the track and wrote an idea for it. But weirdly what got made wasn't actually my first idea. I was going to do something like a Northern English realist film about a man coming home to his roots after being away for a long time. I was going to make it shot like a documentary style and very emotive and whatever. I think a couple of the problems, one was originally, they weren't very interested in having any footage of The Breakfast Club in the video. Then subsequently, I found out that it was really important that there was quite a lot of the film in the video.

So that didn't really fit with my original idea, and it was a timing issue, so I had to come up with another idea very quickly which is what ended up getting made. It's a kind of surreal idea but originally, my thought was based on a photo I saw, of someone standing in front of every single thing they'd ever bought in their entire life. So starting out with stuff with your parents buy for you when you're a kid and then stuff you buy when you're a young school kid and then a teenager and then as you get older, and what you buy to put in a house. I thought what happens if you're in a room and this room starts filling up with all the stuff that you buy over your entire life?

https://youtube.com/watch?v=CdqoNKCCt7A%26%2313%3B

Jim Kerr: I remember feeling uneasy about all the junk in the room.

Daniel Kleinman: The band was not overly cooperative, as I remember it. The other issue we had was that due to a lot of behind the scenes things with the movie — the script and the idea for the video had to go past the movie director, as well as the band — it took quite a long time. By the time we actually got make it, it was the Christmas holiday, so I don't think the band wanted to be there, cause they wanted to be with their families. They got into it but I think they're the type of band, that what they want to do is just play their instruments. I kind of assumed and slightly heard that they didn't really like the video anyway, so…. They're quite a moody bunch. Jim's quite a moody git, you know. He's not the most gregarious man in the world, I seem to I remember.

Jim Kerr: What did I think about the video? Umm. Y'know!

Daniel Kleinman: I think at the time I thought, "This is okay." I think if I was doing it again now I would probably try and make the story a bit more logical. It's quite New Romantic-y, and a little bit camp. I think I would avoid that. You know, it's a thing of its era. One can't dissect it in that sense.

Molly Ringwald: I think that song was ubiquitous in everybody's life [in 1985] because it was played a lot on radios and the movie did really well. I'm pretty sure they already started to play that song on the radio before the movie came out.

Daniel Kleinman: Everyone was slightly taken aback by what a chord it struck. It became a sort of anthem. I remember I used to go to L.A. quite often in those days, going to bars and clubs and hearing it. Just the whole place was kind of singing along to it. Bloody hell. I didn't expect that.

Doreen Ringer-Ross: I had just started at BMI running the film and TV department. Steve Schiff was a BMI songwriter. "Don't You" came to my attention because it was a song that went to No. 1, and it came from a soundtrack. We threw a breakfast party when the song went to No. 1. I guess that was supposed to be clever; normally we would do a cocktail party for somebody that had a No. 1 record, but because it came from The Breakfast Club, we threw him a breakfast. Which was pretty ridiculous, watching Steve function that early in the day.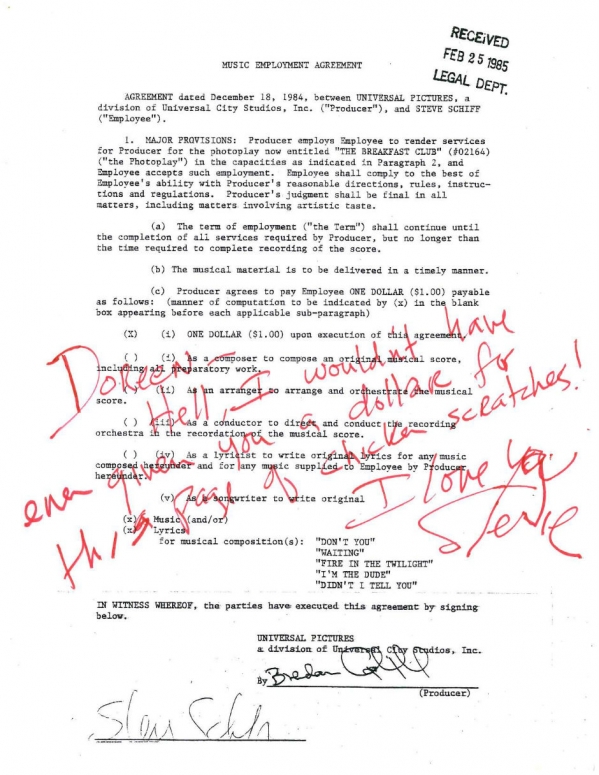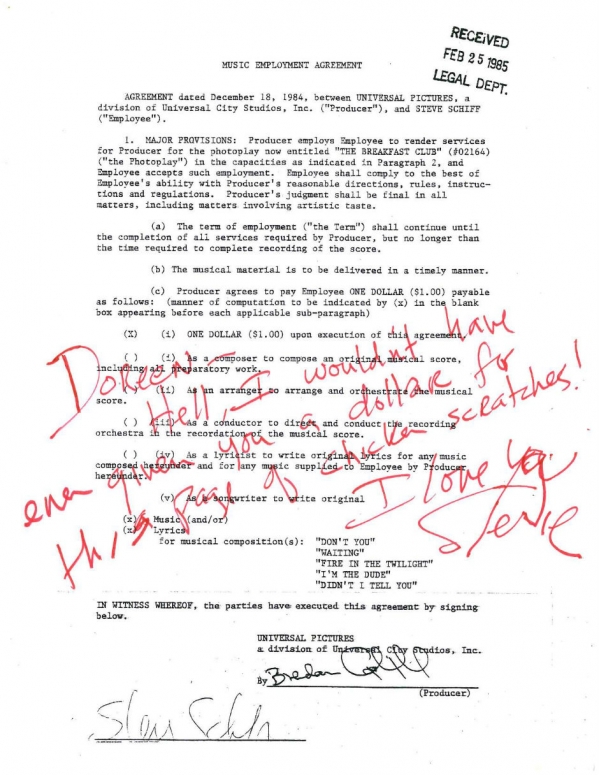 Keith Forsey: You know there's certain songs… I don't know if I would say that I know it was going to be massive, but I every time I put that song on it was like 'Oh man!' I didn't have a problem, there was nothing in there that messed with me. It was like I put that song on, beginning to end it'd be like, "Wow. This is working."

Daniel Kleinman: Oddly, I don't think the band actually liked it that much. I think partly because they didn't write the lyrics and they didn't like the connection with the film very much and they thought it was compromising. You know, really, I don't think they realized it was gonna be quite the success it was either.

Kathy Nelson: I think Jim Kerr became very resentful that the song was such a huge success. And I think he kind of blamed Keith for it. It was like his fault or something. It was a drama, at least in my little circle, which included Keith and Giorgio and Harold [Faltermeyer].

Keith Forsey: I think the Minds were a bit embarrassed. I remember them giving me some kind of bad press. They said something, and then we didn't speak much after that. I was like, "Wow, I didn't realize…" I didn't quite know if I had done anything wrong. I thought we'd done a great job together, and the record was cool and everybody was happy. But there was a little bit of animosity there, so, yeah.

Steve Schiff: Since Keith was the one who went over there, they sort of bonded with him. He produced one of their albums [1995's Good News From the Next World] after that. I've met Jim and he was friendly, but I met him during the time when it was kind of sour grapes, at least in the press, according to what you read. The band, and I think rightly so, were pissed off that this big successful song wasn't one of theirs, because they felt they could write a better song. And they probably could. Nevertheless, I remember at the time, it sort of bugged me, like, "Well, okay, you're welcome."

Michelle Manning: Oh, I think they were… they were such an independent band. And they were so about their own style. But they were signed to that label and they were the ones at that point that were going to record the track, and I think it became the biggest hit they ever had.

Jim Kerr: We were shocked but of course we were delighted to have it top Billboard. We were grateful that after all our reluctance, so many worked hard to get us on radio and on TV. Who would not want to be No. 1 in the States? We were blessed in many ways.

Steve Schiff: Well, they had three or four albums out already. They were all really classic, good albums that I still like today. If I was in that band, I'd gripe about it too.

Keith Forsey: I love it. It's one of the songs, one of the only songs — that and [Billy Idol's] "Rebel Yell" — that I've written that I can listen to. They were the two records that when they come on the radio I'm like, "Oh, wow. I like that!" I mean I even covered it with Billy, but everybody said it was too much like the original. Which it kinda was.

Molly Ringwald: I heard Billy Idol's version. He was approached to record it, I think, before the Simple Minds and turned it down. And then he recorded it later but, you know, it sounded a little too much like the Simple Minds version I think.

Keith Forsey: For me, the song only goes one way, and what we did when we did it was the way. [Laughs.]

Ryan Key: I can't remember who actually asked us to cover the song for the MTV 20th Anniversary tribute — someone from management at the time, I would assume. We didn't really get any instruction. The minor-key thing was the biggest change we made, I guess. We also really wanted to focus on the outro "La la la" part hitting hard. I had to learn how to sing it within a week of performing it live in front of an MTV Movie Awards crowd. We had to do an edited version for the timing of the awards show. I kind of wish we could have recorded a full version to release with all the lyrics in it.

https://youtube.com/watch?v=RqU-LYq1kE4%26%2313%3B

We shook hands with the cast and said hi briefly. Obviously, it was super-cool to meet them. They seemed to be really stoked on us performing the song. I had to apologize for playing over Ally Sheedy's speech. There was a flashlight cue for us to play out to commercial and I totally screwed it up.

David Cook, singer: It was such a big song, it was kind of always in the peripherals. And of course growing up, I've seen The Breakfast Club a few times, and so the song has always kind of been around, at least as far as my peripherals. And then when we were discussing the send-off song for Season 10 of Idol, that song was kind of viewed as the bellweather, for a long time. Y'know, "Let's try to find a song like this, that's not this song." We never really found anything to top it, which speaks to the writers, really. I don't think we strayed too far from the original with our cover. Really we were just trying to find a little nuance in it. It was fun.

Molly Ringwald: When I was coming up with the song list [for 2013's Except Sometimes album] and we were sort of putting the songs together and arrangements, John Hughes passed away [in 2009]. And he was in my mind a lot, and so I started to sing it, kind of like hum it during rehearsal, asking my pianist if he even knew the song, because he is a total jazz nerd. He didn't really know a lot of contemporary songs from when we grew up, but he did know that one. Then he started to put these really beautiful chords behind it and I don't know, it just kind of came out of that. I don't know if I necessarily would have covered it if John hadn't passed away sort of unexpectedly at that time.

https://youtube.com/watch?v=m05VUw5lGYQ%26%2313%3B

It was always my idea to do it very stripped down. In fact, if I had to do it over again I would have done it even more stripped down. I wanted to do it in a way that was completely different from the original. Because what's the point of doing a cover if you don't completely reinterpret it? It's a great original version. The only reason to redo a song I think is because it wasn't so great or if you have something new to offer.

Steve Schiff: There's this version, I think that I found it on YouTube, this one girl with a single amp and electric guitar, she walks up on stage, plugs in… and she sort of changed the song. It's sort of a slightly different song, the way she does it. I think it says so much about how the song has affected people. The song has really gone off on its own and has become that thing for other people, and that comes across when somebody else does it. You know, walking by bars in New Orleans, at a karaoke bar and it's there. It's sort of fun where it can pop up.

Molly Ringwald: People love it when I play that song. People have such a strong association with that song. Because it makes them think of their childhood. It's the same reason why the movie itself still resonates with people. And not only the people that were teenagers when the movie came out, because the movie is sort of rediscovered by generation after generation of teenagers. So I think no matter what, it always brings them back to the way they felt when they watched the movie, and that usually was the time they were teenagers themselves.

Michelle Manning: I think it speaks to kids. I mean everything about that movie — and that's 100 percent John Hughes — is that it didn't pander to kids. It spoke to them. It was their voice.

Jim Kerr: The song ticks lots of boxes. It has great simplicity, it makes people feel good. It rocks, it grooves, it is full of pop hooks, great dynamics, killer chorus. It is also now an icon of a certain generation — thanks to the movie.

Molly Ringwald: It's very nostalgic, obviously, for me. It sort of recalls a different time in my life, and makes me think of John.

Kathy Nelson: That's an era of the music business that I don't think we'll ever see again. I think that that era, the late '80s and the first half of the '90s, it was really the first time that music was embraced in that way by studios, by filmmakers.

Michelle Manning: I remember one Grammy awards, where Steven Spielberg was backstage and everybody who won a Grammy — it was like Huey Lewis, Cyndi Lauper — he just grabbed them and signed them up to do songs for movies. I mean, that was back when a soundtrack and a MTV video was a big part of the marketing campaign for a movie, and certainly for a teen movie.

Doreen Ringer-Ross: I think for a movie like The Breakfast Club, or Pretty in Pink, those huge movies, the soundtracks were right on. They were completely targeted at a particular demographic at a particular moment in time, when it was perfect. That kind of lineup of songs you got from that was great. And then like anything else in the music business, they start bastardizing it and trying to recreate the formula over and over, whether it's appropriate or not. Pretty soon you had "Songs Inspired By," you had songs you could tell didn't really belong in movies, that were jammed in because that was how you marketed stuff. MTV was still healthy, and so these songs would come flying out of the movies, and they'd plan some sort of video together, because that was how the business worked. And that's all gone.

Kathy Nelson: Just like everything here, more is not necessarily better. So people started going, "Oh this is a hit single, this is gonna be a hit movie, let's put the song on the album." And it had nothing to do with the movie. For me, every aspect of it was incredibly important — how the lyrics related to the movie, how the artist must hit, the whole thing.

Doreen Ringer-Ross: There was a demise of that aspect of the record business. Back then, soundtracks were incredibly successful. They were these incredible compilations; records were still selling. Then I think the way people listened to music just started to change, and the soundtrack business just started to stop selling. And that stopped the funds flowing in that direction to produce those kinds of soundtracks. So now the economy behind it has almost completely changed.

Kathy Nelson: I think movies are having success again with soundtracks. When I left Universal, [Capital Music Group CEO] Steve Barnett called and was like, "Well what are you gonna do now that soundtracks don't sell?" And I was like, "Well that's a stupid thing to say. How about records don't sell right now?"

Doreen Ringer-Ross: I do remember having breakfast with David Anderle sometime during that period. I had worked with David when I worked at A&M before, so we knew each other in that context. So we as old friends were getting together, and he looked at me, having had a background as somebody running a label, or producing records, and now having done this music supervision, and said, "The film thing is just the hardest job I've ever had." Because I think there's so much bullshit involved in pleasing so many people. The director, the studio, trying to negotiate everything. Trying to come to terms with all of the elements that go into it. It's a lot of work. You'd think picking songs for films is just all creative and fun, but it's misery, trying to get those deals locked down.

Keith Forsey: David Anderle passed away last year. He was… I mean, he even worked with Jim Morrison. He was a legend.

Doreen Ringer-Ross: He was just so smart. And reasonable. And talented. I guess he was persuasive in that way, but not persuasive like a con man.

Keith Forsey: He was a big part of keeping it all together. I was a bit out of control on that record, and he helped keep us on the tracks.

Steve Schiff: It's certainly my most successful song. I still write today, I have a great studio in in my house and I still write all the time. If I get excited about something that I'm doing now, I think it's great. The old joke for songwriters is "They're all hits until they're released." Everything you're working on is cool and you're pumped about it, and "Wow, listen to this." I guess I'm the most proud of it. It's certainly the one song that everybody knows, so I really appreciate that.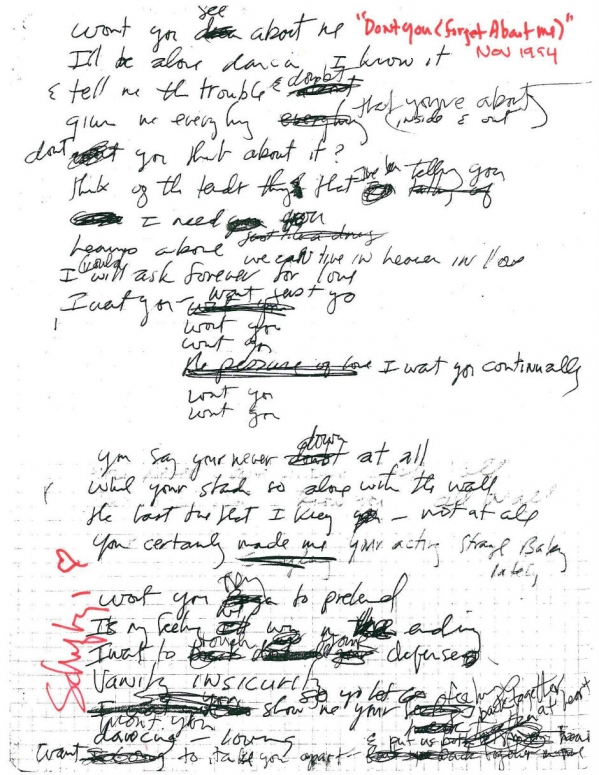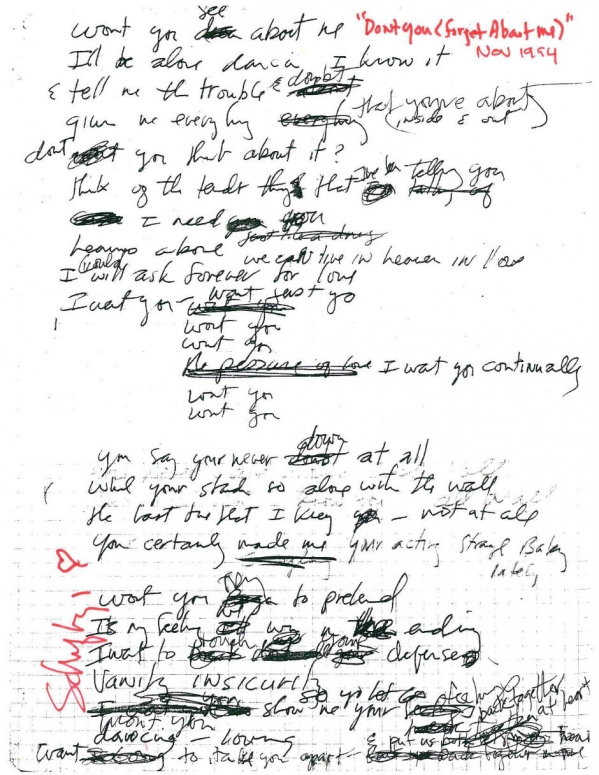 Keith Forsey: Steve and I did continue to work together. We did songs, I can't remember anything particularly successful but we did a song for The Gun in Betty Lou's Handbag. But nothing of consequence, I don't think. The whole situation probably wasn't conducive to carrying on. We both had things we were working on.

Steve Schiff: I'm sending my stuff around to other producers that I work with to try and hook up with young bands, and show maybe some of what I have to offer. I'm not really a singer, so I do tracks, and I kind of produce and arrange them to a pretty good point, but then I'll send them off to different people. I haven't had anything happen in quite a few years, but I'm still at it. I guess I'm sort of retired. Keith's got a house down in Mexico and he's very enigmatic. I go through periods where I talk to him, and then I go through periods where I don't talk to him at all.

Keith Forsey: I'm pretty much retired. I'm in Zijuatanejo, where the end of Shawshank Redemption takes place. So I live here a lot of the time and just paint and read. Music's become a little bit passé for me. I think art and literature are maybe a little bit more relevant in today's world. For me anyway.

Steve Schiff: It still gets played quite a lot, you know. I mean it's surprising, it's played roughly 50,000 times every three months across the country. And that means that it's playing all the time. If you put it end to end, the song is playing somewhere all the time. If you write a song like this, you may be surprised to learn that it can pay for the rest of your life. In fact, I would have been a lot more cheerful in the '90s if I had known that. I spent the '90s feeling like I needed to do it again, and really being concerned about that, and I needed it then. The song has been a real earner, and that's what I'm so damn grateful about.

Michelle Manning: I still listen to it. It's funny, I was working on this movie and this director who was of a different era said to me, "Oh I'm putting some temp in…this 'Forget About…'" This director loves jazz. And I thought, "Oh what is it?" And I went to the cutting room and I go… "I know that song very well."

Ryan Key: I've always loved the song. It's endured because it's an incredible pop song. A very important person in music once told me, "A great song will always win." "Don't You Forget About Me" is a great example of that.