If you've turned on Top 40 radio in the past 12 months, odds are you'd recognize the caramel-voiced British pop singer Jess Glynne from Clean Bandit's megahit, "Rather Be," a lushly-arranged house track that took home the Grammy for Best Dance Recording on Sunday night. Groggy from her late-night appearance at Warner Music Group's afterparty, and posing for a post-awards photoshoot, Glynne called SPIN from Los Angeles to express her disbelief about winning the trophy and to tease her upcoming solo album.
How does it feel to win the award?
It feels pretty surreal. Every time I think about it, it's kind of like… "Really?" But it's such an amazing feeling to think, "Wow, I've won a Grammy."
Can you walk me through what your day was like on Sunday?
So I woke up and got ready with hair and makeup, then we left the hotel, got to the event. We did the red carpet, which was quite long, and then got to the event bit. I was sitting down for about twenty minutes and then they announced the dance category and said "Rather Be" and I genuinely was sitting there, my friends and my manager with me, in utter shock. I was like "What?" I really thought Disclosure was gonna win!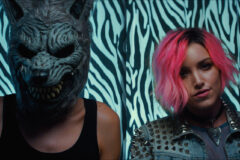 You didn't think you were going to win?
I thought we had a good chance, I just didn't know, but then part of me thought, "No, I can't be winning a Grammy, I'm sure Disclosure's got this." [Laughs.]
How have you found the single's reception in the States? I know it broke in the U.K. before it hit our shores.
You have tracks over here that explode and then a month or two later, it explodes where we are. The weirdest thing with "Rather Be" is that it'd done really well [in the U.K.] but then all of a sudden, I remember my manager saying, "Jess, 'Rather Be' has gone into the Top 20 on Billboard." All of a sudden it'd gone mad over here, which was insane.
How did you first come to work with Clean Bandit, and then how'd you guys end up all working together again later in the year on "Real Love"?
We originally came together by them getting in contact with me. They'd heard a song called "My Love" that I sang on, and basically they just loved the vocal and wanted to use my vocals. So we booked a studio, did the track, and then I actually was in the studio with these other guys earlier in the year working on "Real Love." I went in and rerecorded and rewrote some stuff on it and I was gonna use it as a track for me, but it's not necessarily the sound of my album. It was slightly more poppy, [so] I thought it'd be better to go with a joint single with Clean Bandit to end the year.
What's it been like performing the tracks with them at big arena showcases and awards shows?
Oh it's so much fun. "Rather Be" and "Real Love" are two of the most fun songs to perform, they're such feel-good tracks. "Rather Be" especially — I've sung it so many times but I'm still not bored of it.
Last year, I talked to Gorgon City, who described the dance-pop community in the U.K. as sort of a family, which includes Jimmy Napes, Rudimental, Sam Smith, and Duke Dumont. Have you found that to be true?
I think everyone in the U.K. right now, all those names you mentioned, are really great names and we're all doing our own things and it's going really well. People are reacting in such a great way, but together, we're all doing what we're doing, we all know each other, and we all go to similar events and performances. The festival season especially, we're all hanging out and someone's going on and someone's in the room next door. It's always so nice to have that, especially when they're all so lovely.
What direction is that solo album taking now that you have the time to work on it? I'm excited about the stuff I've heard, especially "Hold My Hand."
The album is basically done, I'm just kind of finishing that off now. "Hold My Hand" is the first single and then basically, the album will be ready to come out in May in the U.K. I reckon it'll be coming out in June in America. I've just been writing and working with loads of different people. There's a few different producers: Knox Brown is one of the main guys that's on it. Me and him did quite a lot of sessions together and we've found the sound of it, which is really quite upbeat soul, which is wicked and what I love. It's a very positive album, and for me, that's quite important because I'm a positive person.
Did I also hear that you'd worked with Iggy Azalea on a track?
Oh! I didn't work with her, but basically I did a song that I'd written with Nicola [Roberts] from Girls Aloud, and Invisible Men, and it was written for Iggy. Whether she uses it or not, I'm not sure. I'd love it if she takes it, but if not, I'll just pass it to somebody else!