As much as the Grammys-related conversation today may be about the winners and losers (and Kanye's responses to them, or lack thereof), one thing was abundantly clear from last night's ceremonies: It's all about the performances. Only nine awards were given out during the proper telecast, mere connecting fabric sewn between the 23 (!!) performances that made up the bulk of the evening's near-220 minutes of content.
So rather than diving into who did or didn't take home statues, we've ranked the nearly two dozen live showings from the 57th Grammys from worst to first. Take us to church, Jeff Lynne.
23. Tom Jones & Jessie J, "You've Lost That Lovin' Feelin'
https://youtube.com/watch?v=Ey650eBqJC8
Never feels good to hate on Tom Jones or the most played song of the 20th century, but this cramped Jessie J duet over a bizarrely karaoke-ish backing track was hardly the tribute that Barry Mann and Cynthia Weil deserve.
22. Adam Levine & Gwen Stefani, "My Heart Is Open"
https://youtube.com/watch?v=IEBTLPVgN1c
Barely reheated Aloe Blacc leftovers with a "Yes, yes, yes yes…" refrain that tries (unsuccessfully) to bully you into begrudging acceptance. Shame none of Gwen's recent solo singles were big enough for her to be allowed to sing on her own.
21. Eric Church, "Give Me Back My Hometown"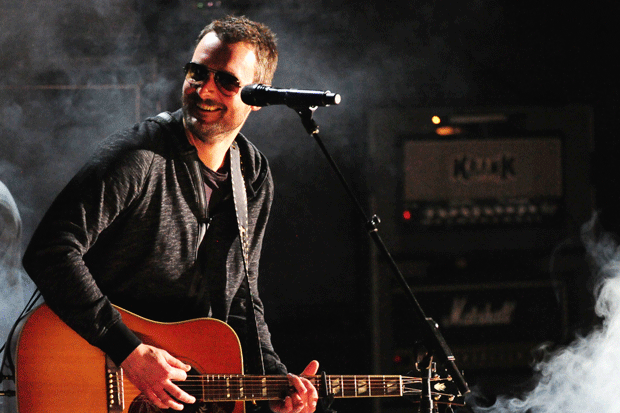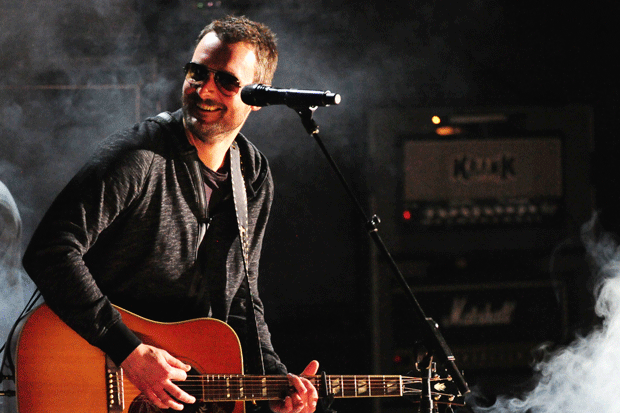 A disappointingly tepid showing from the country rebel, matching ill-conceived messaging imagery with a relatively uninspired performance of the hit ballad. Would the Outsiders title track have been too much to ask for?
20. Ariana Grande, "Just a Little Bit of Your Heart"
https://youtube.com/watch?v=WHrtT4xPKBA
A vocally flat reading of one of the least memorable songs on My Everything. If Ariana's saving her A material for next week's halftime performance at NBA All-Star Sunday, we certainly couldn't blame her, but even her B material should probably be stronger than this by now.
19. AC/DC, "Rock or Bust" / "Highway to Hell"
https://www.youtube.com/embed/9c2Sn8u2-Ls
Would've made more sense as the show's opening number if all of the performers had been organized alphabetically.
18. Beck & Chris Martin, "Heart Is a Drum"
Amusingly unremarkable.
17. Electric Light Orchestra, "Evil Woman" / "Mr. Blue Sky"
https://www.youtube.com/embed/BAIOhW44Cfs
ELO's mini-set couldn't have seemed much more out of place amidst the proceedings, and Jeff Lynne's stage presence wasn't exactly electrifying enough (sorry) to make a claim for his continued relevance. Nonetheless, there's never any arguing with "Mr. Blue Sky," and that backup singer who took the time to air-cowbell as appropriate was a champ.
16. John Legend & Common, "Glory"
https://youtube.com/watch?v=PGH6Fy5_guk
Say this: John Legend and Common were absolutely the right people to create and perform this moderately stirring ballad of bland uplift.
15. Juanes, "Juntos (Together)"
Might not have you rushing out to see McFarland U.S.A., but for a sole representative of all non-English-language music, the Grammys could've done well worse than Juanes.
14. Hozier & Annie Lennox, "Take Me to Church" / "I Put a Spell on You"
https://www.youtube.com/embed/WuQNdmL2PHg
Hozier's draggy rendition of his already cumbersome breakout hit was pretty deathly, but it was saved by the late-game Lennox cameo, as the Eurythmic went full-bodied into her Screamin' Jay Hawkins cover, even wah-wahing her own voice like a muted trumpet for an extended solo. Thirty-plus years on and still no one quite like Annie, that's for sure.
13. Sam Smith & Mary J. Blige, "Stay With Me"
https://www.youtube.com/embed/OVc-Qz6lDyw
Two exceedingly talented people singing at each other. Impressive, certainly, but not much new to be gained here.
12. Madonna, "Living for Love"
Madonna's letting her man-bull minions do most of the dancing for her these days, and her actual singing is most noticeable when it doesn't quite sync up with the pre-recorded track she's belting over. The song sounds and feels like a triumph, though, and if it gets Taylor and Pharrell shimmying in the audience, that's all that really matters.
11. Ed Sheeran & Friends, "Thinking Out Loud"
https://www.youtube.com/embed/LJhrZTFwWig
Undeniably wasteful to have Herbie Hancock and ?uestlove just kind of chilling in the pocket on an Ed Sheeran slow jam. But the song's pretty good, the chemistry between Sheeran and John Mayer was adorable, and Mayer's guitar-face game — even lip syncing his own solo at one point — was transcendent.
10. Kanye West, "Only One"
All 'Ye needs is one mic. And some Are You Afraid of the Dark? lighting.
9. Sia, "Chandelier"
https://www.youtube.com/embed/7rFkpcyZ598
Not sure what it says when you see a performance where the artist sings with her back to the audience while Kristen Wiig and a teenager engage in interpretive dance while wearing blonde bobs and leotards, and your primary takeaway is "Well… that wasn't as crazy as I was expecting." Probably as appropriate a capper to the Year of Sia as you could ask for, anyway.
8. Beyoncé, "Take My Hand, Precious Lord"
https://www.youtube.com/embed/kcNWxlHaAMo
An apparition of Beyoncé, laying waste to an MLK-beloved gospel plea, because Beck-preferring Grammy audiences don't deserve to hear anything off Beyoncé again anyway. The entire thing is chill-inducing, but her "cease, music" conductor gesture at song's end might still be the highlight.
7. Pharrell, "Happy"
https://www.youtube.com/embed/F7xB4l8_frc
In which Pharrell stares down the prospect of his "For the millionth time, 'Hey Ya!'" moment, and boldly decides to go all Nutcracker with it while dressing up like eight different Disney characters at the same time. What's the worst that could happen? Special kudos to guest pianist Lang Lang, quickly becoming the unlikely patron saint of giddily gonzo Grammy performances.
6. Katy Perry, "By the Grace of God"
https://www.youtube.com/embed/hVubdabIA34
No stuffed-animal sea-dwellers going viral from this one: Just an uncharacteristically sparsely dressed Perry, singing the most personal song of her career amidst some shadow-dancing projected behind her. For a performer who's made an extraordinarily successful career out of embracing the frivolous, it's a hell of a changeup, and made for one of the evening's more unexpectedly indelible moments — even if the timing of the performance may have been a tad questionable.
5. Usher, "If It's Magic"
https://youtube.com/watch?v=xS_Behdakic
A splendidly low-key tribute to one of Songs in the Key of Life's deeper cuts, with just the right amount of involvement from Stevie himself. A brief detour into "Good Kisser" would have been inappropriate, but not unwelcome.
4. Lady Gaga & Tony Bennett, "Cheek to Cheek"
https://www.youtube.com/embed/k-38idLPYDw
It would have been unimaginable a couple years ago that Lady Gaga would be such a Grammy afterthought, an undercard attraction paired with the event's most senior performer and given virtually no hype whatsoever. But Stefani Germanotta became Gaga through sheer hustle, and based on her short, sweet, and incredibly sprightly performance here — essentially dancing, flirting and vamping for two — she's just as game for a low-stakes standard duet as she is for a smash-hit show-opener. If Bennett's body isn't up for matching her energy at 88 years old, his singular voice is still ready and able. Don't count either of these two out just yet.
3. Brandy Clark & Dwight Yoakam, "Hold My Hand"
https://www.youtube.com/embed/B1TUVcVvYpk
Every Grammys seems to have one side-stage performance from an up-and-comer that takes everyone by surprise and puts some of the bigger names on notice — though at 37 years old, you probably couldn't quite call Brandy Clark an "up-and-comer" anymore. In any event, the Best New Artist nominee — who co-wrote the song behind last year's arguable show-stealer, Kacey Musgraves — certainly showed why she deserved to be hanging with the A-listers tonight with her and her country legend partner's unspeakably lovely "Hold My Hand" performance, stunning with a couple acoustic guitars and some dynamite harmonies. Better late than never for Brandy, and hopefully this is just the beginning.
2. Rihanna, Kanye West & Paul McCartney, "FourFiveSeconds"
The song just keeps sounding better, and to see the three pop legends essentially let it speak for itself in front of a plain background with few visual distractions certainly only enforces that. Rihanna's live singing has improved exponentially over a decade of award-show performances, and there seems to be real chemistry between the trio, with their closing group embrace providing one of the evening's awwww moments. Tellingly, the song received no official introduction — if it's not that iconic already, it should be before long.
1. Miranda Lambert, "Little Red Wagon"
https://www.youtube.com/embed/uMuIJXcTsVA
Miranda Lambert's performance won't be anywhere near the most buzzed-about item from this year's Grammys this week, it probably won't catapult "Wagon" to radio dominance and its hard to even imagine it enduring as a defining moment from these ceremonies. But simply talking about the most awesome performance from the night's festivities, it's no contest. Dressed like Debbie Harry auditioning for The Road Warrior, Miranda out-swaggered 90 percent of her fellow performers with a couple shrugs of her shoulders and a sway of her hips, and the other 10 percent with a casually spoke-sung "When I'm walking, jaws dropping, like…" Her cool was so natural and menacing that censors bleeped her for a lyric she might not have even actually said. To borrow a phrase from one of Lambert's less-impressive co-performers — and one of her vanquished Best Country Album competitors — that's damn rock & roll.