At Sunday night's Grammy Awards, the Irish singer-songwriter Hozier — who was nominated for Best New Artist but lost to Sam Smith — played a faithful rendition of his hit single, "Take Me to Church," but the performance's most powerful bit came via onstage collaborator Annie Lennox. The former Eurythmics singer riffed and hummed background vocals on Hozier's own number, before taking center stage and rattling the crowd with a soulfully static rendition of "I Put a Spell On You," a version of which appears upon her 2014 album, Nostalgia. With her massive final, acoustic note, Lennox brought the crowd to its feet. While other moments might've gotten more press — looking at you, Kanye and Beck — Hozier and Lennox's duet deserves some attention too.
https://youtube.com/watch?v=HZEChv1AaOk
The day after the ceremony, Lennox took time out of preparing for The Ellen DeGeneres Show to talk to SPIN about the headline-grabbing performance, her thoughts on 50 Shades of Grey, and what Sam Smith's victory signifies.
The performance on Sunday was incredible. I don't think I saw anybody in that audience as excited as when you finished performing.
Well that's fantastic. You just never know with this, whatever happens, how people are going to react. It's so strange because all of a sudden the whole thing is lighting up, and I'm getting these headlines! I'm like, "what?"
Can you tell me a little bit about how the collaboration came about?
Yes, it's very simple: [Grammys producer] Ken Ehrlich dreamed it up, basically. And he thought that the pairing of Hozier and myself would be very powerful. I didn't know Hozier and I didn't know his music, because I'm just a Luddite these days, by abstention. I live my life in my way and I don't pay too much attention. I was a bit concerned because I didn't want to piggyback onto Hozier. I think he's so incredible and he's like a bard. He's exceptional. I was like, "I really don't want to kind of jump on his bandwagon" as it were. Ken had this concept, and apparently Hozier was really very excited at the notion of doing it, and that made me feel empowered. I thought, "Well, if he likes the idea, then I'll feel good about it." I thought, "I can't do it if he doesn't feel good about it." That was my point really.
Some people quoted me as saying I had reservations, but they weren't about him. They were about me! [Laughs.]
How did you choose "I Put a Spell On You" as your contribution? Was that something Ehrlich asked for specifically?
No, he didn't. He wanted me to do another song, and I didn't really feel the song he suggested. I didn't think it would work. So we had a dialogue about that. Ken is a really special man. Where he could be inflexible and he could be rigid, he listens and he pays attention. I'm so grateful to him for that because some other people are just autocratic and they'll just be like, "Listen, it's my way or the highway." He wasn't like that at all.
There was a moment during the performance where you took your hands and cupped the microphone and did a wailing instrumental. Was that something you'd planned beforehand or did the spirit strike you in the moment?
Well, I've performed "I Put a Spell On You" in different ways, with a reduced trio and with a full band. Actually, what happened is, you get what is such a beautiful guitar solo in the middle of it. I love it. But sometimes, that's Mike Stephens again, my co-producer. He wasn't always able to be there, so it's just the three or four of us. I was like, "Well what do we do? It can't just be a piano solo. It's a little bit bland." Then I realized: Intuitively, I don't play harmonica, but I can make the sound of a harmonica from my hands. So I thought, "I'll do it like that!"
What has the immediate aftermath and fan reaction towards the performance been like for you?
Well, it was off the scale to be quite frank with you because we just kept getting in these reports from the Internet and from media with headlines that were pointing out the performance and saying things like, "It was the highlight of the evening" and stuff like this, which kind of blows my mind, but at the same time, I have to be really careful. On the one hand, you're put on a pedestal and on the other hand, you can get kicked in the stomach. They can say other things, so I'm grateful that people were so incredibly positive about it. I'm a very grounded person because I see how people get cocky and they get very head-blown about these things. That's never who I'll be, never. I'm just appreciative but at the same time, I'm really pragmatic because I know I can get kicked in the teeth in a nanosecond, especially in this day of all the commentary on social media, which can be really unpleasant. I just take it with a pinch of salt.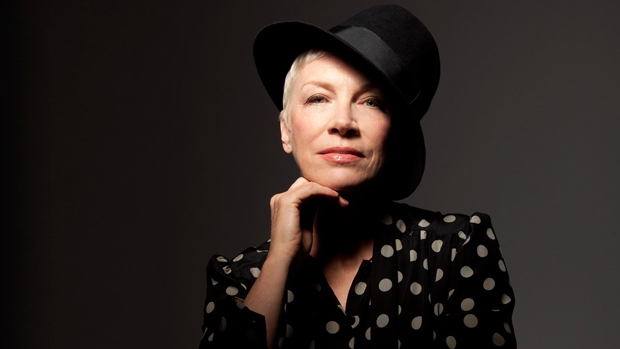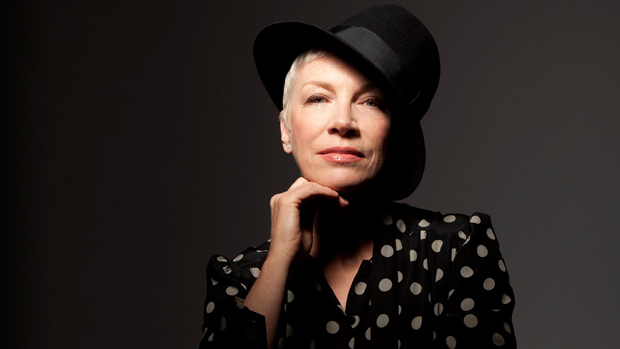 It sounds like the preparations for the Grammys were similar to your upcoming PBS special, Annie Lennox: Nostalgia Live in Concert. Was there any particular pressure that both nights shared?
Totally. There was so much work and effort that went into that one night. You know, we'd never performed in front of an audience like that [PBS show] before. We'd never performed Nostalgia live before. Never! There were so many details and we worked and worked. My greatest fear was to get sick, to wake up in the morning with a sore throat or something. That terrorized me. I had sleepless nights over it, which weren't good either. But it worked so well, and it was a massive, massive release. It was an extraordinary evening, and from the audience point of view, from the musical point of view, the visual point of view, we captured it. Natalie Jones, who directed it, has done a beautiful job. I've seen the edit and I'm really looking forward to it, because it was a highlight in my performance career. I think I really gave it my best, to be honest.
Your version of "I Put a Spell On You" is on the Fifty Shades of Grey soundtrack. How did that come about?
Once again, there was a call through to Brian Loucks, who is a music coordinator between the studios and artists that have tracks. It came through and I know Sam [Taylor-Johnson, the movie's director]. I'm not a close friend, but I have known and met her. She's a wonderful, incredible director and an incredible artist. She's a very unique individual and I have a lot of respect for her. I think they asked for another track… Again, it was a fluke because they said "Oh, Fifty Shades of Grey" and I was like, "Eh, I'm not really sure about that." They were doing the edit in Los Angeles and they said, "Well, could you come by the studio? We'd like to meet you." OK, so I went down there and then, unbeknown to me, while I was down there, one of their editors had been splicing "I Put a Spell On You" onto the opening sequence, the very, very opening of the film. I haven't seen the film, I've only seen the part where "I Put a Spell On You" is at the very beginning, before anything happens.
It was so weird: People came in and they didn't expect or know that the editor had been playing with the song at that point in the film. We all came in — about a half a dozen of us — the room and it fit like a glove. There was just a sort of [gasps], a sharp intake of breath after he played it. Everybody said, "Well, that has to be it. That's perfect." It was just a done deal, it was like, "Yes! That works," which is very unusual, let me tell you. I left the building thinking, "I know how things change." Things change in film, so I wasn't really expecting them to use it, and yeah, it's there! You'll see if you go to the film, it's there at the very opening.
Had you read the books beforehand?
No, no, no! I wasn't interested in them to be frank with you. Quite often when things are super popular, I kind of catch up with them years later. [Laughs.] I kind of avoid that. People rush to things like sheep. Although I haven't seen it, I trust that Sam has done a very elegant job with it.
One of the moments that stood out for me is when Sam Smith took home several awards…
Well I think that was in the cards, wasn't it?
Oh absolutely, but the moment I'm talking about is when he got onstage and thanked his ex-boyfriend for inspiring him to write In the Lonely Hour. As a lifelong HIV/AIDS activist, do you think his victories on such a national stage will help propel the conversation of sexuality and social acceptability forward?
Oh, no question, it's very significant. No question. It's very public, very significant, and it kind of normalizes things. I never even knew anybody was gay until about 1972. [Laughs.] So things have progressed and evolved hugely, and I'm grateful for that, because I think we're talking about human rights and civil rights. It's good. It's positive. No question.