Katie Crutchfield, a.k.a. Waxahatchee, is not a fan of studios. Renting a snug house with her boyfriend and bandmate, Keith Spencer, the Alabama native recorded the majority of her forthcoming third album (and first for Merge Records), Ivy Tripp, in the sleepy town of Holbrook, Long Island. After the couple's lease expired in Philadelphia, "we decided that we should just come to [Holbrook to record the album] because we have friends out here, Keith's family is out here, there's more stuff to do out here… It's not totally unfamiliar," Crutchfield says in the kitchen of the one-story house she shares with Spencer and their dog.
The Alabama native and former P.S. Eliot singer/guitarist has been known to sneak away to write her heavily personal tracks. Crutchfield's 2012 debut as Waxahatchee — the heavily acoustic, unironically lo-fi, and deeply confessional American Weekend — was written and recorded in the span of a week at her parents' secluded Alabama home during a blizzard. The following year's Cerulean Salt saw the addition of drums and bass (courtesy of Keith and Kyle Gilbride, who also play in fuzz-pop outfit Swearin'), but its lyrics remained fixated with young adult solitude.
Though Crutchfield — whose folksy guitar-pop has drawn comparisons to such '90s indie-rock staples as Liz Phair, Lois, and Juliana Hatfield — has her introverted tendencies, she is outgoing in person and has an ever-growing coterie of companions. She frequently references the group of friends she left behind in her previous Philly residence, including her twin sister and former P.S. Eliot bandmate, Allison.
Despite its sequestration, Crutchfield's warm abode has a welcoming air about it. Grabbing two mugs from the cabinet, the 26-year-old Crutchfield gestures to a seat in her kitchen, the wall of which boasts a cluster of slightly crooked dog-and-cat paintings. Spencer hangs out quietly in the adjoining living room. Later, as the conversation turns to various trends from the '90s and '00s that are in the midst of their inevitable resurgance, she dashes into the bathroom to grab an old issue of Teen Vogue with Mischa Barton on the cover — just one of many nostalgic goodies she's got scattered around the house. Over coffee and seltzer, Crutchfield dives into the theme behind Ivy Tripp (out April 7), how she transitioned to Merge, and why she doesn't want to be "pigeonholed" as a Clinton-era throwback artist.
Did you record all of Ivy Tripp in this house?
We recorded the whole record in this house, yeah. We did the drums in a gymnasium in a local elementary school. After that, we spent three to four weeks recording here in the house. I don't want to hate on people who record in studios, because I have a lot of friends who record in studios, but to me, it's weirdly clinical. It's expensive, so you have to be really prepared. I feel like there's a lot of pressure to perform. I wanted the recording process to be, like, "We're going to take as long as we need to." We shouldn't do that in a studio, we should do that at our house, where we're comfortable. We can wake up and start working. We could try weird stuff and put mics in weird places, like put the keyboard in the garage and see how that sounds.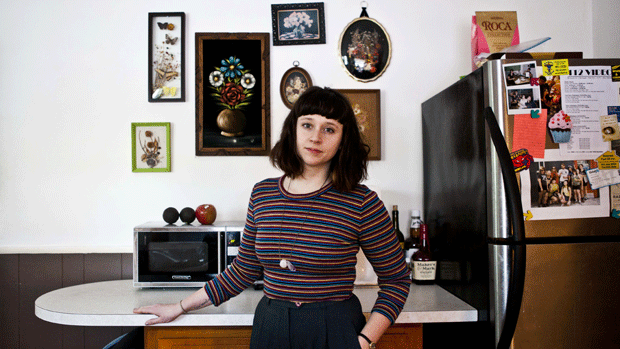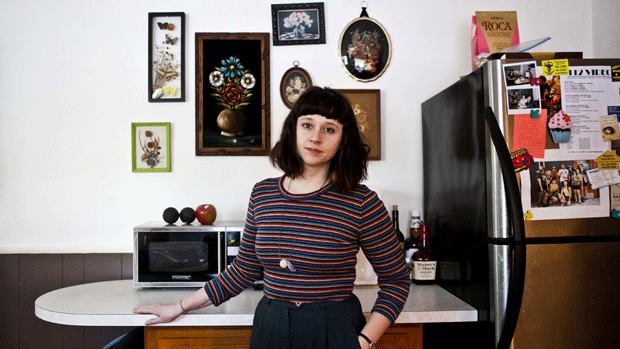 It sounds like solitude means a lot to you when writing.
Yeah, it's an unconscious thing that I never really thought about. And then recently, I realized that it is something that's really important to the creative process. I really have to be by myself. [Keith] and I have collaborated a lot — we're in a band called Great Thunder together. We write songs together and it's really fun. It's a different thing. I feel like for Waxahatchee specifically, the melodies and the lyrics — the backbone of the songs — I really need to be totally by myself.
How did you initially hook up with Merge?
It was a total dream. When I knew that I was not going to do my record with Don Giovanni, that process of leaving that label and getting signed to Merge was a year-and-a-half. Pretty much the whole time, I was like, if I could pick any label, Merge was the one that I really wanted to work with. [Merge labelmates] Superchunk had brought us out on tour, and [Superchunk bassist and Merge co-founder] Laura Ballance had come to see us play. It was loosely on the table, but nothing was settled yet. I wanted to make the record and hand it to them, and be like, "Do you like this? Would you like to put this out?" Rather than have them involved, I thought it might be less pressure for me while we were making the record. I didn't want somebody checking all the time. They weren't sure yet if they were going to work with me or not, so it was better for everybody to wait. So I handed in the record when it was finished, and they liked it.
//www.youtube.com/embed/HHivBJoFa_0
Your new record is called Ivy Tripp. Where does the title come from?
It's a term I made up. I reference it in a song, so that's why we decided to name it that. The record is about directionlessness. It applies to a generational thing. A generational directionlessness of people wandering through life, or trying to find things that make them happy without [conforming to] the structure generations behind us have had. "Have a kid and get married and stay married till you die, even if you're miserable." None of my friends do that. It's a dying thing, and I guess Ivy Tripp sort of applies to the people who wander around and try to figure out what to do, and whether that makes people happy or not.
That's the idea that looms over the record. The word "Tripp" has an extra "p" in the title after a friend of mine who passed away. I thought I'd name it after him. He was amazing, and his parents are really great. I just thought, as a wink to him… If I'm going to use that word in my album title, then I should probably add that.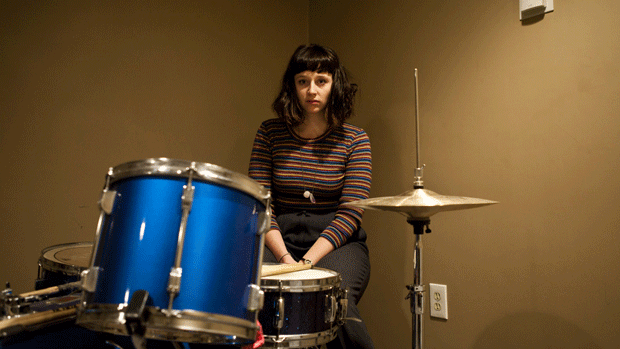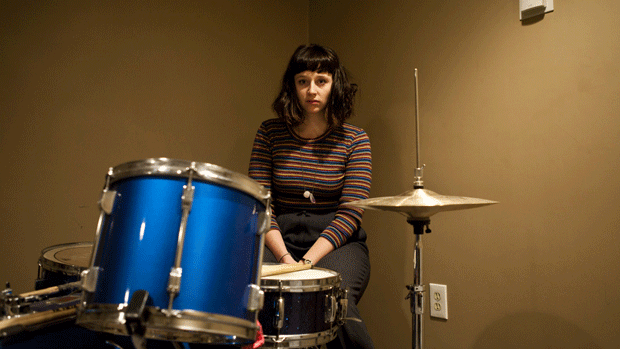 Has anyone ever pressured you to choose a specific direction in life?
That struggle hasn't really been personal lately. My life has changed a lot. I went from playing to ten people and having a very small fanbase to bigger publications writing about me. My life totally changed since [Cerulean Salt] came out. I was just really, really busy and maybe felt pressure from certain places, but the theme is more of an observation. I think the one thing that can be frustrating is that you see people with so much potential — creatively, even — squander it. I'm a Capricorn, so I feel like I'm naturally productive. So, seeing people that you love who have all this talent waste it… That can be frustrating. It's not about anybody specifically, it's just seeing that in the world.
What kind of sound can we expect from Ivy Tripp?
It's poppier. Instrumentally, that was the goal. Basically, take that three or four weeks we set aside to do the record and put down the backbone of the songs and build them up. There will be 13 tracks… It's a good 15 minutes longer than my other records. We had synthesizers and tons of keyboards and 12-string guitars and acoustic guitars set aside so that we could put whatever on it that we thought would be cool. That part of the record was really collaborative. Keith and Kyle [Gilbride] and I kind of all worked together to build the songs up. Some of them I knew just needed to be piano or acoustic guitar. Other songs, we just thought, "Oh, a piano would be nice right there" or "An acoustic guitar would be nice right there." I don't want to say that the record is all over the place, because that sounds like the wrong way to describe it, but it covers a lot of ground.
A lot of writers compare your sound to mid-'90s female indie-folk singers like Liz Phair. How's that sit with you, and did you want to continue that aesthetic with Ivy Tripp?
When I started playing music, [the '90s aesthetic] meant the most to me. Like, Liz Phair, Cat Power, and Juliana Hatfield. People like that are at the very root of my musical journey. But I just wanted to work against that. I didn't want to be pigeonholed. Kelley Deal, I think, said in an interview during the Breeders' Last Splash tour, how proud she was that that record still holds up and is still relevant and is sort of timeless. I was like, yeah, that's all I want to do — is make music that doesn't sound like it happened in 2014. I want in, like, ten years or 15 years, for people to still like it.