Welcome to SPIN's Singles Mix! Once again, the SPIN staff has rounded up their favorite, must-hear tracks for your mid-week playlists. From two-minute punk scorchers to 11-minute kitchen-sink pop epics, these are the songs you need to know right now.

Slutever, "Smother" (Self-Released)
"Smother me!" Rachel Gagliardi and Nicole Snyder caustically cry in this guitar-smashing rager — though we feel like if you tried to, you'd be sorry. Roaring through this short but authoritative track, which clocks in at just under two minutes, the Los Angeles grit-punk duo sound more than ready to drop their debut EP, Almost Famous (out February 17). Till then, you should think about giving them their space. RACHEL BRODSKY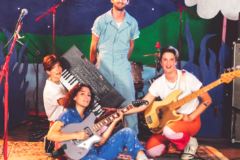 RA, "These Days" (Adrian Recordings)
Swedish shoegaze-metal? RA don't disappoint, building a wall of shredding guitars and thundering drums, one gorgeously corrosive layer at a time. The exhortations of vocalist Simon Minó are only sporadically inteligible underneath the squall, but that's fine — RA don't do too much talking these days, anyway. ANDREW UNTERBERGER

Mount Eerie, "Dragon" (P.W. Elverum & Sun)
It's ironic that Phil Elvrum — a.k.a. the Microphones, a.k.a. Mount Eerie — would choose to name a song after anything loud, whether it's real or fantastical. And yet the Northwestern nature enthusiast continues his "sing softly and carry a large analog recorder" crusade here with the help of Ashley Eriksson and Allyson Foster, as they explore transfixing new soundscapes, the most prominent of which is a plane (or iron dragon, if you're feeling metaphorical) passing overhead. R.B.

Jess Glynne, "Hold My Hand" (Atlantic Records)
For a year, Jess Glynne has bubbled under as the least-mentioned part of Clean Bandit's "Rather Be," but on the lead single from her upcoming solo LP, she commands all that lost attention. Her raspy-pop vocals swoop between major and minor chords in a breathtaking display of swooning acrobatics. If there's any justice, Glynne'll soon be on top herself. BRENNAN CARLEY
https://youtube.com/watch?v=trkgPkrYBMs

Mikal Cronin, "Made My Mind Up" (Merge Records)
The first glimpse of Mikal Cronin's upcoming third album — the aptly named MCIII, out May 5 via Merge — plays to the California native's strengths, namely his knack for pairing incandescent melodies with rich, build-and-release arrangements. Welcome back, Mr. Cronin. KYLE MCGOVERN

Krater, "Tokyo" (Passing Tones)
If Gothenburg, Sweden has not previously been known for its lush, life-affirming dubstep, it might just be after Krater is through. "Tokyo" has as pretty a drop as your likely to hear in contemporary EDM, awash in synths and supportive handclaps, with just the right level of drums to make the thing sparkle without coming off oppressive. A mid-'10s edition of the Lost in Translation soundtrack could do a lot worse. A.U.

Diet Cig, "Harvard" (Father/Daughter Records)
At first, "Harvard" wants to seem like it doesn't care. Singer Alex Luciano grills her ex-boyfriend about his preppy new girlfriend over a casual guitar riff that tries to convey a disinterested melancholy. But as the song builds, everything gains a little more intensity, and the singer's pushback against him becomes more earnest and empowered. Her last words, "Fuck your Ivy-League sweater / you know I was better," bring the track to a satisfying and appropriately cathartic conclusion. JAMES GREBEY

GFOTY, "Cake Mix" (PC Music)
Nothing's so simple with the PC Music collective, which embodies GFOTY and lots of helium-voiced soundalikes who may or may not be who they claim. But we're getting to know them well enough that an 11-minute odyssey of various dream-synths and stabbing effects can be expected to culminate in a blithe chant of "Drown her in my kiss / Drown her in my tits," a timely cover of Blink-182's "All the Small Things," and the goddamn wedding march. DAN WEISS