In 1995, the Olympian monolith that is Sleater-Kinney rose and went on to wreak blissful havoc on rock fans' eardrums (and hearts) for the next ten years. The trio's raw (but never undercooked) early albums received that rare combination of attention that was both early and earned. And once they found the perfect drummer, they carved new crevices in their own unmistakable punk sound, from bubblegum pop to psychedelic metal. Then they stopped. But in another triumph that defies typical careerist narrative — just like making seven straight great albums does — they returned this week, after a nearly nine-year hiatus, with No Cities to Love: an album with no loss of quality, instrumental facility, or even volume. Greatness and longevity in tandem are somewhat of a rare combination. The Who came back, sort of. The Clash, the Beatles, and Led Zeppelin did not.
With Carrie Brownstein's visibility on the Emmy-nominated sketch comedy show Portlandia, and Corin Tucker's contributions to Eddie Vedder solo albums this trio has become as well-known as indie bands get. All the more reason that if you care about rock'n'roll, you should hear anything and everything they ever made. With love to Heavens to Betsy, Excuse 17, Cadallaca, Wild Flag, and Corin's two solo albums — many of these larks and one-offs as strong as Sleater-Kinney at times — we adhered to ranking only official releases under the S-K name, which also unfortunately excludes their riotous live-only rendiition of "White Rabbit." If you're just now exploring their discography, this list is a loving survival guide. If you're a longtime fan, indulge in the competition between 109 songs without a single dud, most great, some among the most powerful of the last several decades.
But be part of history as this wonderful band — Corin Tucker, Carrie Brownstein, and do not forget the explosive Janet Weiss — ascends to bigger and better things during a reunion we hope doesn't end. Fans and critics have slotted them in the uppermost echelons for years. Here's where everyone else catches up. DAN WEISS

UPDATE: Shortly after this list was published, two new Sleater-Kinney songs were discovered to have been released as a bonus 12-inch single with the vinyl edition of No Cities to Love. The list has been since updated to include them.
109. "You Ain't It" ("You Ain't It" single, 1994)
The best compliment we can imagine for a long-running band is that their earliest recordings are among their least distinctive, powerful, or interesting. The morbidly curious scouring YouTube for "You Ain't It" because of this distinction on the list will be disappointed: Sleater-Kinney has never made a bad song. They just got so, so, so much better. And how. D.W.

108. "Lora's Song" (Sleater-Kinney, 1995)
Laura McFarlane drummed with Sleater-Kinney for two pre-Kill Rock Stars albums that remain as raw and compelling as anything in their catalog. But on their debut, she sang one too, and her strange yodel on the chorus was just not a fit for this band. Pour one out for S-K's own Pete Best. D.W.
107. "The Fog and Filthy Air" (No Cities to Love bonus disc, 2015)
Unlike its partner-in-vinyl "Heavy When I Need It," you can actually tell why "The Fog and Filthy Air" was left off No Cities to Love. It futzes (and fuzzes) around impressively, but Corin Tucker announcing that she's the queen of various things should be much more fun than this, and something about her chanting "Electric light! Electric light!" is too on-the-nose. Still, their castoffs beat hundreds of other bands' keepers. D.W.
106. "Pompeii" (All Hands on the Bad One, 2000)
One of the more anxiety-riddled tracks of their canon, "Pompeii" explores loss and survival in the only way Sleater-Kinney knows how, with words and guitar. Taking us on a journey through mourning, Corin's delivery takes a subtle shift from vulnerable to desperate as she unleashes a "Baby don't you dare give up on me now" at song's end. BRITTANY SPANOS
105. "Maraca" ("You're No Rock n' Roll Fun" B-side, 2000)
A forgettable "You're No Rock 'n' Roll Fun" B-side that meanders in a few directions too many, "Maraca" is in fact, no rock'n'roll fun. D.W.
104. "Tapping" ("Get Up" B-Side, 1999)
One of Sleater-Kinney's most restrained B-sides, it's obvious why "Tapping" didn't make The Hot Rock's final cut, though its bare-bones structure and repetitive guitar line drips with compelling gloominess. The lyrics examine the constant assault on their gender ("It's a hard time honey but you can't say no," taunts Carrie Brownstein), but the overall effect is too quiet to make any but the faithful take notice. BRENNAN CARLEY
103. "Surf Song" ("You Ain't It" B-Side, 1994)
The B-side to their first single is actually catchier than the A, and — if you squint through the lo-fi static — not entirely unlike Weezer's "Surf Wax America." But one giveaway line signaled the better things to come: "I don't care if you hurt me." D.W.
102. "Off With Your Head" (One Beat bonus disc, 2002)
This Dubya-skewering contribution to one of Fat Mike's often inspiring Rock Against Bush compilations was sadly, an outtake from the much more nuanced One Beat for good reason, with nothing particularly damning about "you'll get what you deserve" (it's a shame but Bush hasn't) or calling out "those awful things" the ex-president says. Green Day's ultra-blunt Ahhnold takedown — the perfectly titled "Governator" — was better. D.W.
101. "Heavy When I Need It" (No Cities to Love bonus disc, 2015)
Bluesier and looser than anything else on the new album, this vinyl-only bonus track lets Carrie Brownstein stretch her rambunctious cackle, which isn't nearly present enough on No Cities to Love. Anyone who was hoping they'd go further in the acid-rock direction of The Woods will love the phase-shifting guitar at the end. D.W.
100. "Heart Attack" (Call the Doctor, 1996)
The most remarkable thing about "Heart Attack" is the incorporation of hardcore vocals juxtaposed against one of the most tender melodies of Sleater-Kinney's early career. The result resembles Midwest emo of the era more than anything else S-K has released since. JILLIAN MAPES
//www.youtube.com/embed/roRHFQfE5kg
99. "Write Me Back Fucker" (Move Into the Villa Villakula compilation, 1997)
The stomping verses give way to a proto-doom-metal chorus that really makes you wonder what was in this very important-sounding letter that never received a reply. But one of the best titles in the entire S-K catalog sadly has little else to remember about it. D.W.
98. "Prisstina" (One Beat, 2002)
"Prisstina" should be more awesome, considering its theremin-like intro is Sleater-Kinney's sole flirtation with synth-pop. But the strangely downbeat chorus deflates the energy of what came before, and feels condescending to boot: "Oh, you want to tempt her with your dirty rock and roll," Tucker mocks. Yeah! So? D.W.

97. "More Than a Feeling" (Move Into the Villa Villakula Compilation, 1997)
Sleater-Kinney sure love trying their hand at classic-rock tunes — it's a shame no official releases of their stunning takes on "Rock Lobster" and "White Rabbit" exist. But their ragged version of Boston's cheesy, nostalgic, arena-rock valentine shines brightest. On "More than a Feeling," the band slows it all down and brings out the wistful nature of what it really feels like to hear an old favorite song. Contrary to the title, the vocals, guitars, and overall vibe here is nothing but feelings, making it the exact type of song that incudes nostalgia. B.S.
96. "Ironclad" (All Hands on the Bad One, 2000)
There's something cinematic about the boxing metaphors and prodding questions ("Who do you love?" "What would you kill?") of 2000's "Ironclad." In a lot of ways, it should be the theme song of a Jawbreaker-esque teen flick, since it's equal parts malice and longing. Alienated lyrics rarely sting harder than "What would you pay to the make the hate go away?" B.S.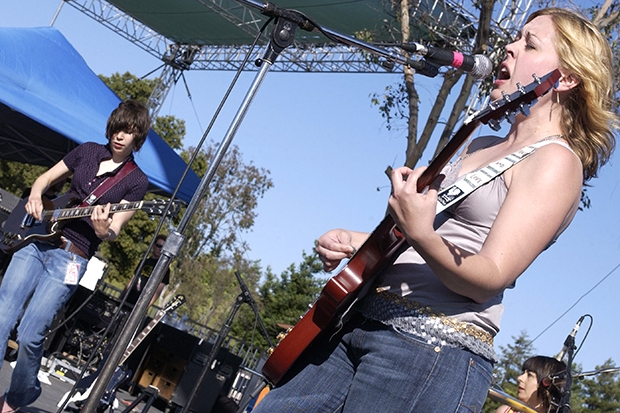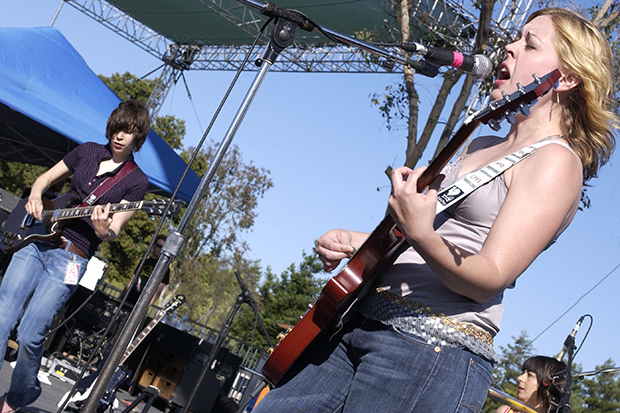 95. "O2" (One Beat, 2002)
One Beat is home to some of Sleater-Kinney's most kinetic rockers; "O2" has more get-up-and-go than, say, "I Wanna Be Your Joey Ramone." But that's about all it has. The lyrics are a vague holding pattern no matter how well the "I wanna run away" hook grabs your cortex. Good, cymbal-splashing breakdown though. D.W.
94. "The Last Song" (Sleater-Kinney, 1994)
If you thought Dave Grohl owned the definitive scream of "I don't owe you anything," you might want to check back to Carrie Brownstein's terrifying coda to the Sleater-Kinney album, released the same year as Foo Fighters, where an exasperated list of unmet demands ("I can't be what you are / What you think, what you do") builds to the least civil debt consolidation plea in all of alternative rock. D.W.
93. "What If I Was Right" ("You're No Rock n' Roll Fun" B-Side, 2000)
B-side "What If I Was Right" is about hypnotic as a rock song can get, with Carrie Brownstein's fluttering guitar carrying the music's weight beneath Corin Tucker's doubtful voice. But the song's bite is unusually subtle as they choose to internalize most of the lyrical anxiousness that tends to drive most of their tunes. B.S.
92. "Buy Her Candy" (Dig Me Out, 1997)
Not the first, second, or seventh song anyone thinks of when they think of Dig Me Out, the two-minute, percussion-less "Buy Her Candy" isn't totally without its charms. The sentiment of unrequited, ill-advised friend-crush (or just crush) is plenty disarming, and sweeter for its stripped-down arrangement. It'd also give Carrie and Corin a live jam that buys Janet a few minutes on the bench, if they could remember how it goes. ANDREW UNTERBERGER
91. "Memorize Your Lines" (The Hot Rock, 1999)
For once, Corin and Carrie call and respond rather than interrupt each other, which would signal happiness if the tune wasn't a string-laden ode to lifelong unhappiness, saying words to your partner that you no longer mean, just memorized lines. It's to Sleater-Kinney's credit that this is one of their more minor tunes about having one's heart slowly ripped from its rightful place long after it's stopped beating. D.W.
90. "Her Again" (Sleater-Kinney, 1995)
Sleater-Kinney's eponymous debut is their least-heard album, because even megafans who caught on via the wildly acclaimed (but still scratchy) Call the Doctor probably assume it's an even more forbidding noisefest. But despite the open-wound sonics, it has contains more prettiness on it than anyone could've believed. "Her Again" isn't a ballad per se — Corin works up to a roar with each successive chorus — but the verses are all slow-winding gears of melody, turning and glinting when held up to the light, like the best Sonic Youth dirges. D.W.
//www.youtube.com/embed/c3snVihCfgw
89. "My Stuff" (Call the Doctor, 1996)
Musically, "My Stuff" is almost exclusively comprised of sharp-edged minor tonality, but its message is a little more ambiguous. Carrie Brownstein seems to be singing about going against a tradition of faith, disagreeing with her parents, and trying to come to terms with that. It's messy "stuff" to navigate, and her brooding guitar part reflects that. J.M.
88. "A New Wave" (No Cities to Love, 2015)
No Cities to Love's greatest strength and biggest weakness is its consistency — rather than discrete songs, the constant flow of riffage and angular detours just sounds like each successive song is a deeper-peeled layer from the one before. "A New Wave" is one of its peppiest but benefits least from this approach; other than its psychedelic jam break (which calls back to The Woods), not much distinguishes the song from anything else on the record, or anything else they've done since beefing up their guitars on One Beat, really. D.W.
87. "Things You Say" (Dig Me Out, 1997)
Tucker's shaky vocals work best when she's unleashing a torrent of passion at a target, but on this Dig Me Out track, her restrained phrasing and cookie-cutter lyrics ("I'll stop the clock / I'll touch the sky") can't keep "Things You Say" from being a valley between numerous other peaks. B.C.
86. "Don't Talk Like" (The Hot Rock, 1999)
An easily lost nugget from The Hot Rock's middle section, with unusually slurred vocals and an out-of-nowhere chord drop in the chorus that makes the song one of the band's most melodically enigmatic. Not a classic, but intriguingly curious. A.U.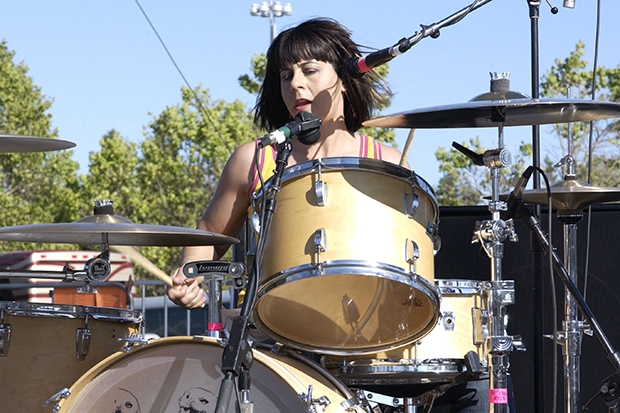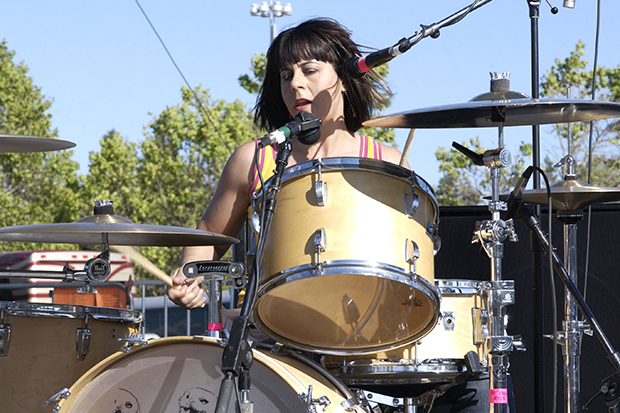 85. "Hubcap" (Call the Doctor, 1996)
The only Sleater-Kinney song defined by Laura McFarlane's unusual drumbeat. She relinquished the throne to the almighty Janet Weiss but the psychedelic wash of "Hubcap" hints she might've been able to hang with the band's ever-changing direction after all. But the chorus "You take everything / You take what I want" was delivered with more conviction by Courtney Love on "Violet" two years prior, and the band themselves would have it refitted with a sharper set of dentures on Dig Me Out's "Not What You Want" the very next year. D.W.
84. "Night Light" (The Woods, 2005)
The epilogue to the first chapter of Sleater-Kinney's career, there's nothing muted about "Night Light." Led by Janet Weiss' offbeat pound, The Woods' final cut is luminescent enough to help anybody to the bathroom at 2 a.m. — or a more illicit location, perhaps. Corin Tucker, bored of "being led," asks the object of her affection for "a spark I can look for instead." Perhaps it's a challenge to grow up already — night lights are for kids, after all. RACHEL BRODSKY
83. "Fangless" (No Cities to Love, 2015)
Not quite a powerhouse on the level of No Cities to Love opener "Price Tag," the LP's second track sustains the promise of post-reunion Sleater-Kinney by fusing together slick streams of guitar, a bubbling undercurrent of synth, and cymbal-skirting percussion that lends gravitas when needed. Despite its title, "Fangless" packs enough bite to leave an impression. Maybe even draw a little blood. KYLE MCGOVERN
82. "By the Time You're Twenty-Five" ("Get Up" B-Side)
Who says being a rock star in your 20s can't elicit the same feelings of disillusionment that non-famous twentysomethings feel? On this outtake from The Hot Rock, the band offers a dark and gloomy take on all the ways you can be trapped during a quarter-life crisis, no matter what you're doing with yourself. B.S.
81. "Youth Decay" (All Hands on the Bad One, 2000)
Singing about eating disorders is a rough business, but S-K does so on "Youth Decay" both bluntly and well. Through the perspective of a young girl dealing with body image issues, Carrie and Janet evoke darting-eyed anxiety while Corin laments all the ways the song's protagonist is watching herself wither away. B.S.
80. "Anonymous" (Call the Doctor, 1995)
"Anonymous" concerns the "white girl life" of someone who feels safe with her boyfriend, car, and job, implying that she's living a lie in anonymity. Some comments sections believe it to be about a closeted lesbian, but it's probably more universal than that, especially in the age of necessary revenge porn legislation. "Anonymous" is a protest song demanding the right to privacy that women so rarely get — Sleater-Kinney included, seeing that this very publication regrettably outed Brownstein and Tucker's relationship not long after this song was released. D.W.
//www.youtube.com/embed/3liZUTVC2fE
79. "All Hands on the Bad One" (All Hands on the Bad One, 2000)
One of the best things about Sleater-Kinney is that they rarely rest on all of their laurels at the same time. "All Hands on the Bad One"is a case in point; it's one of their catchiest songs, period, despite the lyrics being kind of totally nonsensical. You could piece together something about class, slut-shaming, or religion from the verses — that is, if you could tear your brain away from the chorus for even a second. And yet it sounds like a sensible anthem, enough to sanely anoint it as the title track to their catchiest album. D.W.
78. "Hey Darling" (No Cities to Love, 2015)
This two-and-a-half-minute firework tucked in toward the end of No Cities to Love is a secret highlight, a surprise of power-pop and crunching guitar chug that, in hindsight, we'll probably wish we ranked higher on this list. But it's slight enough that we'll wait for the reevaluation. D.W.
77. "Heart Factory" (Dig Me Out, 1997)
From the first half of Dig Me Out, "Heart Factory" delivers a mechanical whine as Corin sings dystopian lines like "We've got the new love machine / Heart with an on-off switch and a remote control." Caught between the emotiveness of being a broken, fucked up shell (as in Hole's "Doll Parts") and the playfulness of dating an android (as in Dresden Dolls' "Coin-Operated Boy"), "Heart Factory" offers a colder ode to survival than the other songs on Dig Me Out, and S-K's take on it is as brilliant as expected. B.S.
76. "Steep Air" (The Woods, 2005)
The bleakest track on Sleater-Kinney's boldest album, "Steep Air" finds Carrie Brownstein taking the lead, lamenting that she's tired of waiting on a boat that won't leave shore and a plane that won't take flight. It looks as though she'll have to rely on her guitar's bluesy, downturned drip and Janet Weiss' sarcastic drum rolls for any movement, but then Corin Tucker swoops in with a last-minute save, countering, "But who's to say I don't have wings?" No one dares answer. K.M.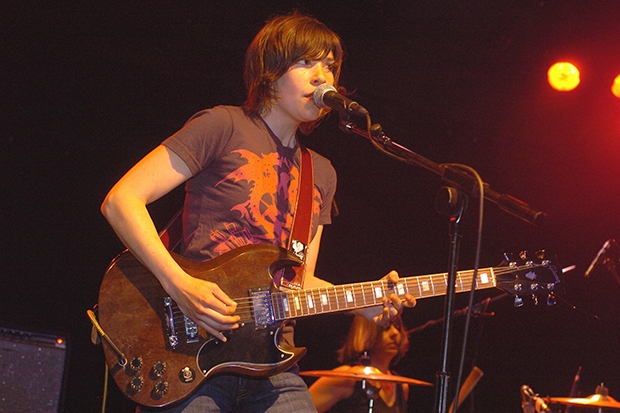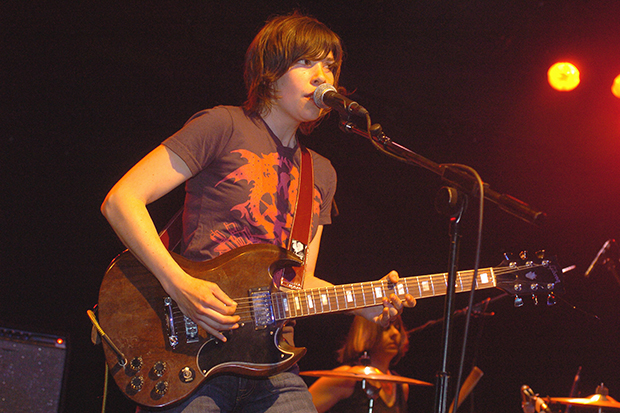 75. "Don't Think You Wanna" (Sleater-Kinney, 1995)
The first song on the band's first album, "Don't Think You Wanna" is a dark and doomy grunge monster with the threat of a title hook that promised foreboding noise to come. Except they only got brighter, louder, more relatable, and even meaner. A great blur of a sound that wouldn't take long to be thrown into sharp focus. D.W.
74. "Lions and Tigers" (One Beat Bonus Disc, 2002)
The gentle "Lions and Tigers," a bonus track from One Beat, is a bit abnormal for these punk rockers. A little pop and plenty endearing, for once there's no underlying searing pain to offset the warmth. Instead, the innocent and sweet lyrics are met with equally saccharine musicality, though Carrie Brownstein can't resist dropping a bit of fuzz into the mix. B.S.
73. "#1 Must Have" (All Hands on the Bad One, 2000)
With a halting riff that matches the jaded lyric (Corin: "Now who would have believed this riot grrl's a cynic?"), it's genuinely hard to believe these heroes are mortal enough to get down about, like, beauty magazines. But their humanity is what makes them immortal. When Tucker confesses, "I think sometimes I might have wished / For something more than to be a size six," all victims of patriarchal society sigh with her. But she ups the ante by refusing to enter the pearly gates until there's no more concerts where women are raped. "#1 Must Have" isn't one of her best songs, but by quietly linking religion to rape culture, it's one of the bravest. And it doesn't actually settle for cynicism after all, ending on a note of hope: "Culture is more than we make it / Yes it is / Now is the time, now is the time / To invent, invent, invent." D.W.
72. "How to Play Dead" (Sleater-Kinney, 1995)
"You want to show me how to play dead / How to be still / How to please you" is a Carrie Brownstein snarl that would become typical for the course, except it's not snarled. It's actually intoned in her sweetest singing voice, which goes on to wish death on a rapist. And that's not even the most vicious line. As the song goes on, it becomes clear that taunts like "Clean up your little mess / Then I'll suck your dick" might be sung in the middle of her seeking vengeance after all. Of course, it's more oblique than that. No strangers to revenge fantasies (see: Corin's "My Secret" with her pre-Sleater band, Heavens to Betsy), this band has never settled for blind rage or shock value, even at their most startling. That the uncomfortable content is couched in a whisper rather than a scream is more evidence of how sophisticated they were from the git. D.W.
71. "Funeral Song" (One Beat, 2002)
A cautionary tale fit for a playground during its hopscotching verses, a dirge best suited for an arena every time its suped-up chorus launches. A bitter farewell not just to a love that's curdled, but to the parts of ourselves that get buried with each breakup: "Nothing says 'Forever' like my very own grave." K.M.
70. "Jenny" (Dig Me Out, 1997)
Capping off Dig Me Out is the stellar, haunting "Jenny." Corin Tucker's quavering vocal ever so delicately imitates Patti Smith at her most mournful. This grand finale is a chilling one, swallowing you whole with the way Carrie Brownstein's striking guitar and Janet Weiss' ominous drums play off one another as Tucker despondently wails, "Didn't we almost have it?" But this band has never come off like quitters, even when they split up. B.S.
//www.youtube.com/embed/mVCFicYH-JY
69. "Slow Song" (Sleater-Kinney, 1995)
From day one Corin Tucker's been just as interested in melody as making a mess, and this 1994 gem wouldn't have been entirely out of place on All Hands on the Bad One, where the chime of its guitars would've been considerably brightened. But even on the dim-lit debut its craft shines through loud and clear. They'd just go on to be louder and clearer. D.W.
68. "Hollywood Ending" (One Beat, 2002)
In which S-K lower the stakes of their post-9/11 manifesto One Beat to lampoon the business of show — the greed, emptiness, desperation, and ageism that's inseparable from the entertainment industry as we know it. That they do so in a song with a completely throwaway (but wholly enjoyable) chorus, and close out by laughing on record? Brava. K.M.
67. "Fortunate Son (Live)" (Wed-Rock: A Benefit for Freedom to Marry compilation)
Nearly 40 years after Creedence Clearwater Revival released "Fortunate Son" in the midst of Vietnam, a new generation's fiercely political voice brought it back as a plea for change as the second Bush presidency neared its shameful end. While S-K never recorded a studio version of this timely cover, their live take on the anti-war classic became legendary in itself, even performing it with Pearl Jam during a joint tour. Often dedicated to a certain silver spoon sucker himself, the track's only official release was on a compilation in support of marriage equality, the biggest possible "fuck you" to the tone-deaf former prez. B.S.
66. "Big Big Lights" (Free to Fight 7″ Series Single)
Before All Hands on the Bad One took their corrosive punk to the malt shop, this barnburner from the Free to Fight project — a series of music released to create awareness of women's self-defense  — experimented with '60s style garage-pop verses. More proof they were headed for big, big lights indeed. D.W.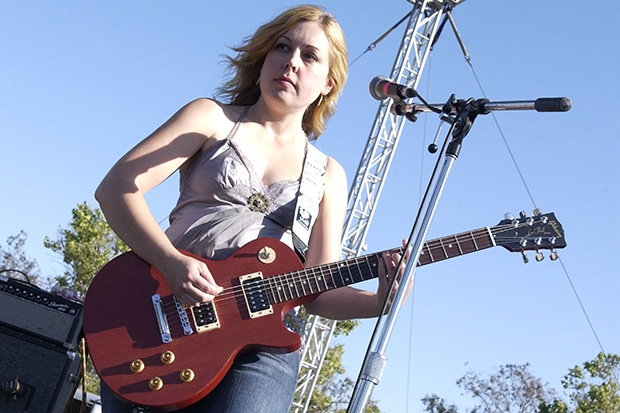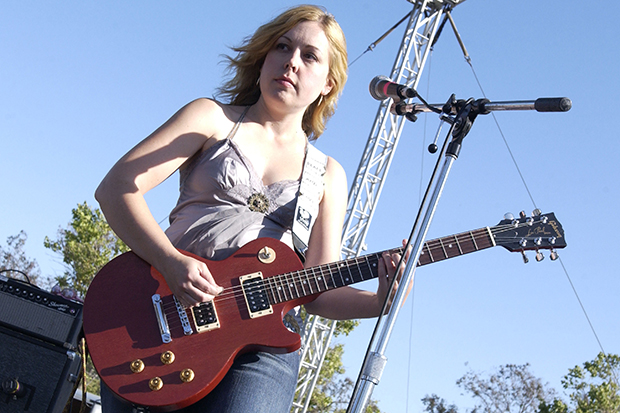 65. "One Song for You" (The Hot Rock, 1999)
Over a snapping riff that sounds like music from a Mega Man II level, Corin yells a great parting shot on this thorny rose from The Hot Rock's latter half: "Drop little boy crumbs you could follow back / When you get lost becoming a man." But "One Song for You" isn't really a kiss-off, it's a memory of doing it on the DL with someone who'd leave a "lovesick bruise." Still, she ends up wishing the best to someone she can't live for. D.W.
64. "Fade" (No Cities to Love, 2015)
The thundering closer to No Cities to Love, and a closing statement of enough primitive authority that it could've been swiped from an early Black Sabbath LP. Well, at least until the mid-song switch from a lurching grind to a jaunty shuffle, with the vocal becoming a warbling, almost self-parodic '70s rock falsetto. "Fade" gets its footing back in time, though, and it's heavy enough to sustain for the inevitable years-long gap until the next S-K album. A.U.
63. "Taking Me Home" (Call the Doctor, 1996)
Corin Tucker's vocals often crashed and clanged against the instrumentation on early S-K records, but her vibrato has rarely been deployed to more unsettling effect on "Taking Me Home" as she sings about a stalker-suitor who perceives sex as a transaction. The "these aren't the droids you're looking for" of punk songs about misogyny. J.M.
62. "Turn It On" (Dig Me Out, 1997)
"Turn It On" is a swift sucker punch to the gut. It's a fast-paced, repetitive, total shock to the system that rocks you awake better than a caffeine pill ever could. The wild, frantic way Corin Tucker repeats the title towards the end is a moment of sheer brilliance that grows even more magnetic and intense when experienced live, as many who didn't experience before their hiatus may get to now. B.S.
61. "The Remainder" (One Beat, 2002)
"If you left me ground to stand on / I'd run so far away from you," Corin Tucker warns over this stomper whose bluesy edge is typical of One Beat. Then those uprising strings burst into full view on one of her angriest choruses, with all the sealed-in despair of someone about to be buried alive. "And then you watched me fall / With no expression at all," she sings, capturing the same state of loss-stricken shock as the rest of nation as the World Trade Center caved in. D.W.
60. "Taste Test" (Call the Doctor, 1996)
Communication breakdown works in Sleater-Kinney's favor on 1996's "Taste Test," as they stress about a crush/lover/ex who keeps 'em guessing why. The song sounds like it's reeling just like its protagonist, with its riff carefully repeating in circles as Corin Tucker pleads "Tell me what's going on inside." B.S.
//www.youtube.com/embed/gwVl7cDM6Wc
59. "Sold Out" (Sleater-Kinney, 1995)
One of the shortest and punkest Sleater-Kinney songs. They were never particularly fast, but boy could Corin shred her larynx. D.W.
58. "God Is a Number" (The Hot Rock, 1999)
A technophobic Hot Rock highlight that's heavy on interiority — Corin's data-overload freakout fights to be heard over the band's locked-in harmonies — but not heavy-handed. Even more impressive is how prophetic this turn-of-the-century track has turned out to be. Read these lyrics on a smartphone screen and just try not to think of 2015. K.M.
57. "Dance Song '97" (Dig Me Out, 1997)
Dig Me Out has no shortage of triumphs — scroll further down this list for proof. But few moments on Sleater-Kinney's third full-length top the opening of "Dance Song '97": When that dulcet guitar line slinks around its woollier counterpart, backed by Janet's impeccable timekeeping, and Corin's voice sidles in, telling you to do away with doubt, give in to desire. Whether you know it or not, it's the drama you've been craving. K.M.
56. "Living in Exile" (The Hot Rock, 1999)
One of their instantly engrossing riff songs, The Hot Rock's "Living in Exile" walks forwards and backwards down a blues scale before Corin erupts into a "Big Mama" Thornton howl on the chorus. They'd go on to put this idea through a cement mixer on One Beat three years later, but it's fascinating how their varying signature sounds would intertwine through an album like The Hot Rock, which maintained excellence even when it was transitional. D.W.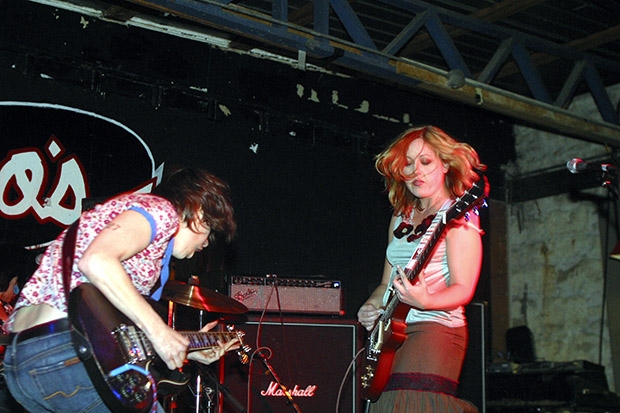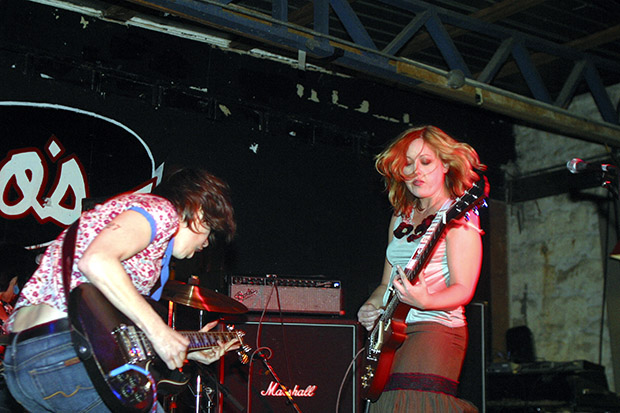 55. "Gimme Love" (No Cities to Love, 2015)
When a song starts with a roaring demand like "Gimme love / Gimme love / Never enough," shit's about to go down, and doubly so when it's Corin Tucker. This new cut is one of the muddier ones on No Cities to Love, but the vocal passion overtakes the instrumental grime. Post-chorus, Tucker lets loose howling that's almost indecipherable. Yet it's loud and clear: She's unfuckwithable. B.C.
54. "The Day I Went Away" (Sleater-Kinney, 1995)
The catchiest song on 1994's Sleater-Kinney, "The Day I Went Away" is less notable for its open-ended lyrical content than its victory as a flawless construction among early Tucker-Brownstein songwriting stabs. The verses play out like an argument between the two singers — like they can't even agree how to break up — over an intense, claustrophobic chug that only grows bleaker in the chorus. "So far, so good," Corin Tucker mutters through her teeth, trying to convince herself that everything is still fine. Brownstein has other thoughts: "Please remember me." D.W.
53. "The Hot Rock" (The Hot Rock, 1999)
The Hot Rock's unhurried title track has a quality this band is rarely known for: patience. Brownstein and Tucker converse over each other through a maze of inquisitive guitar jangle before the big payoff, a wordless candy stripe of a guitar hook that wouldn't exactly come to mind when you think of "hot" or "rock" with this band. Reliable, yet always full of surprises, that's hot rock enough for me. D.W.
52. "Was It a Lie?" (All Hands on the Bad One, 2000)
With pensive chords and a climbing Corin Tucker vocal that unexpectedly goes hush when she demands the truth, "Was It a Lie?" is so nakedly upset that even the clumsy phrasing and anti-media posturing signify. A gorgeous ticking bomb of a melody with loads of rising action, it never quite goes off, unless you count truth bombs: "A woman's pain / Never private, always seen." D.W.
51. "No Cities to Love" (No Cities to Love, 2000)
The title song is the new album's most swaggering, danceable sing-along, despite the presence of a "ritual emptiness" and a supposed lack of support for regionalism. Some of their oddest lyrics for sure ("My body is a souvenir?"), but they could make upbeat blues-rockers forever and never get stale. Luckily the next album will sound completely different from this one. D.W.
50. "Male Model" (All Hands on the Bad One, 2000)
This underrated, anti-sexist rocker from All Hands on the Bad One might as well be Sleater-Kinney's preemptive commentary on a list like this even being written up by dudecrits: "You always measure me by him / Don't get me wrong / I'm not opposed to something big," "You don't own the situation, honey, you don't own the stage / I'm here to join the conversation." Oh, and: "I'm so sick of tests / Go ahead and flunk my ass." It sneers at shitty interview questions they'll always be asked ("Does he write my songs for me?") and promises "It's time for a new rock'n'roll age / History will have to find a different face." Ladies, you have the floor. D.W.
//www.youtube.com/embed/XxbX2ibMWLg
49. "Surface Envy" (No Cities to Love, 2015)
The opening notes in "Surface Envy" descend a staccato staircase before quickly changing tack, heading upwards, then plummeting again. That driving guitar muscle brushes against the bubbling insecurities that Tucker expresses on the track's veiled verses: "The anchor is heavy / It can't hold the weight." It's about togetherness too, sure, but these women know that friendships are rooted in self-worth first. B.C.
48. "Combat Rock" (One Beat, 2002)
So named for the latter-day Clash album, this critique bounces at a reggae clip just like "The Guns of Brixton," with Carrie Brownstein pinching up her voice in the mocking style of "Know Your Rights" to deliver one of her band's most-quoted lines: "Since when is skepticism un-American?" Then it becomes something else entirely, with one of Corin Tucker's open-throated codas sounding like gospel over shimmering synths that turn this into a slow-burner at nearly twice the length of their '90s screeds. To this day they're still set on proving maturity and outrage can coexist within the same riff. D.W.
47. "Banned from the End of the World" (The Hot Rock, 1999)
From the endlessly ponderable title to the fantastical whimsy of that janky-Sgt. Pepper bridge, "Banned from the End of the World" is one of the most fun Sleater-Kinney songs to overanalyze. The staccato main riff is in some kind of Chinese scale that unmistakably evokes various modes of urban transportation, and who knows what Carrie and Corin are yelling over each other. All this packed into just over two minutes. D.W.
46. "Be Yr Mama" (Sleater-Kinney, 1995)
Typically, the visceral quality of this band's musicality is met with raw emotion from the lyrics. On their debut's highlight, "Be Yr Mama," however, the band is nothing but physical, singing lines like "You're inside me / I'm your mommy" with no restraint. Cracking on a relationship where the lines of maternal and lover's roles have been blurred, the earliest formation of S-K is nothing but body and snark. B.S.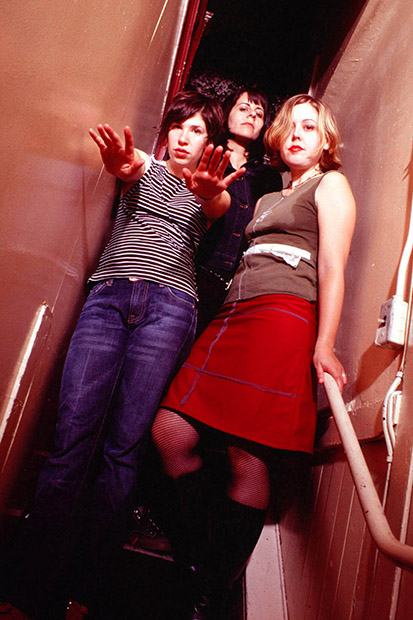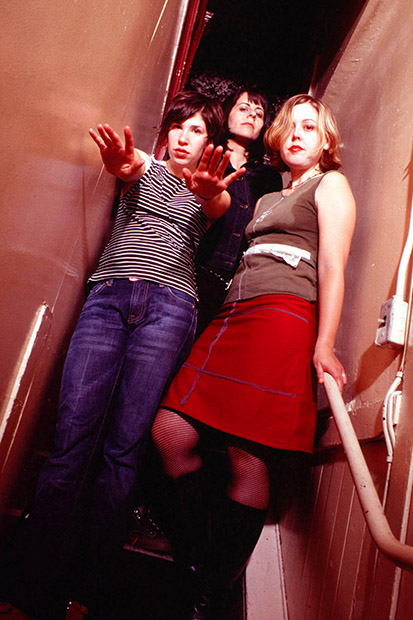 45. "Burn, Don't Freeze" (The Hot Rock, 1999)
If there are still skeptics who deny that Tucker and Brownstein belong in the pantheon of rock's all-time great double acts, well, they probably haven't heard "Burn, Don't Freeze." Concerned with snuffing out a destructive relationship, the song pits the two singer-guitarists against each other as they unspool different perspectives on a torched romance, all while a careening guitar line slides back and forth. The pair's vocal interplay mimics a telepathic connection gone awry, when lovers who once finished sentences together have long stopped listening. It's rare for disharmony to sound so harmonious. K.M.
44. "Bury Our Friends" (No Cities to Love, 2015)
Contrary to its title, Sleater's great comeback single — released almost a decade after the trio's last album and sharing terra firma verbiage with 1997's "Dig Me Out" — finds Brownstein, Tucker, and Weiss more alive than ever. Leading with the ladies' trademark commanding distortion, Tucker and Brownstein trade verses like old times and join vocals almost harmoniously on the chorus, which sounds vexed about why they're expected to age out of relevance: "Exhume our idols and bury our friends / We're wild and weary but we won't give in / We're sick with worry / These nervous days / We live on dread in our own gilded age." Acclaimed as they are in their own time, history will only be kinder. R.B.
43. "The End of You" (The Hot Rock, 1999)
"The End of You" is a surprisingly effective rager about hope and survival amidst the darker tone of The Hot Rock. The band makes great use of seafaring imagery in excellent, if slightly cheesy lyrics, before offering sage advice on the gorgeous final lines: "There's no bigger spotlight than shown on the ones brave enough to live." It's a nice affirmation on an album swimming in self-doubt. B.S.
42. "Stay Where You Are" (Call the Doctor, 1996)
Darkly discordant with minor-key melodies, it's Carrie Brownstein who shines on this 1996 panic attack. Likely referencing the "Little Girl Lost" Twilight Zone episode, where said young sprite accidentally passes through an opening into another dimension, Brownstein warns, "She's dead if you want and that's me if you want." Corin Tucker's jarring screams offer a convincing portrayal of trying to find her. R.B.
41. "Everything" ("Entertain" single, 2005)
A worthy add-on to 2005's The Woods, "Everything" is so magnificent that you'll scratch your head wondering why it was relegated to B-side and iTunes bonus cut status. More confident and greedy than their usual, with one of Carrie Brownstein's most jovial vocal performances ever, "Everything" is bold, and infectious enough to deserve an album of its own, which would never come because it explicitly addresses their ten-year hiatus. The Sleater-Kinney of "Everything" is an older and worldlier band singing "I feel like a wreck / But I've done all the things that I want to." B.S.
40. "Angry Inch" (feat. Fred Schneider) (Wig in a Box: Songs from & Inspired by Hedwig and the Angry Inch compilation, 2003)
Every song on Wig in a Box, a 2003 tribute album honoring Stephen Trask's transgender rock musical, Hedwig and the Angry Inch, is well-matched, and Sleater-Kinney in particular runs away with the raw, cheeky bitterness of "Angry Inch," perfectly casting Fred Schneider of the B-52s for the campy spoken bit. In the film and musical, the song is a darkly funny, self-deprecating take on Hedwig's botched sex change operation. Corin Tucker delivers Trask's lines like "Now all I got is a Barbie Doll crotch / I got an angry inch" with even more snarling panache than she typically exudes, while Schneider's familiar exaggerated phrasing fits the song's interlude, reciting cheeky lines like "My first day as a woman / And already it's that time of the month!" with theatrical delight. B.S.
//www.youtube.com/embed/UFmC8Sns9aY
39. "Wilderness" (The Woods, 2005)
Poor Kenny and Linda: trapped in a devastating "will they or won't they?" look at married life that's nowhere near as victorious as its speaker-blasting volume or flirtation with psych-rock leads you to believe. At least they tried to fight the good fight. K.M.
38. "Milkshake 'n' Honey" (All Hands on the Bad One, 2000)
Lest anyone forget that this band is funnier than fuck, this All Hands on the Bad One highlight tells the tall tale of a Paris fling who swipes some hipster's credit cards, heart, and (this one is shrieked) "best jeans." But he doesn't care 'cuz he's got a sweet tooth and she was "just like a king-sized candy bar." The sarcastic descriptions of bohemian Parisian life are almost as hilarious as the plot: "You left your beret behind / And your croissant is getting cold," and the priceless, "Keep turning me onnnn / With those French words I can't pronoooounce." D.W.
37. "Price Tag" (No Cities to Love, 2015)
This is one way to quell those moronic cries of "sellout": take your reunion album's opener as an opportunity to trash consumerism itself. "I was blind from the money / I was numb from the greed," repents Brownstein, while Tucker boasts about never checking the price tag. Is this their Monster Magnet-dressing-up-like-a-Ma$e-video moment? It's also got one of their most complicated riffs to date, which bends into an incongruent chorus that their relatively safe post-Sleater albums implied they'd never dare again. D.W.
36. "Little Mouth" (Call the Doctor, 1996)
"Damn you," Corin Tucker mutters to her id, under her breath, before gathering the courage to scream it the second time: "Damn you!" One of the only amoral Sleater-Kinney songs, and one of the only ones sung from some kind of alter ego, this early Call the Doctor spat finds Corin's titular maw screaming in her own ear to "take, take the money" and to "try" an unnamed her, presumably the source of the damnation in the first place. "Damaged goods, damaged goods," is all she can caution, though it may already be too late D.W.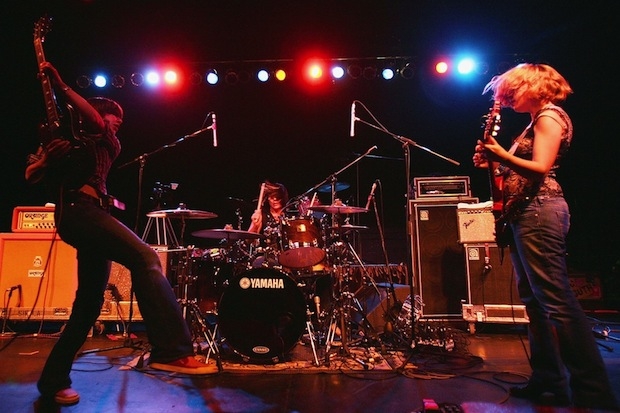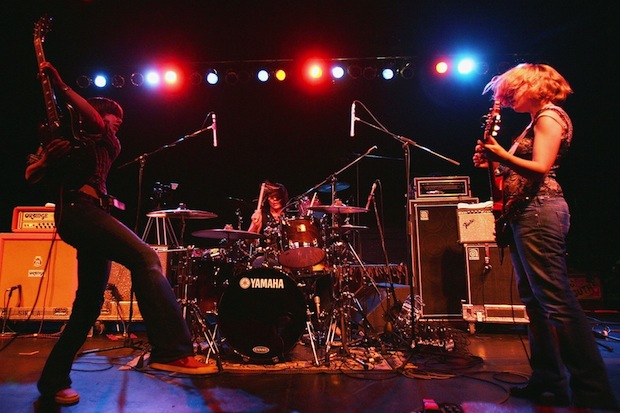 35. "Rollercoaster" (The Woods, 2005)
Theme-park rides tend to sort a certain chaff from the wheat: people who yak up their morning waffles, and those who want a second spin. It doesn't take much to guess which faction these thrill-seekers would choose. Opening with a sharp imitation of a bass line, "Rollercoaster" zooms out of the gate with crashing percussion, illustrating that heady, gasp-for-breath high that one reaches in the stomach-tossing throes of passion. When the ride inevitably ends, she craves the rush anew: "Rollercoaster, want to go back to the way things were / I'm on a rollercoaster / Want to get back on the Tilt-A-Whirl," wails Carrie Brownstein. Been there, girl. R.B.
34. "Start Together" (The Hot Rock, 1999)
Coming off of a then-career-peak, Sleater-Kinney chose to open their Dig Me Out follow-up with "Start Together," an inviting but subdued song that feels as though it begins in media res — the guitars quilt over the listener immediately — and ends with Tucker begging us not to leave. The Hot Rock made it clear that S-K weren't afraid to simultaneously deepen and stretch out their sound, and "Start Together" was the proper introduction to that pivotal phase in the trio's lifespan. That it eventually lent its name to the band's lovingly assembled box set is a testament to its place in their catalog. K.M.
33. "I'm Not Waiting" (Call the Doctor, 1996)
The key to a great punk song is distilling angst to its simplest form. Of which Corin, Carrie, and Janet are masters; Call the Doctor's "I'm Not Waiting" is a perfect example of the punch they can pack into very few words. Tucker's voice grows more menacing with each weary pause as she declares, "I'm not waiting / Til I grow up / To be a woman." Then she lets it all tumble out: "Your words are sticky stupid running down my legs." Songs don't get more quotable than that. B.S.
32. "Light-Rail Coyote" (One Beat, 2002)
You wouldn't expect a bookstores-to-punk-clubs ode to Portland to be Exhibit A in Why this band comprises Led Zeppelin's rightful heiresses. But one of their bluntest, heaviest riffs stomps through the verses like Godzilla, with the chorus swinging wide open for the other shoe to drop again and again. Then Corin Tucker's distant howling below Carrie Brownstein's tattered bridge proceeds into a full-on PJ Harvey-cum-Dr. John voodoo spell at the end: "Oh dirty river, come let me in!" The water's fine. D.W.
31. "A Real Man" (Sleater-Kinney, 1995)
Corin Tucker sounds like a woman possessed on this highlight from Sleater-Kinney's self-titled debut — and with good reason: she has all of 64 seconds to tell mankind she's not interested in whatever he's selling. "A Real Man" is the most overtly "riot grrrl" song S-K has ever released, and it plays the part well despite the band's musical aspirations quickly outgrowing the limitations of the lo-fi aesthetic. J.M.
30. "The Ballad of a Ladyman" (All Hands on the Bad One, 2000)
Given the lyrical cost-benefit analysis of the opening track on All Hands on the Bad One, it's stunning the trio didn't split up sooner. "Are we breaking on guitars?" asks Corin Tucker, and more importantly, "How much control should we give up of our lives?" The titular ladyman could be their band rising in the shadow of male-defined rock'n'roll. Or it could be a juvenile insult they'd rather embody than go out and buy "new plastic skin and a hit on the radio." The twist is that, even with all these balls in the air, Tucker shouts that "hit on the radio" line like an arena demon — Bad One was the first time they made reference to being rock stars themselves, knowing that so much more comes with it than "Words and Guitar." As Carrie Brownstein would probably concur from her courtside Trailblazers seats, sometimes that journey turns out to be worth the trouble. D.W.
//www.youtube.com/embed/2qzOajDlB-0
29. "It's Enough" (Dig Me Out, 1997)
One of the tightest-coiled rockers on Dig Me Out, with intertwining serrated guitars, chopping drums and — in a first — quality X-Ray Spex-style sax skronk courtesy of Seattle performance artist Jessica Lurie. Teetering on the edge of total abandon, the song somehow holds its center, mostly thanks to the indomitable bravado of all involved. With S-K, it usually is enough. A.U.
28. "Good Things" (Call the Doctor, 1996)
Sleater-Kinney have little time for self-pitying sans solutions, but when they must wallow, they really commit. A big relationship question swirls over their first obvious breakup ballad: "Why do good things never wanna stay?" "Good Things" set the precedent pretty high for their softer moments to come, thanks to Corin Tucker's emotionally fraught delivery. J.M.
27. "Words and Guitar" (Dig Me Out, 1997)
Few bands render our love for music as infectiously as Sleater-Kinney do, and nearly every line of the fan-favorite encore "Words and Guitar" is yearbook-quote worthy for pledging allegiance to the titular combination. It's powerful enough when Corin and Carrie preach over their own buzzing attack on the verses and chorus, but when things get warm and fuzzy with a xylophone on the bridge, that's when the gospel really becomes undeniable. "Oh, let me have that sound tonight." We should all be so lucky. A.U.
26. "The Swimmer" (All Hands on the Bad One, 2000)
Sleater-Kinney, escapists? Nah, they're just in for a cool dip. The sun-soaked ballad closer from All Hands on the Bad One has pretty low stakes ("They will never understand / How washed up you feel on land") blown up to widescreen by a small, plaintive guitar and huge pinwheels of three-part harmony. No world-ending heartbreak here, just surf, sun, and sand. Maybe even an echo of the Mamas and the Papas. D.W.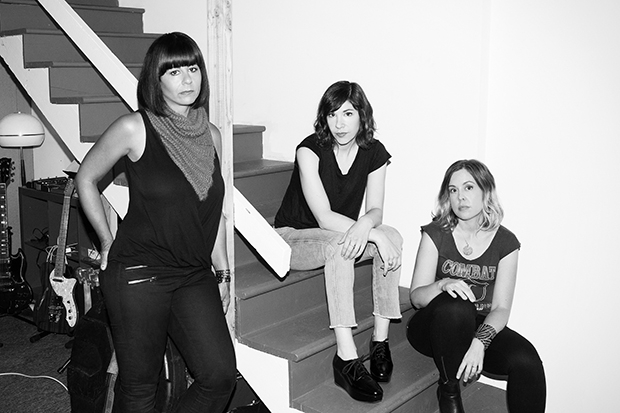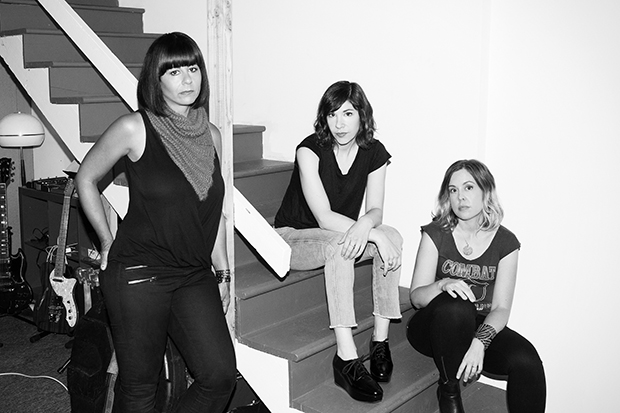 25. "Let's Call It Love" (The Woods, 2005)
On the album that matched their Zeppelin side with the massive production job it always deserved, "Let's Call It Love" couldn't be closer to their very own "Whole Lotta Love" if the axes were bowed. Nearly half of their longest song extant is consumed by a full-band shred, but when it's not, Corin Tucker channels the singing performance of Ann Wilson on "Barracuda." Good god. J.M.
24. "One Beat" (One Beat, 2002)
An angular, soaring statement of purpose that announced the arrival of not only a revitalized Sleater-Kinney, but also of three of Dubya's fiercest opponents. To try and run the future, S-K chose to let their old world go. K.M.
23. "No Anthems" (No Cities to Love, 2015)
Janet Weiss' scattered downpours of percussion would steal the show easily on this No Cities to Love standout if it weren't for Carrie Brownstein stealing something else: Tony Iommi's soul. The industrial riffs that come hurtling from "No Anthems," which wouldn't sound out of place on a Nine Inch Nails album, set the tone for lyrics about overcoming inner demons. After a decade away, it would be a surprise for any band to make listeners wonder how three people can pack such a compacted punch, which is exactly what the most bare-knuckle song on their reunion album does. J.M.
22. "Far Away" (One Beat, 2002)
One woman — a musician, a mother, an American — recalls where she was the morning of September 11, 2001, distills the fear and frustration of watching a national tragedy unfold on television, and chronicles the confusion and chest-beating divisiveness that ensued. Given the attention it deserves, "Far Away" remains as powerful a listen today as it was during Bush and Cheney's reign. K.M.
21. "Step Aside" (One Beat, 2002)
As close to a big-band, down-home, jazz-hands-and-all anthem as this trio ever get, "Step Aside" finds Tucker famously promising to "shake a tail for peace and love," with Brownstein doo-wop harmonizing behind her as she triumphantly ad libs, "Janet, Carrie, can you feel it?" With those chorus-stomping horns doing the mashed potato in back, we can too. B.C.

20. "What's Mine Is Yours" (The Woods, 2005)
Showcasing Corin Tucker's trilling howl, this nonconformist's anthem jumps in with jerky guitar chords and yelping ruminations about trying and failing to fit in: "Did you ever get the feeling that you don't belong?" she asks, before concluding, "Your desks are too heavy and your walls are too white / Your rules are all wrong and it's either run or fight." Considering their Riot Grrrl roots, this power trio rarely shies away from asking the tough questions, and it's the unanswered ones that sound even more relevant ten years later. R.B.
//www.youtube.com/embed/_DZ7h_9aPzQ
19. "A Quarter to Three" (The Hot Rock, 1999)
Casually gloomy, unrelentingly pretty, The Hot Rock's closing track proves what a great late-night album it is. Jazzy guitars unspool over a cha-cha-cha beat as Corin Tucker again laments where love went wrong ("It's like going to pieces to fix everything"). One comic touch proves a brilliant one, as Janet and Carrie serve as Greek chorus of "ooh-ahh!" to end each thought in the refrain. There's an actual solo constructed from some of the prettiest guitar figures that Carrie Brownstein has ever doodled. And at the end, some funky melodica plays them off. Sophistication suits them just fine it turns out, though eventually they pressed self-destruct and returned to blunt, kale-and-potatoes hard rock anyway. With this band, "What could've been?" is a moot point because everything they touch turns to gold. Even melodica. D.W.
//www.youtube.com/embed/ZbU2VLPCRS0
18. "Oh!" (One Beat, 2002)
A lighthearted, new wavy antidote to the protest rock that dominates One Beat, "Oh!" offers up some of the most purely pleasurable hooks in Sleater-Kinney's entire oeuvre. But even their most accessible songs aren't quite so simple: What appears to be little more than a love-bitten tune dedicated to a crush is actually an ode to the calming effect that comes with long-term commitment — that sensation of going from crazy to sane, of feeling like you're no longer lost at sea. K.M.
//www.youtube.com/embed/5HlVJ3pz2GE
17. "Not What You Want" (Dig Me Out, 1997)
Beginning with a primordial pound like King Louie about to start scatting "I Wanna Be Like You," this exasperated Corin Tucker showcase from Dig Me Out finds her wailing at the end of her rope. The guitars only become more insistent as Tucker's interrogation grows more frustrated than sympathetic to a lover who just won't tell her what's wroo-oooo-ong. Finally the answer gushes from her tear ducts: "It's everythiiiing!" Suddenly "Not What You Want" is the knowledge, or the guilt from pestering for it, that one's partner isn't happy at all. If you can't relate to this song you should thank your lucky stars. D.W.
//www.youtube.com/embed/52OeiPWlZRw
16. "Call the Doctor" (Call the Doctor, 1996)
As far as album-opening manifestos go, "This is love and you can't make it" should be classed with "Jesus died for somebody's sins but not mine" or "I wanna go to the new Belsen!" Call the Doctor was the beginning of Corin and Carrie's trademark clashing voices, taunting and howling against the dangers of socialization, purification, dignity, analysis, terror, sacredness, simplification, and (finally) sterilization. "I'm no monster, I'm just like you," Corin quavers with all the terror of a 1693 Massachusetts woman accused of witchcraft. When she starts incanting the title it sounds less like a solution than a threat. D.W.
//www.youtube.com/embed/_37YRkp4hIQ
15. "The Professional" (All Hands on the Bad One, 2000)
Inside of 90 seconds, everything Sleater-Kinney does well: a lacerating riff with seesawing vocal trade-offs that give way to heavenly chorus harmonies and a racing, spring-loaded bridge before one last dive off the cliff. You will not stop the professionals. D.W.
//www.youtube.com/embed/fpcgEEkSGUM
14. "The Drama You've Been Craving" (Dig Me Out, 1997)
"The Drama You've Been Craving" delivers exactly what it promises, filling the lyrics with comparably onomatopoeic allusions to bombs and fire. By the time we arrive at its choppy stop-go riff on Dig Me Out, the band has already bestowed on us the heartbreaking "One More Hour" and the exasperated "Turn It On," but for drama we'll have more if they insist. B.S.
//www.youtube.com/embed/jG4bHt01JHE
13. "Jumpers" (The Woods, 2005)
Here we have an absolute mammoth of a song. For the headlights-in-the-fog verses, Tucker, Brownstein, and Weiss pump out Bernard Herrmann-levels of tension. With every explosive chorus and ratcheted-up bridge, Sleater-Kinney extend an empathetic hand out to the track's lead character, who's standing atop the Golden Gate Bridge, preparing to leap. But S-K aren't passing judgement; from the narration's perspective, they appear to be closing their eyes and counting to four as they brace for impact. K.M.
//www.youtube.com/embed/vZA_7FtttRY
12. "Leave You Behind" (All Hands on the Bad One, 2000)
Not that they give a shit about male notions of conventional beauty, but "Leave You Behind" is the prettiest Sleater-Kinney song. Carrie and Corin's jangling guitars are the aural equivalent of flinging kettle corn into each other's mouths, and the harmonies sound like they were swirled together in a cotton candy machine. And those comparisons will cross your mind even before the glockenspiel and "woo-ooo"-laden bridge pull the whole thing together for a giant group hug. The perfect way to trick your folks into checking out this new retro-pop band. D.W.
//www.youtube.com/embed/Qnz4i2ZzZLc
11. "Entertain" (The Woods, 2005)
In a 2005 issue of SPIN, Carrie Brownstein described The Woods' lead single "Entertain" as a song about a whole barrage of concerns that are as relevant now today as they were a decade ago: "Artificiality versus authenticity. Mimicry versus strong influence. If politics and violence and personal tragedy and our news and art is all entertainment, then everything is on the same level." At the time, American culture was experiencing a rise in reality TV, as well as various "revival" bands that sounded more lazily nostalgia-driven than ever. Brownstein continued more infamously: "These new bands sound like Gang of Four — if Gang of Four sucked." Sleater-Kinney outlasted the Interpols of the world in the way of relevance, but those 1984-such-a-bores served to ignite what has to be Brownstein's most punishing vocal to date. J.M.
//www.youtube.com/embed/MbxRu7fwR24
10. "The Size of Our Love" (The Hot Rock, 1999)
Carrie Brownstein's standout weeper from The Hot Rock is the saddest song in the entire Sleater-Kinney oeuvre (this side of "One More Hour," anyway, where the protagonists don't die at least). Nothing but cellos, squeaking guitar, and Janet Weiss' funeral procession of a beat adorn the tale of two lovers stricken by cancer and marrying before they succumb to "a box built for two." When Corin Tucker finally joins in, her comforting harmonies seem to pat Brownstein on the shoulder, grieving in tandem: "Days go by so slowly / Nights go by so slowly." It sounds like a Nashville tearjerker, even has echoes of Nirvana's "Drain You," but they've never done anything else like it, and anyone morose enough for comparison should have such a light touch. D.W.

//www.youtube.com/embed/GLFjkwUTeMQ
9. "Little Babies" (Dig Me Out, 1997)
"Come inside, I am the shelter," sings Corin Tucker on the friendliest song she'd written up to the point of 1997's Dig Me Out, widely considered Sleater-Kinney's high-watermark for old fans and plenty of new ones. The year before, she declared her wish to be our Joey Ramone; on the exultant, unforgettable "dum-dum-dee-dee-dee-dum-dum-dee-dum-do" chorus of "Little Babies" she not only hit the mark but created a punk valentine as universal as any by the Ramones in her own right. That's one way to enjoy it. It's also about male rock idols and their perception of the groupies they "rescue" from a life of peeling potatoes and washing floors. If "Blitzkrieg Bop" can turn Nazi imagery into bubblegum, hummable feminist analysis should be a snap. The bridge shares its three words with a Stones title, "Mother's Little Helper." They're coming for you next, Mick Jagger. D.W.
//www.youtube.com/embed/wmiV47UbpTQ
8. "Get Up" (The Hot Rock, 1999)
"Get Up" — the most spiritual, searching track on S-K's most spiritual, searching album — asks more questions than it answers. But the satisfaction that this meditative song imbues isn't in the knowing; it's in the elliptical, metaphysical imagery, which makes for some of the band's most disarming lyrics ("And when the body finally starts to let go / Let it all go at once / Not piece by piece / But like a whole bucket of stars / Dumped into the universe"). On The Hot Rock, and especially on "Get Up," the reward is in the wondering. K.M.
//www.youtube.com/embed/d9MA4rFNf7I
7. "Modern Girl" (The Woods, 2005)
"My whole life is like a picture of a sunny day," croons Carrie Brownstein in this uncharacteristically chipper intermission from The Woods. The trio's relaxed guitar strums and carefree harmonica capture that freewheeling feeling you get when everything's going just fine, thankyouverymuch. Or is it? "I'm sick of this great big world," Brownstein kvetches in the next verse. Well, part of being a "modern girl" is the unending pressure to "have it all" and act like Gillian Flynn's Cool GirlTM all the while, right? In a patriarchy that forces women to live one day at a time, you can't exactly blame her for basking in sunshine one minute, and scowling up a storm the next. R.B.
6. "Dig Me Out" (Dig Me Out, 1997)
Carrie Brownstein's opening riff on S-K's most classic and well-known album is the kind of miracle every punk guitarist wishes would happen to them. It's somehow both messy and pristine, a gauntlet of off-the-cuff, jealousy-inducing perfection. The thunder keeps rolling through some anatomically confrontational lyricism ("Get into your sores, get into your things / Do you get nervous watchin' me bleed?") that never lets up. On "Dig Me Out," the ladies seal their most enduring artistic document by laying out all the sores and blood for us to pick at, and that's literally and figuratively only the beginning. B.S.
//www.youtube.com/embed/FbmZi_VS4ZM
5. "You're No Rock 'n' Roll Fun" (All Hands on the Bad One, 2000)
The male frontman may feel too cool to hang out with "the girl band," but can he get his voice to do that? The harmonies could challenge anything by the Go-Go's, while the hook would have been catchy enough to land Sleater-Kinney on commercial radio if major labels died sooner. Combating arrogance with arrogance sounds like the ultimate no-fucks-given beach party, and it's sort of incredible to hear Sleater-Kinney let loose this jubilantly by album number five, to have seen where they started and where they'd still go. When they let themselves, punk bands really do write the best pop songs. J.M.
//www.youtube.com/embed/rCy1VIy8Hj0
4. "Sympathy" (One Beat, 2002)
By far the heaviest closing track in Sleater-Kinney's discography, "Sympathy" doesn't favor subtlety. Corin Tucker opens the final bit of the band's sixth LP by addressing God — shaky vocals over a rough cowpunk riff — and singing that while she may not be "the best believer," she'd do anything for the safety of her son Marshall, who was born in the time between 1999's The Hot Rock and 2002's One Beat. From there we get Carrie Brownstein fretting about how everything she touches decays and turns to dust; some of the band's thickest guitar work up to that point (at least before they'd go on to unleash The Woods); a healthy amount of cowbell; and Tucker admitting that she was powerless to the fear that something tragic would happen during Marshall's birth — then she offers condolences to all those families who have lost a baby, to all "the mommies who are left with their hearts breaking." In the face of true terror — and true joy — you realize that subtlety is overrated. "Sympathy," though, that's another matter. K.M.

//www.youtube.com/embed/C0Rqt1J50sA
3. "I Wanna Be Your Joey Ramone" (Call the Doctor, 1996)
In their signature song, Sleater-Kinney brilliantly praise and criticize the culture that surrounds not only mainstream music, but the supposed indie scene as well. This punk classic has it all: a meta anthem about the flip of the gender role, with two of the tensest dual vocals ever committed to tape. Carrie Brownstein's pissed-off hyena shrieks supplementing the chorus are a mini hit-and-run every time she opens her mouth. I'm not sure Sleater-Kinney would admit to wanting to be your Thurston Moore these days, though the song's groupie-slamming message might be of service to him personally. Besides, they're already the queens of rock 'n' roll — screw the male idolatry. J.M.
//www.youtube.com/embed/CTHpfZhfQbk
2. "One More Hour" (Dig Me Out, 1997)
Running into an ex is awful, but imagine having to harmonize with them every night. A perfect mix of longing, regret, bitterness, and lust, Sleater-Kinney's "One More Hour" is particularly painful to listen to because it photographs the exact moment everything can fall apart for two people who were once in love. Not only is it about the dissolution of a relationship, hinting at either betrayal or departure toward the end, but the pair in question had to live it to write it. Battling out all their love and hatred in just three minutes, Corin Tucker and Carrie Brownstein channel Fleetwood Mac's most public tribulations as their personal drama becomes part of the experience their fans immerse in. Even at their most miserable and heartbroken, the trio are still vicious, yet kind, about what having a heart even means. B.S.
//www.youtube.com/embed/Ti1liRM6cao
1. "The Fox" (The Woods, 2005)
When you think of Dave Fridmann asking to produce the once-final Sleater-Kinney album, think of Metallica tasking Bob Rock, or Quincy Jones ushering Michael Jackson into discos. They'd long been well-oiled noise-and-song machines for a decade already; the studio merely gave Corin Tucker access to the heavy equipment that would finally allow her one-of-a-kind, banshee-eating-a-ghost-pepper roar to turn the world to crumbling static around her — or at least a binaural simulation. The Woods' opening vehicle starts with a piercing fanfare of feedback, then some atomic blasts so defaced with sludge they're barely recognizable as chords. When they give way to the relative quiet of Tucker singing a disoriented fable, it's more of a final warning than a relief, before the earthquake of a chorus that features the only lines that matter in the song because they're the loudest: "Ohhhhh foooooooxxxx / Is this loooooooooooove?" Janet Weiss' always world-class drumming here sounds positively frightening, and bats seem to fly out of Tucker's middle eight about breaking hearts "lickety-split." Fridmann merely wanted to harness the band's onstage power. This drops a house on you. And yes, it's love. D.W.
//www.youtube.com/embed/xgBRjqDE-24