In late 1970 or early 1971, John Bonham recorded the drums for "When the Levee Breaks" from Led Zeppelin IV. The session took place in an English mansion called Headley Grange — where the classic rock giants also recorded 1970's Led Zeppelin III and much of 1975's Physical Graffiti — and producer Andy Johns had the idea of placing the drum kit at the bottom of a staircase, with the microphones hanging down from above. The result was a shot heard round the world: The Zep drummer's booming, reverberant beat would become legendary, influencing the '90s grunge movement and being sampled by everyone from the Beastie Boys, Eminem and Dr. Dre to Björk, Depeche Mode and Sophie B. Hawkins.
A private residence, rather than a studio, Headley Grange closed its doors for 40 years to drummers wanting to record there. As shown in a teaser clip released last week, the Red Hot Chili Peppers' Chad Smith recently became what his management tells SPIN is the first percussionist to record in the space since Bonham. Now, in the video above, we have a longer, nearly eight-minute short film documenting what Smith, Queen's Roger Taylor, and dance session whiz Andy Gangadeen (Rudimental, Massive Attack, Chase & Status) experienced drumming in the stairwell that Bonzo immortalized.
"This place is really hallowed ground for music and for drumming," says Smith in the clip, which ends with the once (and potentially future) Will Ferrell "drum-off" rival kissing the floor of Headley Grange's hall, where Jimmy Page wrote "Stairway to Heaven," and Bad Company, Fleetwood Mac, and Genesis also spent time. "To be able to play drums where John Bonham played those beats and that music is beyond my wildest dreams." Smith adds, "I'll never forget it as long as I live."
Now also comes more information about what will happen with Smith, Taylor, and Gangadeen's sessions in this revered spot. In short, listeners might soon be hearing a fresh array of drum beats captured at the Grange, rather than the umpteenth "When the Levee Breaks" interpolation. Spitfire Audio, the sample library that arranged the recordings, announced today it's releasing The Grange, a sample-based "virtual instrument." It works with the free Native Instruments Kontakt Player platform. The Grange can be downloaded directly from Spitfire Audio for £149 ($225) through February 5, when the recommended retail price will jump to £199 ($300). More details are available on Spitfire Audio's website.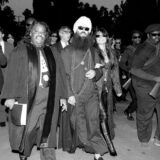 "Like thunder," Queen's Taylor says of Bonham's famous work here. The range of music inspired by "When the Levee Breaks" really crosses all boundaries — New Age stalwart Mike Oldfield sampled it, too — but we'll have to wait and see what contemporary musicians might do with this latest batch of drums recorded in the same space. To go by Smith's childlike grin in the video, whatever happens next, this particular trip to England was more than worth it.