Tinashe's inescapable "2 On" was one of the defining songs of 2014, and her unpredictably smoky Aquarius, was the year's best R&B album as well. A fledgling perfectionist whose label let her take her time with her debut, the former child actress has managed to get along with collaborators as disparate as Nick Jonas, Calvin Harris and, um, Charlie Sheen. SPIN caught up with the 21-year-old over the phone to learn how much hard work goes into making such relaxing music, and how she spent the best year of her life thus far.
//www.youtube.com/embed/-s7TCuCpB5c
Aquarius was two years in the making, what kind of strings did you have to pull to get people off your back about rushing it?
I was lucky to have a label that wanted to make sure when I presented my debut that I felt I was ready. They never put that much pressure on me to hurry or to rush. The most pressure came from myself, because obviously I was ready to move to the next chapter of my life. I wanted to put something out that was amazing and I had to take time until it was really ready.
Is it true that you didn't listen to any outside music while you were working on it?
Well, not any. [Laughs.] I listened to music at the end of the day. I'm always trying to discover new stuff in magazines, blogs. But when I was doing the album, I didn't focus on that as much I was really more into creating my own.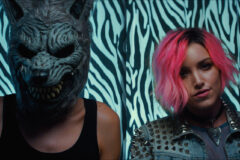 What would you put on at the end of the day?
I was trying to go back to my old school taste. Like, I always listened to Sade, Janet Jackson, Michael Jackson. People my parents played in the house growing up — I always come back to that.
I love how Aquarius bridges different eras of R&B with current sounds. Like "2 On" reminds me of a lot of millennial jams, like "AM to PM."
I don't know if it was necessary intentional, but I tried to have versatility within the music while still being consistent. I feel like at the end of the day, I always would try to make music that I wanted to listen to, stuff that I liked and wanted to hear.
Like Sean Paul? You quote him in "2 On."
While we were writing the song I thought it was a really relatable melody and I love when people hear relatable melodies in songs. It's not even necessarily that they know where it's coming from; they just know that they like it, and I wanted to have that element in the song.
Did you really record over 100 songs for the album?
Yeah, almost 200.
How many of those are going to see light of day?
A couple of them have ended up on separate projects. One of the songs is on the Hunger Games soundtrack. So they're finding their own homes. If not, I don't know. They can release them when I'm dead.
//www.youtube.com/embed/_Ht6gSClAzo
How did the collaborations come about with Kid Ink on "Body Language" and Calvin Harris on "Dollar Signs?"
The Calvin Harris collaboration was interesting, it was actually over Twitter. He tweeted like, "Tinashe's '2 On' is such a jam" or something like that, so I followed him on Twitter and he DM'd me and said, "Hey, let's get in the studio sometime!" We got in the studio and that was the first song that we made, and it was dope, so we put it on his album, it was exciting. The Kid Ink collaboration, we went to this studio in Vegas and he played the song for me and thought it needed a girl's voice on it. Both got turned around really quickly.
What about working with Nick Jonas on the "Jealous" remix?
That was awesome. He hit me up and asked if I would like to get on the remix. It was a very R&B song, a really dope concept and it was a good song so I said, "Absolutely, let's do it."
Had you met him before?
No, I had never met him, never talked to him, so it was really cool that he reached out and just said that he liked my stuff and wanted me to be a part of his song. I think his new music is really good. But yeah, it was cool because I got to record my part in my home studio and sent it back to see what they thought and they loved it.
//www.youtube.com/embed/7mHO_oFqQ4o
Did you write Aquarius in your bedroom studio or before recording?
I think it took so long because it was interesting for me to figure out what the best writing process was. When I was writing my mixtape, I was doing it completely on my own. Making all the decisions and doing all the writing on your own, it's a lot easier, so when I started working with other people and producers, everybody had an opinion. It took me a while to get comfortable with having to explain things to people so that they would listen to my point of view, and I was able to be more collaborative instead of them just giving me a song or whatever.
Were there any moments when you had to say, "No, that's not going to work for me?"
Yeah, I remember once early on. I'm not going to name names but I was hanging out with some people and they definitely thought that they could craft me, like, everything about how to be an artist, how to be famous, how to be successful and they were just going to tell me basically everything. So the entire session basically turned into a "You're not good enough, you're not doing enough of this and that" kind of session and it came across as really disrespectful. When it came down to the music — which was what I was there for — it wasn't even the direction that I was trying to appear in. It was this whole other type of really ratchet direction that they wanted, and it was just really not awesome so I ended up having to leave that session. That was the only session that I left.
Was 2014 the best year of your life?
Absolutely. I think so. It definitely changed my life. Before this year, my life was totally different and now I'm never at home and traveling everywhere and going to different countries and performing multiple times a week. It's just very different. People know me when I go outside. I can't go anywhere.
What was the best place you visited?
I got to go to Paris and I brought my mom. She had never been to Europe, so I flew her there for the first time and we just had an amazing time, just hanging out and talking and seeing the city.
Where are you looking to travel that you haven't been yet?
I am excited for Asia because I've never been to Japan. I'm also really excited to go to Zimbabwe because that's where my dad is from. I have a lot of fans down there and I want to see where my family is from.
What was the worst thing that happened this year?
I had a pretty positive year for the most part. I guess the worst part was not getting as much rest.
What was the best thing you ate this year?
Probably some cheese in France. They have amazing cheese. They have the best cheese. We were trying all different types of cheese. Cheese and bread. And red wine.
//www.youtube.com/embed/kV_4PA3RSr4
What was the best rumor you heard about yourself?
Are rumors ever good?
What about the most amusing one you heard?
I guess that I've had a nose job. They had "before" and "after" pictures which were really not… that was kind of stupid and kind of funny. I was like, "Hmmm, this is news to me."
How do you feel about the popularization of feminism in pop music this year?
I think it's awesome. I think in general more women need to be involved in music and in the industry — that's been an issue. When I was doing this album I didn't get to work with any girl producers or any female engineers and I think that's crazy.
Before your music career, what was it like sharing screen time with Charlie Sheen on Two and a Half Men?
He was actually really professional from what I found. He always knew his lines.
Last thing: How early is it appropriate to start playing Christmas music?
On Thanksgiving. The earliest you can play Christmas music is on Thanksgiving.