The 40 Best 2014 Songs by 1994 Artists
Don't call it nostalgia—these mid-'90s mainstays are still getting it done 20 years on
20. Tricky feat. Oh Land, "Right Here"
"I'm a person, not a number" whispers this devil's understudy, who's been a menacing original for two decades on, while his charge du jour Oh Land lays her woes bare: "My grief, my soul, right here." It's one of Adrian Thaws' catchiest songs in a while, a halfstep beat with robotic synth bass, chanted vocals and ill-fitting samples of stray wah guitar and other whooshes and scrapes that it wouldn't be a Tricky song without. But his grief and soul never left in the first place. D.W.
19. Superchunk, "Come Pick Me Up"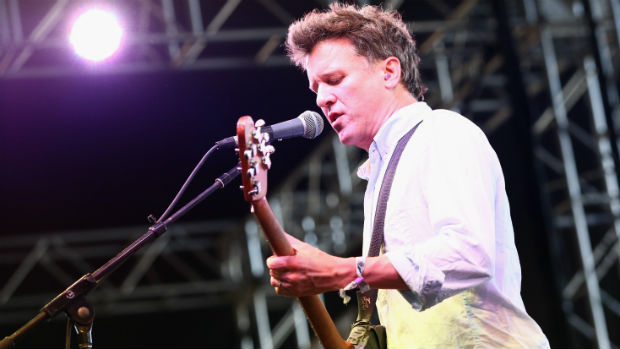 As if specifically designed to confuse search engines and/or turn-of-the-century rock chronologists, Superchunk's contribution to Bloodshot Records' While No One Was Looking compilation was a typically invigorating, emotionally supercharged rendition of Ryan Adams' "Come Pick We Up" — which, in turn, was supposedly inspired (in title at least) by Superchunk's 1999 album of the same name. The tail-swallowing cover from Chapel Hill's finest is rip-roaring enough to be well worth the confusion, at least, and it does give new meaning to the chorus plea, "Steal my records." A.U.
18. Manic Street Preachers, "Walk Me to the Bridge"
Though it was roundly ignored stateside, longtime Britpop pot-stirrers Manic Street Preachers got some of the strongest reviews of their career in their home country for this year's Futurology, led by the single "Walk Me to the Bridge." The song's rousing chorus synths — flashes of mid-'80s Echo and the Bunnymen — stand in stark contrast to the song's despairing lyrics, which bassist and "Bridge" songwriter Nicky Wire says were composed during a moment of panic about his future with the band ("Old songs leave long shadows / Makes you shut down all your emotions"). For a band that apparently had one leg already swung over the barrier, the Manics sound surprisingly revitalized here. A.U.
17. Morrissey, "Istanbul"
Moz has been his own drag act for ages now, so it's about time he got some new musical backing. World Peace Is None of Your Business is a characteristically against-everything affair, only now, Morrissey's ill ease has gone global. On "Istanbul," however, he sets aside the wagging finger. Over restless crawl and whine provided by his longtime guitarists Boz Boorer and Jesse Tobias, Moz depicts a father on a desperate, tragically successful search for his son. His voice betrays no hint of ongoing health issues; here at least, his narrative voice — the probe of the personal — is equally strong. B.S.
16. Mariah Carey feat. Wale, "You Don't Know What to Do"
Her album title smacked the internet's gob for a minute, but she wasn't wrong. Once pegged as the new Whitney, Carey cleanly pivoted from windblown r&balladry to hip-hop at the genre's commercial peak. Her clout let her flip the script: rappers featured on her cuts. Now, she's sort of a non-problematic R. Kelly, launching pop salvos and throwback jams in a perpetually ageist chart climate. "You Don't Know" is the latter, an Inner City-interpolating stepper for a disco-revival age. But it could appear on any MC album since Daydream. Long may she elude. B.S.
15. Wu-Tang Clan, "Ruckus in B Minor"
What no one wants to admit about the fraught current state of the Wu is that many fans would kill to trade in this year's A Better Tomorrow but they're not exactly dusting off The Lex Diamond Story. So why not embrace RZA's rock-opera vision? Now a seasoned film composer, he leads off the album with a convincing mini-action movie of orchestral twists and turns, a different one for each Clan member's verse, from drum fills to backward beats. The 45-year-old knows more about B minor than ruckus at this point, and that's saying a lot. D.W.
14. Smashing Pumpkins, "One and All"
Monuments to an Elegy was alternate-history Pumpkins, envisioning a '90s when Billy Corgan and company embraced Weezer-style synths and economy of production. But the 2014 incarnation did give us one true throwback in "One and All," a tightly-coiled wallop of guitar sheen, the most crunching number the band has produced since the turn of the century. Of course, if this was really still '94, "One and All" would probably be seven minutes long and include a couple subliminals at Archers of Loaf or something, but even the Great Pumpkin has to evolve at some point. A.U.
13. Crystal Waters, "Be Kind"
"GRAMMY considered," StoneBridge's YouTube channel still trumpets. It's hard, then, not to read a kind of entreaty in the title. In lieu of Al Walser-style shenanigans, though, StoneBridge (aka Sten Hallströ) offers dance-chart royalty Crystal Waters. Never a true belter, Waters is content here to ride the sticky deep-house synths, pleading for civility from her lover. There's no EDM to navigate, just midtempo swing, string timbres and the subliminal suggestion of ocean waves: clearly, she's reached the journey's end. Alas, the song was not shortlisted for a Grammy. While StoneBridge picked up a nomination in 2009 for remixing Ne-Yo, Waters has yet to receive a similar kindness. B.S.
12. Counting Crows, "Earthquake Driver"
In his middle age, Counting Crows murder-leader Adam Duritz has fully embraced his inner E Street Shuffle, and latest Crows album Somewhere Under Wonderland is full of the kind of stream-of-consciousness would-be poetry and rambling melodies that made the Asbury faithful swoon 40 years ago. LP highlight "Earthquake Driver" dashes in a little rollicking Simon & Garfunkel and road-tripping Bob Dylan to the handclap-heavy mix, even ending with an "O-Bla-Di, O-Bla-Da" conclusion. Duritz might not have the imagination of his musical heroes, but what he lacks in ingenuity he makes up for in era-spanning songcraft and guileless exuberance, and over 20 years on, that's worth plenty. A.U.
11. Nas, "The Season"
"Nas and Dilla beat, the fly soliloquy." If you need anything else, not sure why you're here in the first place. A.U.