After a year spent mostly out of the limelight, Macklemore dropped by New York's Hot 97 to give a lengthy interview about race, Ferguson, white privilege, and why people got so sick of "Thrift Shop."
Host Peter Rosenberg began by asking the rapper about the recent, high-profile wave of fatal police shootings of unarmed black men and the resulting civil unrest. Macklemore, who hails from the typically activist Seattle, lamented the deaths of Eric Garner, Mike Brown, and Tamir Rice. "If there's anything positive that has come out of their deaths," he said, "I believe it has brought attention to the injustices that have been plaguing America since the [beginning]."
He went on to discuss his role in the protests as a white rapper rather than a person of color. "I'm like, 'How do I get involved on a level where I'm not co-opting the movement, but also realizing the platform that I have and the reach that I have and doing it in an authentic, genuine way?'" He also acknowledged how uncomfortable many white people get when they talk about race. "We have to get past that awkward stage of the race conversation," he said. "As a white person, we have to listen."

A sizable portion of the interview was about Macklemore's status as a white rapper in a traditionally black medium. He agreed that being white probably contributed to his success, using the way he believed his white privilege shaped the narrative of his previous problems with drugs. "If I was black, what would my drug addiction look like?" he supposed. "It would be twisted into something else, versus maybe, 'Get back on your feet!'"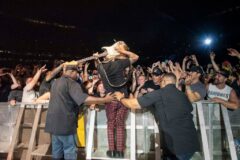 Responding to the cultural appropriation controversy brought to light by the recent Azealia Banks and Iggy Azalea feud, Macklemore said white people needed to appreciate the history of hip-hop. "You need to know your place in the culture," he said. "Are you contributing, or are you taking? Are you using it for your own advantage, or are you contributing?"

"This is not my culture to begin with," he continued. "As much as I have honed my craft… I do believe that I need to know my place." He didn't take any pot shots at Azalea.

In addition to the heavy topics, Macklemore also talked about the massive backlash to "Thrift Shop," calling it a victim of its own success. "'Thrift Shop' became massive," he said. "When that happens, for one, people are going to be polarized." With Grammy season coming up, he naturally talked about his infamous text to Kendrick Lamar after winning Best Rap Album over him last year. "The mistake came from Instagramming the text message and betraying my homie's trust."
"The language that I used was a bad call," he continued. "'Robbed'" was a bad choice of word. White people have been robbing black people for a long time. Of culture. Of music. Of freedom. Of their lives. That was a mistake."

Listen to the whole interview above.