Brooklyn-via-San Francisco trio Lemonade possess a sound that's truly unclassifiable. Comprised of vocalist Callan Clendenin, drummer Alex Pasternak, and bassist Ben Steidel, the synth-pop group has created throbbing dance-floor fillers and steamy slow jams since 2005. The band's latest LP, Minus Tide, is filled with shimmering, pulsing tracks that range from the bass-thumping "OST" (which features vocals from dream-pop singer/songwriter Glasser) to the rippling album opener "Stepping." Earlier this month, SPIN sat down with the band to talk about the origins of their unique sound – from their musical influences, to surfing the waves of California, to nights spent partying on the beach in Spain. Check out highlights from the interview below.
Can you talk a little bit about the evolution of New York as a music scene since you've lived there?
I think we sort of got here at the tail end of the Williamsburg thing, when it was very much thriving, because we recorded our first record in the studio with Chris Coady. At the time, it was Dave Sitek of TV on the Radio and Chris Coady's studio. A lot of Brooklyn bands were recording and we got to know a lot of them and I remember thinking that there was so much going on, but I felt an undercurrent of change even then, so I think it's a constantly revolving, evolving thing, because a lot of touchstone venues have shuttered. I think a lot of bands are also to blame too because there's a sort of strict "underground for underground" mentality that exists in like indie rock or like whatever.
You know in Brooklyn right, it's all the people wanting to do minimal techno. There's an underground techno scene which applies the philosophies and tenants of minimal techno in Berlin from 10 years ago or so, and then there's the hard punk bands that just play these warehouses. Those shows seem pretty exciting, but I actually don't ever go. I don't even know when those shows happen. I'd have to tap into it, but everyone else seems to have overall just professionalized. I see a lot of artists these days kind of applying the U.K. model like "Get a manager, do all this promotional stuff before you play a show, "and stuff that seems a little produced and fabricated rather than organic.
Let's talk about the record. Can you kind of flash back a little bit and tell me about the recording process for Minus Tide?
We made Diver, and that kind of took a long time, and that was a long, seemingly heavy, dark process. Maybe not so much for Alex and Ben but definitely for myself. It was a lot of doubt and constantly writing songs, and I wasn't even sharing a lot of the ideas I had written with Ben and Alex. The writing process was long and drawn out.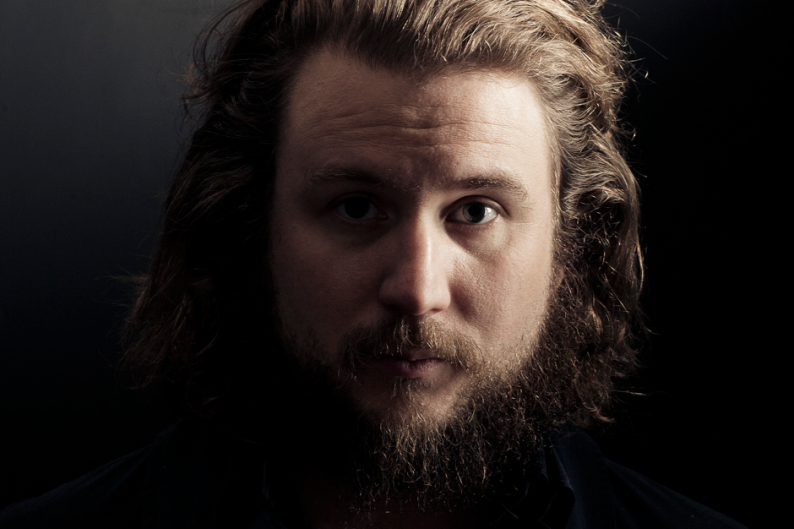 We actually had written so many songs for the records, so many different versions of the band occurred in those couple of years between the first album and that album. But with Minus Tide, it really wasn't that. We just did the touring for Diver and then we all took a break, and then I moved back into the loft that I lived in with Alex and Ben when we first moved to New York, like six years ago. I just spent all my free time writing again, so we all got together with the demos that we liked and just really put the album together pretty painlessly. It was really fun and effortless. We recorded it in our loft. We just built a vocal booth under a little skylight and every day, our friend Michael Cheever who's a producer would come over. He does a lot of behind-the-scenes tracking and production for artists. He'd come over and we would track vocals for a couple of hours, and then we would track synths, and it was just like an extremely light-hearted and fun process. It came together effortlessly over a month, just in our apartment, at the end of winter.
I don't want to say it sounds easy, but I get the sense it was a lot easier than maybe previous efforts?
Yup. I want to say it was entirely much easier than previous efforts, but it was also shocking, how much more work we kind of could've done but didn't feel like we needed to do. The last couple of records were more strenuous for us. This one was like accepting who we are as a band, because we had tried so many different ideas and styles and approaches from the first record to the recent record, and I think with this one, it just is the natural, settled state of all that sort of input. I felt like we were just ourselves with it. It was just really natural. It wasn't the most pop thing that we had tried to do, and it wasn't the most dance. It was sort of all of that naturally, together.
It sounds like if you add it all up, it encapsulates all that stuff.
Yeah that's how I feel too. It's good that you feel the same cause yeah, that's how we felt. I feel like Diver was really New York. I was listening to so much like New York music at the time — a lot of rap but also old like '80s producers — so it was all very New York. Then this record was like I had gone through my years of New York and then I let go of a lot of that, so we just got back to who we really are.
You mentioned different influences and artists — is there any artist in particular you would be flattered to be compared to?
I don't really have an idol. I've been told the record reminds people of the demos that of Bryan Ferry. I'm always happy when I'm removed from the record and someone I'm really fond of comes up as a reference point. It just makes me feel so good when someone gets that ringing from it, when the person might be just kind of like "Duran Duran!" or something.
Are there any good stories behind songs on the record?
The song "Reaches" is about our friend's surfboard company. Every time I was traveling to California and wondering why I was still living the life I was living, he created such a great online aesthetic for a surfboard label that was making me and a lot of my friends miss California.
Do you surf?
I grew up doing it, yeah. Alex and my father are both surfers. We grew up surfing. Alex still surfs pretty regularly, but I tend to stay in New York more. He's [there] about half the year, so he manages to do things like go and surf and I usually stay here.
New York is just too far from a beach.
Yeah I don't care for the beaches here. I've tried. Every year I try, but I just don't care for them. It's a completely different ocean and the experience is completely different they're pretty crowded. I mean, they can be crowded in southern California, but it doesn't feel as unpleasant to me. Even Malibu on a Saturday.
I will say, Montauk in the winter is great.
Yeah it's crazy. I mean it's cool, it's an experience. It's all an experience that is worth having once or twice.
Earlier you mentioned playing DJ sets. Do you have records that crop up consistently?
Ben and Alex DJ a lot. Alex is kind of the conventional type. I'm the DJ from the 4-6 hotel event, and Ben's a bit more a proper DJ you know? Not that Alex isn't a proper DJ, but Ben owns a record store and he's done all UK garage sets because the person throwing the party asked him to, and he made a mix of just MK remixes just for fun one time.
I mean, I think if you go to see a Lemonade set, we're not just going to play a bunch of dance stuff. I think we more play the pop and vocal stuff which is just kind of who we are. I mean, my ideal party is still old balearic classics, you know? We'll always play like late '80s, early '90s balearic classics. But other than that, yeah, a lot of late '80s early '90s techno and house does get played as well as brand new stuff.
I feel like Alex is always in New York DJing, but we do have one party called "Crazy / Beautiful" together and that's the only really official party we all DJ at. It's kind of a balearic party. We play a lot of new techno and house, but it's kind of our account of a really balearic party. People will play those hits, but in New York, it's a lot of hard house and deep house and industrial techno, which fascinate me, but I'm on the opposite end of the spectrum.
New York also has like, 15 different DJ nights on a Wednesday night.
Yeah you know what through? I'm going to be honest with you. The scene was what I loved about New York and, interestingly enough, about San Francisco. I think what our friends and all of us did was lay a lot of ground work for opening a lot of people's minds towards house and techno, minds that were just solidly interested in post-punk, because we really pushed that. At the time, it was old rave and old '90s pop house stuff, but I still feel like we really pushed it.
Then we moved to New York a couple of years later, and it was just the start from zero, because it was the DFA disco scene and it was weird, "beyond techno." There were so many good parties and such good DJs down the street and now, like I was saying earlier, everything just feels so professional and every party is in Bushwick in a warehouse with a $40 cover or it's at Output and so I have to go to mega-clubs or mega-warehouses. It's finally got its place here, and there's all this wolf and lamb stuff, but now it just feels very professional. And there's still tons of parties every night but I kind of miss the Monday nights in Williamsburg in some random bar with some really good DJ, you know? I remember Goldie played a few years ago at some bar. It was a weird, secret show, but it's still a good city for that.
Sometimes it feels like it has been corporatized. Everyone knows that the rules are kind of set, and it almost always involves a $20 cover. We tried to keep it going at some sort of local bar, whatever casual hang, because it's sorely needed these days.