Today, Secretly Canadian is reissuing Didn't It Rain, the 2002 album by the late Jason Molina's Songs: Ohia project. To coincide with the deluxe edition's release, SPIN is publishing an excerpt of Riding With the Ghost, a forthcoming book about Molina written by Erin Osmon. The selection below focuses on the making of Didn't It Rain, which is currently available for purchase through iTunes, Amazon, and Secretly Canadian.
In 1964, Sister Rosetta Tharpe sauntered onto a jerry-rigged stage at the shuttered Wilbraham Road railway station in Manchester, England to perform her hit rendition of a storied spiritual. The Granada Television special broadcast featured a host of American blues and gospel legends such as Muddy Waters and Sonny Terry and Brownie McGee, gathered among a menagerie of hessian sacks, wooden crates, rocking chairs and a horse-drawn carriage meant to mimic the aesthetic of the American South. Sister Rosetta Tharpe's rollicking performance to an audience of pimply British youth was perhaps in great contrast to its chorus centered on the tribulation of the Bible's Noah, his 40 days and 40 nights aboard the ark. "Didn't it rain, children / Talk about rain, oh my lord / Didn't it, didn't it, didn't oh my Lord / Didn't it rain?" she howled from behind an electric guitar with a horned body top, her trill a sonic rocket launched straight from the gut.
Nearly 40 years later, Jason Molina rolled up to Soundgun Studios in Philadelphia in what friend and recording engineer Edan Cohen remembers as a rented, jet-black cop car, something like a Ford Crown Victoria, looking pleased with himself as Sade blared from its speakers. It was in this North Philly industrial moor, commonly referred to as "The Badlands," which was controlled by a mafia of roaming feral dogs, that the songwriter and engineer crafted what many consider Molina's first perfect record; a nod to the gospel, blues, and roots traditions that inspired Molina, released under the namesake of that traditional tune popularized by Sister Rosetta Tharpe: "Didn't It Rain."
Molina and Cohen originally connected in Rochester, NY in 1996 where Cohen, a Songs: Ohia fan, had just graduated from the Rochester Institute of Technology. After a local Songs: Ohia gig, Cohen and his closet-sized apartment became the impromptu crash pad for Molina and East Coast art-rock outfit Oneida, who headlined the show. There, the passionate and opinionated pair bonded over their favorite Jackson Browne songs and love of roots-rock, and kept in touch casually throughout the years.
//www.youtube.com/embed/WyGmGRNO37Y
Given their overlapping tastes it made sense that, in the winter of 2000, Cohen invited Molina to contribute to the Burlap Palace compilation that he was producing to promote his new studio in Philadelphia, which honored the legacy and vibe of the iconic Muscle Shoals Sound Studio of Alabama. Molina was in town to play a house show and the two agreed to record a cover of Boz Scaggs' "Sweet Release," — a sort of American answer to what Van Morrison did with Astral Weeks in 1968 — that same night, at around 2:30 a.m., in the midst of December's meteorological fury. Cohen rounded up a handful of locals, and the ragtag group cut it in one take. Unbeknownst to Cohen, this haphazard assembly and swift recording was the way to Molina's peculiar heart, which is why he almost immediately approached Cohen to work on a full album together, one he'd been writing in Chicago that was inspired by the city's blues tradition. Throughout his career, Molina insisted on capturing songs as unrehearsed and as live as possible, and then released them with warts and all. Perhaps his most recognized and beloved blemish lives at the 6:57 mark of Didn't It Rain's namesake, when Molina audibly whispers to singer and mandolin player Jennie Benford, "Let's bring it back, we can sing one more."
In a 2002 interview, Molina explained: "I try to do as little editing as I possibly can in my songwriting, even now. That's just a way of keeping things free and spontaneous, which is, pretty much, just keeping to a sort of blues tradition. The blues singers, the great ones, they start out on an idea, and they advance on that idea for five minutes, singing in sort of a circle about the same five things they want to get across. I think that free, circular, abstract kind of songwriting can be a very complete form of storytelling, and it's something we all can do when we're not so self-conscious."
This couldn't be more true of Didn't It Rain, in which direct lyrical themes of desolate landscapes and downtrodden dispositions steer subtle instrumentation conceived and executed by a cast of musicians who'd mostly never played together before, and would mostly never play together again. Molina was very specific about his atmospheric goals for the record, and filled the room with physical manifestations of the album's aura, in the form of posters of iconic Chicago blues musicians hung on handmade wheeled bevels. Next to each image lived an oversized sheet of white paper — ubiquitous accessories of corporate conference rooms — with a song's lyrics scrawled in Molina's distinctive, romantic script. "He'd write in red 'Jim sing here' or 'Jim and Jennie sing here," Benford recalled. The lighting was dimmed so that the words were barely visible, allowing near darkness to envelop the room and drive a spectral and contemplative posture. Benford recalled Molina asking her to listen to Neil Young's After the Gold Rush ahead of the session, for tonal reference, which inspired her to play the piano.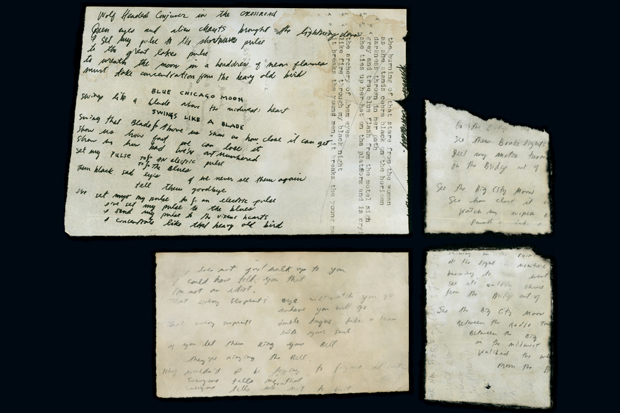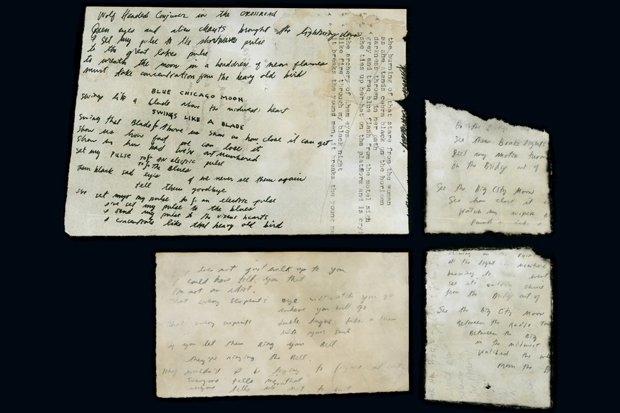 Molina and Cohen had discussed the record a bit over the phone prior to the session, where the singer insisted that everything be recorded live, with a minimal studio cast. Having a self-described hard head, one perhaps as stony as Molina's, Cohen pretended to acquiesce, and then immediately prepared himself for battle. He wanted lush instrumentation and had a strong hunch that live vocals just wouldn't work in his sprawling, open space, which he believed was a former sweatshop-style factory. Once Molina hit town, Cohen was particularly adamant about the inclusion of lap steel player Mike Brenner, a local whose homemade "lap bass" — a bass guitar he rigged up so it could be played slide style on his lap — added the eerie, cello-like sounds heard throughout the record. After a few verbal rounds, Molina relented after hearing a few recordings of Brenner's top-notch work. Cohen also managed to call in friends Greg Castano, Matthew Schwed and John Popovics to help flesh out the tracks, though the three were largely uncredited after the album's release.
Much like Sister Rosetta Tharpe's entrancing wail that day in 1964, Molina's voice was as doleful and commanding as ever, and he placed great trust in his players, who'd quickly work out parts, and run through a song just once or twice before they'd hit record. Every track was captured in one or two takes. "I have nothing but happy memories of that time," Benford said. "But sometimes it wasn't so easy to roll with." She explained that for most of the songs she and Molina stood at a single mic together — two tiny mice huddled together in Cohen's seemingly endless studio field — as Jason played guitar. But Molina didn't like to stick to the script. "He would suddenly change up a word in a lyric and I'd still be singing the old version," she said with a laugh. "In those cases we'd have to do the song again."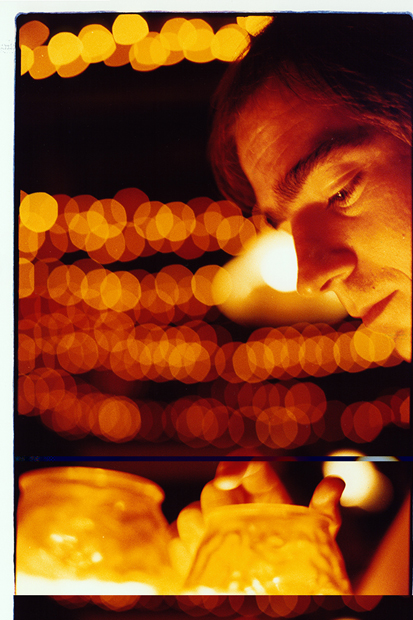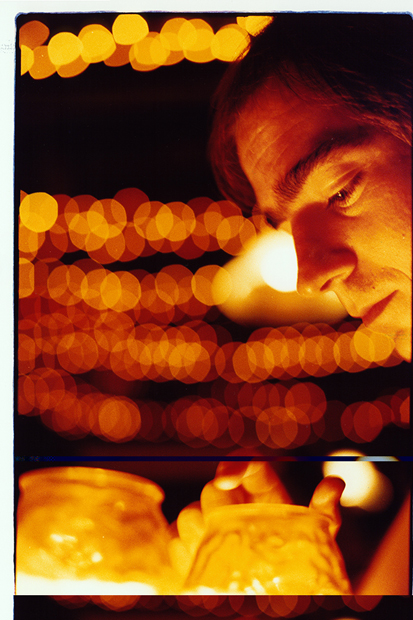 Despite Molina's binary personality, which throughout his life straddled extreme solacement and extreme silliness, everyone in the studio that week remembered him as pleasant and generous, with just a few exceptions. "Mike, who's a professional session guy, initially said things like 'Throw up one more track because I have a harmony for that part,' and Jason got mad and insisted, 'No! No overdubs!'" Cohen explained. "I could tell that Mike, who'd never heard of Jason before, was thinking 'Who is this little dude?" It took more than a little coaxing for Molina to relax as Brenner recorded harmony parts for his homespun bass gizmo in separate tracks. "I think he just expected me to do the initial parts and walk, but I had some ideas," Brenner added.
"So we did the overdubs anyway. He could have erased them if he didn't like it. Edan and I were used to working together, so we were being a bit mischievous." Cohen also remembered conversations about music turning from casual to confrontational, when a deadpan Molina would deride some of Cohen's favorite artists ("Richard Buckner? Gram Parsons? They're hacks!"). "I think he was just messing with me, but it was always hard to tell with him," he added.
Molina also managed to work in a few half-truths and exaggerations about the album, an aspect of his personality that was a throughline in his 39 years, and one that grew over time. In a 2002 interview he explained: "I've studied with a guy who worked at the Muscle Shoals studio for a long time [Edan Cohen], who made Didn't It Rain, was the guy who dug up all the original Muscle Shoals engineers and learnt a lot of great recording techniques for live recordings. And a lot of that shows on this record."
While it's true that the spirit of live recording practically seeps through each groove of Didn't It Rain, in reality Cohen spent just one week with one figure associated with Muscle Shoals Sound Studio, guitarist Jimmy Johnson, who flew to Philly to hang out at Cohen's studio while he recorded some of the bands for the Burlap Palace compilation. He wasn't there during Molina's take, however. And Cohen insists he never spent any time in the actual Muscle Shoals Sound Studio space in Alabama. "I went down to mix for three days in his [Johnson's] studio, which had nothing to do with Muscle Shoals Sound, which at that point was totally empty," he added. "It's a cool story for Jason, but none of it is true." Cohen also recalls reading interviews where Molina boasted of a magical studio in Philly filled to the brim with vintage gear, when in reality he had just two vintage mics.
//www.youtube.com/embed/Pz2nyOLVwg8
To many who worked with Molina, the compromises he made with Cohen and Brenner in the Didn't It Rain session were miraculous. "He definitely wanted to be the guy who made great work that was self evident," Secretly Canadian co-founder Chris Swanson said. "He was committed to first drafts, sort of like the Kerouac method. Revision was not the type of work he wanted to do." This stubbornness nearly sent Cohen through the roof when Molina attempted to abscond with the recordings without mixing them. After another kerfuffle in which Cohen pleaded for Molina to give him just a few hours with what he had captured, to make subtle adjustments to the levels, Molina relented. "The record had to have at least a little compression before I turned it over to the mastering guy," Cohen added.
Despite the uncharacteristic compromises he made in the studio, Didn't It Rain remains a testament to a vision that could only have been spun by Molina's mind, with its meditations on images from the banks of Lake Erie in "Blue Factory Flame" and romantic observations of Northwest Indiana's steel factories and industrial open graves on "Steve Albini's Blues," the product of Molina having recently relocated to Carl Sandberg's "City of the Big Shoulders."
In fact, Chicago recording engineer Steve Albini — one of Molina's idols — might have put it best in a post on his Electrical Audio message board, after he learned of Molina's passing on March 16, 2013: "I loved hearing Jason Molina sing. He was a genius at turning a phrase and making it into something more than the words in it."
The sprawling compositions conjured a supernatural portal that transported Molina's words from that of earth to that of the ethereal. The record laid the foundation for the sound that was to become his signature, its sweet and sorrowful crackles, its pastoral sparseness, evolving into a contemporary roots-rock revival with his band Magnolia Electric Co. It also cemented a relationship with Brenner, who would record and tour with Molina for years to come and be essential to the sound of his magnum opus, The Magnolia Electric Co.
And ultimately, Molina didn't make every concession. He ended up winning what was perhaps the biggest battle. "All the vocals were recorded live," Cohen admitted. "While I was originally upset at having to do this, I am confident he made the right call, and I'm glad he pushed me out of my comfort zone."