When Gwen Stefani calls SPIN from her Los Angeles home, she's unwinding in her bed wearing a robe, letting the stress of the full-day photo shoot that she just finished fade away. "I'm so lucky right now," she says, referring both to her cozy lounging and the reception to her new solo single, "Spark the Fire." Produced by Pharrell Williams, the song followed October's reggae-tinged "Baby Don't Lie."
//www.youtube.com/embed/9uo9oy-Eqo4
Both singles will appear on Stefani's upcoming third solo record, which very nearly almost never happened. The pop icon spoke with SPIN about the writing and recording of her newest effort, reuniting with No Doubt, and working alongisde new collaborators such as Calvin Harris and Charli XCX..
Your new single features production by Pharrell. What do you think he brings out of you as a collaborator and producer?
Our whole relationship is crazy because back in the day, I really wanted No Doubt to do something with the Neptunes. I thought, "Let's do something with someone outside of the band. Lets write a song with someone in hip-hop." That was the skinny of our Rock Steady album, which was all about collaborating and being open. It's my favorite that we've ever made. We went in the studio and wrote "Hella Good" really quickly. I noticed that Pharrell wasn't just a hip-hop guy. He was always in his own lane. I noticed so many similarities between us in the things we like to write about, like style, and fashion, plus we both love Japan.
We weren't friends yet then. We did the song together, but then when I did "Hollaback Girl," I spent a lot more time with him. Then time went by, and I hadn't really seen him. Then, all of the sudden, he does Despicable Me, and I was like "Whoa, that's incredible! You did a soundtrack!" Then my kids started going, "I want to be in the 'Happy' video!" I emailed him like, "My kids are obsessed with you and I need to send you a video of them doing your song!" He wrote me back saying, "That's awesome. I'm doing Coachella, I know you just had your baby a minute ago but we should do this together." I wanted to do it because I wanted to show off to the kids and it seemed so fun. The first time I left the house after giving birth was to go on stage and do "Hollaback Girl" with Pharrell at Coachella.
//www.youtube.com/embed/mkCHvKw-efo
Then [they] called me about The Voice, and I was like, "That's crazy, would I do that kind of thing?" Then I found out Pharrell was doing it, so we decided to do it together. I think he's an incredible guy. He has so much wisdom and positivity and he really has a way of making me feel good about myself. Being around that makes you wanna do great things.
We went in and did these two really weird songs together that he loved, but I was kind of like, "Is this what I'm doing? This is so weird!" The guy is all over the place, and I said to him, "I really want something like…" — well, he claims that I said I wanted something hard. The next morning, he came into my trailer and was adamant about playing me this track. He started playing the first version of "Spark the Fire" while singing this melody on top of it and I just gave him a big hug; I was like "That's it!"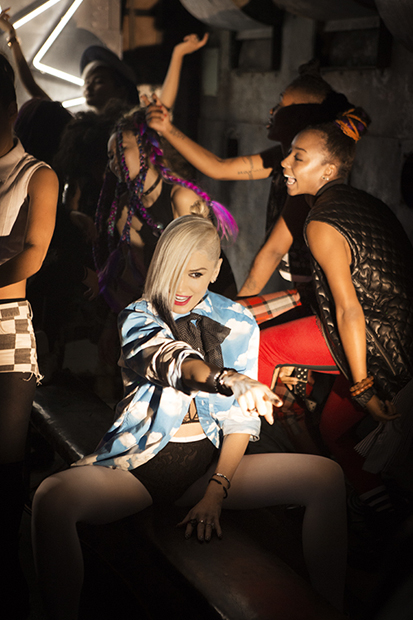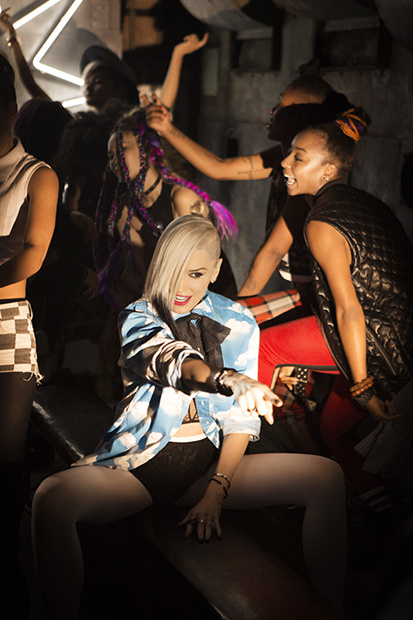 Was Pharrell bringing you out at Coachella the impetus for your return to solo music? What was it about right now for you that felt right for a return?
That's a really good question. To be honest, I had no intention to ever do another solo record. I was in the studio with No Doubt after our last record. That last session we had was with Pharrell, and then I got pregnant unexpectedly, like a teenager. I got very sick, so everything stopped.
That was good though, because I needed that time to enter my cocoon and blossom into my next chapter. Before that, we were in the studio experimenting with a lot of different people. It was OK; there were certain times when we were so great, and there were other times where it felt like so much effort, so it was good timing to say, "Let's take a break on this."
Only four or five weeks after I had the baby, they called me to do The Voice. I was never expecting to do that, but when the opportunity came along, I was also itching to do new music. I didn't even care if it was hopping on someone else's song, I just knew that I couldn't keep being the "Hollaback Girl." Something new had to happen, and there was no way to do a No Doubt record in that short amount of time, because the way we write, it takes a long time.
//www.youtube.com/embed/c4lRINPVF50
At first I was like, "Oh, I'll just put out a record! Let's do it!" But now I'm like, "Wait a minute." I feel like I was getting rushed by doing the show and trying to put the record out and having a new baby and doing No Doubt shows. It was just a lot to handle at one time, so I'm still working on the music and I think the only way to do it right now, with everything going on in my life, is to collaborate. Some of the best thing I've ever done — things I think are my favorite — are the collaborations.
Maybe then I'll go back and do some No Doubt stuff. I feel like I'm in a time period where I can't predict what's gonna happen. I feel really happy to have something new out. It's scary, too, because now everybody has such access to you and you have access to what everyone thinks of you, and I really didn't really grow up that way.
In terms of collaborators, I read that you worked with Charli XCX on a session, and you've mentioned not liking to write with women in the past. Why is that, and what was it about Charli that clicked?
Yeah, the way that Charli and I worked together was that we really didn't work together. [Laughs.] She wrote with Benny [Blanco] and then I wrote with Benny separately. I wrote her an email and was like, "This is so weird that I haven't ever met you and now we have this song." I think out of all the writers out there, male and female, I really like her style the most. I think that she comes up with really good melodies. I feel really lucky to work with her in the weird way that we did. It'd be interesting to actually be in the studio with her. I'd be intimidated. It's always awkward for me to be vulnerable when I'm in the studio with people, but sometimes really great stuff comes out of that. You just have to be brave enough to do it.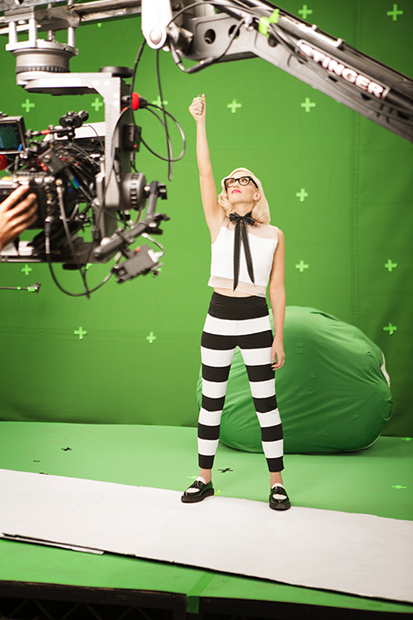 I would love to work with Chris Martin, too. I've tried to get him to work with me for ten years, so maybe he'll do it this time. [Laughs.] I just did stuff with Calvin Harris too. I've got a good start on the record. Sia and I did a session with Pharrell and No Doubt. She's a genius and I love working with her. There's a song on the record called "Start a War" that she wrote that I'm very grateful for. I think that girls are gonna love that one. I'm gonna definitely go back in with Pharrell, and I know that I want to work with Diplo. There's so many people!
I just feel happy to be doing new music. I didn't really count on it. I always thought that no one would care about me anymore, and then I would fizzle out and I'd have my family and my clothing lines. That was the plan I had 12 years ago when I started L.A.M.B. I was like, "I'll do my line and I'll have my kids, and that's it." Being able to do new music is more precious than ever before.
I heard rumors that No Doubt plans to reunite to headline some festivals next year. How excited you are to play new stuff for the fans?
It's surreal to be up there with them. We still have a lot of fun onstage because we have a lot of chemistry and once we get together, it really feels like we're being transported to a place where no time has passed. It's a great feeling and it's something that I'll never be able to get anywhere else but right there with [those guys].
I don't think we're planning on touring, because I don't feel comfortable what with all the kids in school right now, but if any shows come up that feel right, it only takes a minute to get things going again. It's still a really good time for me. I feel like I get to do every single thing I want: having another new baby, doing No Doubt, doing The Voice, and doing new music on my own. There are so many lanes and I feel so lucky to get the chance to take them all.