Although the beloved New York City venue Glasslands finds its 8-year run coming to an end this week, Brooklyn-based singer/songwriter Mitski's career is just beginning. As a DIY musician, Mitski has been vocal about her opinions on the changes within the Brooklyn music scene, and how important iit is to her to maintain her ethos and support the scene that gave her music life.
Mitski was born in Japan, but spent her upbringing in different place each year. Influenced by M.I.A, Bjork, Bruce Springsteen, Iggy Pop and Rachmaninov, her music represents a grungy, colorful palette of folk-rock. With Mitski's most recent LP Bury Me At Makeout Creek, the singer-songwriter surfaces with breathy vocals once again, but goes more lo-fi with her melodies. To support the record, she'll also join Joyce Manor on tour throughout the Tri-State Area next month.
Mitski talked to SPIN about the closing of Brooklyn venues, her unexpected success, and the challenges that face independent artists.
You come from a very DIY background. How has the VICE takeover of Glasslands, 285 Kent, and Death By Audio affected you?
It has been completely awful, infuriating, and heartbreaking. But, it has also been plain astonishing to see such a blatant and unabashed display of commodification. Usually gentrification and corporate takeovers happen more subtly and gradually, and you don't really see it until it's already halfway done, which I think is why it often gets so far before anyone starts acting against it. In VICE's case, it's like everybody saw it happening from start to finish, and couldn't really do anything about it anyway. I think that visceral feeling of powerlessness against a huge corporation made it all the more enraging. It definitely solidified the notion among the community that this was something that needs to be fought harder against.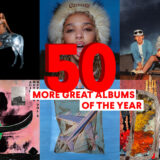 Do you feel like DIY spaces in Brooklyn have been compromised?
I think the DIY community will do one of two things: There will be new DIY spaces popping up and being taken down and popping up again, like dandelions, the way it has been for a while now. That, or the artists and arts organizers who have mobility will move to more forgiving areas, as many already have, where in a decade or so corporations will again follow and continue the cycle.
You've been playing at the Silent Barn in Brooklyn for a while. Do you think it's keeping the scene alive?
The notion that my playing at the Silent Barn is keeping them alive is ridiculous. They are keeping me, and other independent music lovers like me, alive. I am eternally grateful to them.
How do you think DIY musicians like yourself will move past the closing of those types of spaces?
I don't know. I already know of a few DIY spaces that have either already popped up or are being built right now—DIY is resourceful if nothing else. But I think we're also finally starting to think about the big picture and connecting the dots. The fact is that this isn't just a DIY music versus corporate music problem. This is part of a larger gentrification problem. Probably more devastating than DIY music spaces being taken away is the fact that longtime residents are being driven out of their homes, and lower income people are no longer able to afford to live where they belong. I think it's our responsibility as artists to not only fight for our art, but fight for the communities that are the reason we're able to continue making art, especially since in Brooklyn's case, we as artists somehow made it "cool" enough for the bigger money-making industries to start taking over.
Have you gotten into some interesting debates over these venues closing?
I guess I live among a pretty closed circle of people, because everyone I've talked to feels very negatively about our beloved DIY spots being shut down. I haven't gotten into debates with people in opposition, but I do have a few friends who work for VICE while also being part of the DIY community, and they seem like they're in tough spots. At the end of the day, VICE is a big institution that could launch careers, or lead young artists and writers to other great opportunities, or in the very least pay them to do what they're best at. So if you're an artist or writer just starting out like most of my friends, you're not in any position to turn down work from them. I've had a couple writer friends come to me with the moral dilemma of having the hand that feeds also slap their friends in the face, and I straight up told them to take the opportunities they're presented with. It's sad that this is basically how powerful institutions stay in power — they're built on the backs of people who have little choice.
Being a DIY musician, what's the most challenging thing you've faced?
It's honestly the daily grind. Because you "do it yourself," you often do the work of multiple people with your one mind and body and allotted 24 hours a day, and you do it all with no money for no money, meaning you have a deliberately dead-end job or two that takes up half of your time (if you're living in Brooklyn then realistically 85% of your time). And it's not really a financial investment where you work because you know one day you'll get paid enough to rest— you're always aware that it's not for the money, and it will never really let up. I've been asked whether I have a hobby and have felt strangely offended that anyone would assume I have the time. It's not really about one instance or one challenging thing that happens, it's having to hold on and keep trudging on for years and still believe in it.
That makes total sense. Who are some of your favorite bands coming out of the DIY scene?
The Epoch Collective is the big one that comes to mind. They're a web of artists based in Brooklyn, all working together and being in each other's projects, but also all amazing in their own right. When I tell you I've cried at their shows, that alone doesn't hold much weight until I also tell you I never cry anymore.
How is Bury Me At Makeout Creek different than your previous albums?
It really comes down to instrumentation. My past two records were written on piano, with orchestral instruments. My third record was written on guitar for guitar, with traditional "band" instruments.
You referenced The Simpsons on the record's title, are you a diehard fan?
I'm not! I just grew up abroad where there was very little English-speaking television, and The Simpsons was one of the few shows that aired on TV. During the creation of this record, I was casually watching an episode when Milhouse said that line ["Bury me at makeout creek"]. In that moment I just thought, "welp, that's the album title." Often times the most important decisions I make are the ones I don't put much thought into.
Was the record's success surprising?
I honestly wasn't thinking about my record's success. If I were, I wouldn't have put it out in mid-November. I still don't know if it was a "success." I simply made the best music I could make at the time, and as soon as Double Double Whammy (the indie label run by my friends from college) had the money to help me press it, I put it out. After that, I kept playing show after show after show, and now here you are talking to me.