Tri-State indie true believers Cymbals Eat Guitars had a big 2014, releasing their third album, LOSE, to critical acclaim and touring in support of alt-rock elder statesman Bob Mould and more immediate New York predecessors Brand New. The group's year should have been even bigger, though: LOSE was simultaneously the band's most personal, most ambitious, and most accessible album to date, designed to both reach catharsis for frontman Joseph D'Agostino (largely regarding the 2007 death of his best friend, Benjamin High) and cross the quartet over to new audiences.
SPIN talked with D'Agostino and drummer Andrew Dole about the "best rock record of the year" — their own, according to D'Agostino, though he says it with such trademark sincerity that the claim feels more thoughtful and hard-earned than arrogant — as well as plans for 2015, and why we should leave Mariah Carey alone already.
SPIN: At the beginning of the press cycle for this album, you guys had a quote about how you made LOSE to re-inspire yourselves in the same way that albums you grew up with inspired you. What's the first album that made you feel that way, and the most recent album that made you feel that way?
Joseph D'Agostino: Hmm… the first album that made me feel that way. This is like my stock response, but the first record that I really, truly loved as a music fan — that I listened to every day for a year — was [Wilco's] Yankee Hotel Foxtrot. Most recently, I listen to that Joyce Manor record all the time. I love that album.
Andrew Dole: Recently it would probably be Tame Impala's Lonerism.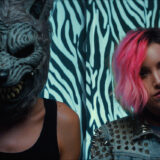 D'Agostino: And last year was The Monitor by Titus Andronicus. I was majorly into that while I was finishing up LOSE. That was the one I was listening to while we were finishing writing our record.

//www.youtube.com/embed/08fqHr_KGPY
I'm a little surprised to hear you guys talk about so many recent albums giving you that feeling of excitement and inspiration. I thought such a large part of LOSE was chasing that sensation because you don't get it like you used to.
D'Agostino: I mean, I'm just trying to not seem like I'm totally living in the past. But I kind of am.
Is not having many of those records these days due to the marginalization of rock as a dominant musical genre, or is it just because you're getting older and you connect to music in different ways now?
D'Agostino: I think its a combination of both. It's harder for me to connect with any music, and there's less and less rock music that matters. Of course there are exceptions every year but… rock is not the thing any more.
Did you feel like LOSE was one of those records — one that people are gonna wake up in the morning wanting to listen to?
D'Agostino: Yeah, I think so. It's our best record. I think it's probably the best rock record that was made this year. That's my feeling. [Andrew] won't go and say that.
Did you feel like you were going for it in a way with this one that you hadn't with the last two?
D'Agostino: Absolutely. Trying to write choruses. More, like, focusing on songcraft and being more of a songs band instead of a sounds band or a vibe band. I wanted people to be like yelling the songs back at me. Which started to happen.
More so than the last few records?
D'Agostino: Yeah, totally. People go crazy for "Jackson." The first few stanzas of that song, people know by heart. "Warning," people know that song really well. So it's cool to start seeing that. We want to do more of that, but keeping it classy of course.
I read an anecdote about how you guys were told a couple of albums ago to write your "Two Weeks." Was there a conscious effort to do that with "Warning" or "Jackson"? Do you feel like you did that?
D'Agostino: [Chuckles.] Evidently, we didn't!
Have you felt the fanbase expand since LOSE came out?
D'Agostino: We're going to see. Next time we go out by ourselves. I think we made a lot of converts in the Brand New crowd, and also in Bob Mould's crowd. So hopefully we'll see the benefit from opening from people like that. I think that playing the same 200 to 300 capacity clubs to the same people essentially, it's just not something that we were really interested in this time. We wanted to broaden our horizons.
//www.youtube.com/embed/-nFHXNN_dzk
How did you come up with the "Warning" video?
D'Agostino: Uh, we didn't. It was pitched to us actually. Rarely does a treatment work so well with the subject matter, so we just immediately we were just like "Yes, do that."
Did you meet the kids?
D'Agostino: Oh, we're gonna! I mean hopefully our show doesn't go too late, in January in London. I want them to come out. I wanted them to open! They're called Crosshair, they're adorable. And good.
Besides you guys and Joyce Manor, what were your favorite records of this year?
D'Agostino: I loved — I mean, they're our friends, but I'd be saying the same if they weren't — Hooray for Earth's record, Racy. They played their last show at Glasslands. It was very poignant. All of our friends were there to help them bring it home. It was really, really good, and that title track is one of my favorite songs of the year.
And Ryan Adams. [The self-titled album] is so good. I've been a fan forever, since I saw him in 2006 at the Starland Ballroom in Sayreville, New Jersey — a really, really life affirmingly great show. We sort of met him recently because we were playing with Bob Mould and Ryan came to one of those shows and played an encore of of all Hüsker Dü songs with Bob. He was the most obviously famous person that I've ever seen in real life. He just had a vibe that was just like, "Don't talk to me, don't look at me…"
//www.youtube.com/embed/6k-lYW7c6ic
Does that make you like him more or less?
D'Agostino: We are all really into him still. I think it makes him more likeable.
So 2015, you guys are already thinking about the next album?
D'Agostino: Yeah we're recording a single in January that Jesse [Lacey] from Brand New is producing and recording in his studio out in Long Island.
Anything else you guys are looking forward to in 2015?
D'Agostino: Lots of touring. We have lots and lots and lots of stuff lined up. We'll go to Europe in January and then a little break in February, and then we're out pretty much through the beginning of September, October probably.
One more seasonal question — when do you guys think the right time to start playing Christmas music is?
D'Agostino: I guess December 1. There's a grace period after Thanksgiving.
Dole: Christmas music before Thanksgiving bums me out.
Do you have a favorite Christmas song?
D'Agostino: "All I Want For Christmas is You." Mariah Carey. Obviously.
Did you see that video…?
D'Agostino: I did and I think people are very unfair. If you listen to anybody's vocal track without the music behind they're probably not going to sound that great. And I saw her last year do it and she was fantastic. She's of the greatest singers that's ever lived. Everyone just leave Mariah alone.
//www.youtube.com/embed/yXQViqx6GMY