10. Todd Terje, "Oh Joy" (Olsen)

//www.youtube.com/embed/uLkx2Vg8RZo
If the world needed any more proof of Todd Terje's studio wizardry, the Norwegian producer sealed the deal this year with his debut LP, It's Album Time. A Disney World ride through Terje's technicolor brain, Time's 12 tracks offer a range of highlights that appeal to a wide range of listeners, but its synthy peak is the second-to-last track, "Oh Joy." Arriving on the back of a motorik beat, the tune's main motif sparkles as it descends through pitches, coming off as the theme to a particularly daring moment in a space opera. You can almost picture Giorgio Moroder as an Obi-Wan Kenobi-like figure flickering behind Terje as he pilots his keys through delectable arpeggios, switches to confident piano chords, then returns to that anthemic chorus. Easily one of the year's most triumphant tunes, "Oh Joy" should be on any playlist used for getting pumped up and celebrating the accomplishment earned by doing so. We're all winners with Todd Terje by our side. S.M.
9. Green Velvet & Patrick Topping, "Voicemail" (Relief Records)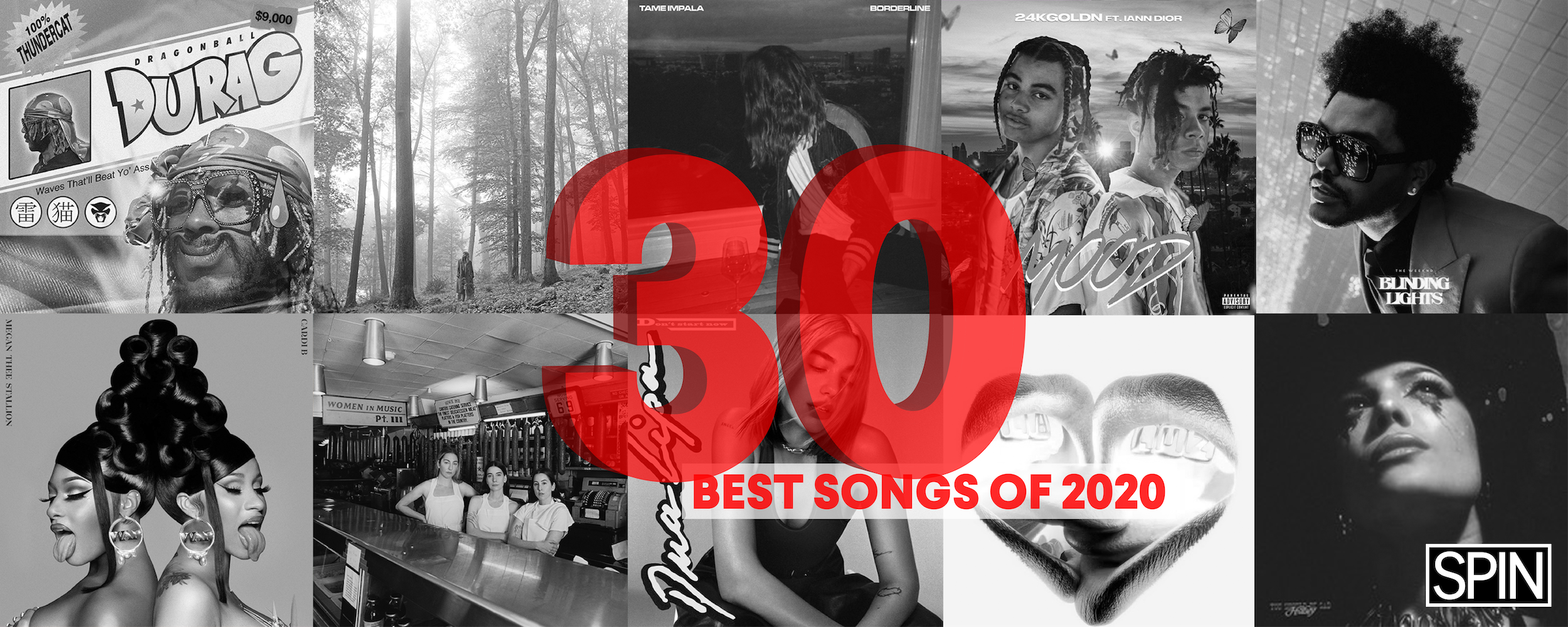 //www.youtube.com/embed/D7-DIrje0Fw
Chicago house legend Green Velvet's long-overdue sequel to the hilarious '90s classic "Answering Machine," this year's collaboration with U.K. producer Patrick Topping sees the welcome return of Taniqua, LaShaan, and Tyrone, still leaving Velvet pestering phone messages ("Your mom told me you made your way back to the Lord… the Lord wants you to pick me up on the way to the party") and making shoddy excuses for their lousy past behavior ("Sorry about what happened back in the day, but you know, it was that Californication…"). It's just as funny and maybe even a little bit groovier than the original, with its loping bass hum and expertly minimal synth breaks, and it's good to see that Velvet's evolved from screaming "I…DON'T…NEED…THIS…SHIT!!" at life's biggest irritants to just casually instructing them with the repeated mantra, "Meet me at the club." He'll live a lot longer this way. A.U.
8. Flight Facilities feat. Emma Louise, "Two Bodies" (Future Classic/Win Music/Glassnote)

//www.youtube.com/embed/UGDqolmIhF8
It didn't reach It's Album Time-level hype this year — honestly, what could? — but among fans of immaculately produced disco-pop from the land Down Under, the proper debut LP from solid-gold Aussie duo Flight Facilities was nearly as anticipated. Not only did Down to Earth not disappoint as a full-length journey, but it was led by their best single yet, the stunningly sensual "Two Bodies." Ignore the self-serving intro and focus on one of the year's loveliest moments in song: when Emma Louise's plaintive coo ("Just two bodies") finally lands over the twinkling piano, cresting synths, and lulling bass as the track's groove kicks into full gear. Of FF's rotating cast of guest female vocalists, Louise is clearly atop the power rankings — her moan on the single's killer chorus ("Hold me, I won't ask for anything more / I'm hurting, use me now when I'm vulnerable") is so hushed and unguarded that it's almost disconcerting that it feels so satisfying, a rare moment of intimacy within the dance-floor bliss. A.U.
7. Oliver, "Light Years Away" (Fool's Gold)

//www.youtube.com/embed/Djgwyy821SI
Think Daft Punk-school EDM is too happy, too upbeat, needs more friction in its gears? The majestic "Light Years Away" implores you to think again, with its ominous intro, bouncing laser blasts, and sudden bursts of cheerleaders uttering the title, all wrapped rigidly around that percussive, climbing beat, which sounds like a synthesizer set to "banging on an aluminum file cabinet" and bent slowly on a medieval torture rack. If that's too dark for the Discovery fans, they can skip right to the house pianos and vocoded breakdown. But it's doubtful they'll want to miss a thing. D.W.
6. John Roberts, "Ausio" (Dial)

//www.youtube.com/embed/Ws0gGgRHOak
John Roberts isn't one to put additional music into the world unless it's truly, thoroughly new, making the wait between his thoughtful, beautifully packaged releases agonizing. His admirers take heart in the fact that "Ausio" (from the EP of the same name released earlier this year) is worth obsessing over until another follows. Leaping two gigantic steps forward from his already quite advanced second LP, Fences, "Ausio" is Roberts' "going electric" moment, putting aside orchestral instrumentation in favor of sounds whose bristling energy could be created by distorted guitars. The reverberating chords and sparse percussion opening the track feel like a band setting the mood for the spectacular chorus, arriving nearly three minutes in, releasing some of the eerie tension. Roberts' impeccable sound design and perfectly restrained arrangements places audiences in the room with him, creating a wholly singular listening experience within modern dance music — and also whipping dance floors into a frenzy with his choruses. It may be a while before John feels he can top this latest innovation, though most will be happy to just wear down their copies of "Ausio" while they wait. S.M.
5. Ten Walls, "Walking With Elephants" (Warner Bros.)

//www.youtube.com/embed/rymUSbYQjw8
The international breakthrough of Lithuanian producer Ten Walls could not have been announced with greater authority than "Walking With Elephants," a song that stomped down the fences around the pop charts in just about every country that doesn't have strict "KEEP OFF THE GRASS!" policies for deep-house instrumentals. A year later and it might've even taken the U.S., too; such is the enormous power of the song's thick, pounding, and utterly unstoppable brass riff — about as close an aural approximation of the title as could possibly be expected — following the song's brilliant "Unfinished Sympathy"-like string build. It won't be long until other dance songs are paying homage to Ten Walls here; the hook is such an instant brain-sticker and became so massive so quickly that it'll be forever synonymous with this moment in house history, leaving future producers wishing they too could walk with the elephants, talk with the elephants. A.U.
4. DJ Dodger Stadium, "Love Songs" (Body High)

//www.youtube.com/embed/gdIZg9B4XbM
We live in a strangely lonely era. Technology has connected us in more ways than we could have dreamed, putting us only a finger tap away from any person with Internet access, but leaving us more isolated than ever as we stare at screens and communicate with squares full of pixels. "Love Songs," by the oddly named duo DJ Dodger Stadium (Jerome LOL and Samo Sound Boy), feels like the unintentional theme song for this era. At its crux are vocals endlessly singing, "Lately I've been singing love songs by myself," a sentiment so subtly heartbreaking it continually sinks in with each repetition as the filters shift and mold the vocals' shape. This would be affecting enough by itself, but the surrounding instrumental — an endless barrage of snare hits, blunt bass, and tense strings — only heightens the effect, like it's mimicking the unrelenting firehose of content aimed at us every day. It's a song that gets lodged in your heart as much as your head, a song you carry with you and draw comfort from as you realize others feel much the same. That connection is the sign of a truly powerful work, one that's not only among the best songs of 2014, but one we'll be returning to for years to come. S.M.
3. Porter Robinson, "Sad Machine" (Astralwerks)

//www.youtube.com/embed/pAGVvPfwdCY
Melancholy though you might find the post-apocalyptic lyrics of "Sad Machine," the highlight from Porter Robinson's full-length bow Worlds, the song has a melody so hopeful it could be Joe Biden's running mate. Robinson duetting with himself via Vocaloid falsetto generator would be impressive enough but amazingly still comes in second to that beauteous synth hook, which feels like Dire Straits' "Walk of Life" riff rescuisitated with the Six Million Dollar Man's technology. When the beat evaporates, leaving only a twinkling pizzicato version of the refrain and orchestral flutters in its wake, the post-euphoric rush should cheer any droid up. D.W.
2. DJ Snake & Lil Jon, "Turn Down for What" (Columbia)

//www.youtube.com/embed/HMUDVMiITOU
It would be all too convenient to brush off "Turn Down For What" as a novelty song, a joke we all laughed at in 2014, if it didn't have such an unbelievable shelf life. Here is a track that is literally all builds 'and breakdowns — an EDM fan's wet dream — with lovable rap muppet Lil Jon screaming three short lines repeatedly. Yet "Turn Down For What," the mega single from French producer DJ Snake, succeeds where many songs on the rap/trap/EDM spectrum fail. It has a chorus anyone with ears can remember and sing, spurring many to adopt the lyrics into everyday life. Its grating, bombastic intensity is tightly compressed into three minutes and 33 seconds, the exact length of time audiences can expend a ton of energy without running out of steam. And because it incorporates three popular musical styles seamlessly, its audience is huge by default. It may not have spawned a viral video craze like Baauer's comparable "Harlem Shake" before it, but its vulgar official video's 150 million-plus views prove no spin-offs were necessary to spread it around. What DJ Snake and Lil Jon created is undoubtedly ridiculous and over-the-top, just in a memorable and peerlessly fun way. The world awaits 2015's attempt to top it. S.M.
1. Rebolledo, "Windsurf, Sunburn & Dollar" (Kompakt)

//www.youtube.com/embed/NAuqWyW32NQ
It's Swans loading up on glow sticks for a rave out in the desert. It's Kraftwerk doing a Becks power hour before going out to a Fußball game. It's Ministry taking a road trip down Route 66, heads hanging out the windows as they shout along. It's a zombified Daft Punk, dancing around their kitchen while fricasséeing up some brains. It's a rampaging Juan Atkins, thirsty for blood and screaming for vengeance. It's Too Many Cooks gone Krautrock. It's nothing you thought you wanted from a 2014 dance song, and everything you've since realized you always needed. It's WIIIIN-SEEERRRRRRRF!!! SUN-BUH-LAN DOOHHHHHH-AHHHH!!!! A.U.