It's been an eventful year in dance music, to say the least. U.K. acts Disclosure and Naughty Boy gave American mainstream EDM a touch of class, opening the doors for fellow Brits Duke Dumont and Clean Bandit to break onto U.S. radio. Longtime singles-only acts like Todd Terje and Flight Facilities finally released full-length albums. A pair of Chicago icons, one past and one present, tragically died before their time, but not without leaving musical legacies that reverberated throughout some of best club tracks from this year, and whose impact will likelybe felt for many years still to come. As always, dance triumphed over all in 2014, and as the year winds to a close, we feel the need to once again ask that overwhelming question: Count down to what?
50. Sam Smith, "Stay With Me (Wilfred Giroux Remix)" (Capitol)
//www.youtube.com/embed/J9jrNBiua-Q
If you were introduced to Sam Smith via his hit collaborations with Disclosure and Naughty Boy, you might have found his proper debut, In the Lonely Hour, a little lethargic. Kudos to French house wunderkind Wilfred Giroux for being the tough-love friend to crash Smith's moonlit pity party and drag him back onto the dance floor with this two-stepping remix, which frees most of the most arresting elements — namely the choir-shrieked title phrase — from the draggy stateliness of the original, granting them rapturous release instead. Staying is good, going out is better. ANDREW UNTERBERGER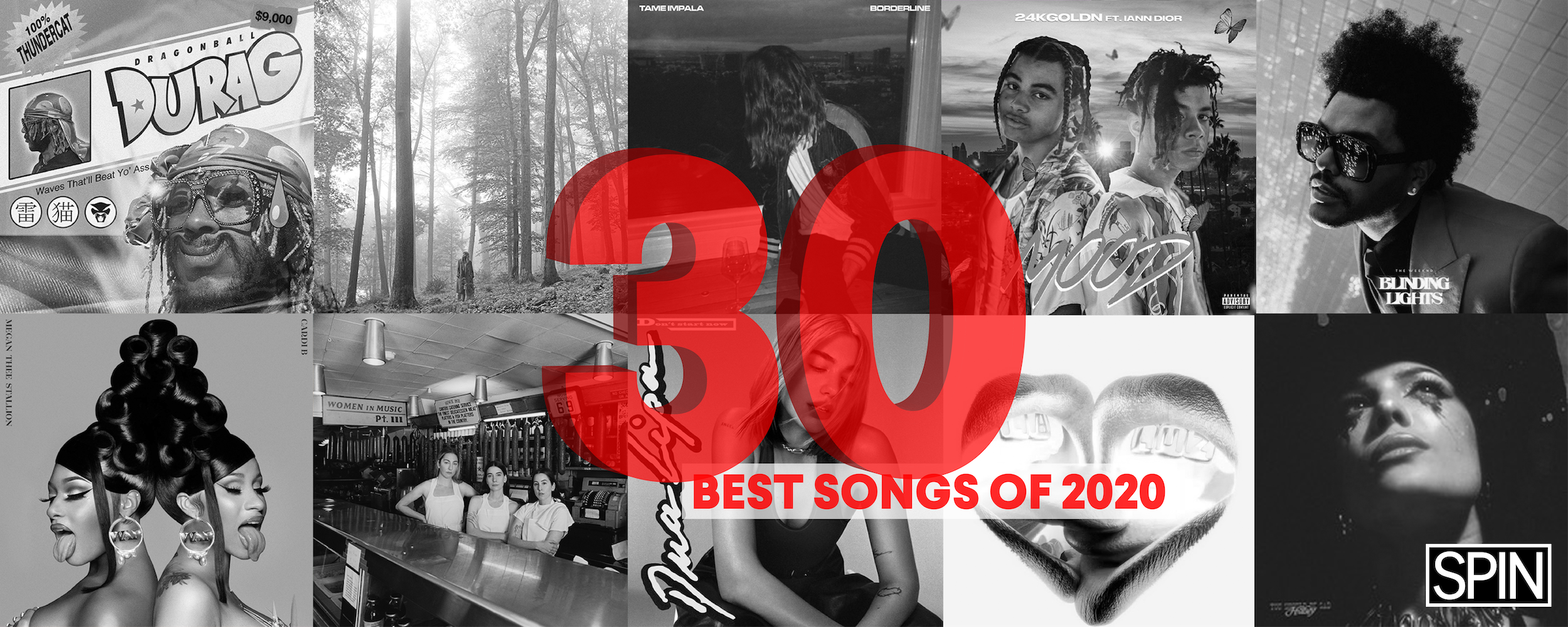 49. Wave Racer, "Streamers" (Future Classic)
//www.youtube.com/embed/5LSm6pUdldk
A rush of sugar to the head from Future Classic's number-one Pixie Stix enthusiast, "Streamers" approaches near-happy hardcore levels of giddiness with its anime-eyed synths, super-pumped backing "WOO!"s and hyperactive drum skitters. It may border on the teeth-rotting, but the production is so billowy and the hooks so helium-inflated that it's hard to get too concerned about the after affects. Catch a wave, you'll be sitting on top of the world. A.U.
48. John Daly, "Solar Sailing (Full Tide Mix)" (One Track Records)

John Daly, Ireland's crowned prince of deepness, has been in fine form all year, but of his four releases, it was the "Solar Sailing" 12-inch for his own One Track Records that stood out the most. As the title suggests, "Sailing" is a voyage through space whose elements contain cosmic vibes. Lustrous synths twinkle like the sun reflecting off a satellite, while layers of metallic hi-hats streak by like stars seen at hyperspeed. Resonating bass and more playful synth low-end give the tune some shape, as do the hi-hats when they echo outwards during the breakdown. A track this transportative and useful to DJs is certainly something to celebrate. STEVE MIZEK
47. Major Notes, "419 Riddim" (Lossol Entertainment)
If Africa really is the future of dance music, then London producer Major Notes is way ahead of the curve. Nu African Disco EP highlight "419 Riddim" matched Afropop rhythms with plodding '80s synths and a squelching hook so rubbery and sinewy that you can hear Diplo seethe with jealousy while listening. Don't be shocked if "Riddim" shows up underneath a pop megastar's attempt to trend-hop in 2015. A.U.
46. Steve Aoki with Chris Lake and Tujamo, "Boneless" (Dim Mak / Ultra)

//www.youtube.com/embed/gl2p4G3CUrI
The goon-rock EDM hit of the year — well, number two, anyway — with a bleating instrumental refrain so big and obvious that it probably went back in time and retroactively inserted itself into one of the Project X party scenes. What "Boneless" lacks in grace it certainly makes up for in brute force, punching you in the chest until you snap out of your daily malaise and start wilding the fuck out. It was the vocal version that really took off of the radio this year, and there's a certain gonzo charm to Kid Ink's mindless raving there, too, but when he gets up to the "WE GO DELIRIOUS!!" chorus it's like, well, duh. A.U.
45. Steve Lawler, "House Record" (Mumble Sound)

//www.youtube.com/embed/-7ud2SISjV0
This is a house record. A.U.
44. Octo Octa, "Cause I Love You (100% Silk)"

//www.youtube.com/embed/jfRHpR4n75o
Much of Octo Octa's music tends to be patient, ethereal, and downright gorgeous. In 2014, the Brooklyn-based producer added a bit more muscle into his productions, while nudging up their tempo, resulting in his most dance-floor-friendly material to date. "Cause I Love You" is the pinnacle of this more aggressive shift: The vocals are immediately in your face, eventually joined by a second voice and spinning around each other with centrifugal force. It's hard not to get sucked into the cyclone, at least until pads break through and release some of the frenetic energy. If this is Octo Octa making bangers, may many more follow in its footsteps. S.M.
43. Duck Sauce, "Calamari (Put the Sauce on It)" (Self-Released)

//www.youtube.com/embed/vhZDQ-ncAAQ
Super-producer duo A-Trak and Armand Van Helden finally put out their long-awaited first full-length album as Duck Sauce in 2014, but their most delectable jam of the year probably came off of the self-released and largely tossed-off Duck Droppings EP. "Calamari (Put the Sauce on It)" is silly even by the pair's decidedly non-MENSA standards, little more than a "Mexican"-like guitar noodle over a straightforward house beat with a too-loud voice occasionally issuing the subtitular command — but going high-concept was never really these guys' forté, and this song is a worthy successor to "Barbra Streisand" and "Big Bad Wolf" in its gleeful ridiculousness. Plus, putting the sauce on calamari is an activity so righteous that it's about fucking time someone turned it into a club anthem. Let's all agree on a specific dance to go with it, yeah? A.U.
42. Destructo, "West Coast" (Interscope)

//www.youtube.com/embed/7wyaSaEqXhk
Destructo's mix of Cali hip-hop and tech-house ("G-House," natch) on his recent West Coast EP is such a slam dunk of a hybrid that it's hard to believe we weren't inundated with it years ago. The veteran producer's mini-album is stuffed with dream collabs with Golden State rappers, from legends like Too $hort and Kurupt too contemporary hitmakers like YG and Ty Dolla $ign. But the highlight is probably the title-track opener, where the cameos are kept to samples of So-Cal overlords Dr. Dre, Snoop Dogg, and Nate Dogg from 4/20 perennial "The Next Episode," hanging like spectral presences over Destructo's Vice City-worthy synth-funk backdrop. All it needs is a shot-for-shot remake of the "California Love" video, and you just know Kevin Hart is available to play the Chris Tucker part. A.U.
41. Lane 8 & Lucy Stone, "Nothing You Can Say" (Anjunadeep)

//www.youtube.com/embed/RzfwkrRN80c
After making his name on gorgeously sighing deep house productions like "Be Mine" and "Every Night," where the vocals were disembodied samples from pop songs past, San Francisco producer Lane 8 (a.k.a. Daniel Goldstein) took the plunge with proper, corporeal vocalists in 2014. The switch-up turned out to be a good call: Lucy Stone's coo floats perfectly over the percolating synth wash and booming bass cloud, with the wistful and vaguely depressing lyrics ("I'm running circles as I start to count / The streets are empty, beating heart unwound") placing the song, as with the majority of Goldstein's work, firmly at the lonely end of the dance floor. Who needs to plumb the depths of pop's sadly beautiful past when you can create your own lane of immaculate despair? A.U.