Beef in the 2014 music world certainly wasn't rare. There were fights about talent, fights about snubs, fights about money, and fights about brunch. There were a couple repeat offenders (or offendees), and one particular beef became a running joke for an entire season of a massively popular television show. Some artists were able to declare themselves the victor, but the bottom line is that regardless of who "won" whatever beef they were part of, in a way we all already lost. So, let's get cookin' and look back at the year in beef.
TLC vs. Rihanna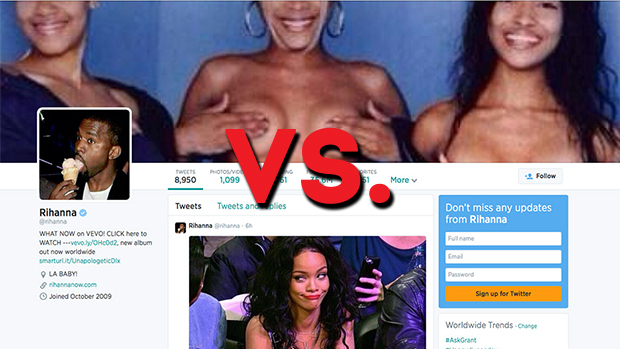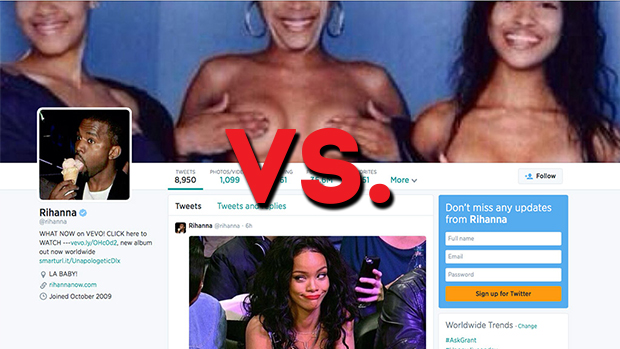 Back in June, TLC's Tionne 'T-Boz' Watkins and Rozonda 'Chilli' Thomas decided to speak out against Rihanna's frequent nudity. "We sold and became the biggest girl selling group of all time, with our clothes on," T-Boz told Sunrise Australia from up on her high horse. Rihanna responded by coyly changing her Twitter header image to an old picture of the TLC girls posing topless. While TLC would later say that they were never specifically referring to Rihanna, it was too late. They'd been burned, and they'd been burned good.
RiFF RAFF vs. Sam Smith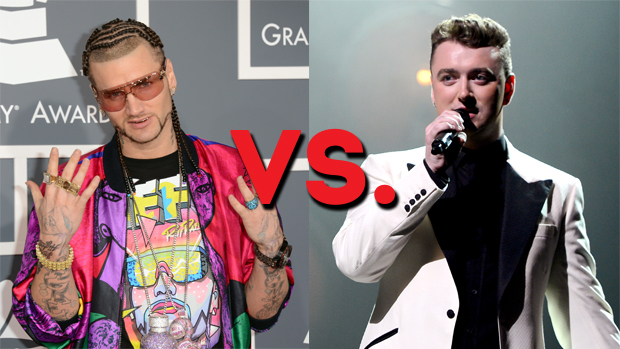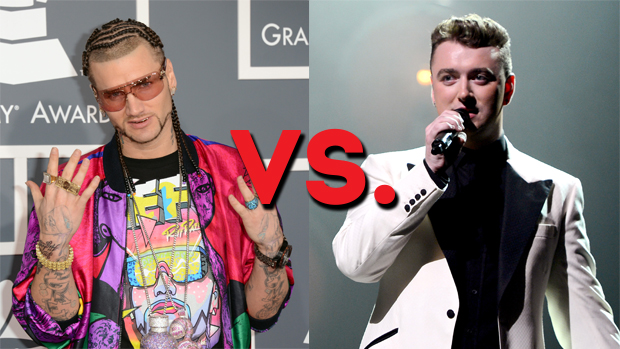 Sam Smith had quite the 2014, but in the process of becoming a superstar he also made an enemy — RiFF RAFF. During the VMAs Smith posed for picture with RiFF RAFF, Katy Perry, and Charli XCX, but when it came time to Instagram the photo he cropped out the eccentric rapper. RiFF RAFF was not amused. "THANKS FOR CUTTiNG ME OUT OF THE PiCTURE U CHUBBY LiTTLE FUCK FACTORY," he tweeted a couple days later. "P.S. YOUR FACE iS SUPER HUGE." Such are the dangers of square pictures.
Taylor Swift vs. Katy Perry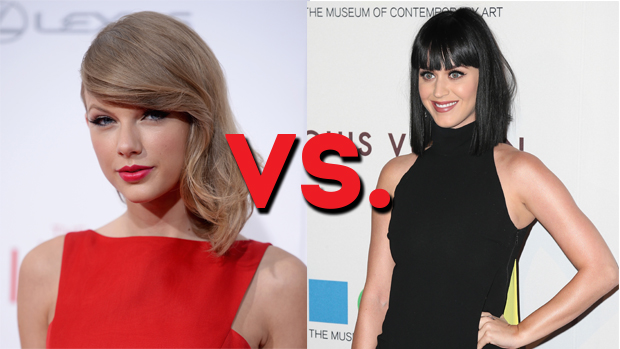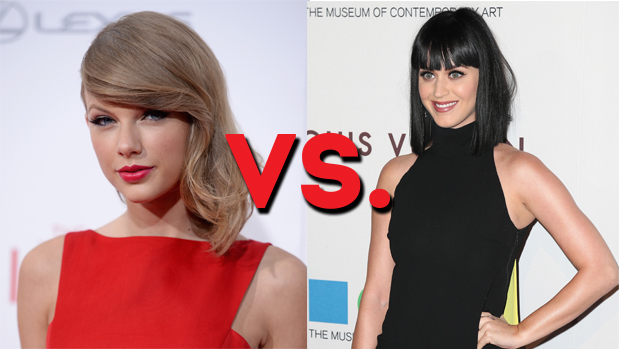 There will come a day when we all must choose a side. This clash of the titans first revealed itself in an Taylor Swift's Rolling Stone cover story where she explained that 1989's "Bad Blood" was about an unnamed pop star (but come on, it's Katy Perry). She said that while they were friendly at point, now they're "just straight-up enemies." Swift claimed the feud "wasn't even about a guy!" even though the two have both dated John Mayer. "It had to do with business," Swift explained. "[Perry] basically tried to sabotage an entire arena tour. She tried to hire a bunch of people out from under me." Perry responded with a pretty choice Mean Girls reference, advising her Twitter followers to "watch out for the Regina George in sheep's clothing…" As of press time, Taylor Swift has not been hit by a bus.
Julian Casablancas vs. brunch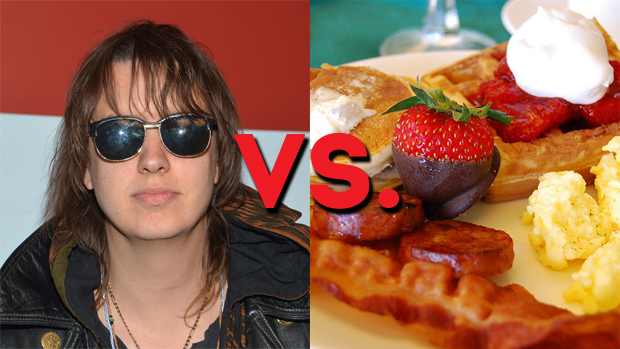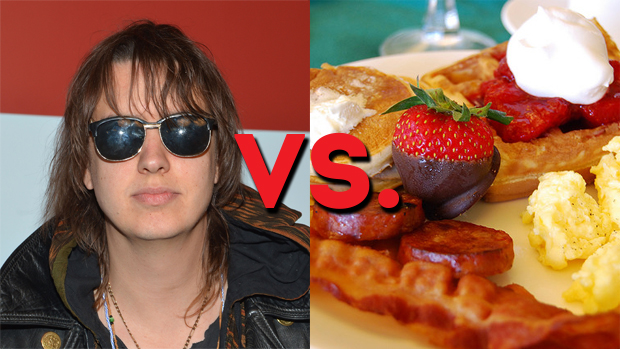 Julian Casablancas got himself in trouble with Mimosaficionados everywhere when he hated on everyone's favorite hybrid meal in a lengthy GQ interview. "I don't know how many, like, white people having brunch I can deal with on a Saturday afternoon," he said in response to a question about why he left New York City. Though the real answer was more complicated, brunch lovers gave Casablancas a hard time. Faced with overwhelming criticism, he waffled. "For the record, I was specifically joking about when people dress up like it's the Kentucky Derby for LES brunch," he tweeted. "I am not against the concept of weekend late breakfast, which people of all freedoms and hues should enjoy." ¯\_(?)_/¯
Sun Kil Moon vs. The War on Drugs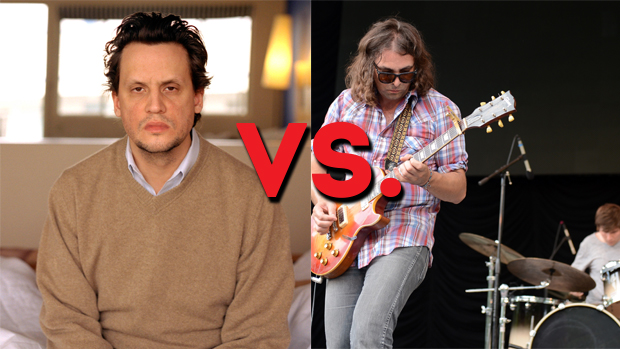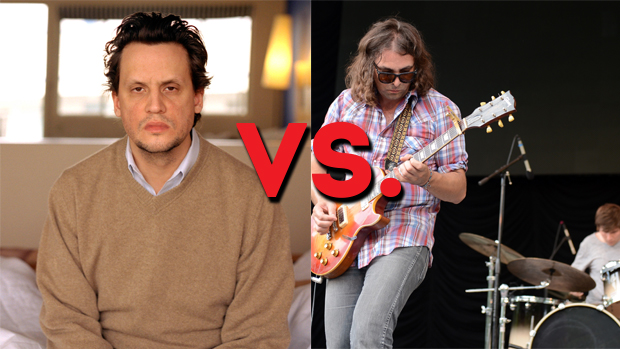 Everyone, even Mark Kozelek, the man behind the beef, is tired of hearing about "War on Drugs: Suck My Cock." At September's Ottawa Folk Festival, noise from the War on Drugs' set on the main stage bled out and interfered with Kozelek's performance. Irritated, Kozelek told the crowd "this next song is called 'The War on Drugs Can Suck My Fucking Dick'." Of course then he actually recorded the song and continued to antagonize Adam Granduciel and co. for weeks to come. Eventually he got sick of all the attention the beef was getting and no longer wanted to talk about the whole fiasco. Which is fair, but then again, he was the one who started it. And kept it going for far, far longer than anyone could've imagined an off-the-cuff dick joke could go.
Tom Morello vs. a Seattle restaurant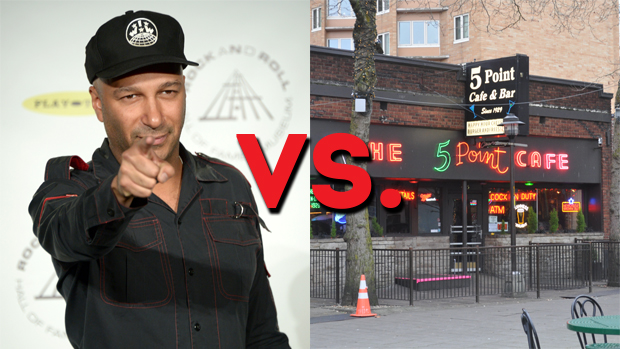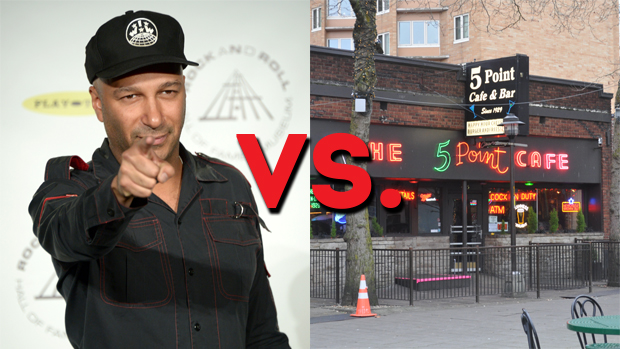 Rage Against the Machine's Tom Morello attempted to go to Seattle's 5 Point Cafe in late September following a benefit concert. However, he was turned away at the door because the restaurant was at capacity. Morello responded to this unfortunate circumstance like a mature adult. Nah, just kidding — he complained about it on Twitter! "Five Point restaurant in Seattle is the WORST," he tweeted. "Super rude & anti-worker. Shittiest doorman in the Northwest. Prick. Spread the word." The restaurant owner responded by saying that Morello's people were obnoxious, and on Facebook explained "rock stars don't get special treatment at The 5 Point. We couldn't give less of a shit. Sorry." Morello eventually explained himself in a pretty thorough Facebook post of his own, referring to the entire incident as "pancake-gate."
Taylor Swift vs. Spotify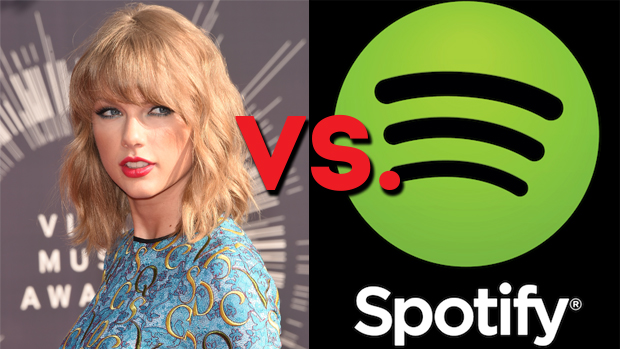 Taylor Swift and Spotify are — say it with me — never ever getting back together. The reining pop champion unexpectedly pulled all her music from Spotify, leaving fans with nothing but a "Blank Space" where their favorite songs once were. Swift said she wasn't making enough money off of Spotify, but people "can still listen to my music if they get it on iTunes." This business beef got ugly, as both camps put out several statements and figures that seemed to completely contradict one another. As of now Spotify is still Swiftless, so fans missing Taylor from their favorite playlists are gonna have to just "Shake It Off."
South Park vs. SPIN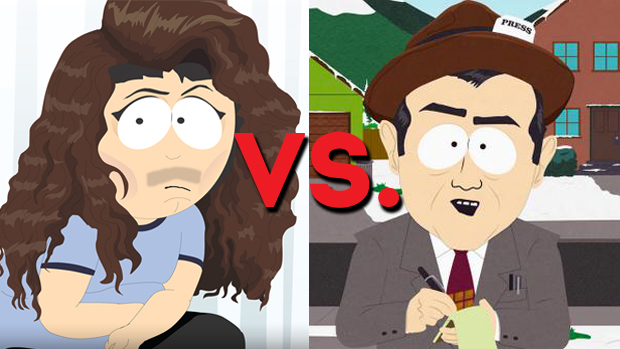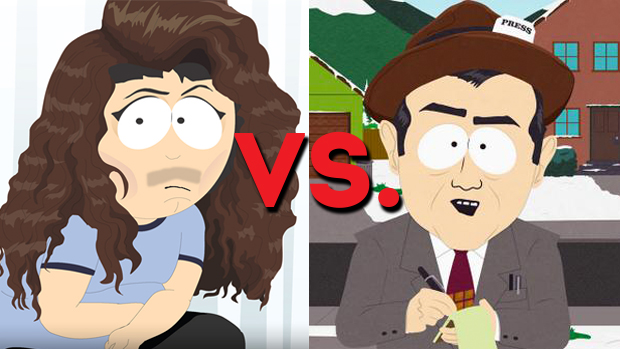 So, uh, this is awkward. In October an episode of South Park ended with a throwaway joke about Stan's dad seemingly impersonating Lorde. SPIN wrote a somewhat oversensitive response to the joke, lamenting the whole "Lorde is actually old" meme and the idea that a 45-year-old man could pass for the teenage singer. Well, the very next episode South Park let us have it with an entire subplot about an intrepid SPIN reporter, and the "Randy as Lorde" gag ended up becoming a season-long plotline for the usually continuity-averse show. It's nice to make an impact, we guess.
Snoop Dogg vs. Iggy Azalea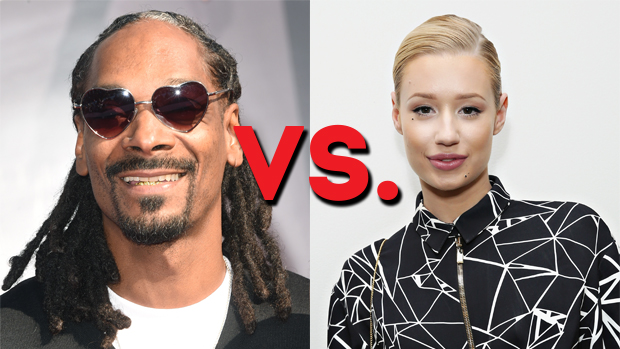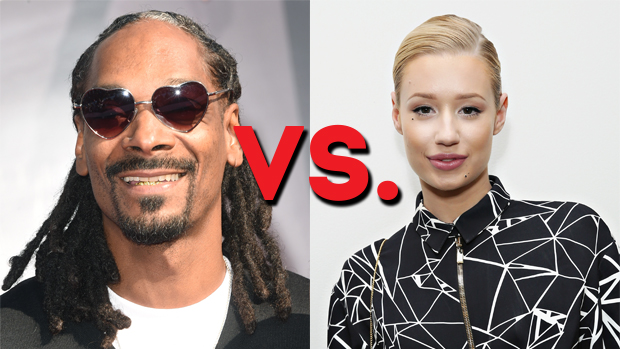 It began with a meme: Snoop Dogg Instagrammed a picture making fun of Iggy Azalea's looks. The Australian rapper responded in a series of now-deleted tweets calling out Snoop for being nice to her in person and then dissing her on the 'net. Though she mostly took the high road, TMZ hyperbolically reported that she was "fuming mad," and things only got more and more petty as Snoop continued to lob insulting 'grams her way. Eventually T.I. called a time out, and his involvement got Snoop to apologize and knock it off.
Ariel Pink vs. Madonna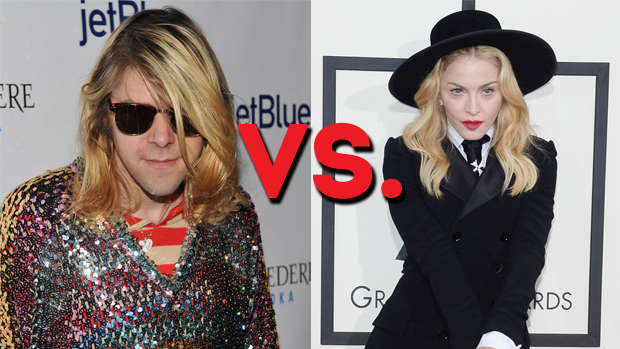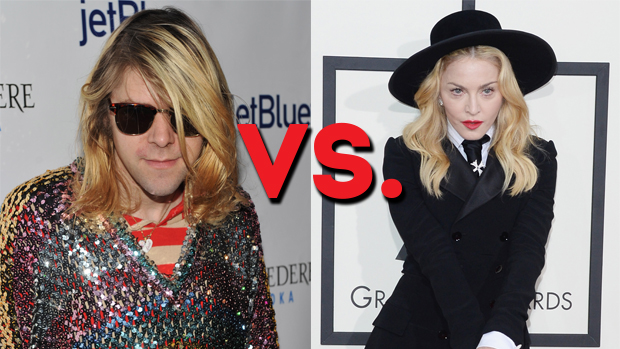 In the same interview where Ariel Pink claimed he was working on Madonna's new album, the inflammatory lo-fi psychedelic artist also slammed pretty much everything Madge recorded since her debut. "All the other stuff she's done after that, it's not like it matters," he told Faster Louder. "It really shows a drain of values." Naturally this slight against the Queen of Reinvention by one of her alleged collaborators didn't go over well. "I have never heard of [Ariel Pink]," her manager Guy Oseary tweeted, before coming back hard with a sweet Disney burn. "The label may have reached out but M has no interest in working with mermaids."
Deadmau5 vs. Paris Hilton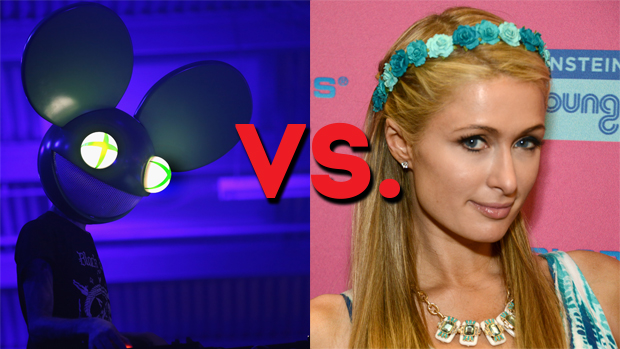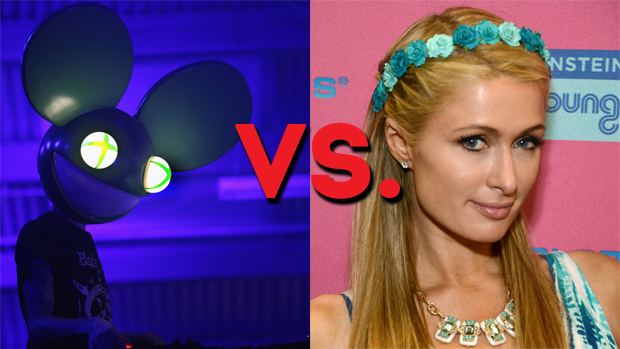 This may come as a shock if you haven't thought about Paris Hilton since 2006, but the former Simple Life star is one of the highest-paid DJs in the world, and some members of the EDM community are less than thrilled. Deadmau5 wrote a lengthy blog post saying she's an overpaid, overhyped amateur whose very presence is "insulting as fuck." Hilton responded on Twitter saying she finds it "hilarious when others try to badmouth me in order to get attention. Sorry that I'm #Killingit while doing what I love & live for." Now it's not really SPIN's place to take sides in these beefs, but here's a link to Paris Hilton's truly awful collaboration with Lil Wayne. Make of this what you will.
Tyga vs. Drake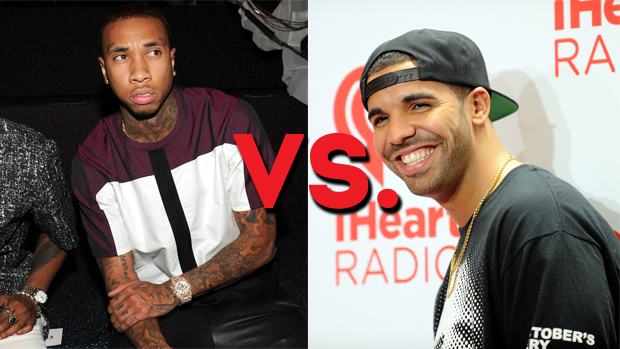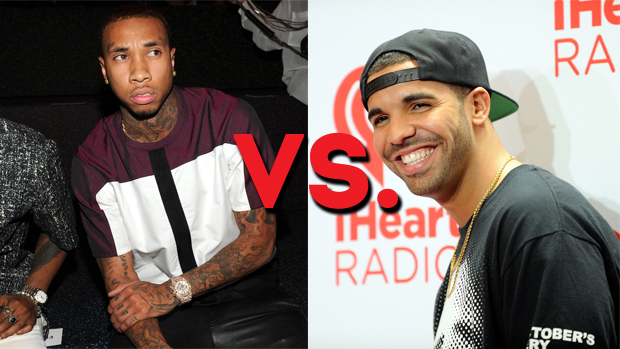 There's been some underlying tension between these two Young Money members for a while, but the beef really began in earnest in October when Tyga told Vibe that he flat-out doesn't "like Drake as a person." While Tyga maintains a close friendship with upstanding citizen Chris Brown, he thinks Drake is "fake." Drake responded by liking a ton of photos of Tyga's ex Blac Chyna on Instagram. This in turn prompted Tyga to record a diss track and eventually cast Drake's ex in the music video, and Drake likewise took pot shots at Tyga's alleged relationship with Kylie Jenner.

Billy Corgan vs. Anderson Cooper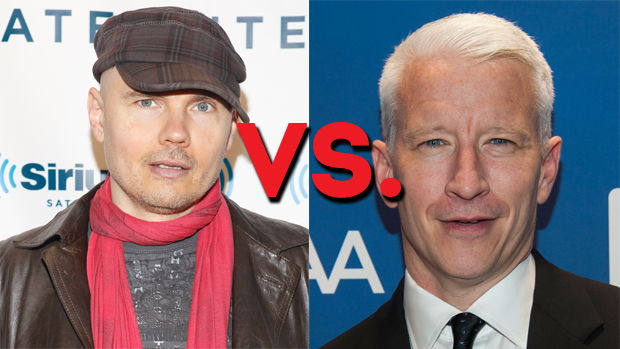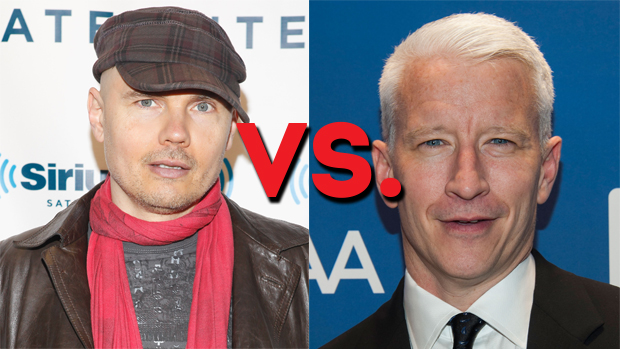 Smashing Pumpkin's Billy Corgan posed with his cats on the cover of the summer 2014 issue of PAWS Chicago Magazine, prompting the CNN host to accuse him of being a little too cat fancy. "Perhaps Billy Corgan is I don't know, off his alternative rocker," he joked on Anderson Cooper 360. The animal-loving Corgan was pissed. He started selling t-shirts with cute, bow-tie-wearing cats and the words "fuck you Anderson Cooper" on them, and called out the journalist for essentially making fun of him for doing charity. This ugly spat aside, both Corgan and Cooper seem to have landed on their feet.
Diplo vs. Lorde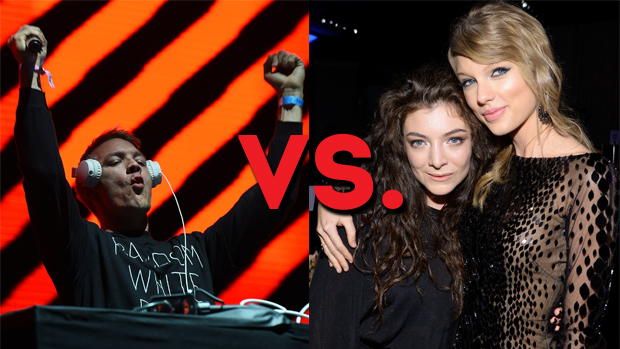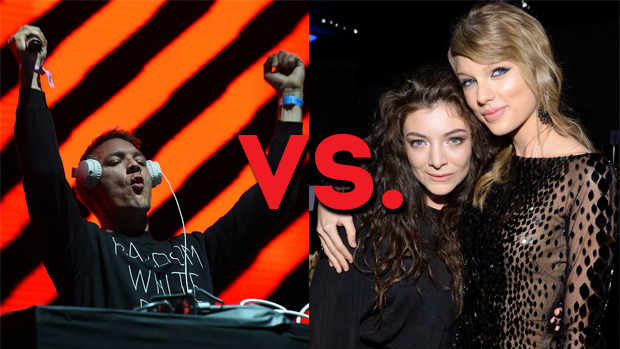 Several conflicts during the Cold War era were really proxy wars between The United States and the Soviet Union, with other parties fighting on their behalf. The Diplo-Lorde beef is similarly a surrogate feud in the larger Katy Perry-Taylor Swift beef. In November Diplo, who is dating Perry, tweeted "someone should make a kickstarter to get taylor swift [sic] a booty." Lorde wouldn't let this dig at her BFF stand, and responded with a nuclear comeback — "should we do something about your tiny penis while we're at it hm[?]" Boom. Game over.
Azealia Banks vs. Iggy Azalea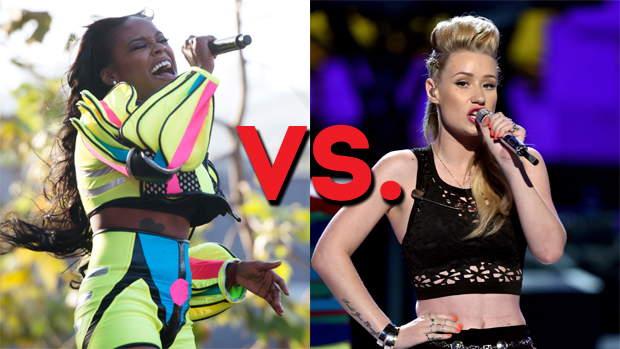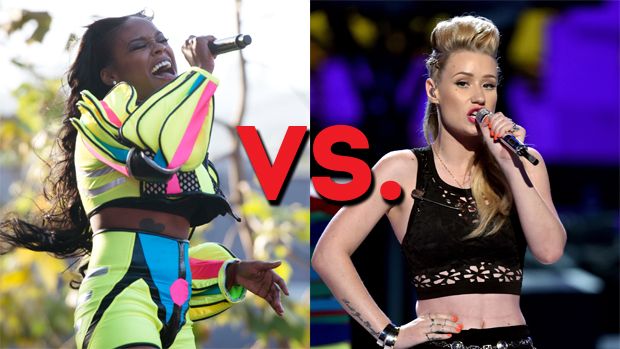 There's a case to be made that the biggest beef of 2014 was actually Azlealia Banks vs. herself, since she often seems to be her own worst enemy. But her late-entry feud with Iggy Azalea was a charbroiled capper to a beefy year, and actually touched upon a big, important, and contentious issue. Banks has been outspoken about what she views as Azalea's place in hip hop, which she views as cultural appropriation, and called out "Igloo Australia" for being silent in the aftermath of the grand jury decision in the Eric Garner case. Azalea responded, somewhat flippantly, on Twitter, and soon lines were drawn. Some good came out of the debacle — Q-Tip wrote an enlightening and inclusive Twitter essay about hip-hop's roots as a political movement, so we all learned something. But, on the other hand, the hacker-activist group Anonymous is threatening to release Azalea's rumored sex tape if she doesn't apologize, and that's all sorts of fucked up.
Happy 2014 in Beef. Now let's unplug the Internet.