For the past couple of years, Edinburgh trio Young Fathers have been releasing short, exciting records that straddle some of the same territory as early releases by TV on the Radio and Shabazz Palaces, contorting avant-R&B into shapes that more resemble Tricky (whom they've remixed) and Massive Attack than the strain of PBR&B led by the Weeknd and How to Dress Well. In a surprise to many, Young Fathers took home the 2014 Mercury Music Prize last week, beating out hugely acclaimed newcomers (FKA Twigs) and veteran legends (Damon Albarn) alike. But they couldn't care less about anything but making another record. Two of the Fathers — Alloysious Massaquoi and Kayus Bankole — got on the phone with SPIN recently to talk about what they're doing next.
You guys have put out short records at a pretty good pace, one a year since 2012. Is that out of necessity or do you prefer working quickly?
Massaquoi: We just prefer working quickly, like all the recording that we've done has been from that same mentality: go in and we record, usually record a song in the same day, in six hours or X amount of hours and get that down, get a rough mix, and move on. We've had that ethos going since we started, even a little before that.
Do you feel like if you wait too long to finish a song it loses something?
Massaquoi: Yeah, definitely. Because we work for us and that's how it works you know, we register at the end of the day. We get bored quickly so we try to capture something and just move on. You have five minutes, four minutes, where you can hear a new song how someone else would hear it. After that, you've lost it.
Your 2013 release, Tape Two, is my favorite. Do each of your records have a theme?
Massaquoi: I guess the first one was just like, the first release. We've been doing music since we were 14, before we were listening to what we should've been listening to. We take something, put it into our own hands, and decide whatever we record in that week, we put it out that week, that's it. With Tape Two, we sang some, sonically did a little bit more, and just went somewhere else with that. I don't where we went, but we did.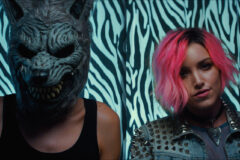 Bankole: For me, Tape One was like Chapter One of a story that only had two chapters: Tape One and Tape Two. And then Dead was a whole new story. With Dead, there was a sense of dread and frustration [in the songs], about trying to see the light when others might not.
//www.youtube.com/embed/E7UmjvbmHQM
I heard that you guys are already going into the studio again next week.
Massaquoi: Yeah, we're going to be in Berlin recording a new album so we leave London in November, and we're going to be in Berlin for the month, recording the album, getting into Germany and just being ourselves in a different country. Being ourselves in an uncomfortable situation, just to see what happens. Because we're used to working in a basement in Edinburgh where we've done all the tapes and the album, so it's good to take it elsewhere and see what comes about.
Do you have any themes or ideas that you already know you want to use for the next record?
Massaquoi: Not necessarily, but as long as you have cause to be writing, ideas will come. You know, you may have had something about five years ago, and you finally have that song. But there's nothing planned, just working quick because we're constantly writing. So if you're working on something you have or start fresh, there's no right or wrong way.
Tell me about the Mercury Prize win. You seem really determined to not let it change the way you make music.
Massaquoi: It's nice to win an award, you know, but you don't go thinking you win an award because you love it and you're passionate. In general, you do it because you're passionate, regardless of the accolades that come along the way. The whole press stuff, press side of that, that's fine. But it's not the music.
I do think this award has rewarded people in the past who are very forward-thinking, more than most awards, so it's a particularly cool one to win.
Massaquoi: Yes, it's good. The essence of the award, it's good, it's a positive thing. But for us it's always been about being the best you can be right on stage. We're gonna be performing on the telly, on TV, so it's good for the group and then getting us out, adding some more ideas.
Did it come as a complete surprise?
Massaquoi: It's a weird one, because win or lose, we've already won what we've created, which is something we have that's better than promotion. Just on that, it doesn't matter what's the outcome. We just want to concentrate and have a good performance.
//www.youtube.com/embed/fcRKZkk79-w
Are you looking forward to any amusing effects from this exposure, like random celebrities trying to work with you?
Massaquoi: You get emails from random people asking about doing interviews, calling our family members and stuff, I don't know if we really appreciate that. We're flavor of the month or the week or whatever until the next award show comes along, but it doesn't really bother us.
Do you have any plans for the £20,000 you were awarded? Any musical equipment you've always wanted but couldn't afford?
Massaquoi: We've not actually discussed the money yet. We just need to regroup, then we will be coming back from Edinburgh tomorrow and so we're gonna regroup and have the conversation about what we want to do with the money, you know stuff that we need badly. We won our last award, Scottish Album of the Year, and the prize money we never used on our personal things. It was more for getting equipment, getting stuff for shows, getting songs ready, for the group, nothing for us.
Bankole: I appreciate that you asked about equipment. It's about the band and the art we create. Other ideas are not necessarily out of the question. But sometimes when you limit yourself, the real things come out.
I feel like your label Anticon is having a great moment right now, with you guys and the rapper Serengeti, whom not enough people know about.
Massaquoi: Tell him to call us!
Is there anyone you think the Award will bring you closer to?
Bankole: America!