Iron Man has been involved in a lot of epic battles recently, fighting Loki and the Mandarin on the big screen, but the superhero was also at the center of a longstanding legal battle that came to a close last week. Ghostface Killah was accused of misappropriating the theme song to the 1966 Iron Man cartoon on his 2000 album, Supreme Clientele, and the tune's composer Jacques "Jack" Urbont sued him in 2011.
Part of the reason why Ghostface (born Dennis Coles) lost has to do with the fact that he never showed up in court, according to The Hollywood Reporter. Much like a member of Hyrda, Coles was damned-near impossible to track down, and even the private investigator Urbont hired couldn't find him. The judge eventually permitted Urbont to serve Coles through a publication notice, but even then he was a no-show, and Coles' lawyer quit the case after the rapper reportedly refused to communicate or pay him.
The judge, having exhausted all other possible avenues, gave the default judgment. Exact statutory damages haven't been determined, but shouldn't total more than $150,000. Sony Records also faces litigation, though this particular ruling does not apply to them.
Ghostface's only real comment on the case over the past three years came in a 2012 interview with Grantland. "I think it's an old man," he said, reffering to Urbont. "I think they woke this dude up or something. He ain't Stan Lee or anything but I guess he's somebody because he ain't stopping. It's like, [why] you coming to me? Go to Sony man, don't come at me. But that's what it is. This, this is the game, man. Everybody out for they bread, whatever they could see, they tryna get it."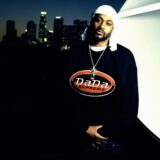 There's no word yet as to if Ghostface has teamed up with the villainous Ultron and vowed to get revenge on Iron Man.