Over the course of their 20-plus years in the business, Foo Fighters have assumed the role of being post-grunge's Law & Order. They're not the most important or influential band, and you might not be able to tell a couple of their songs apart immediately. But they're always on, and they're always good: You change to the local rock station at any given point in the day, and you probably don't have to go more than an hour before hearing one of their hits — and when it's on, you sing along. They're the comfort food of the Alternative Nation, and an inextricable part of modern rock culture. And so, we've decided to rank the 152 songs that make up the world of Foo. B-sides, live tracks, and soundtrack cuts all count, though a song had to be featured on an official commercial release to be eligible. We'll be discussing the songs in groups of about ten until we get to the top 80, then we'll blurb each individually. Read on below, and let us know if you agree about our take on the best (and worst) of Foo. ANDREW UNTERBERGER
152. "Ozone" ("I'll Stick Around" B-Side, 1995)
151. "The Deepest Blues Are Black" (In Your Honor, 2005)
150. "Podunk" ("This Is a Call" B-Side, 1995)
149. "Have a Cigar" ("Learn to Fly" B-Side, 1999)
148. "End Over End" (In Your Honor, 2005)
147. "Gas Chamber (BBC Session)" ("Big Me" B-Side, 1995)
146. "Once & For All (Demo)" (Echoes, Silence, Patience & Grace (Deluxe Edition), 2007)
145. "Spill" ("Best of You" B-Side, 2005)
144. "Wattershed" (Foo Fighters, 1995)
143. "Marigold (Live)" (Skin and Bones, 2006)
142. "I Feel Free" ("DOA" B-Side, 2005)
141. "If Ever" ("The Pretender" B-Side, 2007)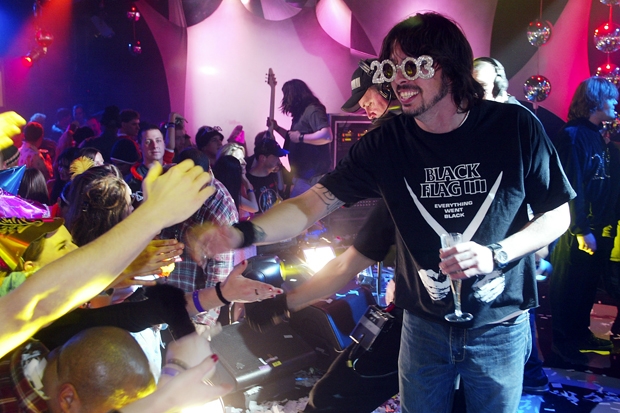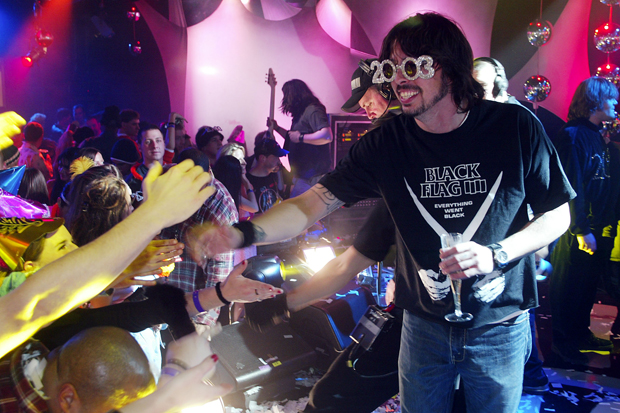 Here we have a handful of the group's clunkiest covers, including Ace Frehley's "Ozone" (No. 152), the Angry Samoans' "Gas Chamber" (147), and most disappointingly, Pink Floyd's "Have a Cigar" (149). There's also the Foos covering Dave's own "Marigold" (143), which actually has the distinction of being Grohl's first recorded composition — Nirvana did it for the B-side to "Heart-Shaped Box." But when the Foos played "Marigold" in a charmless arrangement for a live acoustic album, they removed practically all of the song's intrigue. We also have their all-time most insufferable album track, in the brutally repetitive and overwrought "The Deepest Blues are Black" (151). A.U.
140. "Back and Forth" (Wasting Light, 2011)
139. "What Did I Do? / God As My Witness" (Sonic Highways, 2014)
138. "Bad Reputation" (Medium Rare, 2011)
137. "Bangin" ("The Pretender" B-Side, 2007)
136. "This Will Be Our Year" (Medium Rare, 2011)
135. "Born on the Bayou" ("Resolve" B-Side, 2005)
134. "Walking a Line" (One By One Special Limited Edition, 2002)
133. "Iron and Stone" ("Learn to Fly" B-Side, 1999)
132. "Life of Illusion" ("Times Like These" B-Side, 2005)
131. "FFL" ("Best of You" B-Side, 2005)
A whole bunch more cover B-sides, though now they're more just unmemorable than clunky — Joe Walsh's "Life of Illusion" (132) and Thin Lizzy's "Bad Reputation" (138). "Back and Forth" (140) is probably the most forgettable Wasting Light cut just because the song doesn't much go anywhere, while "What Did I Do? / God As My Witness" (139) is the low-point on Sonic Highways because it tries to go far too many places in one song. "FFL" (131) is a fun, silly thrasher, but they've had funner. A.U.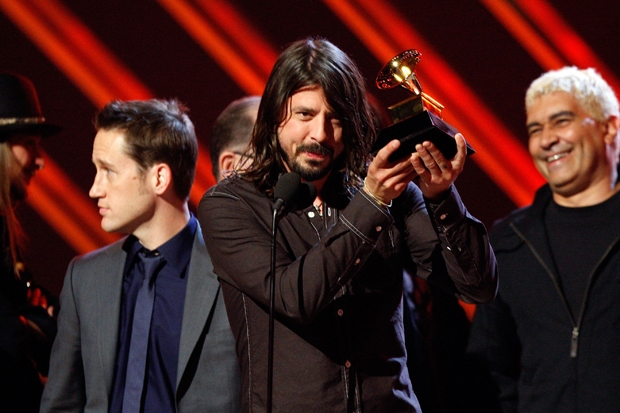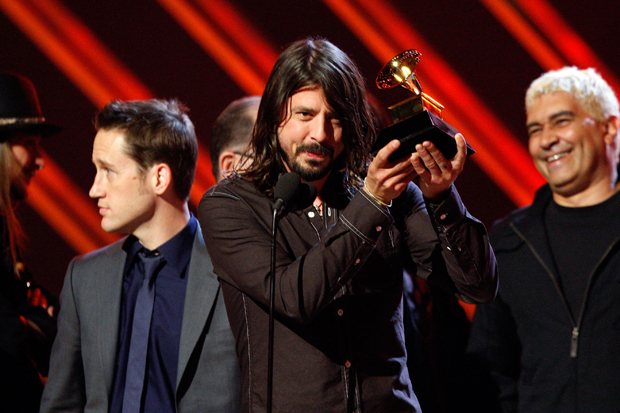 130. "Come Alive" (Echoes, Silence, Patience & Grace, 2007)
129. "Free Me" (In Your Honor, 2005)
128. "Weenie Beenie" (Foo Fighters, 1995)
127. "Word Forward" (Greatest Hits, 2009)
126. "World (Demo)" ("Resolve" B-Side, 2005)
125. "The Last Song" (In Your Honor, 2005)
124. "Outside" (Sonic Highways, 2014)
123. "Tired of You" (One By One, 2002)
122. "Fortunate Son (With John Fogerty)" (Wrote a Song for Everyone, 2013)
121. "Planet Claire (Live with Fred Schnieder)" ("Times Like These" B-Side, 2005)
A whole bunch of album deep cuts here — "Come Alive" (130), "Free Me" (129), "Outside" (124), "Tired of You" (123) — that just aren't quite as epic as they'd like to think they are, failing to develop interestingly enough to justify their five and six-minute run times. On the other side, there's "Weenie Beenie" (128), the first representation from the band's first album, an incomprehensible punk tune that's hard to get too mad at, and "Planet Claire" (121), a cover of the B-52s song that's so faithful it actually gets Fred Schneider to provide the lead vocal. A.U.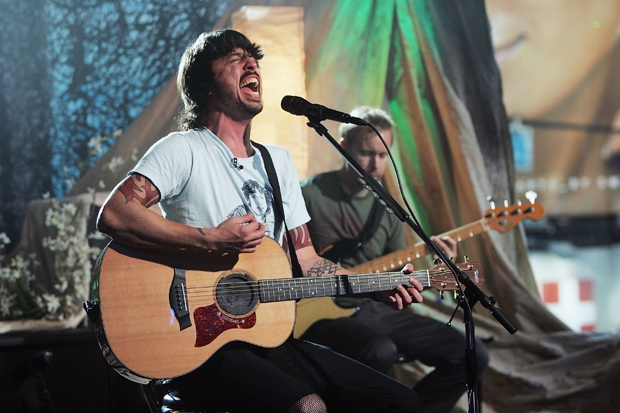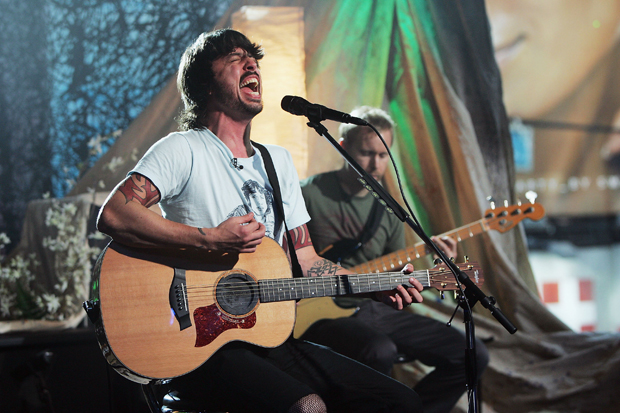 120. "Over and Out" (In Your Honor, 2005)
119. "Holiday in Camobida (Live with Serj Tankian)" ("Long Road to Ruin" B-Side, 2007)
118. "Burn Away" (One By One, 2002)
117. "Winnebago" ("Exhausted" B-Side, 1995)
116. "Keep the Car Running (Live)" ("Long Road to Ruin" B-Side, 2007)
115. "Overdrive" (One By One, 2002)
114. "Young Man Blues (Live)" (Medium Rare, 2011)
113. "Miss the Misery" (Wasting Light, 2011)
112. "Better Off" (Wasting Light (Deluxe Edition), 2011)
111. "Halo" (One By One, 2002)
A couple more endless-seeming album tracks — "Over and Out" (120) and "Burn Away" (118) — and some increasingly enjoyable live covers. "Holiday in Cambodia" (119) is made by guest vocalist Serj Tankian's Jello-worthy warbling, while "Young Man Blues" (114) has enough interaction with its VH1 Rock Honors crowd to be decently engaging. There's also "Winnebago" (117), one of the group's better early B-sides, which the Foos still break out live every now and then as a treat for long-time fans. A.U.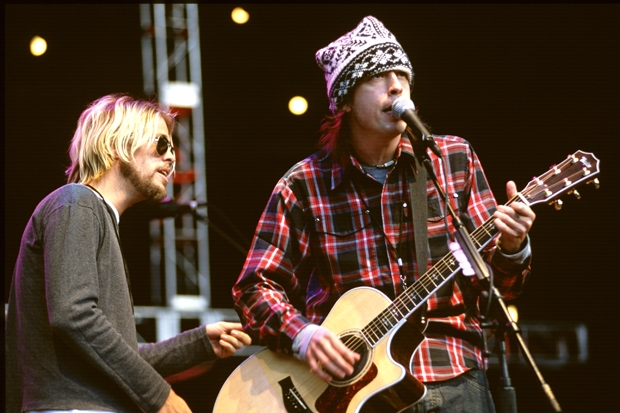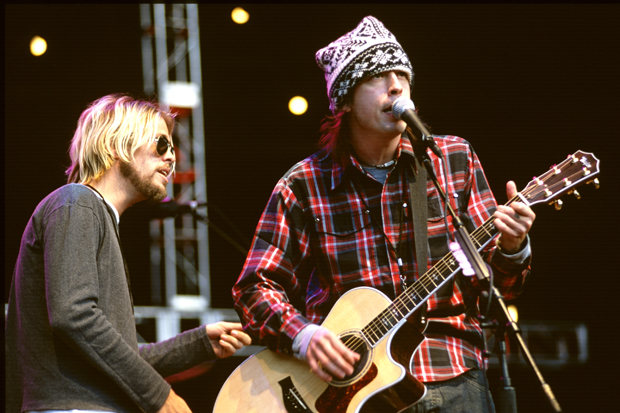 110. "Down in the Park" ("Monkey Wrench" B-Side, 1997)
109. "Oh, George" (Foo Fighters, 1995)
108. "I Am a River" (Sonic Highways, 2014)
107. "Come Back" (One By One, 2002)
106. "Doll" (The Colour and the Shape, 1997)
105. "On the Mend" (In Your Honor, 2005)
104. "Make a Bet" ("Learn to Fly" B-Side, 1999)
103. "Never Talking to You Again (Live)" ("Low" B-Side, 2003)
102. "No Way Back" (In Your Honor, 2005)
101. "For All the Cows" (Foo Fighters, 1995)
"Doll" (106) may be the worst song on the band's best album (The Colour and the Shape), but it's also just an 84-second ballad that serves mostly as a intro to proper opener "Monkey Wrench," and it's likeable enough to nearly crack the top 100 anyway. "Oh, George" (109) was Grohl's own least-favorite song on the debut, and your feelings on the eight-minute One By One closer "Come Back" (107) and seven-minute Sonic Highways closer "I Am a River" (108) likely depend on how much patience you have left after getting through the rest of the album's draggy second side and how much patience you have for the phrase "I am a river," respectively. A.U.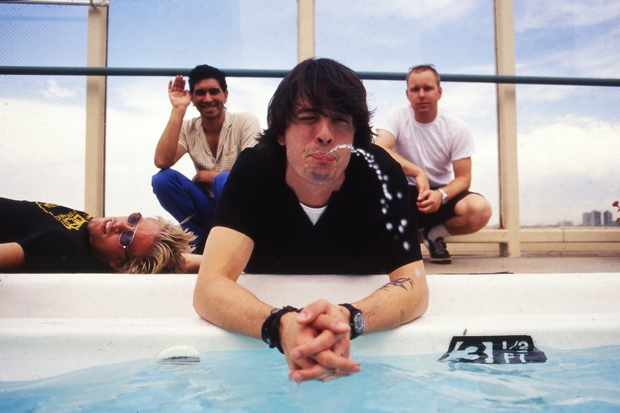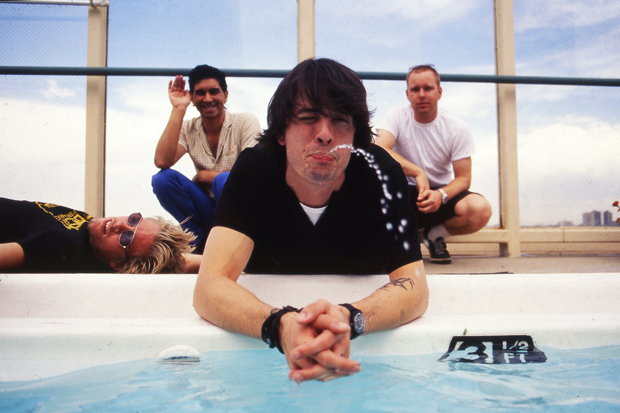 100. "X-Static" (Foo Fighters, 1995)
99. "Requiem" ("Everlong" B-Side, 1997)
98. "Summer's End" (Echoes, Silence, Patience & Grace, 2007)
97. "Fraternity" ("Generator" B-Side, 2000)
96. "Lonely As You" (One By One, 2002)
95. "Normal" ("Times Like These" B-Side, 2005)
94. "Miracle" (In Your Honor, 2005)
93. "Gimme Stitches" (There Is Nothing Left to Lose, 1999)
92. "The Sign" (In Your Honor (UK Edition), 2005)
91. "Savior Breath" (Saint Cecilia, 2015)
"Fraternity" (97) and "Normal" (95) are two of the band's poppiest B-side originals, while the band's cover of Killing Joke's "Requiem" (99) calms down the righteousness of the original without losing its emotional intensity. (Remarkably, "The Sign" (87) is not a cover of the Ace of Base song, but rather an underappreciated jolt of energy on the U.K. edition to their most tired-sounding album.) It's hard to believe the Foos were ever as shoegaze-y as they sound on "X-Static" (95), which is pretty much a less-active drum part away from being a straight-up My Bloody Valentine song. A.U.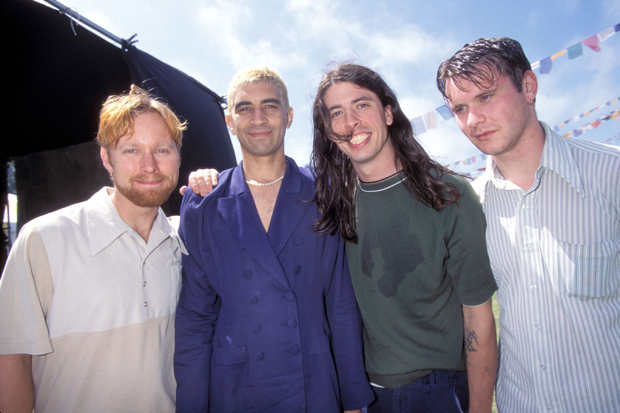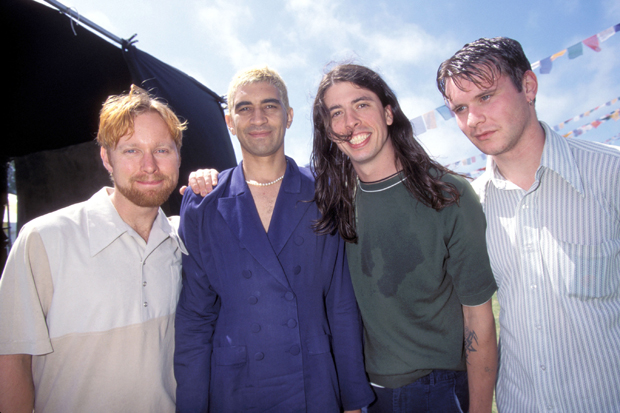 90. "Dear Lover" (Scream 2 Soundtrack, 1997)
89. "Friend of a Friend" (In Your Honor, 2005)
88. "See You" (The Colour and the Shape, 1997)
87. "Stranger Things Have Happened" (Echoes, Silence, Patience & Grace, 2007)
86. "Sister Europe" ("All My Life" B-Side, 2002)
85. "Dear Rosemary" (Wasting Light, 2011)
84. "Danny Says" ("All My Life" B-Side, 2002)
83. "How I Miss You" ("I'll Stick Around" B-Side, 1995)
82. "Good Grief" (Foo Fighters, 1995)
81. "Subterranean" (Sonic Highways, 2014)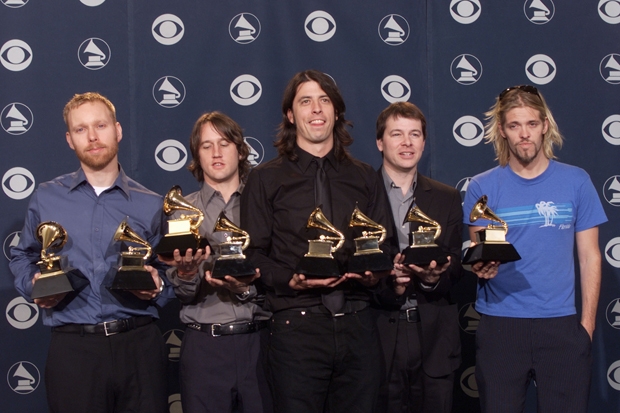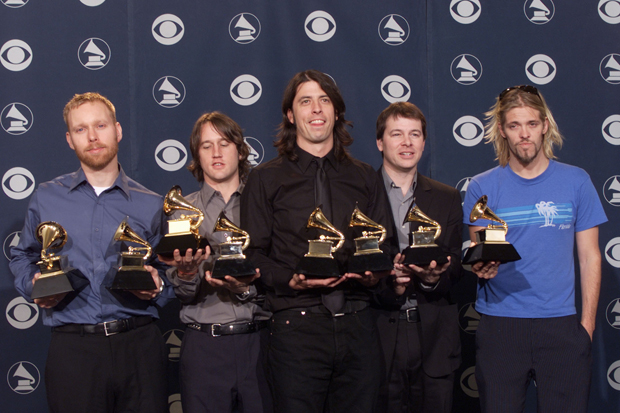 The Colour and the Shape probably had one too many tender ballads already — including "See You" (89) — but soundtrack cut "Dear Lover" (90) would have otherwise been a worthy addition. "Subterraneans" (81), the sonic document from the  Seattle visit of Sonic Highways, isn't nearly as grunge-influenced as you might anticipate, but rather sounds more like an atmospheric late-'70s radio hit by Gary Wright or Al Stewart. And shout out to a couple of '80s heroes in the Psychedelic Furs, whose enigmatic "Sister Europe" (82) makes for one of the group's most interesting cover choices, and Bob Mould of Hüsker Dü, who contributes guest vocals to "Dear Rosemary" (81). A.U.
80. "Resolve" (In Your Honor, 2005)
This jangle-rock cut has dream-pop in its verses and Tom Petty in its chorus, with a weathered feel to the chords that mirrors the beleaguered John Kerry campaign that inspired In Your Honor. "A little bit of resolve," sighed Grohl and the rest of the world, "is what I need now." Added bonus for indie geeks: The tune has striking similarities to the Wrens' "Thirteen Grand" from a couple of years earlier, which was also when indie geeks noted, "Hey, that guy from the Wrens who sings 'Thirteen Grand' sounds a lot like Dave Grohl." Have we ever seen them in the same room together? D.W.
79. "Kiss the Bottle" ("Best of You" B-Side, 2005)
Foo Fighters and Jawbreaker toured together in the mid-'90s as the two bands were going in opposite directions, the former on their way to becoming one of the biggest groups in the country and the latter on their way to total dissolution. The Foos paid tribute to their old buds by covering their "Kiss the Bottle," sanding over the shambolic edge of the original but turning the alcoholic anthem into a pretty decent power-pop number, including an all-too-rare turn for guitarist Chris Shiflett on the mic. A.U.
//www.youtube.com/embed/qIckUVYxRmw
78. "Bridge Burning" (Wasting Light, 2011)
This one rules a little just for that creepy, scab-picking intro, plucked out with dirty harmonics. It could be a Nine Inch Nails intro. Good on Butch Vig for scaring the bejeezus out of us, not something you'd expect from a latter-day Foo Fighters album. D.W.
77. "But, Honestly" (Echoes, Silence, Patience & Grace, 2007)
One of the band's breezier numbers, almost demo-like in its austerity for its first few minutes as Dave sings over a chiming acoustic riff, until the song swells into full album-climax intensity for a fret-racing 90-second outro. Would be about ten spots higher if not for the "And tonight I thank the stars / As I count my lucky scars" lyric. A.U.
76. "The Colour and the Shape" ("Monkey Wrench" B-Side, 1997)
You have to love when a band takes a genre trial-run so seriously that it transcends "B-side throwaway" and slides straight to "parallel universe." In the case of this not-actual-title track, it's an ever-blackening hole where Dave Grohl screams torrentially at the void over a riff that sounds like James Iha jamming with members of Refused and Death from Above 1979 on Incesticide. What could've been. D.W.
75. "M.I.A." (There Is Nothing Left to Lose, 1999)
A perfectly fine closer to the Foo Fighters' third album and first decade, as Grohl decides to check out from the whole mess, declaring "You won't find me / I'm going M.I.A." Considering the turbulence the band had gone through pretty much since forming in earnest halfway through the '90s — line-up changes, personal crises, artistic differences, sometimes all three at once — you'd have been pretty surprised at the time to find out the band was still in action 15 years later. A.U.
74. "Arlandria" (Wasting Light, 2011)
Dave pays homage to his home neighborhood, treating it like an old lover he's begging to reconcile with, begging, "Fame, fame, go away" and declaring, "My sweet Virginia, I'm the same way I was in your arms." You can't go home again, but you can write a decently anthemic song about it. A.U.
//www.youtube.com/embed/QkHp_JLtxck
73. "Band on the Run" ("Cheer Up, Boys" B-Side, 2008)
Originally appearing on the BBC's Radio 1 Established 1967 compilation, seeing artists covering 40 different hits from '67 to '07, the Foos' "Band on the Run" was a highlight, the band tackling all three parts of the Wings epic with typical gusto, particularly nailing the transition sections. There aren't many modern rock vocalists who could contend with Macca's throaty wailing for the song's final verses, but Grohl does his future collaborator plenty proud here. A.U.
72. "The Neverending Sigh" (Saint Cecilia, 2015)
The band's Saint Cecilia closer begins where the feedback-laden outro to Oasis' "D'You Know What I Mean" left off, but turns into something much leaner and meaner, riffs roiling as Grohl laments "My exit / No exit / No one lets everyone in." Finality never sounded this bitter in the Fooverse before. A.U.
71. "Hell" (In Your Honor, 2005)
What's not to like about a two-minute song with repeated shouts of "I'll see you in hell"? If anything, this arena-punk hybrid just leaves you wanting more. D.R.
70. "A Matter of Time" (Wasting Light, 2011)
"One of the sweetest melodies I've ever written," Grohl has said of this Wasting Light deep cut, "But it has one of the heaviest riffs." The second part is definitely true, at least. And those lurching rhythms on the pre-chorus are maybe the closest we'll ever get to the full-on Rush pastiche that these guys should've made a decade ago. A.U.
69. "Another Round" (In Your Honor, 2005)
So languid in its bleary-eyed, empty-bar desolation that it almost feels like a late-period Walkmen song. No one will ever confuse Dave Grohl for a hopeless romantic (emphasis on hopeless) like Paul Westerberg, but a good harmonica solo can make any singer sound like a beautiful loser for one song. A.U.
68. "Something From Nothing" (Sonic Highways, 2014)
As seen on the first episode of HBO's Sonic Highways, Grohl and co. recorded this song with Cheap Trick guitarist Rick Nielsen at Steve Albini's Electrical Audio studios. It's a solid tribute to the band's blues, punk, and rock predecessors, but there's little sense of that "something from nothing" urgency of a struggling rock band. Thankfully, it's redeemed by the eventual breakdown and a revved-up solo from Chris Shiflett. D.R.
//www.youtube.com/embed/Y3B0Vx_yQgo
67. "What If I Do?" (In Your Honor, 2005)
One of the most stately Foo ballads, and the real tone-setter for the acoustic half of In Your Honor. Grohl says that it's about living in North Carolina for a decade, but you'd have absolutely no clue about that if it wasn't for the bridge where he actually coos "Ca-ro-li-na, Ca-ro-lina" — probably the best part of the song, anyway. A.U.
66. "Alone + Easy Target" (Foo Fighters, 1995)
Written by Grohl back in Nirvana's Nevermind days, and it shows — the alternately chiming and crunching guitars are pure Cobain, and both the sentiment and the delivery of the chorus feel like they're filtered through Kurt's face-covering blond locks. But hey, even if it is a pastiche, who would be a better imitator than his old bandmate? "Alone" wouldn't have been a highlight on In Utero, but it would've fit in pretty seamlessly on the first side, and Kurt liked it well enough to express relief that he didn't have to "be the only songwriter in the band" anymore. A.U.
65. "Seda" ("Long Road to Ruin," 2007)
The Foos go country, and all is well. It's a good tune, but it's hard to see it fitting on Echoes, Silence, Patience & Grace, or any of their other albums, hence its unfortunate relegation to B-side obscurity. D.R.
64. "The One" (Orange County Soundtrack, 2002)
The Foos go psychobilly — this is the kind of song that sounds like they just needed to do something with that riff. Maybe if they filled in the blanks (make you feel like what exactly, Dave?) this wouldn't have been set aside for a soundtrack, though it's hard to imagine an existing FF album that could house it. D.W.
63. "Ballad of the Beaconsfield Miners" (Echoes, Silence, Patience & Grace, 2007)
Grohl wrote this acoustic instrumental as a tribute to two miners who, when trapped in an Australian mine, requested an iPod with a copy of In Your Honor on it to listen to while awaiting rescue. After hearing about this, Grohl sent them a note, promising them tickets to any Foos show and two cold beers waiting for them, then wrote this song, the band's first without vocals. To sweeten the pot, Grohl brought in virtuoso guitarist Kaki King to add flourishes reminiscent of Jimmy Page's fiery, folky best. D.R.
//www.youtube.com/embed/oPpMkIk2u5Q
62. "Enough Space" (The Colour and the Shape, 1997)
The thrashiest song on the group's most popular album, supposedly inspired by the 1993 surrealist dramedy Arizona Dream, whose Wikipedia plot summary makes about as much sense as the song's lyrics ("Put her on the ceiling / Try to make her my own"). Probably best just to enjoy the shredding and shriek "SPAAAAAAAACE!!!" and not think about it too much. A.U.
61. "Have It All" (One By One, 2002)
The first two Foo Fighters albums are big chapters in definitive '90s quiet/loud/quiet schizophrenia, but the later albums have yet to make much of their dynamic range. So this minor One By One single was one of the last sweet'n'sour combos that Grohl put his band name on, with a serrated, off-kilter riff that splashes into a dream-pop chorus. D.W.
60. "Headwires" (There Is Nothing Left to Lose, 1999)
The mildest, most agreeable song on a Foo Fighters album, a dreamy bit of 80s alt-pop that's as impossible to imagine hating as it is to imagine loving all that much. D.W.
59. "Long Road to Ruin" (Echoes, Silence, Patience & Grace, 2007)
"One flag was taken down / To raise another in its place," Grohl sings at the outset of this 2007 single, one of the band's more subtly political numbers. Despite the serious themes, it's probably remembered more for its video, which features the guys playing actors who star in a schlocky hospital-set soap opera, with Rashida Jones playing Grohl's love interest. It's yet another reminder that even when they're talking about heavy subjects, they're probably having more fun than most other bands. D.R.
58. "DOA" (In Your Honor, 2005)
Perfect for shouting along and doing some air-guitar strumming to its ballsy power chords, "DOA" is the epitome of a Foo hit. It's even got a shallow-deep message, reminding us that "no one's getting out of here alive." Keep calm and rock on. D.R.
//www.youtube.com/embed/_5loypOaRdA
57. "Wind Up" (The Colour and the Shape, 1997)
That descending/ascending riff is the musical equivalent of squeezing a stress ball with every fiber of your being. The arena-rock pound of the drums behind it just adds to the lit-fuse feeling. D.W.
56. "Breakout" (There Is Nothing Left to Lose, 1999)
One of Grohl's best throat-lacerating scream sessions, this track is made even sweeter by its accompanying video, a Me, Myself & Irene tie-in that features Grohl's mom flipping him off as he drives by. D.R.
55. "The Feast and the Famine" (Sonic Highways, 2014)
Despite its Butch Vig-pedigree, 2014 single "The Feast and the Famine" belongs in the dad-alt-and-proud box of R.E.M.'s Accelerate and Weezer's Red album, with its unnerving stop/go verses that recall the Dismemberment Plan's "Gyroscope," and predictably fist-pumping chorus. Things could be worse. D.W.
54. "Floaty" (Foo Fighters, 1995)
Foo Fighters go shoegaze! Foo-gaze? Fugazi? Phase-shifted vocals, waltz time and lyrics about floating away are in turn met by twang-fried chorus a la "Corona" from the Minutemen — or Jackass if you were born after 1990 — and a chorus that hints at some kind of dirigible competition: "That's not as big as what's flown 'round here!" shouts Grohl, somewhat unintelligibly.  If it's really about a piece of excrement, as my middle-school classmates probably lied, it's the most anthemic shit-tribute ever. D.W.
53. "Iron Rooster" (Saint Cecilia, 2015)
What begins as a languid Neil Young saunter (with a touch of mid-'70s Zeppelin acoustic minorness thrown in) takes an unexpectedly striking turn on its bridge, double-tracked guitars bleeding gorgeously as Grohl turns reflective: "Can you believe we're older? / I won't believe it's over now" Not often you seem to catch the most self-assured man in rock — historically assured, too — in such a moment. A.U.
52. "Hey, Johnny Park!" (The Colour and the Shape, 1997)
Except for maybe "Enough Space," "Hey, Johnny Park!" is the apotheosis of Dave Grohl's soft/loud experiments that keep some from fully embracing The Colour and the Shape as the band's magnum opus. It's true, the delicate verses into that chorus that sucks up the entire room (and that riff!) are bound to give your passengers whiplash. But didn't you want a thrill ride in the first place? D.W.
//www.youtube.com/embed/XnZ1Ft20pHw
51. "Home" (Echoes, Silence, Patience & Grace, 2007)
The piano-ballad album closer for Echoes, Silence, Patience & Grace is about as vulnerable and tender as Grohl has ever sounded. Unless you've never left your house, you'll find a way to relate to the "all I want is to be home" refrain. D.R.
50. "Statues" (Echoes, Silence, Patience & Grace, 2008)
The Foos may have covered "Band on the Run," but their best McCartney tribute was probably the exceedingly Macca-esque "Statues," an obvious grasp at songwriting maturity that manages not to sound too self-conscious or stilted. And the chorus is one of Grohl's simplest and most affecting: "We're just ordinary people, you and me / Time will turn us into statues eventually." Not that Dave should ever trade in his guitar full-time, but another song or two at the piano someday wouldn't be the worst thing. A.U.
49. "Wheels" (Greatest Hits, 2009)
One of two new tracks to grace the 2009's Greatest Hits, "Wheels" finds the band going in a Wallflowers-like direction (in a the best way possible). It's feel-good, straight-forward rock done right. D.R.
48. "Still" (In Your Honor, 2005)
The echoing edginess of "Still" turns out to be kind of a red herring for the rest of the In Your Honor acoustic side to follow, which is kind of a shame. The Foos have rarely sounded as atmospheric or unsettling as they do here, creating an impressive amount of tension with a couple pounding piano thuds, some water-drip drum tapping and Grohl's chorus couplet, "Promise I will be forever yours / Promise not to say another word." Effectively understated, especially for a song about a suicide pact. A.U.
47. "Saint Cecilia" (Saint Cecilia, 2015)
The title track to the Foos' Austin-recorded 2015 EP sounds like an attempt to turn T. Rex's "Bang a Gong (Get It On)" into a power-pop song, and to the band's credit, it mostly works — especially on those honey-dripping chorus harmonies. Loses a couple of points for having one of the most nondescript guitar solos to ever appear on a Dave Grohl album, though. A.U.
46. "Baker Street" ("My Hero" B-Side, 1997)
It's unexpected, but the Foos' guitar wails adequately replace that sexy sax riff on the Gerry Rafferty classic rock radio staple. R.I.P., Raphael Ravenscroft. D.R.
//www.youtube.com/embed/BO1qcWa6blQ
45. "Cheer Up, Boys (Your Make Up Is Running)" (Echoes, Silence, Patience & Grace, 2007)
A blast of fun in the middle of the often labored Echoes, Silence, Patience & Grace, "Cheer Up, Boys" is a fine dB's-style pop song, albeit one with a sour candy exterior. There's the propulsive punk intro, and more pressingly, the subtitle that can't be ignored, a stab at My Chemical Romance and their ilk that's sorta pathetic for guys as old as Grohl, a revealing potshot from a dude who gets along with industry people a little too well to write such angstful music all the time. D.W.
44. "I Should Have Known" (Wasting Light, 2011)
One of the band's most cinematic songs, with crashing drums, sweeping strings, tortured lyrics and vocal distortion that gives Grohl's voice a distance from the song that he rarely allows. It almost sounds like an old spaghetti-Western theme — or at least a Black Keys cover of an old spaghetti-Western theme — and that's a pretty good look for the Foos, it turns out. A.U.
43. "Disenchanted Lullaby" (One By One, 2002)
One By One was the first Foo Fighters album to split fan opinion down the middle, but one of the reasons it may be better than you remembered is "Disenchanted Lullaby," which interrupts hypnotic, R.E.M.-esque verses with the most underrated, boisterous chorus in the band's entire repertoire. "No one has a fit like I do!" shouts Grohl, who returns to the jangly verses with a sigh that makes dynamic-shift sense without being abrupt for once: "I'm the only one that fits you." D.W.
42. "Ain't It the Life" (There Is Nothing Left to Lose, 1999)
Sounding like a lament from a junkie's shooting gallery, this '99 track seems like a cry for help couched in a laid-back, languid groove. The beautiful slide guitar section is up there as one of the most interesting solos in the band's catalog. D.R.
41. "Erase/Replace" (Echoes, Silence, Patience & Grace, 2007)
One of the weirdest Foo Fighters riffs, "Erase/Replace" begins with a abstract, Sonny Sharrock-style guitar figure before crunching its way down the scale — both musical and richter — on the earthquake of a chorus. D.W.
//www.youtube.com/embed/OEVh9UjzuGw
40. "Skin and Bones" ("DOA" B-Side, 2005)
With its sparse minor-key guitar strumming and buried shuffling drums, this bit of Gothic Americana is the kind of rarity that shows how much more there is to the Foo Fighters than power chords and stadium anthems. More of that, please. D.R.
39. "Darling Nikki" ("Have It All" B-Side, 2003)
Why this was seen as a novelty at the time, who knows? Covering Prince is a mainstream rite of passage for everyone from Sinead O'Connor to Warren Zevon, so it only makes sense that Dave Grohl — a pretty mainstream guy himself — would cover Prince's heaviest song. The "masturbating with a magazine" line still had a way of turning heads to the nearest radio, even in a post-"Longview" world. And Prince would return the favor by honoring Grohl's "Best of You" at the goddamn Super Bowl. "Who's the novelty now?," his genderfuck/insignia-shaped guitar squealed back. D.W.
38. "Live-In Skin" (There Is Nothing Left to Lose, 1999)
Grohl thinks this is a riff song, which the melodic There Is Nothing Left to Lose is short on, but hidden in that garage bluster is a dream-pop emo anthem worthy of Hum, until the thunderous final minute ("Trade your outside in for the inside!"), where it turns into — yes — a riff song. D.W.
37. "All My Life" (One By One, 2002)
From his hardcore roots to his Probot vanity project and his occasional side-gig in Queens of the Stone Age, Dave Grohl longs to be a metal god just as surely as Jack Black or Brian Posehn. He never will be. But "All My Life," the first single from the Foos' heaviest album, comes closest to what his vision of screaming dissonance might be, with that white-noise riff that Josh Homme would kill for, and the whispered lockstep of the verses threatening to release something much more venomous than that actual somewhat-letdown of a chorus. But somehow the never-quite-resolved riffage perfectly encapsulates the song's frustrated tenor. "When it comes around / When it's taken away" indeed. D.W.
36. "Let It Die" (Echoes, Silence, Patience & Grace, 2007)
The rare build from soft to loud in the Foo Fighters catalog where the soft part of the sentiment equally pertains to the lyric as the inevitable rock-out. The semi-sweet acoustic licks that buttress the "Why'd you have to go and let it die?" refrain lend it some poignancy before the battlefield of riffs to follow, which of course lend it the anger. D.W.
//www.youtube.com/embed/63NiS3uZaTA
35. "Sean" (Saint Cecilia, 2015)
A rare late-period Foos jam that's as streamlined-sounding as their first few albums, with guitar shimmer than almost sounds like Grohl & Co. taking a chartered trip to mid-'80s Minneapolis. Even better, the band switches up to a mid-'70s MOR double-time boogie on the chorus, spare shouts of the titular name all that's needed for further punctuation. A.U.
34. "I'm in Love With a German Film Star" ("Best of You" B-Side, 2005)
Perhaps the Foos' all-time most idiosyncratic cover choice, the band took on the one hit of British new-wavers the Passions for the B-side to "Best of You," and they absolutely nailed it. Their version is even gauzier than the original, with a nervously knocking beat cast against a hypnotically relaxed acoustic riff, and Grohl's entranced vocals tying it all together. It couldn't be a much less appropriate B-side to a stadium-filler like "Best of You," but it's a gem nonetheless. A.U.
33. "Up In Arms" (The Colour and the Shape, 1997)
One of the most songful things Grohl has ever put to tape. As with "Big Me," Grohl loves to keep his best retro chord progressions under three minutes. But as with the rest of The Color and the Shape, this one doesn't sit still — roaring back from its prom theme first half into a Carrie bucket-of-blood finish. The absurdity of the dynamics is very '90s, or at least very 21st Century Breakdown. But slow, fast, you'll sing every word. Even during the solo. D.W.
32. "Cold Day in the Sun" (In Your Honor, 2005)
Dave Grohl should know more than anyone the value of letting the rest of your band have their voice be heard every so often, and drummer Taylor Hawkins proves himself worth a turn at the mic every now and then with this In Your Honor acoustic highlight. "Cold Day in the Sun" is the lightest, sweetest number across the album's 20 tracks, a much-needed contrast to the stadium-rock bluster of a good deal of the album's more famous songs, and evidence that band democracy isn't always a terrible idea. A.U.
31. "My Poor Brain" (The Colour and the Shape, 1997)
This bit of mindfuckery has it all: the tried-and-true Pixies loud-quiet-loud dynamics, gentle falsetto singing giving way to thrash howling, big metal riffage, and some of Nate Mendel's heaviest bass work. D.R.
30. "Rope" (Wasting Light, 2011)
The Foos' proggiest single keeps you on edge with riffs and rhythms that seem on the verge of veering off the rails at any moment. As a bonus, you get Grohl doing his best James Brown "Yow!" yells throughout, though they're not nearly as impressive as the wah-ed-out guitar solo and Taylor Hawkins' aggressive drum fills. D.R.
//www.youtube.com/embed/kbpqZT_56Ns
29. "In the Clear" (Sonic Highways, 2014)
Maybe the most immediately satisfying song on Sonic Highways, with a chugging guitar riff, gorgeous harmonies on the chorus, and some expertly deployed strings on the song's bridge. Hard to hear the Preservation Hall Jazz Band's influence in there, exactly, but super-hooky power-pop was never really the Big Easy's specialty, so fair enough. A.U.
28. "In Your Honor" (In Your Honor, 2005)
"Can you hear me? Hear me screaming?" What a perfect album opener. The sound is so big, it's as if it was designed to be performed in a canyon. And just when you think it's over, it comes back even harder with a kick-ass double-timed outro. Why wasn't this a single? D.R.
27. "White Limo" (Wasting Light, 2011)
One of Grohl's nastiest riffs, with a go-bots Queens of the Stone Age motion to it that's appropriately matched by a death-metal vocal reminiscent of the chaos that ex-Queen Nick Oliveri brought to songs like "You Think I Ain't Worth a Dollar, But I Feel Like a Millionaire." All the more impressive that it appeared as late as Wasting Light. D.W.
26. "Virginia Moon" (In Your Honor, 2005)
When a band gets successful to the point of being able to say, "Let's include a bossa nova track on this album and get Norah Jones to sing on it," they're almost always a few miles up their self-indulgent asses. Yet, the Foos pull this out-of-left-field trick off with aplomb, resulting in one of the most delightful tracks on the acoustic half of In Your Honor, and even an unlikely Grammy nomination for Best Pop Collaboration with Vocals. D.R.
25. "Walking After You" (The Colour and the Shape, 1997)
An extremely pretty song about stalking your ex, or at least refusing to let your ex become your ex in the first place. It was dressed up with piano, fuller production and a snazzier drum part for a single version that ended up on the soundtrack to the X-Files movie, but it's much more effective in sparser album-track form, just brushed drums, gentle acoustic and Dave sighing, "I cannot be without you, matter of fact / I'm on your back." A.U.
//www.youtube.com/embed/rvorB7d2b8Y
24. "Generator" (There Is Nothing Left to Lose, 1999)
Simulated '70s AM rock typified by the most humble use of a talk box on record. Will more than fulfill the expectations of anyone who's ever for a second imagined Peter Frampton making good on his Simpsons appearance and staging an alt-comeback. D.W.
23. "Times Like These" (One By One, 2002)
Written during a period when the band was on the verge of falling apart, this song perfectly captures the realization that sometimes things have to get terrible before you truly appreciate the good around you. You feel like an asshole for a little bit, but at least you figured it out before burning bridges. D.R.
22. "Exhausted" (Foo Fighters, 1995)
Written during his time in Nirvana, this became Grohl's first-ever release as the Foo Fighters. It's pretty ballsy for a promo single, running almost six minutes long with stretches of feedback and murky vocals. Looking back at this excellent opening salvo, it shows that the band was never going to be predictable, even if those who only know their Modern Rock chart-toppers might think otherwise. D.R.
21. "New Way Home" (The Colour and the Shape, 1997)
The epic, near-six-minute closer to Colour and the Shape, complete with false ending and a four-minute crescendoing outro. The first two minutes of actual song is underappreciated in its own right, particularly the ringing bridge that leads to the song's original break, but the endless coda is certainly what you remember the song for, though, and it's as triumphant-sounding as Grohl intended. "At the end of the day, you realize that you're not scared any more and you're gonna make it," he explained of the song's message, and "Home" certainly feels like that. A.U.
20. "Stacked Actors" (There Is Nothing Left to Lose, 1999)
There Is Nothing Left to Lose is Foo Fighters' classic-rock album, so even the grungiest track comes with guiro-groove verses a la Steely Dan's "Do It Again." The only thing more fun than that fuzz bass is pretending the lyrics are about perennial Grohl adversary Courtney Love — as many fans (and Courtney herself) already do. D.W.
//www.youtube.com/embed/Dwyit8Xz5Dc
19. "Best Of You" (In Your Honor, 2005)
It's hard to imagine anyone serenading someone with "Best of You" without hoisting them in midair by the shirt collar and getting spittle on their face. The broken delivery — "IT'S REAL/ THE PAIN YOU FEEL/ YOU TRUST/ YOU MUST/ CONFESS" — is Grohl at his most James Hetfield, almost self-parodic if the anthemic melody wasn't so strong. More or less, the most indelible hit of the Foos' second decade is a jangle-pop ballad screamed at do-you-smell-what-the-Rock-is-cooking pitch. And somehow Prince's out-of-nowhere Super Bowl version out-screamed the original. D.W.
//www.youtube.com/embed/h_L4Rixya64
18. "Walk" (Wasting Light, 2011)
The hard-earned, personal-victory closing to Wasting Light, and one of the biggest modern-rock radio hits of all-time. It's anthemic even by Foo Fighters standards, ranking among their greatest builds, sing-along choruses and chest-pounding climaxes ("I'M NEVER GONNA DIE! I'M NEVER GONNA DIE!"). Don't even try to act like that riff isn't cribbed from Tal Bachman, though. A.U.
//www.youtube.com/embed/4PkcfQtibmU
17. "A320" (Godzilla Soundtrack, 1998)
The Godzilla soundtrack will be forever remembered for Puff Daddy bribing Jimmy Page into doing a revamped "Kashmir," but it also featured the string-laden epic "A320," which Grohl once called his favorite Foos song. It played at the end of the final credits of the monster flick, the worst movie Grohl said he's ever seen. That this song isn't more popular is a travesty, second only to the fact that Diddy was actually allowed to mangle that Zeppelin classic. D.R.
//www.youtube.com/embed/EGzmda6umNs
16. "This Is a Call" (Foo Fighters, 1995)
One of those bands whose first single actually is their quintessential song, the self-titled's kickoff track contains everything that makes this band a band. There's the instantly memorable melody, sparkling guitars at war with filthy ones, dynamo drumming that you didn't even know power-pop needed, and a blunt-force riff that works as a bridge in this case, before giving way to the oddball opening statement: "Fingernails are pretty / Fingernails are good!" Grohl made a vow to work on his lyrics next time. The rest was already there. D.W.
//www.youtube.com/embed/imxAeQZjBeI
15. "Congregation" (Sonic Highways, 2014)
Even if it's not as country as "Seda" or even "Wheels," the Nashville influence looms large on this jangly Sonic Highways tune. Grohl evokes the spiritual side of the Music City, paying tribute to the famed Bluebird Cafe, where he did an acoustic set, while the band takes some countrified spins on the guitar licks. It's easily the most inspired of the band's newest material. D.R.
//www.youtube.com/embed/AZHtZrfFuhU
14. "Drive Me Wild" ("My Hero" B-Side, 1998)
Improbably enough, the most-enjoyable-ever Foo Fighters B-side was this cover of a 1982 pop-funk hit by Prince proteges Vanity 6. Dave sounds uncharacteristically sinewy as he sing-speaks, "Ooh, look at me, I'm a radio / Call me up and make a request" in a stereo-separated moan, with guitar scrapes and synth squelches zooming all around him and the song's bass-drum-heavy beat giving the chaos much-needed gravity. It's the best kind of addictive, oddball '80s fun, like the Flying Lizards' cover of "Money (That's What I Want)," and it makes you wonder why the band didn't let loose and get weird on their albums more often. A.U.
13. "Razor" (In Your Honor, 2005)
Written the day of a tsunami benefit concert, this acoustic track defies easy interpretation, with suicide being the easiest explanation of lyrics like, "I hope I get the chance to say goodbye" and "Sweet and divine razor of mine." Regardless, the complex guitar work by Grohl and pal Josh Homme under the gently paced vocals lead to uneasy beauty, and makes for possibly their most memorable album closer. D.R.
//www.youtube.com/embed/5Xp4iIQuhd4
12. "The Pretender" (Echoes, Silence, Patience & Grace, 2007)
Grohl's radio-ready songmaking style of choice has left plenty of room for dynamic shifts and shimmies, but offered little space in the way of true epics. "The Pretender" comes close, with an intro bitten off of "While My Guitar Gently Weeps," before quickly hitting the crunch-crunch highway that fans and detractors alike are all too familiar with. As rock's most outspoken careerist, it's no surprise that Dave'll "never surrender." But more indicative of his legacy might be the chant of "Who are you? Who are you?" at the end. The other band that sang that has yet to surrender either. D.W.
//www.youtube.com/embed/SBjQ9tuuTJQ
11. "February Stars" (The Color and the Shape, 1997)
The stealth centerpiece of The Color and the Shape, a song that takes the same kind of wide-eyed wonder from the night sky as a not-dissimilarly titled alt-rock one-off of a few years earlier and translates it perfectly into both harmony-heavy balladry and lighter-waving guitar crunch. The song evolves so naturally and sweetly that you don't even notice the transition until you're belting "FEEEEE-BRUUUU-AAAA-RYYYY STARRRRRS!!! FLOOOOA-TIIIIING IN THE DARRRK!!" at the top of your lungs. Sort of a weird subject to get all epic about, but that's the '90s for you. A.U.
//www.youtube.com/embed/9wG1xEHij08
10. "Learn to Fly" (There Is Nothing Left to Lose, 1999)
Chill. Catchy. Fun. Not too hard, not too soft. Amusing music video. All in all, it's peak '90s Foo Fighters. Whenever you hear it, you probably know way more words than you thought you did. D.R.
//www.youtube.com/embed/1VQ_3sBZEm0
9. "Next Year" (There Is Nothing Left to Lose, 1999)
You wouldn't accuse the Foo Fighters of Anglophilia terribly often, but turns out, they're at their loveliest when aping peak-popularity Britpop. "Next Year" is a power ballad in the "Wonderwall" sense, down to the drum fill that reintroduces the verse after detouring at the bridge, allowing gentle strings, a lilting melody, and a relatively straightfoward lyric about hiding in the clouds for a minute to do the heavy lifting that they normally save for their titanic riffs and shouted choruses. Grohl has called the song a "piece of shit," which explains why they haven't returned to this territory much in the last 15 years, but it remains one of their most satisfying ballads. A.U.
//www.youtube.com/embed/j1qQuSuQaHY
8. "Low" (One By One, 2002)
Maybe the heaviest song the Foos ever attached their name to, and one that doesn't really sound like anything else they've ever done, seismic guitars chugging away in one audio channel while the drums boom separately, and Grohl moans over both with Chino Moreno-like vocal filtering, "You be my passerby / I'll be your one to pass through." A lot of One By One finds itself stuck in a kind of AOR murk, but "Low" drills through that like a sledgehammer, and remains a rare moment of true grime for the band, and one of their most stunning and underappreciated singles. A.U.
//www.youtube.com/embed/ySlZdASmGCM
7. "Monkey Wrench" (The Colour and the Shape, 1997)
The second singled pulled from The Colour and the Shape is the one people remember, but don't discount "Monkey Wrench," which was the first single for a reason. Sure, there's the stuff that Doesn't Age Well — video with Grohl spitting into the camera, breathlessly shrieked bridge set to the tune of "Miss Mary Mack," ("AND ALL THE SHIT THAT SOMEHOW CAME ALONG WITH IT!!"). But it also wastes no time detonating the coolest riff of the post-grunge era this side of "Interstate Love Song," and far toothier — kind of like the Breeders' "Divine Hammer," on steroids and going surfing. Then you have the chorus, where each of Grohl's weird yet pro forma rhymes ("wrench"/"acci-dent") lands on the most barbed-wire chord he could've picked. Everything that was wonderful and hostile about the '90s in under four minutes. D.W.
//www.youtube.com/embed/I7rCNiiNPxA
6. "These Days" (Wasting Light, 2011)
Tender and thunder blend on the Foos' best latter-day song, and Grohl's personal choice for "maybe the best song [he's] ever written." It's subtly one of Dave's greatest vocal performances, with the "EASY FOR YOU TO SAY!" line piercing through at the beginning of every chorus, never failing to stir fans. D.R.
//www.youtube.com/embed/YDVAQI-4lto
5. "I'll Stick Around" (Foo Fighters, 1995)
One of the most bitter songs Grohl ever wrote would've fit perfectly in the Nirvana discography, except for the fact that it's almost definitely directed at Courtney Love. The director of the music video, Devo's Jerry Casale, pitched the idea to have a "bloated, charred, inflated girl representing Courtney" attacking the band instead of what ended up being that CGI virus ball. Either way, the "I don't owe you you anything" chorus is utter brilliance in its defiance and simplicity, whether you're pissed off at your boss or your friend's annoying spouse. D.R.
//www.youtube.com/embed/X_rTTsZZ9KE
4. "Aurora" (There Is Nothing Left to Lose, 1999)
Very possibly the band's all-time greatest non-single, a strikingly beautiful song and an enduring live staple for the band. The awe at the cosmos and the sense of being part of something bigger than yourself is the same as in "February Stars," but unlike that song (and most other Foo songs), the band never really goes for the big finish here, mostly allowing the gorgeous echoing riff, Dave's unassuming vocals, and the song's sparkling production carry the day. The song is so sublime that you barely even notice its six-minute run time, and you'd be happy to listen to the band bliss out to the great unknown for twice as long. A.U.
//www.youtube.com/embed/H6t_g8UZACA
3. "Big Me" (Foo Fighters, 1995)
A great song speaks for itself — if "Aries or treasons all renew" was what Dave scribbled down, he thought he'd better not jinx it and change the words to something that makes sense, lest it harm the melody. Whether you think "Big Me" is an elegy for Kurt Cobain or a tribute to Grohl's then-wife, "Big Me" is just over two perfect minutes of well-chorded sweetness as universal as "That Thing You Do!" Which is to say that Grohl found it so jingle-like that he'd better make fun of it before someone else did, and voila, the classic Mentos-spoofing video. But sometimes even an arena-rocker knows when less is more. D.W.
//www.youtube.com/embed/pLdJQFTnZfA
2. "My Hero" (The Colour and the Shape, 1997)
The list of songs in rock history that have a better first half-minute than "My Hero" is a remarkably short one: Dave's thundering drums making the introductions, Nate Mendel's eventually counter-melodic bass providing the anchor, and then the torrential downpour of guitars just showering the song in righteousness. The song is already a classic by the time the intro breaks and the vocals begin, but then you also get one of the group's all-time great choruses, an impossibly exhilarating slow-build-to-climax, and the lyric that would basically find the group their band-of-the-people identity.
"My heroes were ordinary people, and the people that I have a lot of respect for are just solid everyday people," Grohl has said about the song's message. "People you can rely on." And that's the Foo Fighters — for nearly two decades of mainstream-rock domination, they've been the solid, everyday band that you can rely on. They just have better guitar riffs and drum parts than most. A.U.
//www.youtube.com/embed/EqWRaAF6_WY
1. "Everlong" (The Colour and the Shape, 1997)
"Everlong" is the all-time greatest Foo Fighters song the way that Michael Jordan is the all-time greatest Chicago Bull — maybe it's not impossible that you could try to argue otherwise, but dude, c'mon. Of all the grunge-derived bands to light the way for the alt-rock '90s, Dave's other band is maybe the only one who wouldn't swap their best song for "Everlong" in a heartbeat — four minutes of untold amounts of mystery, romance, fear and amazement in one tightly coiled pop song.
The wonder of "Everlong" is that it simultaneously functions as both a song about exciting new love and persisting romantic disillusionment. Written for a new girlfriend after Grohl's first marriage ended in divorce, the song has the rapid heartbeat and tangible emotional rush of a just-burgeoning romance, but is still cloaked in dread and doubt thanks to the previous relationship's fallout. The crush of "Everlong" is in the battle between the two sensations, the new love ultimately (maybe? hopefully?) triumphing at song's end with the piercing drum-and-guitar breakout of the final "ANNNND IIIII WOOONDERRR….." It's moving, it's adrenaline-raising, it's huge-sounding, it's incredibly intimate, and it's all-around awe-inspiring. It's the band's best riff — best couple of riffs — their best crashing drum part, their best verse, their best chorus, their best pre-chorus, their best climactic build, their best production, their best best BEST music video, their best intro, their best final sustain, their best incomprehensible bridge murmuring. It's David Letterman's favorite song. Bob Dylan can sing the chorus. Are we still talking about this? A.U.
//www.youtube.com/embed/eBG7P-K-r1Y