The rise of the U.K. duo Royal Blood has been so fast and furious it's practically unclassifiable. Formed in 2013, they played their first show a mere two days after their first practice; saw their band name on a homemade shirt worn by Arctic Monkeys' drummer Matt Helders shortly after that; and released their first single, "Out of the Black," in November of last year. Brash and bluesy, it packed the punch of early Muse, despite being made by just two dudes. "Out of the Black" was the kind of song that sent the British music press into fits of excitement, declaring Royal Blood the saviors of rock 'n' roll.
Comprised of Mike Kerr on bass and Ben Thatcher on drums, the band conjures a dizzying array rock of textures considering their minimal sonic arsenal, and they do it without the use of studio tricks or even looping pedals: If they can't pull it off live, they don't put it on record. And speaking of records, despite a whirlwind year of constant international touring, including stints opening for Arctic Monkeys and the Pixies, as well as conquering the festival circuit, Royal Blood found time to release their self-titled debut in August, which was quickly shortlisted for a Mercury Prize. It's just been that kind of year.
We recently caught up with Ben Thatcher during a tour stop in New York City to discuss the band's overnight success, his influences beyond Led Zeppelin, and hanging with idol Lars Ulrich in San Francisco.
What's something you never saw yourself doing that you did this year?
All of it really. From releasing a single to playing festivals, traveling around Europe, traveling all around America, you know, selling out shows in New York and LA and playing Jimmy Kimmel and Seth Meyers. It's a little bit strange and they're things that we don't take for granted and enjoy doing.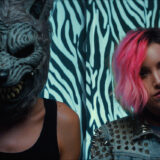 And then on top of that you were just nominated for a Mercury Prize. How does that feel?
Incredible! I mean, to be nominated for anything is an absolute privilege. I don't know how much I read into awards and things like that. I think, everyone has a right to win it because all the albums in there are brilliant. To be nominated, that's fantastic.
You didn't record your debut in a traditional sense of going into the studio and recording it from A to Z. How did it shape up? We tricked ourselves into writing an album. We'd write three or four songs every other month maybe, and then after we would write the songs we'd go into a studio and record them as demos, just to reflect on what we were writing. And so throughout the year of 2013 we did that and managed to write about 16 songs and have them all recorded and realized we had kind of done an album together, and picked our 10 favorites from those songs and put them together.
A lot of conversation has revolved around the complexity of sounds that you're able to get out of just two instruments. What's your secret?
Mike's a little bit of a geek with [his bass sound] and likes to experiment a lot with different pedals, amplifiers, and basses, so he just came up with a cocktail of different ways of using a bass. So it's pretty simple; there's not a lot to it but it's just the way he plays it and yeah, he's just made this sound for himself.
What music do you listen to that isn't straightforward rock?
I'm into literally everything. I've been listening to a lot of Ryan Adams, the Beatles, [who] are two of my favorite artists as songwriters at the moment. London Grammar, another great band from England I've been listening to. Stevie Wonder. I listen to all kinds of music.
You've quickly gone from playing small pubs to big festivals and opening for huge bands. Do you have a favorite environment to play in?
I like playing all of them. I think it's good to have the diversity of playing your own show with your own crowd there and also playing a big festival. There'll be people there that might not know you and just come to see what it's all about, and winning them over is fun. But I think primarily my favorite is when we're playing our own shows and it's just a big party.
You've been touring all year. How do you maintain your sanity on the road?
I don't know if we have. We're just pretty crazy. We know when to leave each other alone and when to punch each other in the face.
When's a good time to punch someone in the face?
When they're being an idiot. [Laughs] We've never punched anyone in the face actually.
You recently hung out with Lars Ulrich in San Francisco after a show. How did that come about?
It was one of the strangest moments of my life I have to say. He just came and knocked on our dressing room door after one of the shows, and started to hang out with us. It was a little bit of a Wayne's World moment for us.
Did you guys geek out about drums at all?
It was funny talking to him. He's obviously one of the biggest, most famous metal rock drummers of all time. To have him talk to me about what I'm doing was really fun and I just had to keep reminded myself that Lars was in the dressing room. But when he was talking about San Francisco he was just very normal and nice. And we hadn't seen much of San Francisco so he told us to hop into his truck and he gave us the whole tour.
Whose idea was it to go to Mrs. Doubtfire's house?
I mentioned it. There were lots of houses that looked like it and it clicked and I said, 'Wait a minute Mrs. Doubtfire was filmed here,' and he was like, 'Oh yeah,' and he just drove up to the house and we had a picture.
That's funny that Lars Ulrich knew where Mrs. Doubtfire's house was.
It was hilarious. Lars Ulrich isn't just a good drummer but a fantastic tour guide.