After reports surfaced in August that Katy Perry was one of three performers in consideration for February's Super Bowl Halftime show, sources have now confirmed to Variety that the "Teenage Dream" singer has scored the gig. If it's true, the Prism pop sensation will hit the stage at the University of Phoenix Stadium in Glendale, Arizona on February.
Last weekend, Perry appeared on ESPN's College Gameday to brush aside reports that she was the kind of girl who would pay to play the prestigious show, as initial reports had suggested that the NFL was asking stars to kick in some money if they wanted the slot. Here's how we imagine Katy responded to the football organization when they came to her: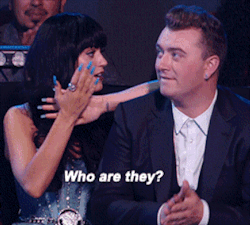 Those with a watchful eye on the pop landscape had speculated that Perry was the most logistically practical choice. Her "Prismatic" tour had a noticeable gap in dates around the Super Bowl and she already has the full live equipment (including costumes and set pieces) to bring along. Plus, she's also one of the most popular entertainers in music today, so there's that. Weird Al will just have to wait until next year.