Getting banned by the National Football League might just be the best thing to happen to Beats by Dre. That's the impression Beats co-founder Jimmy Iovine gave during a speech at the University of Southern California's Global Conversation October 15 (via Business Insider).
To recap: the NFL prohibited players from wearing Beats headphones during warm-ups or press conferences because rival Bose has an exclusive contract naming them the official headphones of the league. Players who flaunted this ban, like Beats spokesman Colin Kaepernick, have been hit with $10,000 fines. Several players have since taken to wearing Beats, but oh-so-barely disguising them by putting tape over the logo.
"We didn't do anything, and now the players are going out and putting black tape on our logo," Iovine said in response to the free advertising. "It's like, I can't believe I'm this lucky. I feel like sending them the tape," he joked.
"What happened there, you have a tech company that's culturally inept," Iovine continued, explaining why the crackdown on Beats backfired. "There's no one at the company that said, 'If you ban these guys, you're going to look bad to the young people, and they're going to look like superheroes even though they're just pure capitalists," the entrepreneur said. "You're going to make them look like the underdog."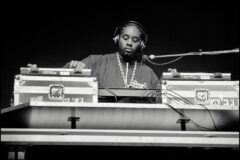 The "underdog" company was bought by Apple for a cool $3 billion this past March, though the tech giant recently denied reports that it's going to shutter Beats' streaming service.