Update: the Foo Fighters also performed an emotional, web-only take on "Miracle" for Letterman, which you can watch below.
We're now three days into the Foo Fighters' week-long takeover of the Late Show With David Letterman, and last night, the Sonic Highways giants brought out Tony Joe White for a horn-heavy and rousing cover of his classic 1968 hit "Polk Salad Annie."
The rendition is a totally bluesy affair, and all things considered, it has been a treat to watch Dave Grohl and his bandmates cede the spotlight to their guests night after night. Grohl himself takes over vocal duties on the down-and-dirty affair's second verse but, in keeping in line with his upcoming HBO series titled after the band's new album, he let White's star shine mostly on its own.
So far, the Foos have joined forces with Heart's Anne and Nancy Wilson as well as country cornerstone Zac Brown during their Letterman stint, with two nights left to go. On tonight's show, they're expected to play their new single, "Something From Nothing," which is set to premiere later this morning.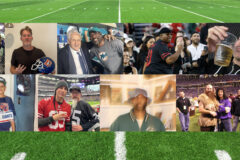 //www.youtube.com/embed/rm1SlkrEP40