The 100 Greatest Live Performances on YouTube
We're coming up on the tenth anniversary of YouTube next February, but really, it feels like the site has been around far longer. In fact, YouTube's influence has been so pervasive and critical on our everyday lives that it's pretty close to impossible to remember what life was like before it — probably just an endlessly frustrating series of ineffective on-site streams and 24-hour VH1 Classic marathons, just blindly hoping to catch the video for "Hungry Like the Wolf."
To commemorate the video-sharing service that changed our lives immeasurably for the better, we've collected a list — unranked, in alphabetical order — of our 100 all-time favorite performance clips available on the site. Some are full-set concerts, some are minute-long a capellas, some are done for full crowds in stadiums so massive they're impossible to capture entirely on camera, and some are done on empty streets for no one in particular. The only thing they all have in common is that they all feature some measure of live performing, and that we can't imagine a world in which any of them aren't available for our viewing pleasure with minimal effort at a second's notice. (And if you're mad about your favorite artist being left off, trust us, so are we. One hundred isn't as big a number as you might think.)
Enjoy, and if you're at work, try not to get to fired for attempting to watch all 100 at once.
1. The 100 Greatest Live Performances on YouTube
1/101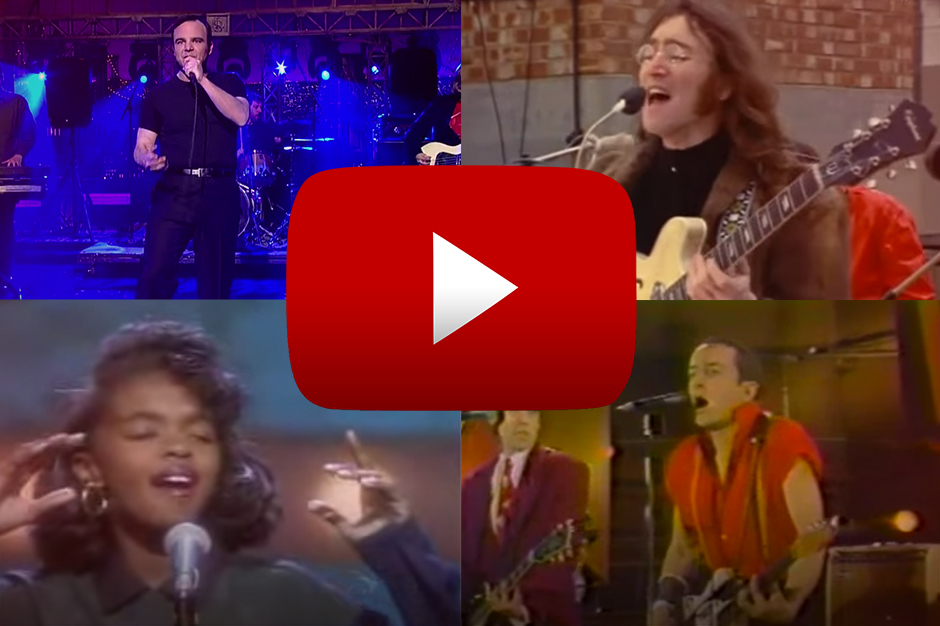 2. 2Pac, "Keep Ya Head Up" (Acapella at Marcus Garvey School, 1993)
2/101
California high school kids have probably been trying to get 2Pac lyrics accepted as poetry for Language Arts assignments for over 20 years now, but having Pac live in the classroom to rap them himself makes the case much more convincing. Shakur stopped by Marcus Garvey School in 1993 to talk to some kids, and ended up answering a student's question by reciting the entire first verse to "Keep Ya Head Up" a capella. That the clip remains as captivating and affecting than any proper live performance of the song you'll ever see is a testament to the rapper's insane charisma and ability to connect so personally with audiences of all ages, oozing stage presence even with no real stage to speak of. A.U.
3. Afghan Whigs, "When We Two Parted" / "Over My Dead Body" (Haldern Pop Fest, 2012)
3/101
During their first comeback tour, the Afghan Whigs — long one of rock's preeminent reinterpreters of popular song — started inserting teases of other well-known jams into the end of their own classics, paying tribute to both established classics and new favorites. None of these was more spellbinding than singer Greg Dulli's incorporation of the chorus to Drake's "Over My Dead Body" at the end of Gentlemen classic "When We Two Parted," taking an already stunning arrangement to the next level, and finding common ground across genres and generations like few of Dulli's '90s peers would ever bother to do. A.U.
4. Amy Winehouse, "Tears Dry On Their Own" ('Later with Jools Holland,' 2007)
4/101
There are countless videos of Winehouse stumbling around European stages, bottles in her hand, words slurred, bandmates looking on in dismay, but the soul singer's 2006 appearance on Jools Holland storied British music program stands apart from the rest. Her voice is at its hybrid smoky-clearest and her eyes are packed with focus and determination — though in true Winehouse fashion, her mascara is just the slightest bit blurred. The singer always knew how to make her fans feel, and her "Tears" performance shows that skill at its peak. BRENNAN CARLEY
5. Arcade Fire, "Rebellion (Lies)" (Madison Square Garden, 2010)
5/101
The summer after Arcade Fire released The Suburbs, the band only performed a handful of shows, including two headlining slots at New York's Madison Square Garden. Luckily for those who couldn't make it, the soon-to-be-Grammy-winning group organized a live-stream of the second show, which included a chilling, massively emotional performance of their 2004 song "Rebellion (Lies)." Lead singer Win Butler climbs into the crowd and flails about during the sweaty song. It's arena rock at its finest, without the bells and whistles but brimming with passion. B.C.
6. Beastie Boys, "White Shadow" ('The Scott & Gary Show,' 1984)
6/101
There's before-they-were-famous videos, and there's videos where a group that went on to be one of the best and most important artists of the post-punk era look like a bunch of dorky schlubs auditioning (unconvincingly) to play at your younger brother's Bar Mitzvah. That's the Beastie Boys here, still playing their own instruments, still with original drummer Kate Shellenbach on the skins, playing "White Shadow" on public access, sounding like a combination of all the worst elements of Public Image Limited and early Sonic Youth. Within a half-decade, three-fourths of these brats would be crafting Paul's Boutique, making this clip an endlessly fascinating teaching point on why you never judge anybody's potential until they're well out of their teens. A.U.
7. The Beatles, "Don't Let Me Down" (Apple Rooftop, 1969)
7/101
So little of the Beatles' musical legacy is live-based that 45 years later, it's still more than a little jarring to watch a clip of them simply performing one of their best songs live. The Fab Four's Apple rooftop performance would have become automatically iconic merely by being their first public performance in nearly a half-decade, but they also just sounded great — especially on "Don't Let Me Down," with John, Paul, and George's gorgeous three-part harmonies and late Fifth-Beatle candidate Billy Preston's lush electric piano giving folks all kinds of never-met expectations for the live experience the group could provide once the screaming of the young girls actually died down some. A.U.
8. Beyoncé, "Sex On Fire" (Glastonbury, 2011)
8/101
If you're a Beyoncé fan, you've inevitably fanned out over this explosive Kings of Leon cover, which Mrs. Carter tossed into her set list during her headlining Glastonbury slot in 2011. It's everything a cover should be, incorporating enough of the original track while allowing Beyoncé to put her own saucy stamp on it. The vocals are pristine, and the way that Bey writhes and prowls on the Pyramid Stage is the stuff of legend. And you can chalk those chills going down your spine up to her backup singers' impeccable harmonizing. B.C.
9. Blondie, "A Girl Should Know Better" (CBGB's, 1975)
9/101
Despite coming a couple years before the band hit it big, and featuring a song that was never really released, Blondie's 1975 CBGB's performance of "A Girl Should Know Better" is as clear an example of the group's draw — particularly that, obviously, of singer Debbie Harry — as you're likely to see. The song is hardly one of the group's best, but Harry dominates it with 100 percent confidence, alternately alluring and confrontational, demure and winking, girl-next-door and bad-ass pop diva in one. And after watching her in the undersized white shirt and necktie here, you can only imagine how she must have been rolling her eyes when Avril Lavigne came through. A.U.
10. Bo Diddley, "Hey! Bo Diddley" / "Bo Diddley" ('The Big T.N.T. Show,' 1965)
10/101
A bespectacled, duck-walking, pushing-40 Bo Diddley probably wouldn't be anyone's idea of a conventional heartthrob, but he sure got the girls screaming back in the day. The riotous crowd watching his two-song set here at The Big T.N.T. Show (sequel to the legendary T.A.M.I. Show flick from the year before) certainly had every reason to lose their shit, though — the strutting Diddley oozes rock and roll out of every pore, getting more out of one cha-chunked guitar chord than anyone else before or since. Watch the technique, indeed. A.U.
11. Bob Dylan & the Rolling Thunder Review, "Tangled Up In Blue" / "Isis" (1975)
11/101
The Rolling Thunder Revue tour of '75 and '76 remains one of the high-water marks of Bob Dylan's highly unpredictable career as a live performer, and the two songs shoehorned together in this clip do a pretty solid job demonstrating why. His "Tangled" is transfixing for every nervy guitar strum and inexplicably altered lyric ("Truck drivers' wives," now?), but the real highlight here is "Isis," for which Dylan goes full-on carnival barker in front of the band's thumping electric lurch, stress-squeezing his harmonica and yelping, "She said 'You gonna stay?' / I said, "If you want me to, YYYYESSSS!!!'" A.U.
12. Bobby McFerrin, Demonstrating the Pentatonic Scale (World Science Festival, 2009)
12/101
Bobby McFerrin's enduring reputation as the one-hit wonder behind "Don't Worry, Be Happy" significantly undersells his actual legacy in music, as a brilliant singer and percussionist, a ten-time Grammy winner and a general jazz and pop savant. You can see his genius far more acutely on display in this clip from the World Science Festival, in which McFerrin essentially plays the auditorium crowd like a piano, literally jumping from note to note as the crowd learns not only about the awesome power of the pentatonic scale, but how music is far more innate and unifying than we could possibly understand. Doesn't even need a whistle hook or a Robin Williams cameo to do it, either. A.U.
13. Boredoms, "Super Go!!!!!" (Fuji Rock Festival, 1999)
13/101
One of the most gonzo rock acts — if you dare even ascribe them a genre — of the last quarter-century, playing one of their most frenzied and incendiary tracks with all the reckless abandon that you'd hope and expect to see. Fretless bass, percussion as far as the eye can see, dreadlocked de facto frontman Yamakata Eye shrieking and leaping around like Jonathan Davis if he was at peace with his maker — the only thing this version of "Super Go!!!" is missing is an actual torrential downpour to hit the Fuji crowd when the figurative rainstorm of the main guitar riff lands about halfway through the song. A.U.
14. Bruce Springsteen, "Rosalita (Come Out Tonight)" (Arizona Veterans Memorial Coliseum, 1978)
14/101
When MTV needed some Bruce Springsteen to play in the pre-Born in the U.S.A. era, they turned to this blast of kinetic energy from the E Street Band's 1978 performance of then-signature live cut "Rosalita." It's understandable why: Bruce is in full fever throughout, whether taking a few minutes out to bark out introductions of his entire band, or fending off the cavalcade of female fans rushing the stage throughout to get a piece of the Boss. The vivacity of Springsteen's performances would stay fairly consistent for the next three-and-a-half decades, however, the security would improve dramatically. A.U.
15. Can, "Sing Swan Song" (Le Bataclan, Paris, 1973)
15/101
No amount of conventional structuring is a prerequisite for a Can jam, but the Krautrock pioneers were certainly capable of gorgeous songwriting when so inclined, as well-exemplified by the fluttering "Sing Swan Song." This performance of the song from 1973 blows the song out to double-digit-minute length, but keeps its warbly beauty in tact throughout its extended sonic explorations, sounding like a Santana incantation echoed from a couple of rooms (or planets) away. Woulda loved to have the verse come back one more time at the end, but beggars can't be choosers with these things. A.U.
16. Clara Rockmore, "The Swan" (1977)
16/101
Expert theremin playing is never not awesome to watch, and few were as masterful at it than Lithuanian thereminist Clara Rockmore. Not only is her performance of Camille Saint-Saens' "The Swan" stunning in its weeping beauty, but Rockmore herself is a transfixing watch, never changing her stoic demeanor or looking even the slightest bit impressed at her obvious virtuosity. A.U.
17. The Clash, "London Calling" / "Train in Vain" / "The Guns of Brixton" ('Fridays,' 1980)
17/101
The year 1980 was kind to the Clash. Once the punk pioneers released London Calling in the U.S., they came crashing through American television sets via cult comedy show Fridays with three full live tracks: "London Calling," "Train In Vain," and "The Guns Of Brixton." The performance is mighty entertaining, but its cultural significance is even more powerful: Punkers off the streets and on the TV box? Gosh darn kids… RACHEL BRODSKY
18. Cloud Nothings, "Wasted Days" (Lowlands, 2012)
18/101
Garage-punk kids Cloud Nothings look fairly unassuming in person, but once Dylan Baldi opens his mouth and shakes his hair in front of his eyes, all hell breaks loose on stage — and in the audience. Playing an epic 14-minute version of Attack on Memory anthem "Wasted Days," the young Cleveland-based outfit perform with a maturity that betrays their years and evokes images of post-hardcore staples like Jawbox, Small Brown Bike, and Texas Is The Reason. R.B.
19. Daft Punk, Complete Alive 2006/2007 Set (Coachella, 2006)
19/101
The live set that changed the direction and velocity of all electronic dance music, and made a whole lot of less-awesome DJs a whole lot of money about a half-decade later. Would be nice if Daft Punk would come back to do it again sometime. A.U.
20. David Bowie, "Rock 'n' Roll Suicide" (Hammersmith, 1974)
20/101
"This particular show will remain with us the longest... because not only is it the last show of the tour, but the last show that we'll ever do." Bold lead-in to a set-capping number, but Bowie more than earns it with his definitive performance of Ziggy Stardust closer "Rock 'n' Roll Suicide," from (indeed) his final concert with the Spiders, captured by D.A. Pennebaker for the great Ziggy Starudst and the Spiders From Mars concert film. Bowie's investment in the song, and Pennebaker's shooting his performance like there's not even a crowd present, gives the performance an electric intimacy, particularly on the Alien's unforgettable mid-song callout, "Oh no love, YOU'RE NOT ALONE!!" A.U.
21. David Tudor, "4'33" ('I Have Nothing to Say and I Am Saying It,' 1990)
21/101
"I have nothing to say, and I am saying it." Enough said. A.U.
22. DJ Shadow, "Organ Donor" (Brixton Academy, 2004)
22/101
You have to love that Shadow's "hit" is the third-shortest interlude on his magnum opus Endtroducing…. But you really have to love that he stretches it out live with appropriately teased individual notes of church-style organ "played" on his MPC, doled out one by echoing one before tearing back in with those gloriously preserved drum samples he perfected. DAN WEISS
23. Dolly Parton & Willie Nelson, Medley ('The Dolly Show,' 1987)
23/101
Part of Dolly's charm is undoubtedly her personable, little-girl-giggle approachability, a personality trait she brought to her criminally short-lived variety hour. Welcoming old Nashville friend Willie Nelson to the Dolly stage in '88, Parton, who once told CMT that "Singing with [Willie] was the hardest job I've ever had in my life," made gliding through duets of "On The Road Again" and "Crazy" look remarkably easy. R.B.
24. Elvis Presley, Comeback Special ('Elvis,' 1968)
24/101
There's a reason this televised concert — billed simply as Elvis when it debuted on NBC in December of 1968 — is known colloquially as "The Comeback Special." Filmed at a time when the King's career was in serious need of resuscitation, this 70-plus-minute broadcast reminded Americans why they swooned over the Mississippi-born multi-threat the decade before. Mixing in-the-round performances with elaborate dance numbers fit for a variety show, Elvis remains an intimate spectacle, anchored by a greatest-hits set list and a leading man who can howl, croon, and throw choreographed punches with the best of them. (And though his sex appeal may have waned a bit by '68, he could still hold a camera, no problem.) Legend has it that when the production was in its earliest of planning stages, Presley told an executive, "I want everyone to know what I can really do." After Elvis, they did. KYLE MCGOVERN
25. Eminem, Freestyle Compilation (Mid-'90s)
25/101
A collection of some of Eminem's pre-fame freestyles, showing the stage-stealing battle style that would inspire his filmic breakthrough 8 Mile at his commercial peak a decade later. It's all there already — the verbal dexterity, the too-timely pop culture references (Snoop Dogg's missing police files!), even the self-effacing racial humor ("My face is pale, you look like you've seen a ghost"). The only real difference is that Em hasn't looked this chubby — in a healthy way! — in about 20 years. A.U.
26. Fleetwood Mac, "Rhiannon" ('Midnight Special,' 1976)
26/101
Though each Fleetwood member gives their all on "Rhiannon," this performance really belongs to Stevie Nicks and Lindsey Buckingham. Encased in layers of black silk, eternal gypsy Stevie locks her eyes on the audience (when she's not sashaying across the stage, of course), while Lindsey carries the show home with a series of his trademark guitar riffs. R.B.
27. Fugazi, "Waiting Room" (Wilson Center, D.C., 1988)
27/101
Pretty much exactly how you'd want to see Fugazi's signature anthem performed: by four skinny, shirtless dudes in a D.C. club, zero separation between them and an audience looking ready to turn their stage into a mosh pit at a second's notice. The sound quality's not great, but it would seem pretty inauthentic if it was anyway. A.U.
28. Future Islands, "Seasons (Waiting On You)" ('Late Show With David Letterman,' 2014)
28/101
The performance that launched a thousand "But I've been listening to them since 2008!" claims. After flying mysteriously under the radar for years, soulful synth-pop Baltimore band Future Islands exploded into the mainstream, with a growling, chest-beating, chicken-dancing performance that resulted in Letterman himself exclaiming, "How about that? I'll take all of that you got!" We will too, Dave. R.B.
29. Grateful Dead, "Mountains of the Moon" / "St. Stephen" ('Playboy After Dark,' 1969)
29/101
For at least one episode of the sadly short-lived Playboy After Dark program, the Grateful Dead and their filthy-looking ponchos were deemed classy enough to stop by the Mansion and play a couple songs for the kids. Their performances of "Mountains and the Moon" and "St. Stephen" are lovely period treats, but the real joy here is in frontman Jerry Garcia's pre-show bantering with Hugh Hefner, explaining that the group's two-drum setup is for the purposes of "mutual annihilation... the serpent chasing its own tail" and answering Hef's question about the boys playing a couple songs with a jovial "Absolutely not!" There's a buddy comedy in here somewhere. A.U.
30. Guns N' Roses, "Nightrain (The Ritz, 1988)
30/101
"This is a song that's not dedicated to drinking or drug addiction or of any of that kind of stuff. This song's basically about a walk in the park." As good an intro as any for GnR's livewire performance of Appetite for Destruction highlight "Nightrain," filmed for MTV's Live at the Ritz concert series at the peak of the band's powers in 1988. They crackle with as much urgency and menace as they ever did, and no matter how many times you watch it, Axl's stealth costume change (from shirtless gutter rat to West Coast Rob Halford) still comes as a hilarious surprise. A.U.
31. Hüsker Dü, "Eight Miles High" (Love Hall, Philadelphia, 1983)
31/101
The Byrds, as you've never heard them before, with hardcore drums and sparks-flying guitar harmonics, performed amidst a fountain of moshing Philly punks. Bob Mould shouts the melody as if he's never heard of a melody. It's like the cold fusion of alternative rock. D.W.
32. Ike & Tina Turner, "Proud Mary" ('Beat-Club,' 1971)
32/101
Whether nice-and-easy or not-so-nice-and-rough, Ike and Tina Turner's live performances of their smash cover of CCR's "Proud Mary" were rarely less than spellbinding. This version of the song on the German TV program Beat-Club sees them in typically dynamite form, with coarsely soulful harmonizing, frenetic brass energy and of course, Tina's inimitable full-body go-go percolating. It's not exactly hard to see why Beyoncé hails her as queen. A.U.
33. Iron Maiden, "Iron Maiden" (Westfalenhallen, Dortmund, Germany, 1983)
33/101
"C'mere, Sunshine." Not like Iron Maiden's blistering set-closing run-through of their classic self-titled cut really needed any further climax, but any time you get the chance to see a legendary metal band de-braining and beating a gigantic, walking version of their iconic album-art mascot to death with their guitars, you pretty much gotta say go for it. A.U.
34. James Brown, "Night Train" ('The T.A.M.I. Show,' 1964)
34/101
The funniest part of this clip might be how the Hardest Working Man in Show Business starts out by imitating the routine of his backup dancers, like Superman pretending to be mediocre at basketball so he can fit in at a Daily Planet pickup game. Brown soon reveals himself to be backup to nobody, working his legs like Eddie Van Halen works a fretboard, exhausting everyone in the room except himself. By the second or third time he's dancing on one foot, it's oh, just stop it already. A.U.
35. Janelle Monae, Full Set (Made In America, 2012)
35/101
Watching the forever-pompadour'd Janelle Monae go ballistic onstage is so entertaining that for a minute you forget how impressive it is that she's basically the queen (er, Q.U.E.E.N.) of multi-tasking. Not only is she gyrating, rapping, and seamlessly throwing in Jackson 5 covers in to her Made In America set, but she's barely breaking a sweat. In a suit, no less. R.B.
36. Japandroids, "Young Hearts Spark Fire" (Hi-Dive, Denver, 2009)
36/101
The key to Japandroids has always been their lack of structural excess — just two guys, one on guitar, one on drums, both singing, usually in close proximity enough to one another that it looks like they might swap instruments mid-song. Like Kramer slicing the thinnest of deli meats in Seinfeld, there's nowhere for the flavor to hide, and this early performance clip of Post Nothing highlight "Young Hearts Spark Fire" is as perfect an illustration of that as any: all passion, urgency, and naive exuberance, and no room for filler even if they wanted. When the two unite on the pre-chorus "WOAHHHHH!!!" yelps, it's spine-tingling stuff. A.U.
37. Jay Z, "Grammy Family" Freestyle (Hot 97, 2006)
37/101
Jay's 2006 freestyle for Hot 97 over the beat to DJ Khaled's "Grammy Family" was so insanely fire that they were still playing it semi-regularly on the station a half-decade later. It's not just the lyrics ("76 floors you can call me the Doc," "Most kings get driven so insane / That they try to hit the same vein that Kurt Cobain did") that are ridiculous, but his ad-libs, his volume adjustments... even when he stops to explain his Julius Erving reference it's pretty great. The video doesn't add a ton to the experience, though the shots of the station producers shaking their heads in disbelief are pretty on-point. A.U.
38. Jayne County, "Are You Man Enough to Be a Woman?" (Max's Kansas City, 1979)
38/101
Thirty-plus years before there was Laura Jane Grace, there was Jayne County, the original transsexual punk. Her Television-esque jam "Are You Man Enough to Be a Woman?," performed here at Max's Kansas City, is an unjustly forgotten gem, but the real appeal of the clip is County herself, strutting, flexing, hair-flipping and collapsing all over the place. In a different time, she could have been as iconic as Debbie Harry or Joey Ramone. A.U.
39. Jerry Lee Lewis and Ruth Buzzi, "Breathless" ('Salute,' 1983)
39/101
Jerry Lee Lewis didn't exactly make his career on allowing himself to be upstaged as a performer, but he was pushing 50 by the early '80s, and not many men alive could have contended with the nutty energy of Laugh-In alum Ruth Buzzi on this TV performance. "Breathless" is certainly the right word for it, as between Jerry's typically gonzo piano stomping and and Buzzi's hilariously overpowering vocal and physical mania, there's not a ton of room for respiration here. The chemistry, though very weird, is undeniably scintillating. A.U.
40. Jimi Hendrix, "Star-Spangled Banner" / "Purple Haze" (Woodstock, 1969)
40/101
Just imagine waking up to this after three days of sex and drugs. A.U.
41. Johnny Cash & June Carter, "Jackson" (San Quentin, 1969)
41/101
Though it wasn't included in the original At San Quentin '69 recording, the Cashes' live rendition of "Jackson" is well worth a watch or two (or three) if only to witness the palpable chemistry between John and June. No need to worry about the "fire" going out here. R.B.
42. Joni Mitchell, "California" (BBC, 1970)
42/101
Just a girl, her dulcimer, and the Sunshine State. The instant connection achieved by Joni Mitchell on this solo BBC performance of her Blue classic is almost scary, her songbird voice piercing through the dark and silent set, and every strum and drum on her unfamiliar instrument — just watching that thing being played is fascinating — hitting in just the right way. Watching this once, it's pretty impossible to imagine listening to "California" any other way again. A.U.
43. Kanye West, "Diamonds from Sierra Leone" (Moscow Live8, 2005)
43/101
Long before 'Ye got his paws on a yeti mask encrusted with diamonds, or a gigantic mountain coated with fake snow, the rapper had to slum it like the rest of the normals with an average stage set-up, like the one he had during a performance in Moscow in 2005. Even then, you can sense the rapper's control: His violinists all have black bars covering their eyes, the color of which matches Kanye's oversized black jacket. Fashion aside (those sneakers doe!), his raps crackle with the passion of a "newbie" still trying to prove himself. It's Scream-Ye without Screech-Ye, all passion and explosiveness without the attitude. B.C.
44. KISS, "Deuce" (Winterland Ballroom, San Francisco, 1975)
44/101
Not quite the band's fire-breathing, blood-spewing peak as we imagine it — it'd be pretty hard for all that to translate in black-and-white anyway — but a lean, ass-kicking performance of one of their '70s best that gets to the root of why kids were so enthralled were their stage buffoonery in the first place. Besides, it wasn't all about the effects with these guys — Gene and Paul's stage tangoing is just as eye-catching, and Ace's "Yes, my axe is thiiiiiis long!" soloing is...well, it's memorable, anyway. A.U.
45. Lady Gaga, "Dance in the Dark" (O2 Arena, London, 2010)
45/101
People who suggest that Lady Gaga has lost her touch probably only think of it that way because of the massive pedestal she built for herself on 2010's "The Monster Ball" tour, a theatrical explosion of new-wave sets, gigantic keytars, "living" dresses, and art-house interludes. To kick things off every night, the pop star mashed up Cece Peniston's hit "Finally" with a throbbing house beat, which led into her Fame Monster highlight "Dance in the Dark." At this O2 date, Gaga does it best: oversized shoulder pads on, the singer ethers her vocals and sets the bombastic tone for the night. Less jazz, more this, please. B.C.
46. Lauryn Hill, "Who's Lovin' You" (Amateur Night at the Apollo, 1988)
46/101
Who dares boo 13-year-old Lauryn Hill at the Apollo? Whomever the parties responsible, they were properly shamed by the end of the future Fugee's performance of Smokey Robinson and the Miracles' "Who's Lovin' You?," as the young teenager overcomes a rocky start to show plenty of the flair, technique, and straight soul that would eventually make her one of the biggest stars of the late '90s. It was hardly the last time Hill would have to contend with haters, either, so it was good for her to get the reps early. A.U.
47. LCD Soundsystem, Farewell Show (Madison Square Garden, 2011)
47/101
Three-and-a-half years after attending LCD Soundsystem's farewell show, the one perk that continues to endure is being able to say — what else? — "I was there." The final performance by James Murphy and co. was teary, cathartic, and, for a little while, exclusive to everyone who had a ticket to get into Madison Square Garden on April 2, 2011. Since then, the "best funeral ever" has been packaged as a live album, chronicled for a documentary, and bundled into a DVD/Blu-ray. Luckily for all of the cash-strapped DFA nostalgists out there, the concert has also made its way onto YouTube. The three-hour-and-change run time may be demanding, but seeing the evening's final grace note — hundreds of white balloons raining down inside the World's Most Famous Arena during the final notes of "New York, I Love You But You're Bringing Me Down" — is well-worth the commitment. We should know; we were there, too. K.M.
48. Lil Wayne, "A Milli" (FNMTV, 2009)
48/101
The best rapper alive performing the best non-freestyled rap of said life, with the song's title flashed in a perpetual zoom in the background, reinforcing his hypnotic hold over the country at the time. From the sparse beat to the highway-hypnosis flow, it's Weezy's most wide-ranging crowd-pleaser that doesn't rely on Auto-Tune. And even though he makes it rain money on his fans, he don't O U like two vowels. D.W.
49. Little Anthony & the Imperials, "Two People in the World" (Rock and Roll Hall of Fame 25th Anniversary Concert, 2009)
49/101
The Rock and Roll Hall of Fame's 25th Anniversary concert was a virtually unparalleled collection of legendary music talent, with performances by everyone from Bruce Springsteen to Ozzy Osbourne to Stevie Wonder — and the show was still completely stolen by doo-wop survivors Little Anthony and the Imperials doing an a capella version of a B-side from 1959. Some 50 years past their prime, their harmonizing on "Two People in the World" here is still as textbook-perfection as it gets, Little Anthony somehow as strong on those high notes as ever. Even their swag was still on-point, Anthony backing out for the second bridge with the too-cool "Sing the song, y'all." A.U.
50. Liza Minnelli & Pet Shop Boys, "Losing My Mind" ('Wogan,' BBC1, 1989)
50/101
Liza Minelli and Pet Shop Boys' cover of showtune standard "Losing My Mind" should have been absolutely massive, with Liza's voice at its absolute sultriest twisting around the dueling synth waves of Chris Lowe and Neil Tennant. It wasn't, but at least we got this unforgettable British TV performance out of it, Liza seemingly having the time of her life with the obsession ballad, especially once she starts toying around with the straight-faced Lowe and Tennant, like a couple Buckingham Palace guards she just has to make break into a smile. Not too late for a 25th-anniversary reunion tour, y'know. A.U.
51. LL Cool J, "Mama Said Knock You Out" ('MTV Unplugged,' 1991)
51/101
The rare occasion where the acoustic version is more sinister than the original, with choppy guitar riffs lending a minor-key meanness to the original ah-ah-ah-ahhh vocals behind LL. There's an anti-crack chant at the end. And somehow the piano break that swipes from "Hard to Handle" makes the Black Crowes sound cool. Damage! Damage! Damage! Damage! D.W.
52. Louis Prima & Keely Smith, "Just a Gigolo" / "I Ain't Go Nobody" ('The Ed Sullivan Show,' 1959)
52/101
Before David Lee Roth stole it away from him for pretty much all time, jazz singer Louis Prima was the main proprietor of the "Just a Gigolo" / "I Ain't Got Nobody" medley. His bouncy — mostly literally so — sugar-rush performance of the song combo here makes Roth's admiration for it imminently understandable, though he never had a singing or comedic foil like wife Keely Smith, who Aubrey Plazas her way through Prima's performance, refusing to be impressed by any of his vocal scatting or cool-cat shuffling. Kudos to that trombonist, too, it's hard to sound good on one of those things while can-can-ing. A.U.
53. Mariah Carey, "Always Be My Baby" (Madison Square Garden, 1995)
53/101
It's not easy to hold the attention of an 18,200-person venue — let alone cause them to fall head over heels in love with you — but Mariah Carey makes this look incredibly simple while serenading Madison Square Garden with a touching rendition of "Always Be My Baby." A decidedly more fresh-faced Mariah is at her Mariah-est as she points to the audience, throws up a "diva hand," tosses stuffed animals out to the crowd, and just generally looks way more energetic than we've seen her in years. R.B.
54. Marvin Gaye, "The Star-Spangled Banner" (NBA All-Star Game, 1983)
54/101
One of Marvin Gaye's final televised appearances came at the 1983 NBA All-Star Game in California, where he eschewed the typical arrangement and style of National Anthem singers past for easily the silkiest reading of Francis Scott Key's 1814 jam yet, performed over a slow-and-low taped drum loop. Performed at a time when the NBA was just starting to hit his stride as the most faaan-tas-tic sports league around, Gaye's version became rightly iconic, still appearing in Nike hoop commercials a quarter-century later. There would never be another like it. A.U.
55. Metallica, 'Justice' Medley (San Diego Sports Arena, 1992)
55/101
"We've got quite a few long songs on that album, and we're gonna play them all tonight." James Hetfield doesn't quite make good on that threat here, luckily ("Fuck! We'd be here for another week!"), but instead treats the San Diego audience to four of the best ...And Justice For All long cuts in much more digestible medley form, hitting on "Eye of the Holder," "Blackened," "The Frayed Ends of Sanity" and the title track in one supremely righteous ten-minute ball-out. The hair-metal-like filming of the show, filmed for the smash live album/VHS set Live Shit: Binge & Purge, doesn't feel particularly appropriate, but watching Kirk and Lars making jerk-off motions to the cameras during Hetfield's endless preambling is always fun. A.U.
56. M.I.A., Kanye West, Jay Z, Lil Wayne & T.I., "Paper Planes" / "Swagga Like Us" (Grammys, 2009)
56/101
A one-time-only live assemblage of arguably the four biggest rappers on the planet at the time of the 2009 Grammys, dressed to the nines (that Weezy scarf!) and playfully attempting to one-up each other and prove themselves the hottest on the corner. They needn't had bothered — M.I.A., nine months pregnant and looking every hour of it, showed up to introduce "Swagga" via her own "Paper Planes," stealing the show before anyone else even showed up. No one might've had swagger like those four guys in '09, but Maya trumped 'em all. A.U.
57. Michael Jackson, "Rock With You" ('Diana!' TV Special) (1981)
57/101
There's nothing in this world quite like prime Michael Jackson, and his performance of disco-pop masterpiece "Rock With You" on longtime friend Diana Ross' 1981 TV special is about as peak MJ as it gets. The singing is predictably heavenly — though not so immaculate that it comes off as lip synching — and Michael's dancing, in a white suit with a sequin shirt, is every bit as smooth as the song feels. An identically dressed Diana even joins him for an encore of this one, approaching on creepy in her obvious envy. "Diana, you've got plenty of hits of your own!" Jackson reassures. "Yeah, but I want your hits!" Understandable. A.U.
58. The Monks, "Monk Chant" (German TV, 1965)
58/101
Yes, 1965 is pretty early to even be considering anything proto-punk, but it's hard to know what else to consider The Monks' '65 visit to German television. The group of American GI ex-pats spend a little less than a minute of playing something that vaguely resembles a pop number, before letting the drummer hold the fort while the rest of the quintet fiddles around atonally on the same guitar, jumping back for a final refrain that just confuses things even further. The songs would get better, but the energy and excitement was rarely duplicated. A.U.
59. Motley Crue, Tommy Lee Drum Solo (Tacoma Dome, 1987)
59/101
"HERE I COME, TACOMA!" There was no better visual metaphor for late-'80s hair metal's thoughtless excess than Motley Crue drummer Tommy Lee and his preposterous, 360-degree-rotating drum rig, and no more gleeful experience than listening to Lee's peerlessly un-self-conscious narration while watching the thing tumble ("And in this fucking dream I had, man, I thought, FUCK, wouldn't it be cool to go just a little bit... TO THE RIGHT!!"). Taking place in Tacoma just makes it 20 times more hilarious, for whatever reason. A.U.
60. My Bloody Valentine, Full Set (Liberty Lunch, Austin, 1992)
60/101
Sometimes "live" means "earthbound." At this 1992 MBV show, Loveless no longer sounds like the work of extraterrestrials, not with scrapey garage drums behind it and guitar effects phasing in slightly out of time; it sounds like human beings executing real chops. Those forever-aqueous vocals are a whole different story. D.W.
61. Neil Young, "Cortez the Killer" / "Old Laughing Lady" (Glasgow, 1976)
61/101
As a musician, it's not every day that you get to busk the streets of Glasgow and then perform at the Apollo (R.I.P.), but if you're Neil Young circa '76, then this really is no day out of the ordinary. We're frankly surprised April 2 hasn't gone down as "Neil Young Day" in Scottish history (hint). R.B.
62. New Order, "Temptation" (Taras Shevchenko, 1981)
62/101
New Order's 1981 performance at Taras Schevchenko in the East Village is seen as a pivotal moment in the band's chronology, one of the gigs where they found their voice away from the looming specter of Joy Division. Their early run through eventual new-wave classic "Temptation" is the key moment: The song's not all the way there yet, or even close, really, but amidst the spiky, percolating synths and gorgeously reassuring bass, you can feel the spark starting to grow of the group that would soon become one of the decade's most important; the raw thrill of greatness starting to be realized. The lyrics could come later. A.U.
63. Nicki Minaj, "Flawless (Remix)" (iHeartRadio Music Festival, 2014)
63/101
In September 2014, Nicki Minaj swept through Las Vegas for a quick iHeartRadio Festival performance that included the live debut of her stunning "Flawless" remix verse. About halfway through, someone working the decks messed up the song's instrumental, and it abruptly cut out. "Do we have a problem, iHeart?" Nicki asked with a giggle, adding quickly, "because I can rap it a cappella." And oh, how she rapped it a cappella. Her tongue flies faster than the human brain can understand as she bodies her final verses on the track. It's a feat that needs to be seen. B.C.
64. Nina Simone, "Feelings" (Montreux Jazz Festival, 1976)
64/101
Morris Albert's 1975 easiest-of-listening hits "Feelings" hardly seems like an obvious choice of covering for a song reinterpreter as substantive as Nina Simone, but goddamn if the legendary singer doesn't find the cruel devastation and bleeding heart at the center of Albert's woah-oh-oh hit in this Montreux performance. Simone herself seems to be feeling the song a dangerous amount, so much so that it feels uncomfortable to watch during the song's extended a capella intro and free-associative outro. No wonder the audience needed prompting to start clapping. A.U.
65. Nirvana, Full Set (Reading, 1992)
65/101
Nirvana's MTV Unplugged appearance is great and rightfully beloved and all that, but it also plays into the tragic narrative that haunts the band, with moments of beauty and humor but also an overwhelming sense of impending finality. By contrast, the trio's other major, myth-fueling performance — their 1992 headlining turn at England's Reading Festival — sounds full of life. There's Kurt Cobain's infamous entrance, rolled onstage in a wheelchair wearing a hospital gown, a playful eff-you to answer the gossip swirling around the group and his health at the time. There's the knowing self-mockery of bleeding a riff on Boston's "More Than a Feeling" into "Smells Like Teen Spirit." There's Kurt dedicating "All Apologies" to his then-12-day-old daughter and asking the entire audience to say, "Courtney, we love you!" And there's the sheer amazement that comes from seeing a truly great band deliver a powerhouse set — three guys coating a field of thousands with a blend of melody, distortion, sarcasm, and heart. K.M.
66. The Notoroious B.I.G., Bed-Stuy Freestyle (1989)
66/101
The most commanding voice in rap just as he was hitting his stride — already funny as shit, too. But his overarching, smooth-suited presence hadn't formed yet, so what we're seeing is the pre-Myth Biggie, the one who couldn't picture a Sega Genesis and rushed home after this to catch Mr. Magic on WHBI. D.W.
67. Oasis, Full Set (Knebworth, 1996)
67/101
For a group of working-class kids from Manchester, breaking box-office records to play a pair of sold-out shows in front of 250,000 people must've seemed impossible. But that's exactly what Oasis pulled off at England's Knebworth House in 1996. The landmark two-night stand came at a time when the five-piece, led by the brothers Gallagher, was at its absolute peak. Watching Noel Gallagher perform unimpeachable B-side "The Masterplan" is just as stirring as the thousands-deep "Wonderwall" sing-along that comes immediately before. Unfortunately, the Knebworth gigs proved to be a pinnacle the band couldn't hope to match: Even then-rhythm guitarist Paul "Bonehead" Arthurs has said they should've called it quits as soon as they walked off the stage. For much of their 18-year tenure, Oasis claimed they could do no wrong, and for at least two nights in '96, they were right. K.M.
68. Otis Redding, Full Set (Monterey, 1967)
68/101
The last performance of the famous 1967 festival, and one of the final performance of the legendary singer's life, Otis Redding's set at Monterey Pop was supposed to be his star-making turn, establishing him as a crossover act and a performer to rival any of his '60s peers. It may have endured as such, had the singer not died in a plane crash later that year, but at least the gig remains viewable in full, its unceasing momentum showcasing Redding as one of the most vital live acts of his era, running through a handful of covers and originals with the investment of a man who doesn't necessarily expect to make it to the end of his set. A.U.
69. Owen Pallett / Final Fantasy, "This is the Dream of Win & Regine" (Alchemize, Cincinnati, 2006)
69/101
You might think you know string virtuosity, but wait till you watch Owen Pallett, here under his Final Fantasy pseudonym, synthesizing a handful of electric violin loops (including pizzicato plucks, rapid-fire spiccato, and traditional bowing) into a hypnotic live beat for him to sing and play even more violin over. Even if you don't like the song — and the song is pretty damn haunting for a ballad about a couple Arcade Fire members — even Yngwie Malmsteen would have to be absolutely stunned by the technique. A.U.
70. Parliament, "Flash Light" (Houston Summit, 1978)
70/101
Parliament weren't great party music, they were just great parties, period, with enough people and enough fun happening on stage that they could've played sets for totally empty auditoriums and it probably wouldn't even have seemed that weird. "Flash Light" was the perfect in-concert jam for them, a song you could focus on for about a minute of squawking synths and the Mothership taking flight, and then just boogie around the stage and shoot bop guns at people for however long the crowd was feeling it. Usually a pretty long time. A.U.
71. Patti Smith, "Kimberly" (CBGB, 1979)
71/101
Patti Smith is the type of performer who'll be doing live shows and poetry readings until her last day on earth, and god bless the legendary rock goddess for it. Her 1979 performance of "Kimberly" at CBGB demonstrates the singer's understanding of how she can manipulate her voice in baffling ways. At parts, it howls. Other times, Smith peppers the track with angsty drawls. Though it doesn't quite live up to her cover of Rihanna's "Stay" (we kid, it trumps it a thousand times over, but how can we deny either), it remains one of her most powerfully triumphant appearances on the live stage. B.C.
72. Pearl Jam, "Porch" (Pinkpop Festival, 1992)
72/101
Eddie Vedder's set-climbing and stage-diving were an integral part of Pearl Jam's early stage antics, establishing him as a man of the people and giving the band's sets a climax that left both and audience appropriately on-edge throughout. "Porch" at Pinkpop '92 wasn't Vedder's all-time gnarliest dive, but it came at a sort of breakthrough moment for the band, and in the midst of one of their most captivating performances, the entire band in an intoxicating frenzy and Eddie looking and vamping at his all-time grungiest. Some crazy beautiful guitar-face from Stone Gossard on that solo at 2:43, too. A.U.
73. Pere Ubu, "Breath" ('Night Music,' 1989)
73/101
A little jarring to see a band as weird as avant-punks Pere Ubu playing a song this conventionally satisfying; take out those fluttering UFO synths in the background, and "Breath" could practically be a Rick Springfield jam. "Breath" remains essential viewing because of the interminably anxious presence of singer David Thomas — twitching, flailing, constantly beating his chest — giving the song and performance an oddly thrilling tension, and ensuring the band could never get that popular. Probably for the best. A.U.
74. The Police, "So Lonely" ('Beat Club,' 1978)
74/101
As with Bono and Rod Stewart, a certain cross-section of this generation isn't entirely sure why Sting is so beloved in the first place. Well, because Stewart Copeland wasn't the singer. (On this evidence anyway.) The group's bullet-train Beat-Club performance also forces us to think about what might've been if the Police remained so… punk? Nah, the guitar solo's too fancy. Thank you Andy Summers, that was a close one. D.W.
75. The Pretenders feat. Shirley Manson, "Talk of the Town" (VH1 'Decades Rock Live,' 2006)
75/101
Excuse us as our tongues loll out of our heads at the sight of Chrissie Hynde and Garbage frontwoman Shirley Manson performing "Talk of the Town" together onstage, a moving rendition of the Pretenders classic only enhanced by Manson's obvious longtime affection for her musical idol. Chrissie has a brief fangirl moment herself, exclaiming "Mamasita!" at the sight of Shirley in hot pants and all-black eyeliner. Excuse us, we have a cold shower to take. R.B.
76. Prince, Michael Jackson, and James Brown, Improvised Jam (Beverly Theater, Hollywood, 1983)
76/101
This video, above all others, is the one that YouTube was invented to provide a home for. A.U.
77. Public Image Ltd., "Poptones" / "Careering" ('American Bandstand,' 1980)
77/101
Forget Joan Rivers and Hüsker Dü. This, my friends, is the funniest meeting of TV host/bizarro musical guest ever. "This is something interesting and special," quoth Dick Clark. "Ladies and gentlemen, please greet Public Image Limited!" And that's before John Lydon pulls cheering women out of the crowd to bring them… no place in particular. He just kind of lets go of their hand and leaves them around various points of the soundstage. For "Careering" the crowd attempts to dance and clap, to hilariously awkward results out of sync with Lydon's moans. Stick around for all ten minutes to hear Jah Wobble introduce himself as the Jah Wobble. D.W.
78. Pulp, "This Is Hardcore" (Radio City Music Hall, 2012)
78/101
Just before launching into the lyrics for "This is Hardcore," Jarvis "I'm too sexy for my specs" Cocker essentially gives every person in Radio City Music Hall a rather sensual lap dance as he gyrates offstage and slinks his bum along the venue walls. A middle-aged British chap with glasses has never looked this seductive. R.B.
79. Queen, Full Set (Live Aid, 1985)
79/101
For their contribution to 1985's super-charity Live Aid concert, Queen packed a headline-worthy performance into a finely tuned 20 minutes, opening with a portion of "Bohemian Rhapsody" and closing with "We Are the Champions" — as bold and inspiring as a set of bookends can get. In between, master showman Freddie Mercury strutted and fist-pumped through a never-better "Radio Ga Ga" and cast a spell over 72,000 people at England's Wembley Stadium. Witness it — and a rendition of Queen's "Is This the World We Created?" done by Mercury and guitarist Brian May later that same day — to see how stadium rock deserves to be done. K.M.
80. Radiohead, Full Set (Glastonbury, 1997)
80/101
Roughly a month after OK Computer arrived and delivered far beyond the promise of 1995's The Bends, Radiohead took the stage for the 1997 installment of England's Glastonbury Festival. Seventeen years later, the Oxford lads' performance feels both masterful and quaint. The title of Important Rock Band suits the ambitious quintet better than one would remember or assume — there's still an alluring gravitas to their strobe-lit, guitar-powered symphonies — but this clip catches the group at a time when their most daring artistic choices lie ahead of them. In June of '97, fans had no choice but to settle for an airtight collection of incredible rock songs played extremely well. K.M.
81. Rahsaan Roland Kirk, "Volunteered Slavery" (Montreux, 1972)
81/101
The list of jazz musicians who could watch a Rashaan Roland Kirk video and not feel disgustingly lazy is not a long one. Over the course of "Volunteered Slavery," Kirk plays a couple different saxes (sometimes at the same time), a gong, a conch, and, uh, if he counts breaking a chair as playing an instrument (probably does), he plays that too — all without losing the crowd or the funk. How we never voted this guy president before he died of a stroke (after a performance, natch) in 1977 is one you'll have to explain to us. A.U.
82. The Ramones, "Now I Wanna Sniff Some Glue" / "I Don't Want to Go Down to the Basement" / "Judy Is a Punk" (CBGB, '74)
82/101
Three Ramones classics, a couple years before they'd appear on the self-titled debut that would change the course of underground rock. The most remarkable thing about this clip isn't the songs, though, or the fact that they're being played for what appears to be about a dozen people in the club that they'd come to practically define, but that in '74, singer Joey Ramone was still wearing leather pants, preening like David Johansen of the New York Dolls, and even affecting a British accent. Lucky for us he got all that out of his system in time. A.U.
83. Rage Against the Machine, "Bullet in the Head" (BBC, 1993)
83/101
The official music video for Rage Against the Machine's 1992 salvo "Bullet in Your Head" is actually a live video filmed for the BBC's now-defunct Late Show. Set in a warehouse, the grainy clip plays like a post-apocalyptic transmission; the revolution has already gone down, and RATM are here to establish the new world order. Welcome to a reality where rap and metal have fused into a newly mutated form, the guitars blare like air-raid sirens, and the man with the microphone deploys throat-shredding screams, not rhetoric. K.M.
84. The Roots, Black Thought Freestyle With ?uestlove (1994)
84/101
Black Thought rarely seeks the camera's attention now like he did in this ultra-charming glimpse of his early bond with ?uestlove, who was his silent anchor even then, holding the beatboxing down with his mouth and no kit. As for the perennially underrated rapper: "I am the kid that got the speech you can't impeach!" By the time ?uest just starts calling out random phrases for him to freestyle about, it's almost unfair. D.W.
85. Rush, "YYZ" (Maracanã, Rio, 2003)
85/101
You just haven't heard Rush's "YYZ" instrumental until you've heard tens of thousands of rowdy Brazillians turning into the first-ever instrument prog-rock soccer chant. Trust. A.U.
86. Sheila E, "The Glamorous Life" (American Music Awards, 1985)
86/101
Few moments in '80s pop were as thrilling as when Sheila E would get behind her drum set. The Prince percussionist (and eventual Magic Hour bandleader!) tears it up a little in the intro to and between the verses of her still-a-total-jam signature hit "Glamorous Life" here, but once she gets adorned with her fur-coat cape (a la James Brown) and really gets going with the glow-in-the-dark drumsticks, that's when shit gets real. Not many of the Purple One's acolytes could match him in terms of showmanship, but Sheila certainly had her moments. A.U.
87. Skrillex, "Scary Monsters and Nice Sprites" (Villa Nightclub, Perth, Australia, 2012)
87/101
This joyous performance of the brostep inventor's greatest hit is the heartwarming story of a man and his bewubbed sound effects. And when he finally dives into the pit, it's a DJ stint that even Jet could love. D.W.
88. Sleater-Kinney, Full Set (Lollapalooza, 2006)
88/101
The world's best rock band at the time went out at the peak of their powers, and you can hear it in front of their biggest crowd ever. They start with "The Fox," their loudest album opener, and progress to "Start Together," their mellowest. As if to quickly illustrate their range before zigzagging crooked, perfect riffs, and howls across it for the next 53 minutes. D.W.
89. Sly & the Family Stone, Hits Medley ('The Ed Sullivan Show,' 1968)
89/101
"Don't hate the black, don't hate the white. If you get bitten, just hate the bite." Actual scientific fact: No one dislikes Sly and the Family Stone. No one. (Racists don't count.) D.W.
90. Sonic Youth, "Expressway to Yr Skull" ('1991: The Year Punk Broke')
90/101
"Tonight, I am going to defecate onstage," responds Thurston Moore while interviewing himself in The Year Punk Broke. Interviewer Thurston responds, "Well there's a fine line between clever and —" and then it cuts right to "Expressway to Yr. Skull," which lord knows is the only power ballad to begin with "We're gonna killlll the California girls." Moore shushes everyone for the big quiet pause before "…to your skull," when everything jagged and whirling about this band comes back rushing in for six minutes of junkyard feedback and amp noises reminiscent of an entire factory being impounded into a trash compactor. Since nothing can possibly follow it, the documentarians roll the credits. D.W.
91. Stevie Wonder, "1, 2, 3, Sesame Street" (1973)
91/101
We don't necessarily remember the Sesame Street theme song having so much talkbox or vocoder on it, but then again, we certainly don't remember "Happy Birthday" being so damn funky, so maybe it's best not question Stevie's interpretations of these things. A.U.
92. The Stooges, "TV Eye" / "1970" (Cincinnati Pop, 1970)
92/101
Some artists just aren't for casual fans. That might've included Iggy & the Stooges back in 1970, as one middle-aged reporter's coverage of band's Cincinnati concert — which, of course, included a shirtless Iggy shaking his ass all over the stage, then depositing himself in the crowd at various points throughout the two songs — who couldn't quite seem to get a handle on the singer's stage antics, incredulously calling the play-by-play of Pop's crowd-surfing attempts. His disbelieving "That's peanut butter!" exclamation once Iggy starts smearing himself with the stuff is probably what inspired the Quincy punk episode a decade or so later. A.U.
93. Thin Lizzy, "Cowboy Song" / "The Boys Are Back in Town" (Sydney Opera House Steps, 1978)
93/101
Two of Thin Lizzy's greatest songs played back-to-back, with the appropriately epic setting of the stairs to the Sydney Opera House, and one of the great inter-song transitions in rock history connecting them. You can't get a big enough smoke explosion to properly underscore the awesomeness of that moment. A.U.
94. Tom Petty, Prince, Steve Winwood, Jeff Lynne, and Dhani Harrison, "While My Guitar Gently Weeps" (Rock and Roll Hall of Fame, 2004)
94/101
Two fellow Traveling Wilburys, his longtime rock-star buddy, and his son assembled to properly (albeit posthumously) induct George Harrison into the Rock and Roll Hall of Fame with a powerful performance of the Harrison-written Beatles classic "While My Guitar Gently Weeps." Despite all the long-time love for George among the performers, the show was very clearly stolen by the man who probably knew him least — Prince, whose old bandmates said even hated the Beatles. You wouldn't know it from his solo here, one of the most searing things the Purple One has ever done, and as fitting a George tribute as you could ask for. Dhani Harrison looks fucking pumped to be in on this one, and you can't hardly blame him. A.U.
95. Tool, "Aenima" (Convetional Hall, Asbury Park, NJ, 1997)
95/101
Turns out, a man bellowing out "LEARN TO SWIM!" an infinite amount of times over tribal drums and thudding bass is about a thousand times creepier when he does so only his boxers (for no clearly evident reason). Tool shoulda put Maynard in their videos after all. A.U.
96. Tyler, the Creator and Hodgy Beats, "Sandwitches" ('Late Night with Jimmy Fallon,' 2011)
96/101
Offline America's first taste of rap's first true superstar punks, Odd Future, with the Roots' ominous tuba taking over for the seasick DIY synths, and Tyler in green Antichrist ski mask. And that's just before the second chorus, where a very good show explodes into the most hyperactive rap performance televised in years, with Tyler diving offstage, into Jimmy's desk and jumping over his bewildered guests, finally piggybacking onto the host himself at the end. If the entire Odd Future crew never rapped another four-letter word after this performance, their place in history would be secure. D.W.
97. U2, "Sunday Bloody Sunday" and "Bad" (Live Aid, 1985)
97/101
Another Live Aid classic, the above U2 clip contains two all-time highlights from the Irish titans' career — "New Year's Day," off of 1983's War and "Bad," taken from 1984's The Unforgettable Fire. Actually, make that three highlights: At the 13:00 mark, a mulleted Bono beckons a fan to crowd-surf over to him, possibly saving her life in the process, and the two slow-dance in front of a packed Wembley Stadium. A genuinely touching moment, it's a time-capsule gem from when the singer's grandstanding was most potent. K.M.
98. Van Halen, "Unchained" (Oakland-Alameda County Coliseum Arena, 1981)
98/101
One of the only Van Halen songs that could truly be described as menacing, Eddie invented Alice in Chains with that dark, stirring chuggle riff as surely as any Seattle sound. But that's where the similarities end between David Lee Roth and any hard rock that plays by the rules. The moment when fringe-panted Roth shouts, "We love ya people!" while Eddie doodles some brief fusion thing pretty much sums up Van Halen as well as anything. Well, that and the flaming gong. D.W.
99. The White Stripes, "Icky Thump" (Hyde Park, 2008)
99/101
When you think about it, it becomes impossible to choose just one Jack White performance to represent the guitarist's incredibly prolific career, but his 2007 Hyde Park gig with the White Stripes stands out, "Icky Thump" in particular, because of the unbridled fury the duo unleash on their instruments. Bathed in red light, Jack and Meg don't break their blistering intensity for a second. It's breathtaking professionalism at work. B.C.
100. Wu-Tang Clan, "Triumph," "It's Yours" & "Older Gods" ('VIBE,' 1997)
100/101
The horrifically dated flame effects are a distraction, for certain, but if you can get past those, you get the Wu at the height of their infamy on the short-lived VIBE TV show. The Clan performs three of Wu-Tang Forever's most hype cuts with typical strength-in-numbers bluster, looking ready to jump out of your TV screen and into your living room, where they'll eat all of your Chinese leftovers and steal your seat even after you call fives. And at the end, they go waterskiing with Rashida Jones in Hawaii. Really! A.U.
101. Yello Magic Orchestra, "Tighten Up" (Budokan, 1980)
101/101
For the encore to their triumphant, epochal performance at Budokahn — at a time when mania over them in Japan was Beatles-esque — synth-pop pioneers Yellow Magic Orchestra celebrate by lining up in a row and shuffling awkwardly to their singular rendition of Archie Bell & the Drells' "Tighten Up," having more fun doing so than we have ever experienced in our respective lives. It's one of the craziest, giddiest things you'll ever see, even before the video hits fast forward out of nowhere halfway through and plays at 2x for the final minute. That's how it must have felt to watch it at the time anyway. A.U.