U2's Songs of Innocence wound up in iTunes users' music library whether or not any of them actually wanted it. Odd Future figurehead Tyler, the Creator, for one, eloquently expressed his dissension thusly: "ITS LEGIT LIKE WAKING UP WITH A PIMPLE OR LIKE A HERPE … GET OFF MY FUCKING PHONE." Well, he should be happy because Apple customers are now able to eject Bono and Co. from their cloud.
As Brooklyn Vegan points out, the company has created an entire page dedicated to that very act. The "SOI Removal" function is about as barebones as it comes. It looks like this: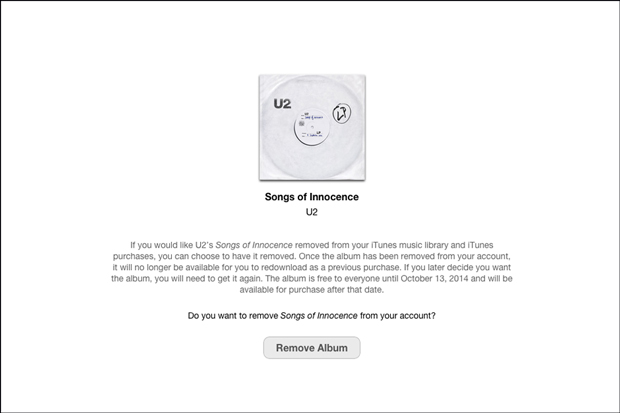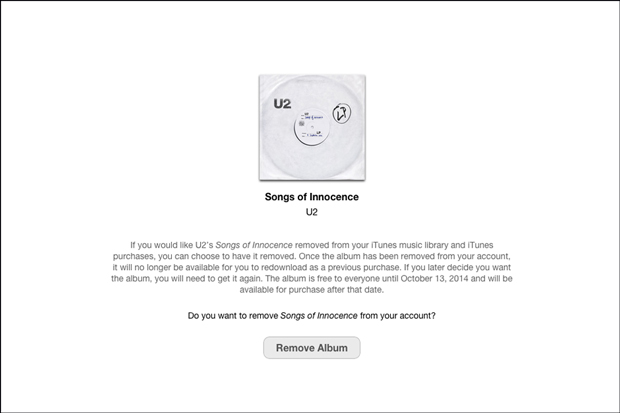 Don't wanna squint? No sweat. Here's the fine print:
If you would like U2's Songs of Innocence removed from your iTunes music library and iTunes purchases, you can choose to have it removed. Once the album has been removed from your account, it will no longer be available for you to redownload as a previous purchase. If you later decide you want the album, you will need to get it again. The album is free to everyone until October 13, 2014 and will be available for purchase after that date.
Perhaps Apple's hoping users will click and then have non-buyer's return remorse, only to re-purchase Songs of Innocence in a month. We're sure they wouldn't mind making back a little of the $100 million they allegedly spent on the deal.