Snoop Dogg has joined the ranks of celebrities like Chris Brown and CeeLo Green — music-making men who should reconsider posting to social media late at night. Early this morning, the California rapper allegedly posted a snapshot to his Instagram of a male follower embracing another man in bed, with the caption "U n ya boyfriend since u like Jumpn on my page disrespectin bitch boy go suck ya man n get off my line f. A. G."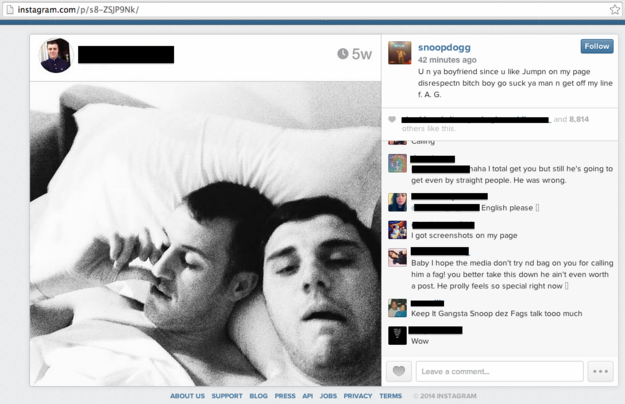 Snoop (or a member of his team) deleted the post within a half hour, as well as the subsequent tweet that linked to the Instagram shot, but crafty Internet users screenshotted both (via Buzzfeed) before they could be permanently erased. Snoop's homophobic comments come two weeks after Green took to Twitter to debate the meaning of sexual consent.
Snoop has yet to address the posts, but below you'll find the corresponding tweet, as well as some ambiguous "messages" sent from the rapper's Instagram two hours ago.
The tweet: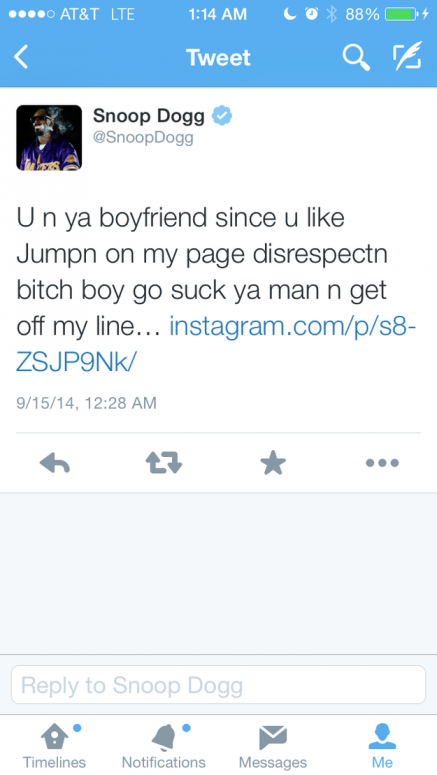 Subsequent Instagram posts: