Royksopp Plan Classy Bow-Out With Final Album, 'The Inevitable End'
Because after you release an EP with Robyn, there's nowhere to go but down
If you're going to get out of the game for good, a fine way to have ended your band is by working alongside Sweden's reigning pop princess, Robyn. Knowing there was probably nothing more bombastic they could do after releasing their Robyn-assisted Do It Again EP, Röyksopp has announced plans to release their final album, The Inevitable End, on November 11 via Cherrytree/Interscope.
Here's what the Swedish electronic group had to say about the LP, according to Pitchfork:
With The Inevitable End we've moved into a darker subject matter, with emphasis on the lyrical content. This candid approach feels very both personal, sincere and conclusive…With this album it became clear we wanted to make an album in a classical sense even if it's the last one we make…We feel like this is a goodbye to the traditional album format. In our consecutive run of albums, we have been able to say what we want to say and do what we want to do with the LP. We're not going to stop making music, but the album format as such, this is the last thing from us.
In conjunction with their announcement, Röyksopp have shared the album's rubbery first single, "Skulls," a preview of which can be streamed below. The Inevitable End will also include a rework of Do It Again cut "Monument," which features Robyn as a vocalist. That song, and the album's track list, are also below.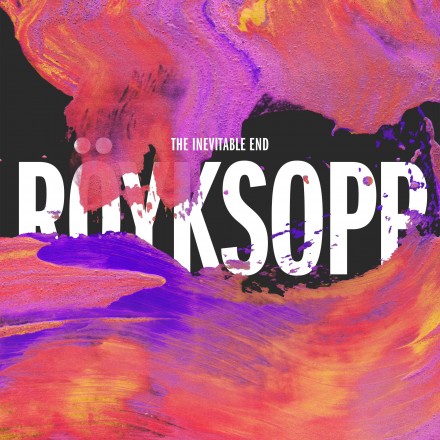 Röyksopp's The Inevitable End track list:
"Skulls"
"Monument (T.I.E. Version)"
"Sordid Affair"
"You Know I Have To Go"
"Save Me"
"I Had This Thing"
"Rong"
"Here She Comes Again"
"Running To The Sea"
"Compulsion"
"Coup De Grace"
"Thank You"
"Do It Again (RYXP Version)" (Bonus Track)
"Goodnite Mr. Sweetheart" (Bonus Track)
"Caramel Afternoon" (Bonus Track)
"Oh No" (Bonus Track)
"Something In My Heart" (Bonus Track)