As you might have heard, Russia isn't exactly the most transparent of countries when it comes to government dealings, the criminal justice system, and the media. Pussy Riot have been on the receiving end of Russia's corrupt war on free speech and harsh prison conditions — and authorities denied both through state-run media outlets.
With that in mind, Pussy Riot's two most prominent members, the formerly jailed Maria Alyokhina and Nadezhda Tolokonnikova, have launched their own media company, MediaZona, to cover the country's government, law enforcement, courts, prisons, and everything else that other outlets are barred from objectively reporting about.
"Since our release from prison six months ago we've felt that Russian media are no longer able to cover what is going on," Tolokonnikova said in a statement. "Because of the heavy censorship by authorities there is no space for anything in the media that criticizes Putin's policies and tracks human rights abuses by Russian courts and law enforcement. Courts, prisons, arrests, convictions, riots in facilities, political criminal cases, crimes by law enforcement officials — our new media outlet will try to cover it all."
"There is hardly any political issues left in Russia outside of courtrooms — and there is a great need for transparency and media coverage of things that are happening down there, so we hope that MediaZona will help close that gap and change the face of independent Russian media," added Alyokhina.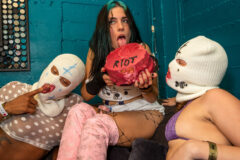 Journalist Sergey Smirnov will serve as editor-in-chief, and both Alyokhina and Tolokonnikova will be among the contributors. "We love to write, and we hope that if we do it well enough our editor-in-chief Mr. Smirnov will kindly allow us to be published in Mediazona too (kidding!)," the latter said.
We're gonna go out on a limb here and say that Mediazona might be a good place for some insight into Pussy Riot's Court of Human Rights lawsuit against Russia. Just a hunch.