My Bloody Valentine are now giving college kids something more than a seminal, stoned, mind-expanding listening experience. The Irish quartet's frontman Kevin Shields has just announced a new scholarship program at BIMM Dublin that will cover the cost of a three-year bachelor's degree in music production.
The Kevin Shields Music Production Scholarship arrives as the university adds the corresponding degree to its offerings, Consequence of Sound reports. The gift covers a yearly tuition of €5,950 (roughly $7,700) for one lucky student. And though its name is not as catchy as the Sub Pop "Loser" Scholarship that's been going on since 2007, we're sure it'll provide some good opportunities for young artists.
"It's a good opportunity for a young producer to learn all about sound and techniques, it's a cool course," Shields said in a statement via BIMM.
Aside from My Bloody Valentine's three LPs, Shields' own production credits include work by Dinosaur Jr., Primal Scream, and Mogwai.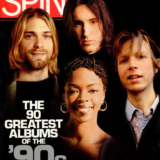 More information on the scholarship is available here. Interviews for the upcoming school year have already been completed and course enrollment begins September 15. Applications for 2015 entry begin in November. Meanwhile, hopefully, MBV will be hard at work on some new material.