Take a look at any singles chart or turn on any Top 40 radio station: It's impossible to deny that the U.K.'s grip on pop music is tightening, and the mainstream is starting to take notice. Ariana Grande and Nicki Minaj hopped on "Bang Bang," the modern-day "Lady Marmalade," with British singer Jessie J; London-based singer Rita Ora is on the hook of Iggy Azalea's "Black Widow" single; and just this month, Mary J. Blige announced that she'd produced her upcoming album with the help of the English producers Disclosure and "Stay With Me" singer Sam Smith. America's also cosigned the success of singles like "Boom Clap" by Charli XCX and "Rather Be" by Clean Bandit and Jess Glynne, names that pop radio wouldn't have batted an eyelash at a year ago.
Now that the gates are open, Gorgon City saw the opportunity to strike. The North London electro-pop producers — real names Kye Gibbon and Matt Robson-Scott — have a string of successes in their native England. Though they've only been active for two years, the Gorgon gents reached No. 4 on the British charts with their thumping "Ready For Your Love," a MNEK-assisted track that demonstrates the direction that pop is likely headed in the coming months. Matt and Kye visited the SPIN offices recently to talk about their upcoming debut album, Sirens (which is due out October 7 from Capitol Records), the differences between American and British audiences, and working on songs with Kiesza and Jennifer Hudson.
You have a big U.S. tour coming this fall. Have you been planning that for a while?
Kye: Yeah we've been planning it for a while. It's our biggest tour yet, so it's quite intense. We wanted to make it special so we're bringing out some vocalists with us. And we're really going in on the visual side of things by creating this Gorgon City world, so that when people come they actually feel like they're in this world with us. We're really excited about bringing that to the stage.
How much input do you have when you go into the studio with someone like Jennifer Hudson or any of the other guest vocalists on Sirens? Do you have an idea of how you want it to sound?
Kye: We usually turn up on the day with literally nothing. We start the session at mid-day and we'll just play them basic chord ideas, and then we'll start the track from scratch with the vocalist. We find doing it that way makes it seem like more of a collaboration than just getting a featured vocalist on a track. That's how we started writing the whole album, and then it turned out that pretty much every track on the album was written that way. Jennifer Hudson [who appears on the song "Go All Night"] was one exception because we actually wrote that track with Kiesza. Jennifer re-vocaled it because we thought it would just sound better, and Kiesza thought the same.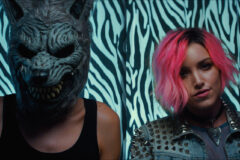 //www.youtube.com/embed/SSrCaX8ttuw
When you're working with singers collaboratively, like Anne-Marie on "Elevate," how do you direct them vocally?
Kye: When we finished that particular session, management was like, "Yeah, the chorus sounds cool but it needs to finish, it needs to have an end to it!"
Matt: And we were like, "It doesn't matter! That is the chorus, it doesn't matter that it doesn't have a real ending." I really like that track because it's a real club banger. Anne-Marie is an amazing vocalist. She's so versatile and she can basically sing anything.
Are there any songs on Sirens that stand out in terms of their emotional heft?
Kye: "Hard On Me" with Maverick Sabre is definitely one of them.
Matt: His manager heard it and he was like, "Oh, wow, this is the first time I've heard him write about this subject so deeply before."
Kye: And the Erik Hassle one, "FTPA." It's quite explicit but also totally sentiment-based. It's got that melancholy vibe that you can get from records from people like Radiohead and Massive Attack.
Kye: "Ready for Your Love," when we wrote that with MNEK it felt very emotional. It's quite simple and straightforward but also so powerful. That's what made the record very big. The middle eight in that song, the bridge, is so emotional and when we play that part everyone's just singing at the top of their lungs, screaming and it's such an amazing experience that everyone has together with that song, everyone knows the lyrics now. Especially in the U.K. it's great.
//www.youtube.com/embed/8B93tgRxMuE
You've been working on all this music for over a year and it finally comes out in October, how does it feel to finally get it out there?
Kye: It's quite daunting! It's finally time for the world to see them. It's quite different than putting out a single or an EP; with an album you're really kind of saying something to the world. "We think this is good enough for an album, so what do you think?" For me, for both of us, it's the first time we've ever been in this situation.
Matt: It's kind of hard to let go sometimes of tracks you've been working on for so long. To call them "finished," I find that hard to do — to call something like that "finished." Once people have heard it, it's like, well the songs aren't ours now, they sort of belong to the world. Then you kind of start appreciating the tracks again. We're now listening to it as a whole album rather than a work in progress, and I'm really happy with it. Playing the tracks out whether it's for other people or in a club, it sounds really good. The reception's been really positive.
How often do you test new stuff out at gigs to see how the material works with a crowd?
Matt: Yeah, it's a great way to test things out. Especially if something's going to be a big single, if it's something you've never played before. It's the first time anyone's heard it, but by the second chorus everyone's singing along, you can see them going crazy for it.
//www.youtube.com/embed/uPiu6fkJCkQ
Can you talk about "Unmissable," your new single with Zak Abel on vocals? Where did that song came from and what the process was like recording it?
Kye: That's one of the track that we worked with quite a few people on. We wrote the vocal with Jimmy Napes who does stuff with Disclosure and Sam Smith. We also worked on some of the production with a guy called Johnny Coffer. He's a really cool guy with interesting ideas. And then obviously Zak, that was through our management. We didn't know who he was or where he was but we just heard this voice and were like, "This is amazing." It sounds quite different to me than anything else on the record: poppy but more organic.
//www.youtube.com/embed/1zMMfrtTa64
You finished the album three months ago, but do you still spend a lot of time in the studio?
Matt: There's always stuff. We did quite a lot of producing for other people and little things like that and when we were on the road, just writing music is what we love doing, even if it's a club track that we know will never have a vocal on it. Just wanting something fresh and exclusive to play for our DJ sets. It's important for us always to experiment.
Kye: We've done a remix recently from Jessie Ware, "Say You Love Me." Those kind of things pop up.
When you come to America, is there ever a point where you know in advance how you're going to tailor your mix for the crowd?
Matt: We definitely do some of that, but a lot of it's decided in the moment. I've found that no matter how many times you've played a city before or how well you think you know that crowd, it's never like how you're expecting it to be. So there's no point in ever planning a whole set.
Kye: Otherwise it's just like we're pressing play on a pre-recorded mix. There's no energy, no vibe between the DJ and the crowd. You got to react to each other. That's what's made DJing so prolific and popular now: that interaction with the crowd. With a band, they know exactly what they're going to play. Obviously they have the energy there, but DJing, you can completely switch up your set in an instant because of the crowd and energy in the club.