Look's like the Foo is out of the bag: at last night's "Holy Shits" concert at Brighton's Concorde 2 theater in England, the Foo Fighters delivered a career-spanning set that included hits like "Rope" and "The Pretender" alongside deep cuts ("Enough Said" and "Up in Arms"), snippets of new Sonic Highways material, and a cover of Tom Petty's "Breakdown." During "White Limo," the Foo Fighters invited the lead singer of a British Foo cover band onstage to sing with them. You can watch footage of the entire gig — during which Dave Grohl promised to make each song "a little different than we've ever done" — below while you mourn the fact that you weren't one of the lucky 600 fans in attendance at the free show.
//www.youtube.com/embed/5cRLOA_HaxY//www.youtube.com/embed/1JkByQMEdGg//www.youtube.com/embed/KGJDLddnbcY
Here's the band's set list, according to Consequence of Sound.
Foo Fighters/Holy Shits, London set list, September 10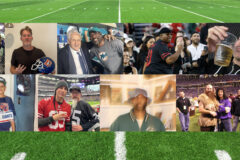 "Enough Space"
"I'll Stick Around"
"See You"
"New Way Home"
"Up in Arms"
"Big Me"
"Generator"
"Rope"
"The Pretender"
"Learn to Fly"
"White Limo" (with Foo Fighters tribute band's singer)
"Arlandria"
"Cold Day in the Sun"
"Dear Rosemary"
"Breakdown" (Tom Petty and the Heartbreakers cover)
"My Hero"
"Hey, Johnny Park!"
"Everlong"
"All My Life"