Fist-Pump! It's the 50 Best BroDance Songs of All Time
What, specifically, is "BroDance"? BroDance is music that make bros dance — that is, physically move in their myriad of terrible and bro-tastic ways. BroDance is stylistically inclusive; songs come from a wide spectrum of hip-hop, rock, and dance music strains. The only absolute requirement is that the music mobilizes frat boys, chooches, or guidos in a reliably consistent manner. Here are the 50 best (or bro-iest) BroDance songs of all time.
1. Fist-Pump! It's the 50 Best BroDance Songs of All Time
1/51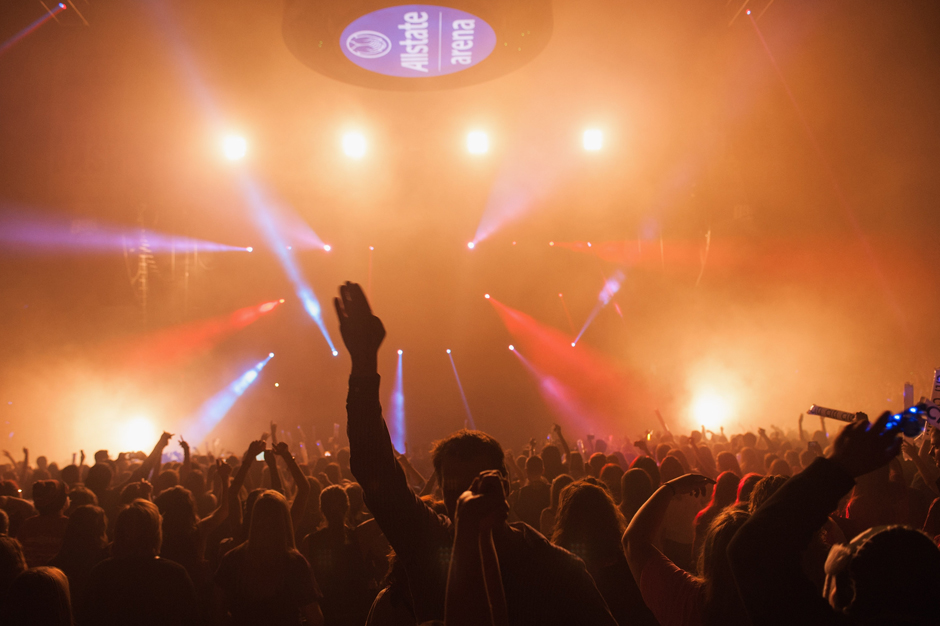 2. DJ Pauly D, "Beat Dat Beat (It's Time To)"
2/51
What better way to start off a list of man-thems than with the guido prince himself, Pauly D? This Jersey Shore ankylosaurus helped spread the GTL-club gospel from Vegas pools to Florence pizzerias, thereby becoming one of the world's highest-paid DJs. But DelVecchio's musical brand started with "Beat Dat Beat (It's Time To)," a self-referential bottle-service blast that closed out the official Jersey Shore Soundtrack and encouraged roid ragers to pummel the beat instead of their drunk friends. "I'm gonna have you fist-pumping all night long," Pauly D threatens in the track's introduction. Get your weiner cleaner. CAMILLE DODERO
3. Kid Cudi Vs. Crookers, "Day 'n' Nite" (2008)
3/51
The combination of stoner pathos and banging Italian electro-house proved irresistible on this Fool's Gold mega-hit, which ushered in the era of EDM and rap partying together. Causing equal amounts of crying and moshing on Pacha dancefloors from '09 til infinity. VIVIAN HOST
4. Justice, "D.A.N.C.E. (Justice Remix)" (2007)
4/51
Take a super-catchy indie-dance smash hit, run it through a distortion pedal, and side-chain it to a filthy eight-ball of cocaine, and you have the blog-house anthem which ruined Winter Music Conference for good. AYRES HAXTON
5. Underworld, "Born Slippy"
5/51
Never again will we listen to this song without thinking about Trainspotting's Mark "Rent Boy" Renton (a.k.a. Ewan McGregor) digging through a toilet full of his own feces. Drugs are crazy, man! PUJA PATEL
6. Frankie Goes to Hollywood, "Relax"
6/51
What is about Frankie Goes to Hollywood's "Relax" that gets the bros gyrating and stripping? Could it be that the song was banned upon its initial release by the BBC, which cited its obscene content? Or that it's a popular gay anthem, with singer Holly Johnson advising, "Relax don't do it / When you want to suck to it"? Nah, probably not. More likely: It was the song Will Ferrell's character used to brainwash Ben Stiller in Zoolander. Bros love Zoolander. GARRETT KAMPS
7. Chemical Brothers, "Block Rockin Beats"
7/51
Nothin' gets the frat-party jumping like some repetitive hip-hop samples. (See also Girl Talk.) V.H.
8. Rusko, "Cockney Thug (Caspa Remix)"
8/51
British destructivist Rusko is one of the earliest artists cited as making dubstep synonymous with the chest-massaging "wobble." He helped write the script for arena-dubstep with heavy, grating bass that walks the line between head-bobbing hypnosis and headache-inducing hysteria. In other words, this Rusko track is directly responsible for "brostep" — if it's any consolation, even he's sorry. C.D.
9. Paul Oakenfold, "Pump It Up"
9/51
Among Jersey Shore's invaluable contributions to American culture is the imprinting of the prototypical club-bro into our collective consciousness: libidinous and bellicose, full of Red Bull and God knows what else, the spikey-haired hardbodies live by the words of trance legend Paul Oakenfold's "Pump It Up": "I love myself to death / I'm better than the best / Some say I'm clueless / DJ, this beat is sick." G.K.
10. Nine Inch Nails, "Head Like A Hole"
10/51
This might be considered more of an alt-rock anthem than a brodance classic, but "Hole" is for when you and your bros want to get your feelings out, but like, in a totally masculine way that's super alright, who are you calling a girl, I'm a man, bro. BRENNAN CARLEY
11. Tiesto vs Diplo, "C'mon"
11/51
Busta Rhymes brings it so hard on this Tiësto and Diplo collaboration, which is why watching his meteoric fall in this year's horribly miscalculated "Swagger Wagon" car commercial is such a bummer. "C'mon" reads much more of a Tiësto song — it's got a trancier vibe right off the bat — but the Major Lazer mastermind injects it with some twerkable syncopated beats. B.C.
12. Fedde Le Grand, "Put Your Hands Up 4 Detroit"
12/51
Like Under Armour for your eardrums, this track pissed off techno purists by sampling Matthew Dear while whipping the Jersey Shore to a fever pitch. If Fedde's dirty Dutch basslines don't get your bro-boner stirring, then his video of stripping nurse babes will. V.H.
13. Deadmau5, "Ghosts N Stuff (Ft. Rob Swire)"
13/51
"Ghosts" was the basis of so many subsequent mashups and remixes that it's a total breath of fresh air to revisit the DJ's original, darkly clubby track. It's a slow burner that cemented Deadmau5's status as one of electronic music's most original producers. It's a shame he's so grumpy. B.C.
14. Swedish House Mafia, "Don't You Worry Child"
14/51
Swedish House Mafia's most popular single is also the song fans liked so much that the group took to playing it twice a night during its final run of shows in 2013, and it's obvious why. It's a slab of anthemic cheese-pop with an added burst of John Martin's smoky vocals and lyrics dumb enough that they sound profound. Still, it's impossible to deny bellowing the chorus whenever it comes on pop radio, which is still pretty regularly considering it was released two years ago. B.C.
15. Gary Glitter, "Rock and Roll, Part 2"
15/51
There's nothing bro-ier than a stadium of full of aggro sports fanatics stomping and shouting "Na na naaaaa na na / Hey! You suck!" (All while desperately hoping that they'll get a millisecond of fame via the stadium's JumboTron.) Gary Glitter, meanwhile, was recently arrested for eight sex charges. Oof. P.P.
16. Right Said Fred, "I'm Too Sexy"
16/51
Has any song made more bros rub their beer-bellies in a faux-sexual manner? Is there any other single musical supervisors default to so easily when soundtracking a scene that desperately wants an audience to chuckle at decidedly unsexy men? (See Grumpy Old Men, Beverly Hills Ninja, King of Queens, My Name Is Earl, ad infinitum.) Is there any other man-them that can so quickly mobilize the cheesiest male in the room to shake his weird butt? Just look away — that shit is gross. C.D.
17. 2 Live Crew, "Me So Horny"
17/51
At least this thing opens with the dudes talking about how very desperate they are to get laid. The innovators of Miami Bass run the gamut here; they run wild with a sample from Full Metal Jacket wherein an Asian hooker promises Privates Joker and Rafterman, "Me so horny. Me love you long time. Me sucky sucky." Eek! Furthermore, these guys don't care about your heart but will encourage you to "suck their dick and asshole too" over cheeky funk-inspired bass regardless. P.P.
18. Knife Party, "Internet Friends (VIP)"
18/51
This social-media-creeper anthem was an astoundingly huge EDM-festival staple a couple summer ago, partly for its neo-electro big-beat thunder and partly for its icy climax, an unsettling stalker's interlude of an iPhone marimba ringtone, shattering glass, and a livid Siri-type declaring: "You blocked me on Facebook / And now you're going to die." The rallying cry of revenge pornographers everywhere. C.D.
19. The White Stripes, "Seven Nation Army (Chant)"
19/51
According to Deadspin, the ubiquity of the White Stripes' "Seven Nation Army" at sporting events can be traced back to a humble gathering of Italian soccer fans, who adopted the song on behalf of A.C. Milan in 2003. The tune then went on to become the anthem of the 2006 World Cup, before colonizing American football stadiums. It's now the de facto fight song of sports fans the world over. Take that, Gary Glitter. G.K.
20. Eric Prydz, "Call On Me"
20/51
Eric Prydz used to be deathly terrified of flying, but the Swedish DJ wasn't afraid to send bros everywhere into the clouds with this saccharine sweet, fluorescent leg-warmer and beer-koozie-primed dance track. Close your eyes and smell the stale beer: It's like college all over again, but better. B.C.
21. The Prodigy, "Firestarter"
21/51
Electronic music was everywhere in the U.K. in 1997 (no one called it EDM back then), but didn't grab the attention of stateside audiences until Prodigy's "Firestarter" lit up MTV with its menacing video (which in hindsight is rather hilarious). Perhaps the song's aggressive beats and anarchic lyrics resonated with the listless angst of Generation X, or perhaps it was just excellent counter-programming to those other U.K. hitmakers that year, the Spice Girls. G.K.
22. MC Hammer, "U Can't Touch This"
22/51
One thing bros love to do is take something cool and edgy and make it dorky and safe, which is what Hammer did to Rick James' "Super Freak" when he transformed it into "U Can't Touch This." Sure, Hammer's rapping is endearing in a C + C Music Factory kind of way, and who can forget his weird like-an-Egyptian dancing in the video, but this is the pop music equivalent of bleaching your hair: Once it was cool, but now it's just something Guy Fieri does. G.K.
23. Sir Mix-a-Lot, "Baby Got Back"
23/51
It's amazing that, in a song so devoted to butts, the line that's most frequently screamed is the one about Sir Mix-A-Lot's anaconda. P.P.
24. Major Lazer, "Pon De Floor"
24/51
A strong case could be made for an entire subgenre of brodance called "portamen-bro": Sidney Samson's "Riverside"; Silvio Ecomo & Chuckie's "Moombah (Afrojack Remix)"; Boris Dlugosch's "Bangkok"; and of course the tune that introduced daggering to hipster bros around the world, "Pon De Floor." A.H.
25. Sublime, "Date Rape"
25/51
Sublime's bro-appeal is not all that surprising given their sound (alt-rock ska bros masquerading as punk) and the scope of their ideas (blunts, brewskis, and boning girls without their explicit consent). How there wasn't an immediate uproar over this song is astonishing, in retrospect. But, to give the band some credit, the sarcastic hook was meant to shame a loser at a party who told them, "If it wasn't for date rape, I'd never get laid." Whether all the bros who sing and skank along to this song are actually aware of this is unclear. P.P.
26. 2 In A Room, "Wiggle It"
26/51
This infectious NYC hip-house hit was a twofer: a built-in pick-up line ("Wiggle it") combined with an anti-drunk driving message. Eventually it was covered by Alvin & the Chipmunks, enticing a younger generation of rumpshakers to "party hardy all night." V.H.
27. Haddaway, "What Is Love"
27/51
A bit sweeter than typical bro fodder, "What Is Love" was elevated from classic Bridge & Tunnel guido club-ballad to the bro-dance Hall of Fame in Will Ferrell and Chris Kattan's "Night at the Roxbury" skits on SNL, and ultimately sampled by Just Blaze for Eminem and Lil Wayne's atrocious frat-rap collab, "No Love." A.H.
28. The Outhere Brothers, "Fuk U In The Ass"
28/51
If "Pass the Toilet Paper" and "Boom Boom Boom" were too subtle for you, dig a little deeper into the Outhere catalog for this gem, just don't forget the Vaseline. Fun facts about "Fuk You In The Ass": 1) Outhere Brothers produced DJ Jazzy Jeff & The Fresh Prince's "Summertime"; 2) The Outhere Brothers' album was called 1 Polish, 2 Biscuits & a Fish Sandwich; 3) So far, no children's movies have licensed "Fuk U In The Ass." A.H.
29. Frank Ski, "There's Some Whores in This House"
29/51
An OG club producer and radio personality made this chant into a Baltimore street anthem before it got sampled by and referenced in hip-hop for years to come. (Outkast's "Ova Da Wudz" and the Pack for the more culty fans.) A knocking bass supplemented with a sing-song female vocal and Ski's booming baritone hook made this tongue-in-cheek track into an weirdo, slut-shaming instructional. DJ Deeon's newer rendition takes "some whores in this house" and asks, "if you see them point 'em out." P.P.
30. Reel 2 Real, "I Like To Move It"
30/51
This is the proto-fist-pump anthem, basically the dude version of "Show Me Love." Weirdly, "I Like To Move It" was originally on Strictly Rhythm and was produced by Erick Morillo, who must be a very rich man after licensing it for both Madagascar and its sequel. "I Like To Move It" was covered by will.i.am, the ultimate in brodance co-signs. A.H.
31. DJ Assault, "Ass-N-Titties"
31/51
Before there was juke or footwork, there was Detroit ghettotech, and "Ass-N-Titties" is the Moby Dick of ghettotech. The best part is when Assault ups the ante to two asses and four titties — I mean, who could see that coming? A.H.
32. Fatboy Slim, "The Rockafeller Skank"
32/51
Right about 1998, Fatboy Slim had all the "funk-soul brothers" getting down to his swinging, rock-flavored electronica. Like kryptonite for kitschy bros — the kind into afro wigs, air scratching, and turntable graphic tees — the half-time breakdown of "Rockafeller Skank" proves perfect for awkward breakdancing. V.H.
33. Benny Benassi, "Satisfaction"
33/51
Here we have direct, robotic instructions on how to achieve both male and female orgasm! Blame this song for inventing the EDM-pelvic-thrust dance. The bros can't help it, leave them alone. P.P.
34. Daft Punk, "Harder Better Faster Stronger"
34/51
It's easy to resent Kanye West for cribbing this track since the original version was, well, a lot harder than Ye's "black Kate Moss tonight" rendition. Plus, Daft Punk's Smurf-esque anime visuals counteract the song's "party party party" tone in a way that tells you that the robots know exactly what they're doing and to whom they're pandering. We see you, Daft Punk. B.C.
35. Flux Pavilion & Doctor P, "Bass Cannon"
35/51
Producers Flux Pavilion and Doctor P might be British, but this amusingly literal track was partly responsible (guilty?) for the early-'10s American-brostep boom. From the opening bars' xylophone anxiety to the bleating shop-class hook to the lumbering-giant beat percussion, "Bass Cannon" had 1000s of neon-tank-topped fraternity boys headbanging righteously — until they puked in the bushes. C.D.
36. Macklemore and Ryan Lewis, "Thrift Shop"
36/51
Whut whut whut whut. Whut whut whut whut. This 2012 rap-pop smash from Macklemore and producer Ryan Lewis saucily celebrated the economical joys of second-hand shopping over a sashaying sax loop. Bros don't connect with the grandpa-style or the bargain hunting, but rather the narrator's cold-ass honky self-perception and his swaggering opening salvo: "Walk into the club like, 'Whut up?, I got a big cock.'" Yeah, no, that's whut. C.D.
37. Skrillex, "Scary Monsters And Nice Sprites"
37/51
YouTube's cupstacker-girl legacy is spelled out in the song's only spoken-word segment, which kicks in right before Skrillex's still-futuristic sounding drops. "Sprites" is also the track that brought dubstep to the American masses, both a blessing and a curse in one Skrillexed swoop. B.C.
38. LMFAO, "Party Rock Anthem"
38/51
Declaring your own song an anthem is Peak Bro, right next to secret handshakes, frat nicknames, themed parties, and whatever the standing record for longest beer bong is at Sigma Chi. That said, this one goes out to the casual, leggings-clad Party Rocker in all of us. It's an epic song. A total classic, brah. P.P.
39. Swedish House Mafia vs. Knife Party, "Antidote"
39/51
Swedish House Mafia were one of a handful of heavy-hitting EDM acts in the early '10s who figured out that sticking a bunch of music between epic builds was a waste of time — just make a song all builds! That's pretty much what this Knife Party collaboration is: one clobbering build after another, with bass so concussive it's likely to loosen your fillings. G.K.
40. Beastie Boys, "(You Gotta) Fight For Your Right (To Party)"
40/51
This one takes us back to a more innocent time. A time when whining to your parents about whether or not you had to go to school and sneering at your dad when he catches you with a cig is the purest form of rebellion. Shout out to all the baby bros out there. Parents can be such a drag. P.P.
41. Baauer, "Harlem Shake"
41/51
This was 2013's precursor to the Ice Bucket Challenge, and you know it was. It's still sort of impossible to get past that first 30 seconds of jittery, vaguely otherworldly roaring and record skipping. Have you ever even listened to the full track before — which was then sampled by rappers like Azealia Banks? Don't bother. B.C.
42. Darude, "Sandstorm"
42/51
The hyper, staccato, high-pitched synth-splattering that this song revolves around brought the wannabe turntablist, wiki-wiki hands to teenage tech-trance raves everywhere. The spacey 30-second interlude brought the waiting-for-the-drop anxiety attacks. P.P.
43. Avicii, "Levels"
43/51
This one is for the romantic brahs in the club. Ohhhh-woahhh-sometimesssss you get a good feeeeelingggggg. Let's pretend that it's love and not just that the molly has kicked in. P.P.
44. Baha Men, "Who Let The Dogs Out"
44/51
Here's another one which was popular with the bros and the kids alike, thanks to Rugrats in Paris: The Movie. Sports bros everywhere still can't help barking along to the chorus, though the Bahamian Junkanoo verses haven't stood the test of time. A.H.
45. Bloodhound Gang, "The Bad Touch"
45/51
The hook of this Billboard No. 1 goes as follows: "You and me baby ain't nothin' but mammals / So let's do it like they do on the Discovery Channel." In turn, this song is basically the icky "Dance like no one's watching!" of creep-bro seduction. P.P.
46. Rednex, "Cotton Eye Joe"
46/51
How do you take a traditional, country-folk song and make it into a terrible, seizure-inducing club hit? Give it to a Swedish folk-techno (???) outfit and let them run free. The Rednex version of "Cotton Eye Joe" was kitschy, Euro-hick monster that allowed the hearts of mainstream America to swell with pride at the song's comedic genius (that jovially poked fun at their hicks, hillbillies, and bumpkins) without having to take responsibility for it. P.P.
47. The Prodigy, "Smack My Bitch Up"
47/51
A song so simultaneously popular and misogynistic that it still played on BBC's Radio 1, but with the title lyrics and hook removed. (Though, those lyrics originally came from Kool Keith and the Ultramagnetic MCs, whose "Give The Drummer Some" rapped "Change my pitch up" / "Smack my bitch up like a pimp.") In the height of the mid-'90s' Big Beat craze, this song was one of the best, with its screaming "Woo" over snide, ragged synths and a insane, rolling drum machine. The video was initially banned by MTV in response to overwhelming backlash to the video's main character violently fighting with a woman (and a man) after a night of drinking (and vomiting), sexcapades, and drug use. But the response to the video by music lovers won out, forcing MTV to reintroduce the video to its programming, even if it was only after midnight. P.P.
48. Vanilla Ice, "Ice Ice Baby"
48/51
One time, Vanilla Ice came to an undergraduate hockey game at my alma mater and performed "Ice Ice Baby" to an arena filled with drunk underage kids while he was on the, duh, ice. It was the bro-iest thing I've ever seen. You might love this song or hate it, but you've rapped along with it and you've enjoyed it. Deal with it. B.C.
49. DJ Snake & Lil Jon, "Turn Down For What"
49/51
It's the song that relaunched Lil Jon's career, whether you liked it or not, but it also catapulted DJ Snake to the forefront of modern EDM. Lil Jon now does DJ sets in Las Vegas, and Snake is working alongside superstars like Diplo and Dillon Francis. To think, it all started with some strategically timed screams over a thin, rubbery beat in the vein of Skrillex. Get ready for this to be the "Whoomp (There It Is)" for stadiums around the world in a year or two. B.C.
50. Kernkraft 400, "Zombie Nation"
50/51
The original stadium fist-pumper — sports stadium, that is. This driving slice of '90s Euro-techno could have languished in fetish clubs forever, but instead was picked up by the Los Angeles Dodgers, Seattle Mariners, Boston Bruins, and many more teams as their victory song. Recognizable by its "Whoa-oh-oh-oh" intro and huge synth line, "Kernkraft 400" is second only to Queen's "We Will Rock You" in the jock-jams canon, meaning millions of beers and brats have been hoisted in the air to this Bavarian-techno classic. V.H.
51. LMFAO feat. Lil Jon, "Shots"
51/51
If you ever want to get rid of a wild pack of screaming bros, dump $20 in the bar jukebox, put this Atlantic City arm-curler on repeat (and repeat), and watch the mindless dipping birds fall down, give themselves alcohol poisoning, and/or blow chunks. Guessing whether the cops or ambulances come first will occupy you until they're gone. C.D.