SPIN Rating:
Release Date:
August 05, 2014
Label:
Loma Vista
A generally unconventional act, Spoon nevertheless made a name for themselves the old-fashioned way: In an era when most rock bands peak prematurely both artistically and commercially, this Austin ensemble instead slowly got better, which in turn helped them gradually build their audience. Think of it: Spoon didn't start out actualizing their tense and clipped yet ruggedly voluptuous chirr until their third album, Girls Can Tell, in 2001, the same year that the Strokes instantly maxed out on Is This It. Leader Britt Daniel clearly spent some time studying Can, Wire, Lennon, Costello, the Cure, the Zombies, plus a slew of classic R&B, but no one else since sings like him. As Spoon have exponentially expanded their fanbase, they've only become more like themselves — a nearly singular achievement for a 21st century guitar band, particularly for one that's actually played on the radio.
Now fleshed out to a five-piece with Alex Fischel, guitarist/keyboardist from Daniel's side project Divine Fits, Spoon return after their longest gap with They Want My Soul. Unlike any of their previous albums, their eighth bares the sonic stamp of outside studio help, particularly that of Dave Fridmann, who oversees four tracks, and mixes four of the other six. Both Spoon and the ubiquitous Flaming Lips collaborator have long favored loud drums, but Daniel & Co. also flaunt guitars that are neatly staccato and fastidiously controlled: that's their tension, their sonic signature. Fridmann, on the other hand, favors brutal distortion that artfully obfuscates nearly everything in a wash of psychedelic scuzz. How can two such opposite aesthetic approaches be reconciled?
Soul achieves the nearly impossible with Spoon's most eclectic set yet. It emphasizes this diversity by opening with a track, "Rent I Pay," that's so traditionally rockin' it's practically a Stones tribute, and then follows it with the band's most contemporary and overt detour yet. Leading with blatantly synthetic strings, dreamy harp-like tinkling, an early '80s disco bassline, some feather-light/ukulele-like strumming, and a quantized, robot-perfect drumbeat, "Inside Out" undulates with unabashed synthpop ballad lushness. According to Daniel, it's the most beautiful thing they've done. He's right.
Spoon found their footing when they went hi-fi, and they raise that bar here: The extreme stereo separation of "Rainy Taxi" matters just as much as what is, for this band, an uncommonly easy-to-follow and romantic lyric: "When you stand beside me/ I can tell I'm stronger than I've ever been." Their newly modern drums rub up against acoustic strumming both on "Do You" and "Knock Knock Knock," the latter featuring feedback squeals so deliciously awry that effects pedal nerds will certainly debate their creation. Morrissey producer Joe Chiccarelli chips in for the overtly power-poppin' title track, but Fridmann's mixing hand skews the results so that they're even more tweaked-out than his own stuff. That's not a duel being staged in the song's instrumental climax: It's a full-on guitar argument sputtering between the speakers. The Beatles themselves may've covered Vegas dynamo Ann Margret's fluke 1961 fuzz-toned hit "I Just Don't Understand," but Spoon turn in the definitive version via a plink-plonking honky tonk piano and Daniel's masterfully bitter and snarling vocal. He doesn't position himself as a soul singer, but he sure is one here.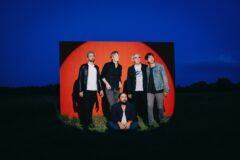 Like the rest of the best, "Outlier" steps far beyond Spoon's stylistic norm: It fades up on the album's stickiest hook and Spoon's most overt dance groove, one probably plucked from the Stone Roses' Madchester funk blast "Fools Gold." As its title suggests, the lyric concerns an aloof, yet dependable connoisseur: "You never played us wrong or stayed too long." That's Spoon in a nutshell, a band whose reliability is matched by their concision. "What happened to you, kid?" Daniel however chides, as if preemptively offering the criticism that's sure to come from familiarity-craving followers disappointed by his newly wayward ways. He needn't have worried: Soul deftly blends caprice with the ensemble's usual care. Anything featuring Daniel's scrunched-up, uncommonly expressive yelp and high-strung guitar can't help but be Spoon-y.