After a whirlwind year for the So So Glos — which saw the Brooklyn punks release a critically acclaimed new album, Blowout, play Lollapalooza (and SPIN's Soundwave stage), and open for Say Anything's summer shows — the end of the tour cycle is nearly in sight. The quartet's anthemic, garage-meets-punk sound has always provoked moshing and enthusiastic singing at their performances, and no one knows this better than scrappy singer Alex Levine, who's hobbling to the finish line.
Levine currently finds himself on crutches because he smashed his foot while "jumping around Shea Stadium," the venue the Brooklyn natives founded with longtime friend and collaborator Adam Reich, and he's also sporting a cracked rib from crowd-surfing at a show in Boston. Battle scars have always come standard for the Glos: Levine remembers getting in a fight with step-brother and bandmate Zach Staggers on the first day of recording their debut album. Staggers shattered Levine's jaw, so he recorded all the LP's vocals with his jaw wired shut. "I think we're a perpetually injured band," Levine says with a laugh.
Before the So So Glos head out on the road again in the U.S. and Europe, we caught up with Levine about the ever-changing New York punk scene, why technology ruins concerts, and how close the band are to making a new record.
What are some of your favorite venues to go to in New York City?
When I'm home, I'm hanging out at Shea [Stadium] for the most part. Stuff like Silent Barn and Death By Audio. Those are the venues I like to see shows at.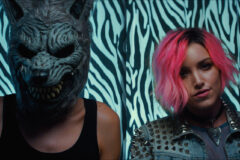 How has the Brooklyn punk scene changed since you got your start as the So So Glos seven years ago?
We're brothers, so we've been playing punk rock forever. When we made it a band, the So So Glos, and started playing shows on the Lower East Side before the DIY thing was a really big thing, we were laughed at just for playing punk rock or for playing poppier music. It was really a time, in 2005 or 2006, where everybody was too cool for school. It was a strange time in rock'n'roll, and we were in the Brooklyn scene with a lot of art noise and noise music. But we were the outcasts in that. There are a couple bands around that were doing similar stuff to us. I can think of three or four, honestly: Le Rug, Titus Andronicus, Screaming Females, That was about it that I can think of that were playing punk rock-esque stuff. Then every day I feel like I see a new punk band in Brooklyn. It's cool.
Your video for "Lost Weekend" is intercut with photos of a grittier New York City from a few decades ago. Do you fear the city is becoming too sanitized?
Absolutely. I mean it's always changing. We have a mix of nostalgia for old New York and acceptance because New York is ever-changing. It's just a beast that will always change. You can't get too hung up on that. I think that's definitely part of the So So Glos culture, image. Bringing it back to the grit.
I think in many ways, new generations are really exposed to everything because of the Internet. That's making everything safer in a certain way. Everything is more exposed. We can see violence and terrorism when it happens, 10 seconds right after it happens. I don't know, I noticed all these younger kids on the Say Anything tour, just a big generation gap in pre-Internet and post-Internet kids. I don't know if that's reflecting too much New York City. I think a lot of that has to do with Bloomberg and stuff. That's probably a separate issue. But New York City's different now, and it's always changing.
The video for "Speakeasy" criticizes "narcissistic hedonists … addicted to electronic devices."
It's an anti-Internet thing. We go on these rants. We've gone on them. But generally people nowadays at our shows are sorta kinda getting it. It depends on the crowd. But we're very anti-technology at a concert. I think we're forcing people to engage and be there in the now, that's one of the most important tenets of rock 'n' roll: Be here now. That shit's gonna change in one second. And if you're skeptical of not spending a moment, you never live it. I think these kids need to put their phones away.
What's a technological trend that pisses you off?
I think that everyone taking pictures of themselves has gotten out of hand. I think there's a systematic way that we're made to be by the powers that be, that always have the power, have turned us into a culture of narcissists. And it's for very calculated reasons: to sell you something. And they make people forget that all the time. If you have a whole world of narcissists, it's a very scary thing. I don't like the term "selfie" or whatever. I've taken a lot of selfies with kids on this tour. It can be alright; it's like the new autograph. People ask to take selfies. People that have never even heard our music [laughs].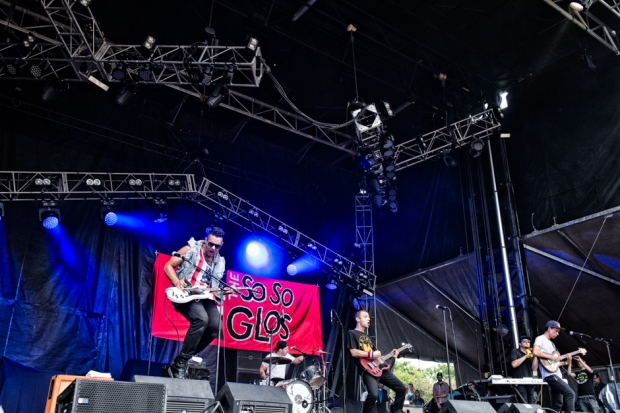 You've said that you wanted Blowout to be a mind-blowing record if you were just discovering punk. What was that record for you growing up?
I don't know, man. There were so many. I think one of the earliest ones, I think Dookie came out when I was 7. And then I went back and got Never Mind the Bollocks on tape. Nevermind was before that. My stepmother had Nevermind on cassette tape that we used to listen to all the time. I guess I was maybe 5 or 6 when that came out, or earlier. But I think that was definitely the first one —- everyone's first one — when kids were my age, just for hearing it constantly on the radio.
You open Blowout with "Son of an American," which samples you talking about Kurt Cobain when you were a little kid.
Yeah, that was me at 7 years old, talking about him when he had just killed himself, I guess.
Did you remember saying that or did your parents remind you? How did that become integrated into the title track?
Me and Zach were going through old home movies. We knew we wanted to have this Wu Tang-esque thing where we put our culture into the music and make it a complete thing, telling the story of our childhood.
And then we're looking through all the stuff — we were always a band as kids — and that was just us listening to Nirvana and then for some reason the tape got cut off that we were listening to. And I just went on this long calling bullshit on your heroes. And we thought that was a good way to start the record: 7-year-old me giving a "kill your idols" moment. Yeah, he did have a gun. And he did shoot himself. Of course he did. I think it was a good display of a loss of innocence.
You close the record with "Dizzy," including the hidden track of you guys playing a song called "Let's Rock Till We Die" as little kids. Do you have more archival pre-So So Glos music?
So much of that! We have so much of it. We used to go over to our friend Adam Reich, who produced all our records and basically is the fifth member of our group. Adam Reich started Shea Stadium and plays with Titus Andronicus once in a while and all that. We used to go over to his house and just record tapes on his little karaoke machine, cassette tape. So we basically have been doing the same thing forever with Adam. So I was just sorting through all of those tapes. There's a lot of them. Some of them are better than our songs now [laughs]. It's just kind of stream of consciousness, Zach and Ryan playing weird beats, just playing all the open strings on the guitar because we didn't even know chords or anything like that. And me just freestyling and doing this weird melody. But they're actual songs. We always wrote songs. We didn't know how to play; but we knew how to write songs.
When you were growing up with your brothers, what was your relationship like? Were you beating the shit out of each other, were you competitive, or did the band bring you all together?
I'd say all three of those things [laughs]. And we played music, that was pretty much the only time that stuff went away. When we were recording our first record, fast forward a little bit post-kids, we recorded the whole record with my jaw wired shut, 'cause me and Zach, my step-brother got in a fight the first morning, the first day of our self-titled record. And he broke my jaw in half. So yeah, there's definitely been a lot of fights. And we're a product of a broken home, but when we come together, it's for a positive thing. With our music, it's always positive.
And it was from a bad acid trip?
Yeah [laughs]. I'm sitting here right now, I'm on crutches right now. I think we're a perpetually injured band. I was jumping around Shea Stadium the other night, and I was trying to climb through a door that was locked. And I just busted my whole foot, totally swollen.
Have you guys thought of the follow-up to Blowout?
We're always writing. I'm always writing, personally. I always have a lot of stuff, melodies, in my head that I can't really get out. We need to take a couple weeks to just put 'em all together, all the different parts. But there's definitely something coming. I don't know when. I'd like to get it out as soon as possible. Because when we finished Blowout, the day after we had maybe five or six new songs already. So I think the sudden burst of inspiration comes quick, and then sifting through it all and saying, 'Is this good?' and making it better is the long part of the process. We're a bit anal about the whole songwriting thing. We write tons of songs, and I think editing is the most important and what takes the longest. Kick the shit out.