U.K. producer SOPHIE just issued a captivating caffeine-addled 12-inch featuring recent singles "Lemonade" and "Hard," but he's already back again — this time in with QT, a new project that he and PC Music labelhead A.G. Cook have handled production for. Today, they shared their demented first single, a funhouse mirror version of something that Aqua (yes, the "Barbie Girl" dweebs) might have put out called "Hey QT." If you're having trouble parsing exactly what all this means, hit play below, and know that two of the weirdest and most exciting producers in the game right now have teamed up with XL Recordings for a pop project.
But if you haven't heard word of SOPHIE yet, it's probably advisable to read on.
//www.youtube.com/embed/z6_ikWlJu_0
Despite the name, when we saw SOPHIE at SXSW this year he appeared to be a redheaded boy in his early 20s. That's a picture of him there, behind the woman washing a balloon inside of a kiddie pool at a club. Oh, and no one knows his real name.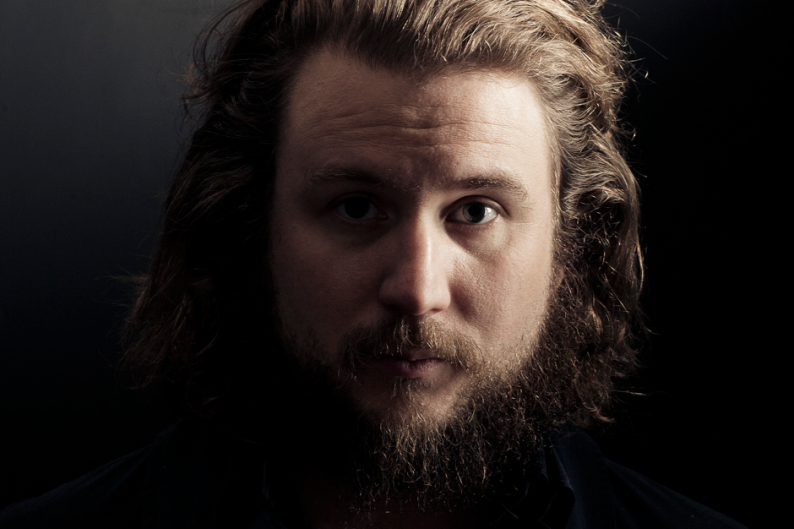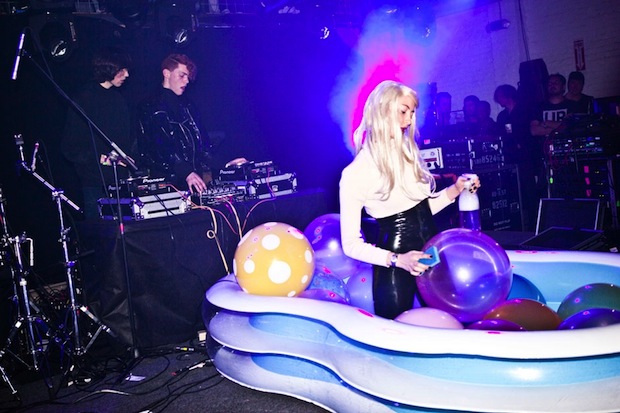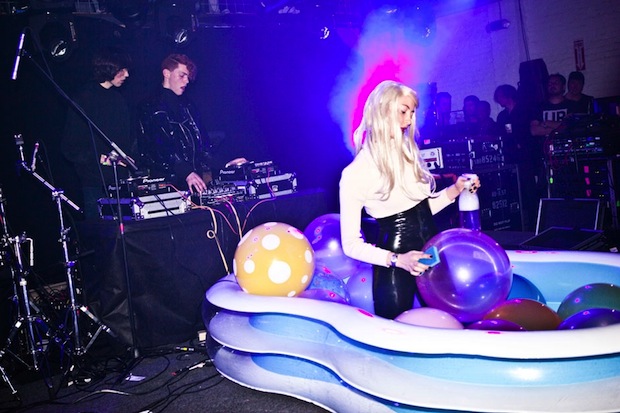 He's been issuing jittery dance pop singles on Glasgow's Numbers label for a few years now. "Bipp" was an early super-weird and oddly entrancing highlight.
But of late, he's moved into more surreal territory still. "Lemonade" is the sort of track that makes sense of alleged collaborations with Kawaii-pop princess Kyary Pamyu Pamyu.
This sort of plasticized future pop is what QT member Cook has been delving into both on his own and with his production work for PC Music acts like Hannah Diamond.
It's totally fukt pop music that some, like us, have associated with the uncanny valley — that strange revulsion you feel when something ostensibly human-like isn't quite human.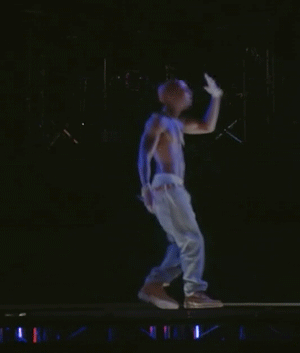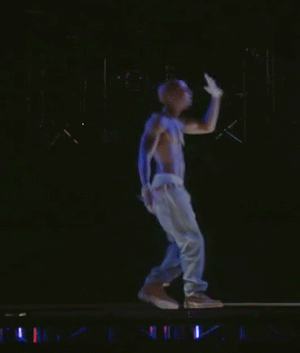 It makes for a pretty deranged and divisive aesthetic — like a Hot 100 bubbling up from the deep web — but good luck getting something like GFOTY's "Bobby" out of your head.
Perhaps the easiest entry point to PC Music's weird world is a group mix they put together for DIS back in March. It's full of still unreleased tracks from Cook, GFOTY, and labelmates Kane West, Danny L Harle, Nu New Edition, and Lil Data.