If there must be an image to sum up the 2014 MTV Video Music Awards that is not Beyoncé standing in silhouette in front of the word FEMINIST in thirty-foot-high lettering — which would be far too optimistic — then it would be Nicki Minaj awkwardly adjusting her choreography on the fly as she clutched at her improperly fastened top to prevent a wardrobe malfunction one suspects could have been much more rawly exposing than Janet Jackson's long-ago, overhyped Superbowl flash.
That's because the over- (or rather under-) whelming theme that pervaded the show at the Forum in Inglewood, California, on Sunday night was damage control. Foremost, the proceedings seemed designed to redress the impact of last year's Twerk Heard 'Round the World, when a tongue-lolling Miley Cyrus, Robin Thicke and a row of anonymous black female dancers performed his controversial hit "Blurred Lines" along with her persona-reinventing "We Can't Stop" and touched off a month or so of inflamed debate about the racial and sexual fallout.
By tribal custom, this is what it's always seemed the VMAs are for — the one such ceremony where fans and musicians are damn near indifferent to the actual awards and there is no stuffy Academy of any sort reining in the proceedings. It's MTV, the youth clubhouse, the home (formerly) of pop stars going to visual extremes, so the opportunity for pop-culture provocation is wide open.
It's where Madonna showcased quasi-bondage gear and Prince his buns, where Madge later lip-smacked Britney and Xtina, where Kanye didn't let Taylor finish, and where Miley cavorted with a phallic foam finger, among many more staged outrages. It's a place where the fissures in pop are calculatedly cracked open, and complex meanings and social tensions can spring out alongside the celebrity narcissism.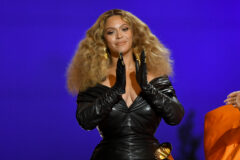 This year? A bunch of things happened so exactly the way one expected that I've mind-wiped them two hours later, and then there was a Beyoncé concert. A jaw-dropping Beyoncé concert, mind you, in which she performed essentially her entire eponymous album in a 16-minute capsule, a feat I'm sure no one has ever pulled off on an awards show before. It was complete with phantasmagorical staging, video projections, intricate choreography and a mirrored harlequinesque Technicolor Dreamcoat that looked like it cost as much as the whole VMAs set on its own.
Lest it all seem too tooled and impersonal, Bey tossed off asides and chuckles along the way. Then her husband and her toddler gave her an award (because I think by the rules of court diplomacy there is now no one else with sufficient status to present Beyoncé with an award), and Blue Ivy (whose seat-dancing is already more coordinated than Taylor Swift's) (although I love Tay's seat-dancing, too) said, "Good job, mommy," and the California water crisis was solved because the population of the English-speaking world melted into a vast puddle.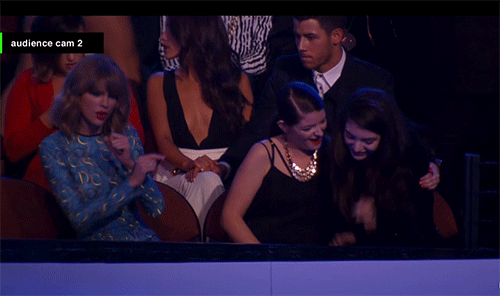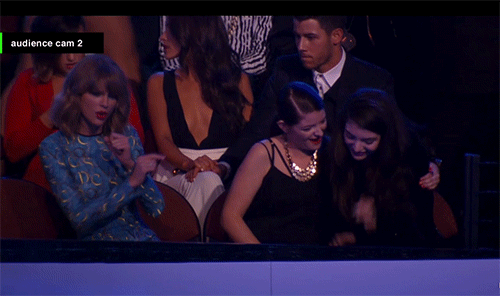 Complaining that all this year's VMAs gave us was a Beyoncé concert is like bitching that all you got for Christmas was a mansion with an Olympic-sized swimming pool. Nevertheless, it was not exactly a dangerous choice in an era in which the "yes" side could probably squeak through in a national referendum on whether to change the name of the country to the United States of Beyoncé. Few of the "no" voters are likely to be watching the VMAs.
With reference to Twerkgate it is not incidental that the beloved uniting figure allotted a solo quarter-hour is also a black woman, and on yet another meta-level of damage control, the fuzzy-wuzzy family moments were plainly designed as a counterstrike against rumors of domestic conflict in the Carter-Knowles cartel's own dominion. (I'm also amused by the fact that the two-and-a-half year-old Ivy Blue is already aware that in this family, you don't say, "Yay, Mommy!" or "I love you, Mommy," you say "Good job," because it is all about the paid labor.)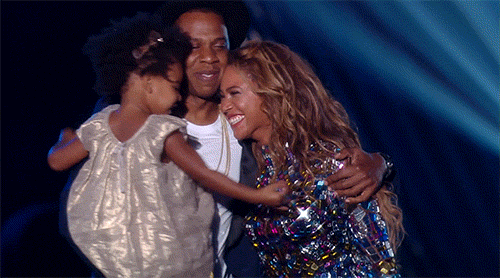 Not that there were no flirtations with naughtiness. The 2014 Summer of Ass was duly honored by the general fashion trend of pantslessness — Swift's off-stage ensemble was a bright blue onesie festooned with jumble letters, which looked as if she were in a hurry to get back to her slumber party with Lorde around her pool. Nicki Minaj did the expected butt-busting version of "Anaconda," though it seemed pretty tame if you'd already seen the video (and the snake that bit a dancer in rehearsal did not make an appearance). She also did some more bumps while Usher pretended to play the guitar, in perhaps the most conventionally accomplished showbiz-style musical number of the night. In a couple of her own mini-numbers Beyoncé took a brief detour to trump Minaj with a couple of even more dazzling jiggling-ass arrays.
Save for the hideous Iggy Azalea/Rita Ora dance of the spiderwomen on "Black Widow," however, anything twerky was kept on the culturally appropriate side of the racial divide. Swift, whose "Shake It Off" video has drawn heat on that basis, converted it into a tamer flapper-and-gents number for the VMAs. Indeed, just as with Minaj's jacket incident, the only hint of risking anything worse than pitchyness in Swift's act was in the spectacle of its avoidance: Swift jokily stopped the song to climb safely down from a height, while making reference to the snake-bite mishap, though not Azalea's real stage fall on Friday, which would have been more apt but could have hurt someone's feelings.
A similar courtesy was in effect when Maroon 5 were asked to perform outside the stadium, for all those who preferred to pretend they weren't there. And of course nobody breathed a word of former rap mogul Marion "Suge" Knight's shooting at a pre-VMA party hosted by Chris Brown over the weekend.
There was one person in the building, though, for whom nothing could be worse than a total lack of controversy, and that was Miley Cyrus herself. So when she won the Best Video award for "Wrecking Ball," she pulled a Marlon-Brando-in-1973 — kind of. She didn't refuse the award, but she did send up a handsome homeless youth in her stead to read a speech about the issue and his own life. Although Brando, unlike Cyrus, didn't sit in the audience applauding his own gesture, it was still the kind of thoughtful, nonconformist move one usually waits fruitlessly to see on awards shows. But this was also an act of spin on Cyrus's part — having been gored for social insensitivity last year, this time she makes an ostentatious display of awareness.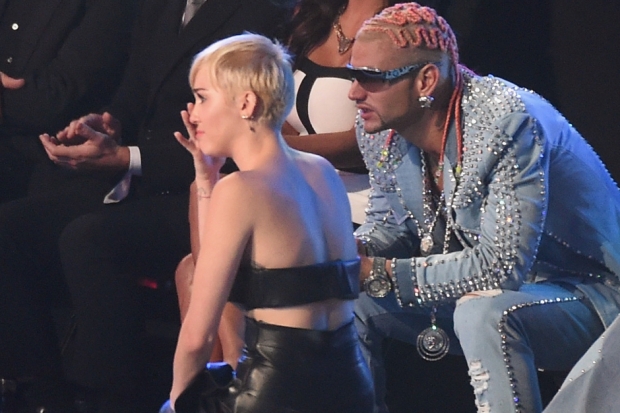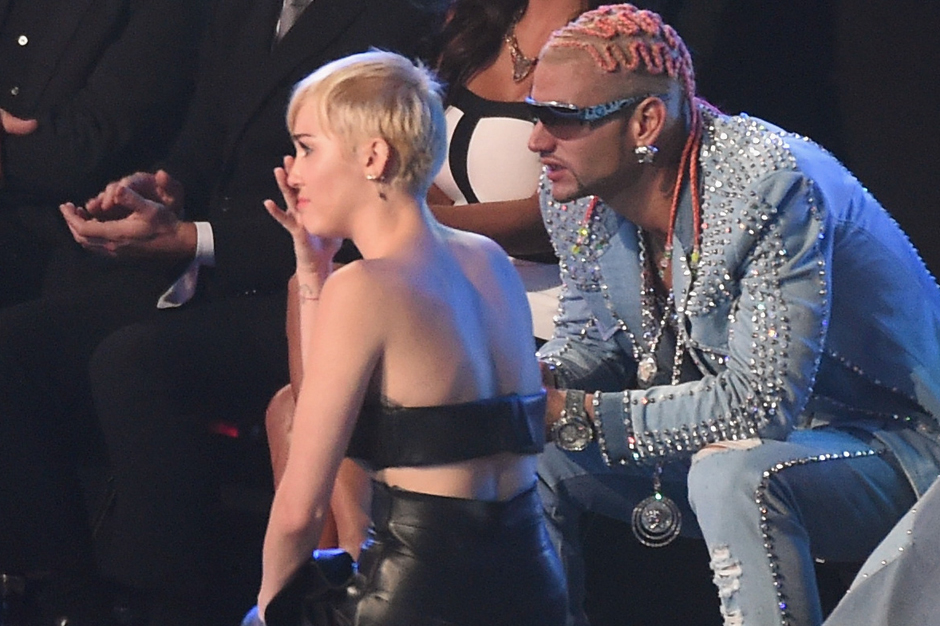 Still, compared with all the other acts of damage control at this year's VMAs, at least this one broke up the pre-Beyoncé inertia. At least something happened. It felt the same way when Lorde looked the wrong direction and said "shit" during her acceptance speech for Best Rock Video; she was just being a charmingly out-of-it teenager, and on the shock meter it registered lower than the fact that the VMAs still have an award for Best Rock Video (of which Lorde was the first-ever female winner), but it did give a pleasant frisson of human presence.
But if the VMAs were short on VMA-like outrages and snafus this year, perhaps there is an upside. It was notable that Cyrus's protest was about homelessness, not anything more divisively volatile. The sole mention of the death of Michael Brown and the ongoing racialized standoff in Ferguson, Mo., came when Common was introducing the hip-hop video award — he paid tribute to hip-hop's truth-telling and asked for a few seconds of silence. Common is an elder of the form who could be trusted to speak responsibly and articulately about the situation. If the moment seemed programmed, maybe that's okay.
Pop provocations spark necessary cultural conversations. I wouldn't want to stifle them. But in a crisis one hopes (however vainly) that there will be wiser leaders on hand than song-and-dance specialists. Perhaps we were bored through much of Sunday night because the pop mood for once was one of uncharacteristic restraint — answering "turn down for what?" with "for a damn good reason." I'll roll with that. I just hope it doesn't become a habit. Because there also comes a time to bring the noise.