At the 2013 VMAs, Miley Cyrus shocked your grandmother with her risqué routine of twerking, tongue-wagging, and teddy-bear-wearing that cultural confabulators spent months overthinking. So how did Billy Ray's daughter compensate for this sensational behavior one year later? With her very own Brando moment.
When her hammer-licking, ball-riding, Terry-Richardson-directed video for "Wrecking Ball" won Video of the Year, Cyrus had a homeless runaway who identified himself as "Jesse" accept the award on behalf of "the 1.6 million runaways and homeless youth in the United States, who are starving, lost, and scared for their lives right now." Reading from notes, Jesse went on to send the audience to Miley Cyrus's Facebook page for more information, where the following message was concurrently posted:
Help me raise awareness and funds to end youth homelessness! This is just the beginning for me, but we're going to get started now by focusing on My Friend's Place, a homeless center for young people in Hollywood.
You can support the cause by making a donation here: www.prizeo.com/miley! For every $5 donation, you'll be entered to win a trip for 2 to Brazil to hang out with me at my show in Rio de Janeiro on Sept 28th. You'll get the full VIP experience, including 2 of the best seats in the house.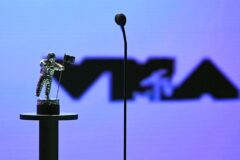 As Jesse continued his speech on behalf of invisible kids on the Los Angeles streets, Miley became teary-eyed. Over on Instagram, Miley posted a triptych of photos with her "date":