Last week, Killer Mike published a short essay to Instagram begging for humanity in the wake of the death of Missouri teenager Michael Brown. Today, conflict and protest in the town of Ferguson, Missouri wages on and the Atlanta-based Run the Jewels rapper has again taken up the pen to address this situation. In an op-ed on Billboard, Mike again seeks to inspire empathy with the events in the town saying that "whatever this country is willing to do to the least of us, it will one day do to us all." His tone throughout is definitive.
"Being a cop is often seeing the worst of the human condition and behavior," he says. "With all of that said, there is no reason that Mike Brown and also Eric Garner are dead today — except bad policing, excessive force and the hunt-and-capture-prey mentality many thrill-seeking cops have adapted."
Garner, of course, was the 350-pound 43-year-old asthmatic man who died on July 17 in Staten Island after a police officer put him in an illegal chokehold during a questionable detainment (he'd broken up a fight that drew NYPD attention). And if those two avoidable tragedies weren't enough, the politically minded rapper also has to take time to denounce the ongoing clashes between police and protestors.
"This week I have seen tanks, rubber bullets, and tear gas used by police against the citizens that pay them," he laments. "This is not Egypt or Syria or Palestine, but today it feels that way. It feels as if death can come, without reason, from a uniformed government official and, if we do not press back against this Blue Wall of Silence and gang-like mentality of our local police, we all are in danger."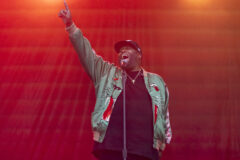 He ends with a call to action.
"Support these victims," he implores. "On the day they were murdered by rogue officers, all of our rights drained onto that hot concrete along with that child's blood. Government should fear the people, not the other way around."
You can read his full essay over at Billboard. Below, you'll find G-Unit's "Ahhh Shit," which was recorded in response to the events in Ferguson and samples the last words of Garner before he died on the sidewalk surrounded by cops.