Last night at the 2014 MTV Video Music Awards, Miley Cyrus offered one of the ceremony's only distant glimmers of authentic human experience when she had "Jesse," a homeless runaway she'd brought as her date who the Oregonian now wants to dox, accept the Best Music Video award for "Wrecking Ball" and read a speech about homeless youth. The gesture was a deliberate nod to Marlon Brando's Sacheen Littlefeather, a direct inspiration one of her reps acknowledged to the New York Times.
This morning, Cyrus phoned in to Ryan Seacrest's radio show to fill in a few other blanks. VMA producers did not know that Billy Ray's daughter was going to send her date to accept the award. "No one knew," she told Seacrest. Except Juicy J, who was seated beside them because, Cyrus said, "I knew that he would respect Jesse."
On the ride to the ceremony, Miley asked Jesse if there was anyone in particular that he'd want to meet. "I think Katy Perry is kind of cool," Cyrus says he told her. Randomly, they ended up seated near her, but Miley didn't want to tell her who Jesse was. "She thought he was, like, my boyfriend or something. So she was like, 'You want a drink?'" Miley immediately ran interference. "I'm like this kid has to give a speech!," she said laughing. "'Katy, please don't get Jesse drunk right now.'"
After the show, Miley and Jesse went to In-N-Out Burger, where she asked for a veggie burger and instead got lettuce and tomato on a bun.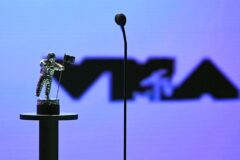 Jesse gets to keep the Moonman. However, he and Miley did not make out.
Listen to Miley Cyrus' conversation with Ryan Seacrest here: