A couple of weeks ago, we heard a brief tease of a Sia-featuring Eminem song in a trailer for the new Denzel Washington action movie The Equalizer and Sunday night that collaborative track finally saw its official release. "Guts Over Fear" spilled onto the Internet in full just as Em teased a new album called Shady XV on Twitter. Billboard reports that the release will be a two-disc set featuring a collection of greatest hits, as well new music from Slaughterhouse, Bad Meets Evil, D-12, Yelawolf, and Shady himself.
As for the new track, it lives up to the dramatic and strident promise of the bits you could make out over Denzel's explosions. Sia offers a towering and teetering chorus, worthy of the tightrope balladry of her best work, and Em settles nicely into the midtempo melodrama. Eminem previously teamed with Sia on last year's Marshall Mathers LP2. It's a good thing that this single started its life in an action movie trailer because it was bound to end up in one anyway. Listen to the track below, alongside a trailer for the new album, or download it at iTunes.
Shady XV hits stores on Black Friday, November 28.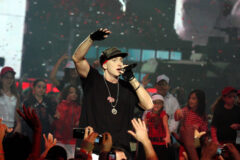 Yes it's official… #SHADYXV Black Friday. https://t.co/B0WCDoEeVO

— Marshall Mathers (@Eminem) August 25, 2014